Tagged: Copywriting
- by Alyson Shane
Headlines are one of the most important tools to drive traffic and conversions that you have in your digital marketing arsenal.
When we talk about "headlines" people typically think we mean just blog posts, but that's just a narrow slice of the pie.
If you do any sort of copywriting you're also writing headlines for social media posts, headlines that encourage people to subscribe to your newsletter, introductions on your web pages, and more.
Why are headlines important for businesses?
A strong headline helps your content stand out from the competition, and can position you as a thought leader, expert, and resource in your industry — all things that contribute to a positive brand image and lead to more sales.

Headlines that are vague, confusing, and that don't contain SEO keywords won't entice your readers to stick around and see what you have to say.
Of course, writing snappy headlines is easier said than done — that's why we like using formulas to take the guesswork out of writing attention-grabbing headlines.
The best headline formulas for business
The formulas below aren't just intended to give you a framework to create eye-catching headlines; we're also going to go into the psychology of why each one is useful with examples of how you can use them for your own business.
Let's explore:
1. X Examples of ______ To ______
This headline works because it provides the reader with examples that help them achieve a specific outcome.
You can also replace the word "example" with "steps" for a similar effect — basically, you're providing a framework for success.
In case you didn't notice, the title of this blog post follows this example, but here are a few more to get you started:
10 Examples of How Businesses Are Using Chatbots To Drive Sales
5 Cold-Email Examples To Generate More Leads
12 Amazing Landing Page Examples To Inspire Your Next Campaign
2. The X Best Ways to Get _____ Without ______
These headlines appeal to readers looking for (you guessed it) the best way to accomplish something without resorting to obvious or common methods.

Statements like the one in this headline position you as a subject matter expert who has a "hack" to share with your audience, so make sure your content delivers!

Check out these examples:
The 10 Best Tools for Taking Notes Without a Pen and Paper
The 5 Easiest Ways to Grow Your Business Without Using Paid Ads
The 6 Secrets to Shooting Professional Photos Without a DSLR
3. X of the _____ _____ You'll Find Today
This headline combines an adjective with a noun, which adds weight to the statement. Using an unusual adjective also helps your headline stand out, which encourages people to click on it.
You can also change this headline to singular form, too. Let's see some examples:
12 of the Best Blog Posts About SEO Copywriting
5 of the Most Eco-Friendly Cars for Growing Families
The Most Important Trick to Growing Your Brand on Social Media
4. Here's What You Don't Know About _______ That Could _______
The headline is effective because it piques your reader's curiosity and clearly states how they can make a positive change.
It tells your readers that, by not educating themselves, they're putting themselves in a precious and undesirable position. This increases the likelihood that they'll click through to read your piece!
Let's explore a few examples:
Here's What You Don't Know About Instagram "Bots" That Could Hurt Your Business
Here's What You Don't Know About SEO Copywriting That Could Harm Your Business
Here's What You Don't Know About Car Repairs That Could Void Your Insurance
5. _______ Vs _______: Which Is _______?
Consumers make purchasing decisions by comparing one option against another, which can be confusing and time-consuming.
Creating content that does the leg work for your customers benefits you in a few ways:
It drives traffic to your website. Rakuten Marketing found that the average consumer makes 9.5 visits to a brand's website before buying, so this gives them reasons to come back!
It positions you as an expert. Giving customers helpful information builds trust and endears your reader to you — all before they see a sales pitch.
You can target long-tail SEO keywords. Long-tail keywords are SEO gold, and help drive more targeted traffic to your website. You can read more about SEO keywords here.
Let's take a look at a few examples:
Mac vs. PC: Which is Right For You? (the "OG" comparison topic)
Facebook vs. TikTok Ads: Which Earns the Best ROI?
KitchenAid vs Cuisinart Stand Mixer: Which Is the Best for your Kitchen?
6. Are You Still Doing ______? You Might Regret It
The headline works because it implies that the reader is missing out by not implementing the change you're suggesting.
Unlike the last example, which presents an option, this headline offers a definitive conclusion that we're encouraging readers to take.
Here are a few examples:
Are You Posting to Social Media On-the-Fly? You Might Regret It
Are You Still Putting Off a New Furnace? Here's Why You Need to Upgrade Today
Have You Put Off Replacing Your Winter Tires? Here's What Could Happen
7. How to [Do Something] In [Short Amount of Time]
We all want to achieve the best results in the shortest amount of time, and this headline tells a reader exactly how to do it.
These informational headlines work great because they empower your reader to take action and implement the steps you're suggesting — which builds trust and creates positive feelings towards your brand.
Here are a few samples:
How to Increase Instagram Engagement in 30 Minutes a Day
How to Land a New High-Paying Client in the Next 7 Days
How to Give Your Bike a Tune-Up in 60 Minutes or Less
8. How to [Accomplish/Benefit] In [Short Amount of Time] Without [Expense]
This is a play on the headline template above that suggests an even greater benefit to the reader. It combines several eye-catching things: a specific benefit, a time frame, and how your reader benefits from taking your advice.
These headlines are most effective when you can tie the outcome to a specific number, like this:
How to Grow Your B2B Business Without Spending a Penny
How to Land Your Ideal Clients Without Sending 1,000 Emails
How to Pay Off Your Student Debt Without Working 4 Jobs
9. How to [Accomplish Something] Like [Famous Person/Brand]
This headline is effective at driving traffic because it connects a specific outcome with a well-known and successful example.
The trick here is to choose a person or brand who will be easily recognizable by your reader, who is relevant to their industry, and to link them to a goal your customer might have.
Here are a few examples:
How To Grow Your Startup Like Elon Musk
How To Build a Personal Brand Like Tony Hawk
How To Run Effective Meetings Like Jeff Bezos
10. The Science-Backed Formula For [Accomplishing Something]
You've probably noticed that a lot of these headlines introduce an actionable way for your reader to accomplish something.
This is great, but an easy way to help your headline stand out from the rest is to showcase a peer-researched study or other scientific data that backs up your claim.
Let's look at a few examples:
The Scientifically Proven Formula For Growing Your Business 25% Each Quarter
The Scientifically Proven Formula For Profitable Blogging
The Scientifically Proven Formula For Writing SEO Headlines That Convert
11. Is [Something People Do] Causing [Something Bad]?
One of the best ways to demonstrate industry expertise is to show your reader how to solve a problem or stop doing something the wrong way.
The trick with these headlines is that they need to mention something that your audience does regularly, and then show how it could be causing a problem. This grabs their attention, encourages them to click, and sets you up as the expert by providing them with a solution that solves the issue.
Here are a few ways to do it:
Is Your Pitch Causing Investors to Avoid Your Startup?
Is Your Email Campaign Causing Potential Clients to Drop Away?
Is How You Give Feedback Hurting Employee Morale?
Bonus: A Checklist For Great headlines
Use the checklist below to make sure you're writing the best headlines possible: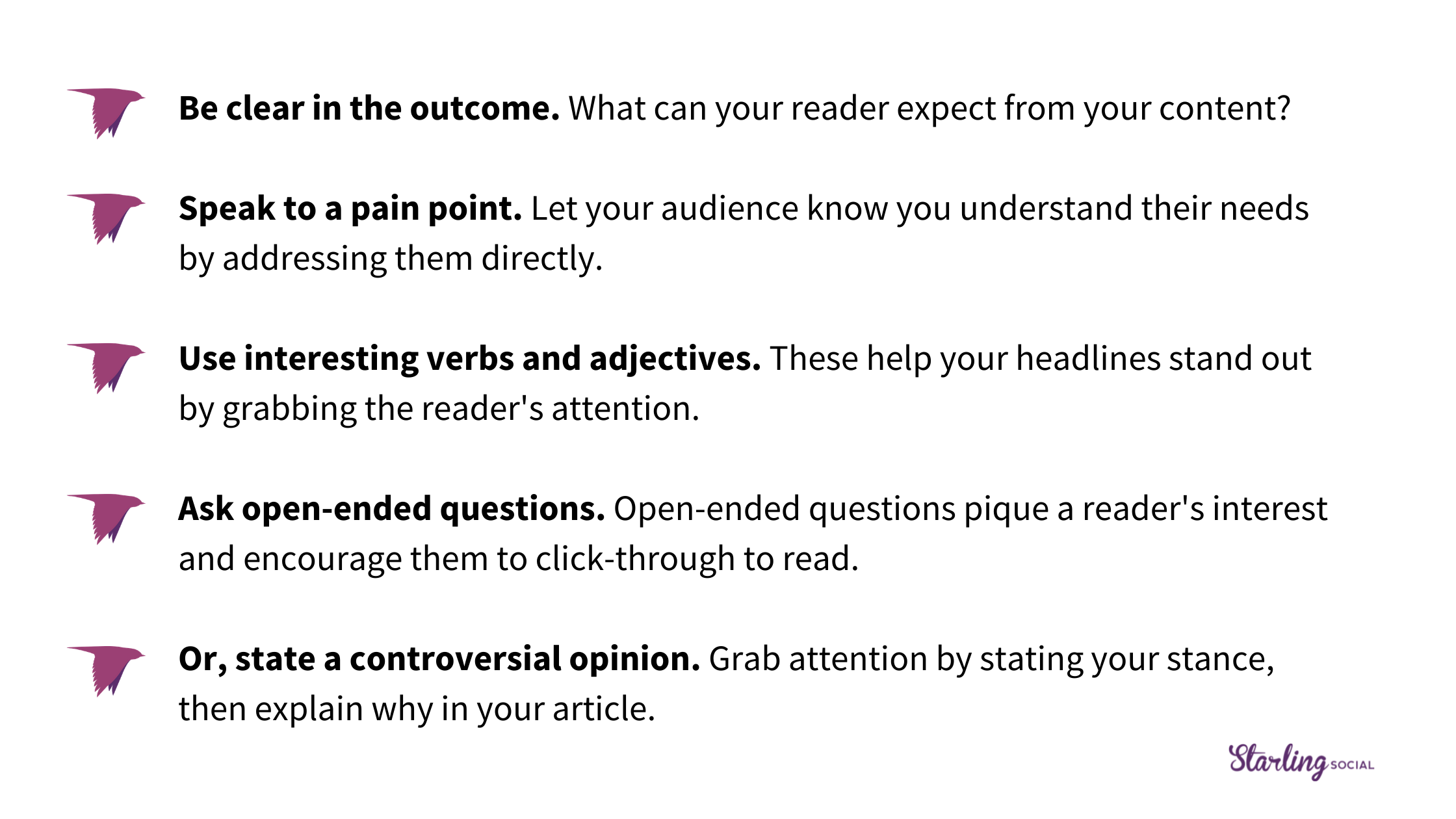 Conclusion: Start Writing Better Headlines Today
Attention-grabbing headlines are the easiest way to drive traffic to your website, increase brand awareness.
Remember: you don't need to be an experienced copywriter to write headlines that resonate with your audience — all you need to do is follow the steps outlined above.
If you'd like more useful articles like this one (from us + other industry leaders) subscribe to our weekly newsletter and become the savviest business owner in just 5 minutes per week.
You can also drop us a line and let us know how we can help create content for your website and blog that connects with your audience and increases sales. Just click here.
---