How to Use Targeted Landing Pages To Sell Your Products & Services
- by Alyson Shane
One of the best ways to market your products or services is by using targeted landing pages.
Targeted landing pages are pages on your website that are customized to speak to specific buyer personas, which you drive traffic to through organic or paid advertising.
These pages offer specific information about how your products or services can solve reader's problems, creating a convincing argument to get them to convert.
Not sure how to use a targeted landing page to sell your products or services? Keep reading to find out!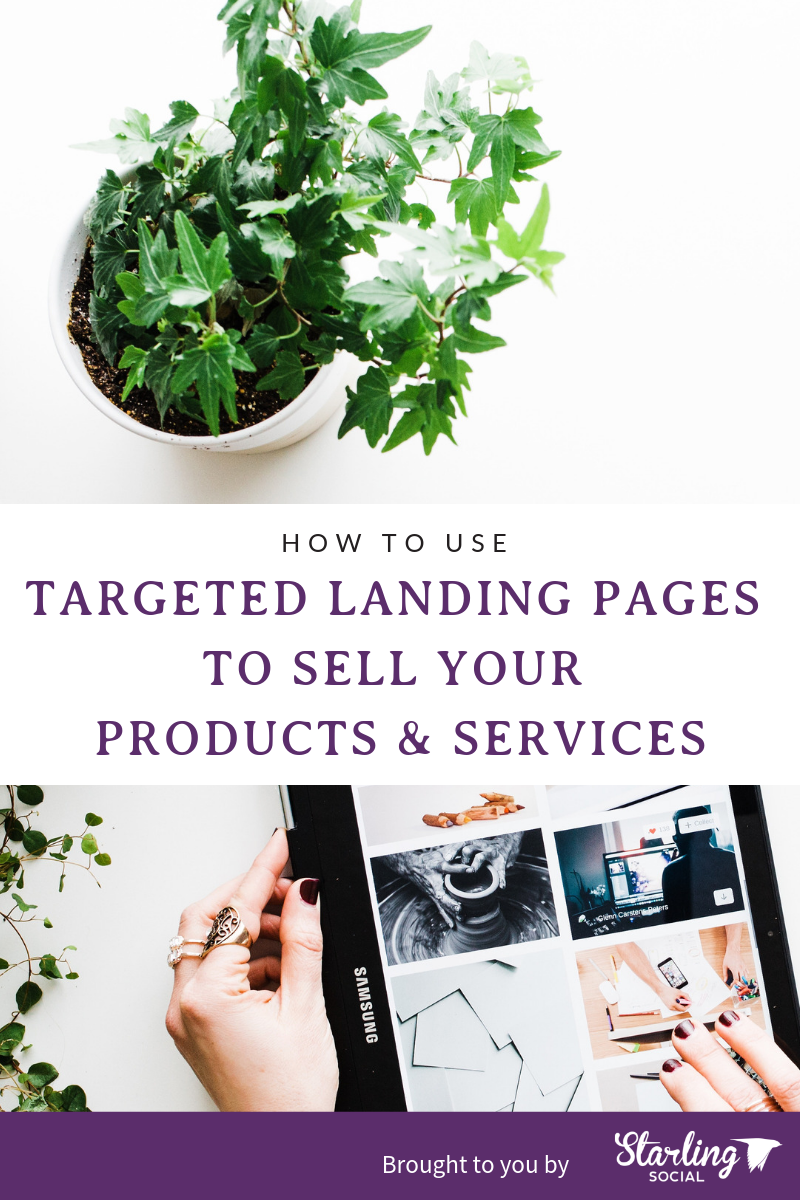 How to Use Targeted Landing Pages to Sell Your Products or Services
Improve Your Conversion Rates
According to Insightera, account-based marketing converts 4x more traffic than generic marketing towards less targeted audiences.
Account-Based Marketing (ABM) is the process of personalizing your marketing strategy to connect with specific people, or with a particular type of consumer (identified by creating buyer personas).
Let that sink in: you can earn four times as many conversions just by changing your marketing strategy.
If that's not a reason to rethink your current marketing strategy, we're not sure what is!
Reach Audiences on a Personal Level
Personalizing your landing pages allows you to create marketing copy that speaks to them and identifies their specific pain points.
Maybe you sell a service that can offer benefits to entrepreneurs as well as managers in middle-market companies, for example.
These two buyer personas: "Entrepreneur" and "Manager," have different pain points that need solving, which will cause them to be interested in different aspects of your product.
Creating separate landing pages for both buyer persona types will allow you to focus on converting each of them individually by speaking directly to how your product solves their problems.
Improve Your SEO
Creating targeted landing pages on your website is also offers a boost for your organic Search Engine Optimization (SEO) traffic.
By creating more opportunities to add in keywords and use them strategically on your website you can draw in potential customers and engage them for a significant amount of time.
The more engaged your visitors are, the more valuable your website looks to search engines like Google, which increases the likelihood that other potential customers will find you when they're looking for information.
How to Implement Targeted Landing Pages on Your Website

You didn't think we'd bring you all this way and leave you hanging, did you? Keep reading to learn how to build targeted landing pages that convince and convert:
1. Create a Well-Designed Page
Never underestimate the power of a well-designed webpage when it comes to increasing conversions.
A well-designed, targeted landing page should have the following qualities:
Lots of white space
Images
Only one call to action
Taking the time to build landing pages that are easy to navigate and clearly convey what your product does, and why customers should buy it, makes the process of converting them that much easier.
2. Write Engaging Headline and Page Titles
Don't forget to use your headline and page titles to show your potential customers how your product or service will solve their problems.
The goal of your page should be apparent immediately in your page title, and repeated in your headline and any additional sub-headings.
After all: you want your page visitors to know exactly why they're on your website, and what they should do next (hint: it's buying your product!)
3. Focus on the Benefits
Make the benefit of your product immediately apparent in your landing page copy. Keep sentences short and snappy, and don't include unnecessary information if possible.
Make sure to customize your targeted landing page copy by using keywords relevant to different buyer persona types.
4. Highlight Your Call-to-Action
It's critical that there is only one call-to-action (CTA) per landing page.
Your CTA should relate to the pain points felt by that buyer persona, and tie into the information you've already outlined in your landing page copy.
Using a single CTA allows you to give your potential customer a single, ultra-customized recommendation, and the more seen, heard, and understood they feel, the likelier they are to convert.
5. Keep Important Information 'Above the Fold'
"Above the fold" refers to the portion of a website that's visible in a browser window when the page first loads.
The portion you have to scroll down to see is "below the fold," and it's essential to keep all information, including your CTA, "above the fold" on your targeted landing page.
Even better: include any need-to-know information in the first 50-100 words, so your potential customer understand the product, the benefits, and why they should buy right away.
Bonus: Use Targeted Testimonials
Include testimonials from customers or clients who match the buyer persona types you're targeting with each landing page.
For example, for a landing page targeted at entrepreneurs, include a testimonial from a startup or customer in a similar field stating specifically how your product solved their problem.
Including testimonials can result in a 58% increase in conversions, so if you haven't been asking your customers for testimonials to use on your targeted landing pages, now is the time to start.
Ready to Start Converting?
By creating targeted landing pages for each of your buyer persona types, you can create a personalized experience for your potential customers which feels natural and clearly speaks to their pain points.
By creating a seamless experience with your targeted landing page, you can make the process of deciding to take action that much easier for any potential customers.
Are you struggling with web copy that doesn't convert? Drop us a line.
Have some feedback on this post? Leave us a comment on our Facebook page.
Have some landing page tips to share? Tweet us your favorite.
Want to follow our Company Page? Follow us on LinkedIn.
Want some nice stuff to look at every day? Let's connect on Instagram.
Looking to stay up-to-date with our posts? Subscribe to our newsletter.
---