The 5 Most Important Elements of SEO Copywriting
One of the hardest parts of content marketing is writing copy that's optimized for search engines, but is still fun and entertaining to read.

Regularly publishing useful, interesting updates (usually to your website's blog) gives people a reason to visit your site over and over again, which familiarizes them with your business, builds trust, and increases the likelihood that they'll buy from you.

In fact, a recent HubSpot survey found that 20% of marketing leaders described company blogs as one of their "most important channels" for hitting goals.

However — this is easier said than done. In order for your blog to be successful, you need to do more than just "write content". Your copy needs to:

Appeal to your target audience
Solve a specific problem
Show how YOU, specifically, solve that problem
The easiest way to convey all of the above is by using strategic SEO keywords to drive targeted traffic to your website.

Keep reading to learn how to write SEO-friendly copy that attracts the right audience to your posts and builds brand awareness with your ideal customers.
What is SEO?
SEO stands for Search Engine Optimization. It refers to the process of writing your website copy and setting up your site in a way that helps it appear on a Search Engine Results Page (SERP).
Where your website shows up (or "ranks") on a SERP is the result of your SEO.
When it comes to applying SEO to your content strategy, that process looks like this:

Research keywords relevant to your industry
Select a particular keyword (or keyword phrase)
Use that keyword to write a blog post
Share that post on social media and encourage others to do the same
How Are SERP results calculated?
A search engine's algorithm calculates SERP results on a few factors, which are:
The content on your page. Things that are measured include the amount of times a keyword (or key phrases) are used throughout your content.

Types of clicks. According to Moz, there are three types of clicks you should pay attention to: First, Long, and Last.
Authority. Authority refers to the number of links pointing back to that page, and how trustworthy those links are. The more popular and linked-to a website is, the more "trustworthy" those websites are.

Think about links like "upvotes" on Reddit: the more upvotes your post gets, the higher it appears at the top of the comment thread. Websites and SERPS work the same way.
The "comment" that gets upvoted is your website, and it receives an "upvote" when a trustworthy website links back to it. Pretty simple, right?
What is SEO copywriting?
SEO is the process of writing content that is useful, ranks well, and communicates expertise and value to your target audience.
The practice of effective SEO copywriting has changed a lot over the years.

Starling Social started as a freelance copywriting business, but back when we started doing SEO copywriting it was more about following a specific format, like mentioning the business name, services, city, and phone number in the opening paragraph of a web page.
Unsurprisingly, this made the internet sound boring and repetitive.

These issues also caused search engines like Google to start rolling out updates to their ranking algorithm and how it parses (categorizes) content on a website.
Nowadays there are lots of factors that go into how a website ranks, but consistently communicating how you solve your customer's problems through your content is how you write truly "effective" SEO copy.
The 5 most important elements of SEO copywriting
Like we said: there are lots of things that contribute to a web page's SERP ranking, but when it comes to copy, the most important elements are:
Headlines
Content
Meta descriptions
Keyword frequency and density
Page links
1. Headlines
Your headline is one of the most important elements of your SEO copy, since the headline is what catches people's attention and entices them to click and read further.

Some writers suggest writing your headline first, then writing the rest of your copy, but the order you do it in is up to you. We usually write ours last, and check it against Coschedule's Headline Analyzer to see how it'll do.
Not sure how to write snappy headlines? Use these tips as your guide:
Include a number in the title if possible. Conversion XL found that headlines with numbers earn higher click-through rates.
Keep your headline short. Search engines cut off titles after 72 characters, so avoid long, meandering headlines if you can help it.*
Use Google for content inspo. Search for your target keywords and pay attention to the themes that appear in the topic, content, and which headlines turn up — this will show you the hottest topics that are getting the most traffic.
Use Yoast SEO. This handy WordPress plugin will help you optimize your content for SEO by using an easy-to-understand ranking system.
* For reference, the title of this article "The 5 Most Important Elements of SEO Copywriting" is 48 characters.
2. Content
When someone looks something up, they're searching for content that meets those needs, and SEO copywriting is how we create the high-quality content that gives them what they're looking for.
How to strategically plan SEO content
The best way to plan your SEO content is to target keyword phrases, instead of individual keywords. Let's look at an example:

As we can see, this generic search turns up about 197 million results — not great if you're a small business without an ad budget to give you an edge in such a crowded space.
Now, let's take a look at a more specific keyword phrase and compare:


By targeting a more niche keyword phrase, we reduced the volume of results by 97%!

While this is still a pretty sizable number of results, it does a good job of illustrating how targeting specific keyword phrases can increase the likelihood that your page will turn up on a less-crowded SERP.
How to write high-ranking SEO content
Before you start writing, it's essential to know who you're writing for.

Consider your customers and ask yourself: what kinds of questions can I answer for them? As you can see in the screenshots above, the more "niche" you can be, the more likely your content will show up on a SERP, so try to avoid general questions and focus on industry-specific topics instead.

The Google Panda 4.1 update specifically penalizes "thin" or shallow content, so make sure your articles and posts are at least 1000 words long, and include your keyword phrase several times on the page.

But beware: search engines penalize "keyword stuffing" so don't jam your keywords into sentences in ways that feel repetitive or sound unnatural.
3. Meta descriptions
Meta descriptions are short, text-based descriptions of what's on a page. Here's an example of some of the meta descriptions from the Starling Social website:

If you check out your website's HTML, you can find it in the <head> section </head>. Updating it can be tricky if you aren't a web developer, so we recommend using Yoast SEO for this purpose if you're serious about optimizing for SEO.
How to write eye-catching meta descriptions
Meta descriptions need to do two things: rank well in a search, and be engaging enough to capture readers' attention and encourage them to click.
Make sure to keep keyword intent in mind. Keyword intent is the reason behind the keywords.
Think about it this way: if you're a digital marketing agency (like us, hello), then you might assume that you'd want to target only keywords like "digital marketing agency" — but if someone else is typing those words into Google, what are they looking for?
Obviously they want to find a digital marketing agency, but why? Maybe they want help understanding how to run Facebook ads, or how to grow their following on Instagram.

Whatever it is, your meta description needs to speak to those needs! Use this tip sheet as your guide: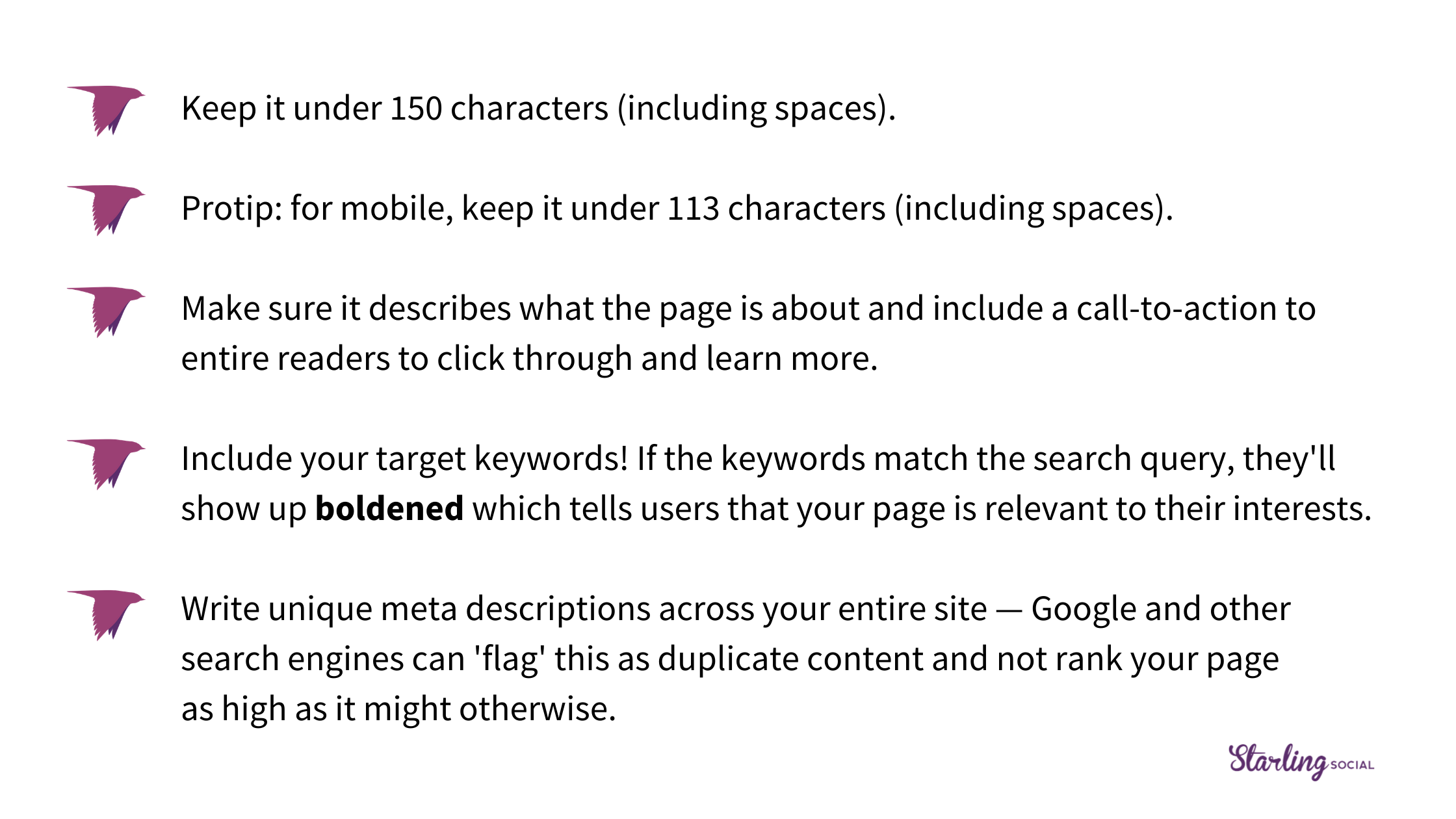 4. Keyword frequency and density
Keyword frequency refers to how often your keywords appear on your page.
Keyword density, on the other hand, refers to the ratio of your keyword phrase to other words on the page.
If you write a 1000-word post with the target keyword phrase "professional Manitoba photographer" — how many times does that phrase come up, and how much are you using it in relation to the other words on the page?
Overdoing it here is called "keyword stuffing". Jamming your keyword (or phrase) into your text too many times can cause search engines to flag your page as "spammy", and also has the unfortunate side effect of making your content look spammy, too.
Here's an example of how not to do it:
"For the best professional Alberta photographer look no further. We offer the highest-quality professional Alberta photography at competitive rates. Want to learn about our professional Alberta photography services? Click here."
Not great, right?
The example above is pretty obvious, but if you're not sure what your keyword-to-content ratio is, we suggest using the SEObook keyword density tool.
5. Page links
Page Links are how search engines see that your website is connected to the rest of the web and that your content is useful enough that it links to other, relevant content online.
Google's stated mission is to organize the world's information and make it accessible, so adding outbound links to your content indicates that you value what other people have to say, which helps your website as more valuable to search engines.
What SEO copywriters (like us) do is identify target keywords, research supporting and accurate information to support our content, and then use both to create useful and interesting content.
There are no "hard and fast" rules about page linking, but here are a few to keep in mind:
Link to relevant pages within your own site
Link to in-depth 3rd party guides and resources
Link to other pages with appropriate anchor text* that sounds natural
* WordStream defines anchor text as "the clickable text in a hyperlink"
Bonus: site speed
Site speed isn't technically related to SEO copywriting, but how fast your website loads play a huge role in how your website ranks on a SERP so we'd be remiss if we didn't mention it.
According to a study by Akamai, 53% of people will abandon a web page if it takes more than 3 seconds to load, and mobile sites that loaded in 5 seconds earned almost double the revenue of sites that took 19 seconds to load.

If your web page takes more than two seconds to load, you could be losing out on valuable traffic! We recommend testing your website's loading speed using Google's PageSpeed insights tool.
SEO copywriting tools
Looking for more tools to increase your SEO copywriting abilities? Check out this list of handy resources:
Hemingway App. This tool identifies excess text and helps keep your copy short and snappy (just like Hemingway's writing).
Coschedule Headline Analyzer. Exactly what it sounds like.
Moz Keyword Explorer. A keyword research tool that gives you up to 10 free keyword searches a month with a free account.
Google's 200 Ranking Factors: The Complete List: Exactly what it sounds like.
Start writing better SEO copy today
Following these SEO copywriting strategies will help you drive more traffic to your website, improve your brand's reputation, and (most importantly) write content that people and search engines love.
And hey — if you thought this was a useful post and you want to get more of this kind of content (ours and others) delivered to your inbox once a week, subscribe to our newsletter.
---