Tagged: SEO
- by Alyson Shane
Looking for answers to your hottest local SEO questions? We've got 'em!
SEO is a "hot button" topic these days, and as businesses look for ways to expand their organic (non-paid) reach in order to help potential customers find them, many are waking up to the fact that spending a little time optimizing their website and Google My Business pages will help their business rank higher on a Search Engine Results Page (SERP.)
With that in mind, today we're going to answer some of the most common questions we hear from our clients when it comes to optimizing for local SEO. Let's dive right in: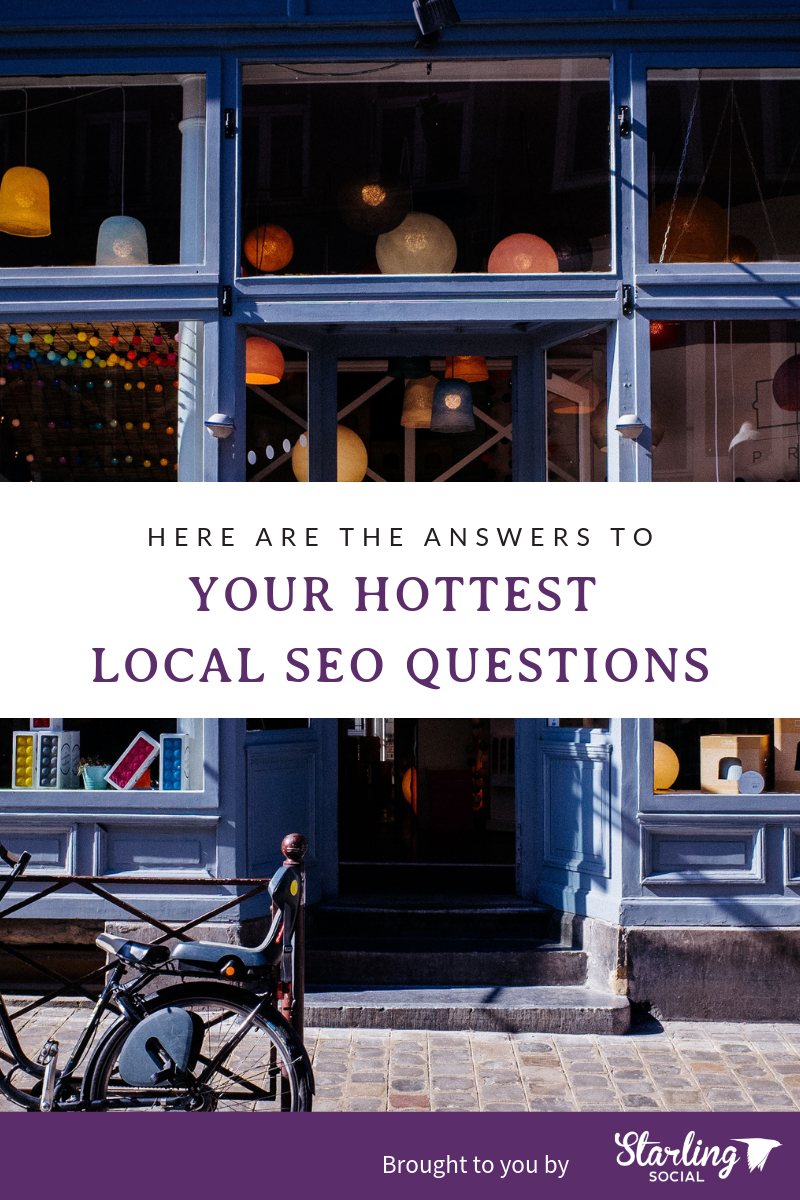 "How has local SEO changed recently?"
Google makes so many updates to their search algorithms and associated business services that it can feel confusing to keep track of it all, so here are some of the most important changes that have taken place over the past few years:
Google has anchored Local Packs (the top three results you see after performing a search) to pretty much every SERP that it considers to be locally-focused. This is a big boon for businesses who have registered an account with Google My Business, Google Maps, etc.

Google My Business has also rolled out several features to help differentiate your business from your competitors, including: Posts, Product Posts, Q&A, Messages, Video, and more. By completing and updating as many of these features as possible, you can really hone your content offerings to target local search.

There have been a lot of rumblings recently about the explosion of voice and mobile search, but to date these trends haven't appeared to affect local SEO beyond ensuring that your data is clean and consistent across the web. This will be beneficial when the Internet of Things (IoT) becomes even more commonplace than it already is because it will allow businesses to easily integrate into these systems.

Reviews and link building continues to be critical for local SEO success.
"How do I beat out competitors like Yelp when I have a small budget?"
The good news for small and medium businesses (SMBs) is that Google has an incentive to show more truly local businesses in each Local SERP, which means there's less opportunity for big companies like Yelp to dominate over the competition, even if you have a modest budget.
As long as you have your basic website, Google My Business Page, and your local citations set up and up-to-date, earning a high ranking on an SERP becomes a game of links, reviews, and content.
In particular, SMBs need to focus on gaining positive customer reviews on Google, Yelp, and any other site that's relevant to your target market or industry. Another way to attract new customers is to make use of the Posts feature in Google My Business, which is a great (free!) way to attract new customers who may already be familiar with your brand.
"How much does social media impact my local SEO efforts?"
Social media doesn't appear to play a huge role outside of reviews. Instead, focus your "social SEO" efforts into being active on social platforms where you know your customers spend their time. For example, if your business markets products at women who are 45+, then your business should have an active Facebook Business Page, at the very least.
"How do I differentiate myself from other local businesses in my industry?"
The best way to truly differentiate yourself from local competitors is to build a brand with a voice and tone that sounds unique online, and which helps potential customers see you as "different" than other, similar businesses.
This typically comes down to how well you convey your values, and how well you can explain how your product or services will solve your customers' problems.
Of course, many businesses who are just starting out and don't have a lot of word-of-mouth activity can still earn high local SEO rankings by setting up their website and GMB pages and focusing on getting links and reviews.
"What are the 'must-haves' for succeeding in local SEO?"
Businesses that kill it at the local SEO game all share the same qualities:
Their a website is easy for Google to recognize, understand, and navigate.
Their Google My Business pages are optimized them using Posts, Q&As, etc.
All their local citations are in place in GMB.
They have a content strategy to target high-converting search queries.
They consistently generate customer reviews.
They build and get links.
Remember: winning at local SEO isn't a one-time play; it takes ongoing effort to make sure that your website continues to rank highly in local SERP results!
Optimize Your Local SEO Today
Getting your business listed in Google's SERP Local Pack won't happen overnight, but by taking the proper steps to optimize your website, Google My Business profile, and focusing on getting a steady stream of reviews from places like Google, Yelp, and other niche-specific review sites, you can start to work your way into that exclusive club of anchored Local Packs.
Are you trying to rank for local results in your city? Drop us a line.
Have a comment or question on what we just covered? Leave us a comment on our Facebook page.
Have a hot local SEO tip to share? Tweet us your favorite.
Looking for a more B2B connection? Follow us on LinkedIn.
Want some eye candy? Let's connect on Instagram.
Want to stay in touch? Subscribe to our newsletter.
---
- by Alyson Shane
The most compelling business websites are informational, engaging, and accessible, but it's not enough to have great content; your website also needs to be optimized to rank well in search engines in order to help prospects and readers find your content.
With this in mind, building a content marketing strategy for your business which includes a strong Search Engine Optimization (SEO) plan is necessary in an area when content is widely available, and the market is more competitive than ever, with 81% of B2B Decision Makers reporting that they conduct research on a company's products and services before scheduling a vendor meeting. This means that your your website copy needs to be consistent in voice and tone, as well as optimized for SEO.
For content creators in B2B organizations, nailing down the phrases that prospects are plugging into search engines can feel tough. Not only can it seem like an endless process, but some content developers may feel as though they don't have the necessary tools or expertise to get the job done.
The good news? Content creators in B2B businesses don't need top-notch tools or years of experience developing high-quality SEO content.
Crafting great content that is SEO-driven for potential leads doesn't have to be a mind-numbing or frustrating process. Here are some helpful SEO research tips to save you time and convert prospects into active leads: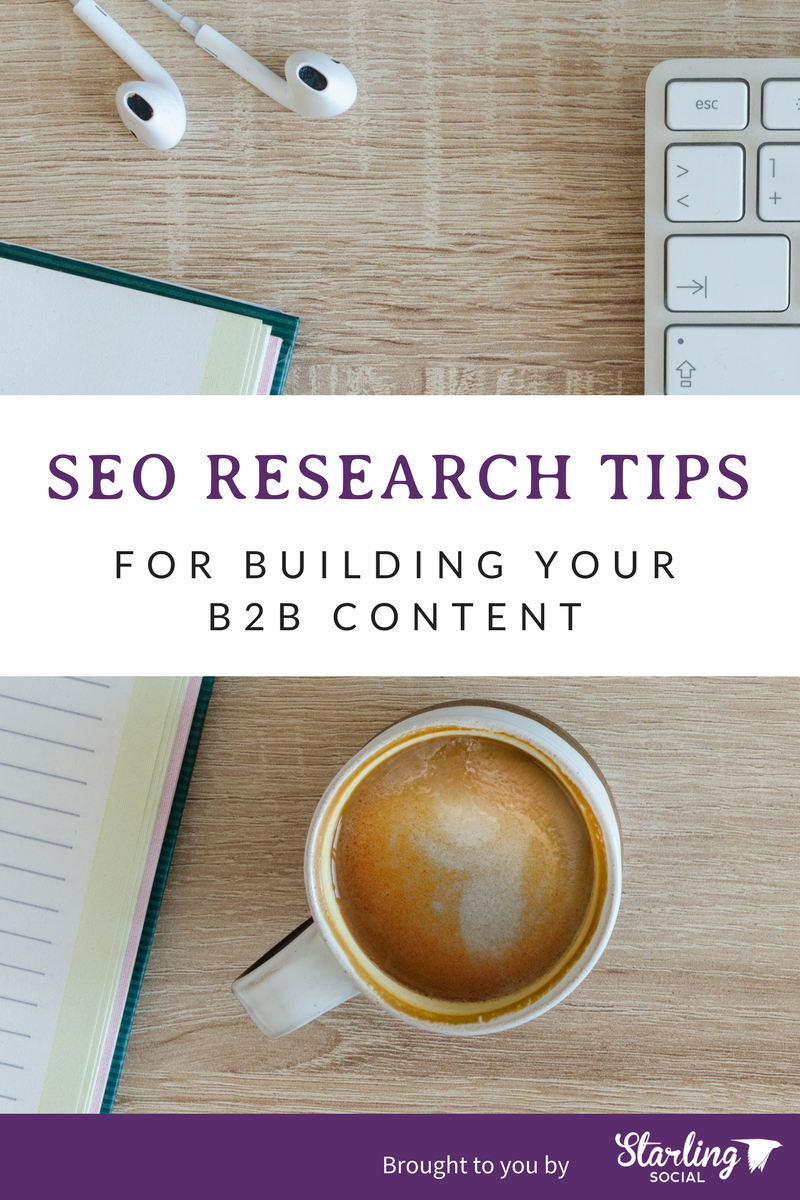 1. Copy Social Media for Keywords Straight From Your Clients
For both B2B and B2C companies, your social media platforms are a hotbed of useful information and prospect engagement. These channels are commonly used by businesses to share their experiences, thoughts, and opinions.
As a B2B company searching for keywords that your clientele relate to your business, you can use these communication platforms to your advantage by tapping into your network and creating leading questions that allow B2B prospects to share their thoughts on your brand and business.
Twitter polls, for example, allow your online community to weigh in quickly and easily on the topic you're researching. This means that you can gauge which keywords your audience associates with your brand while allowing for further discussions you can use in other areas of your content marketing strategy.
2. Use Technology to Find Relevant Data
Tools such as Google Analytics and the associated Keyword Planner have been tools of choice for B2B businesses for years. Whether you're a large organization or a smaller vendor or a product or service, these tools are essential for a successful foray into SEO keyword and content development.
Often used for providing cost-per-click information, average search volume data, and creating paid search campaigns, these tools provide you with measurable data so that you can see what SEO tactics are working, and which you can further refine.
This data helps B2B business' research and discover opportunities for greater reach, relevant keywords, and move deeper into creating a unique content plan that stands out in your chosen industry.
3. Complete Relevant Keywords Searches in Incognito Mode
If you're a marketer then you probably have an ever-expanding collection of keywords that relate to your company's product or service.
When you enter these keywords into your chosen search engine to see where your content is on the results page, you may be surprised to find that you're close to the top. However, this probably isn't a coincidence: browsers can use your history or cache to impact the results to make them as relevant to your experience as possible.
In order to conquer this system, you can perform an incognito search. Input your priority or high-performing keywords and then check where your page shows up. Take a gander at the content that fills up the first 5 spots and take notes on their keyword use, spacing, and other SEO factors that may be pushing them up on the results page.
4. Writing SEO Content Based On Keywords
When it comes to actually creating the SEO content, best-in-class content is that which plays into what a prospect wants to read and the specific keywords you should be targeting. Keep your list of developed keywords closeby as you're creating content and reference back to Google Trends every once in awhile to ensure that your topics and keywords are relevant.
Get ready to gain traffic, earn prospects, and close more B2B deals with content that is SEO-driven and ready to perform. Have you used any of these tools to up your SEO game lately? Tweet at us and let us know!
Want more insight and tools to help your brand stand out online? Download our free ebook Get Social! Content Marketing for You & Your Brand now.
---