How Your Page Copy is Failing and What You Can Do About It
- by Alyson Shane
Websites exist for the same reason: to get the visitor to take action.
Whether that's reading a blog post, subscribing to your newsletter, buying your product, or learning more about what you do, there shouldn't be a single page on your website that isn't there to generate an action from the person viewing it.
But if your page copy isn't set up to convey information in a way that offers value and inspires the action you want someone to take, you're leaving customers at your digital doorstep.
As content experts, we spend a lot of time working with our clients to hone their copy and keep their pages converting and consistent. With that in mind, today we're going to review some of the most common reasons we find our client's content wasn't converting, and unpack how we approach solving their issues: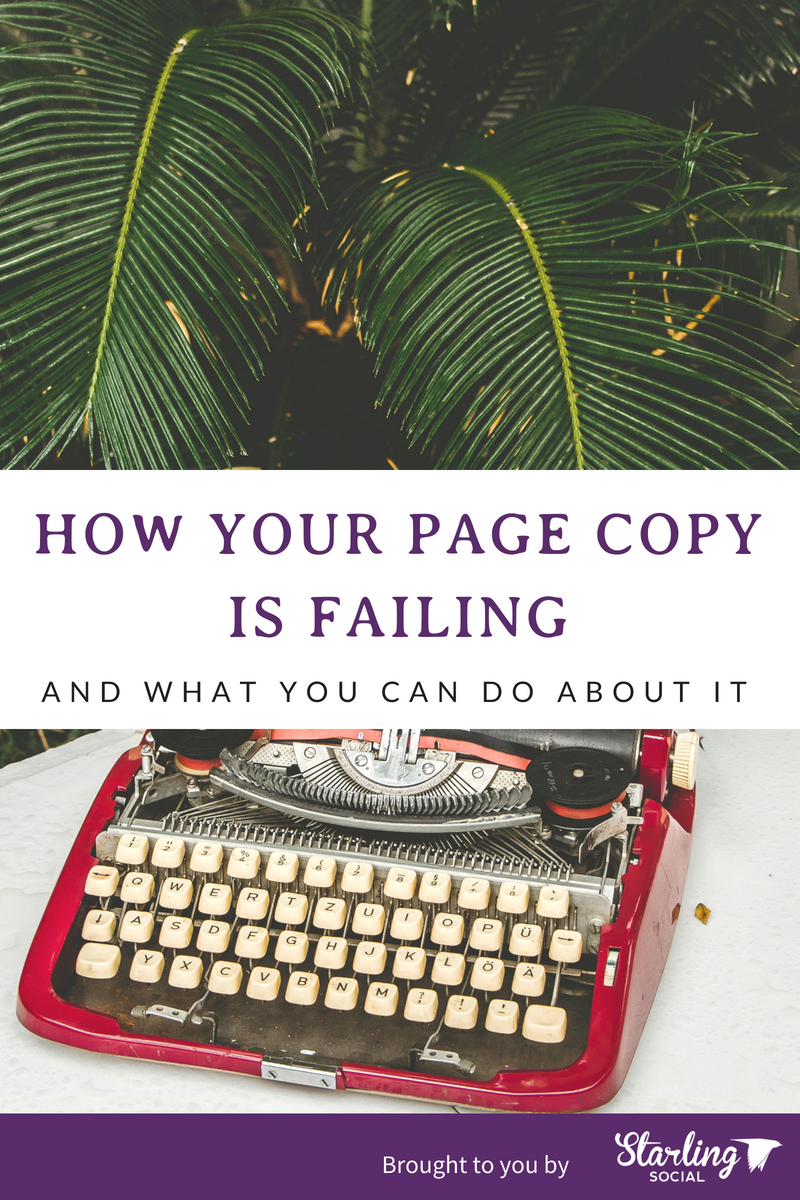 You Use Empty Words
One of the most common issues we see when developing a voice and tone guide with many clients with many of our B2B clients is a tendency towards verbosity in their copy.
Often we'll run into sentences that sound like this:
"Our team of exceptionally qualified experts with decades of experience in their respective fields who are fiercely committed to delivering exceptional results that exceed expectation and reimagine the potentiality of our client's portfolios."
... So, how did reading that make you feel? Cross-eyed? Us, too.
Often, we find that in an attempt to sound professional, people will stuff unnecessary words into a sentence that detract from the point they're trying to make.
The Solution: Write Like Hemingway
Ernest Hemingway was famous for his short and quippy prose. Unlike many of his contemporaries, Hemingway's sentences were concise and to the point, and conveyed the maximum amount of information in the fewest amount of words.
When we write for our clients, we edit our work and ask "would Hemingway leave this sentence? Or can we be more concise here?" Try it for yourself and see what the results are!
Bonus: there's even a Hemingway Editor tool that's super handy.
You Lose Focus in Your Copy
If Hemingway was able to hammer home a powerhouse story in just a few hundred pages, your web page copy can be snappy and concise while still conveying your brand voice and communicating value.
But why does this happen in the first place? In a lot of cases it's because the writer is trying to up-sell the reader on something.
Think about it this way: if you have two related products - say, a bicycle and a helmet - it may be tempting to try and sell both on the same page.
People think: "if they don't buy the bike, they'll buy the helmet!" but this tactic often backfires because you're splitting your reader's attention.
But by splitting your audience's attention you reduce the likelihood they'll buy either item. The more things you stuff onto a page, the more divided your reader's attention (and incentive to purchase) is separated and diminished.
The Solution: Focus on the Subject Matter
The key to writing concise copy is to stay laser-focused on the subject matter on the page.
For service pages, write one page per service.
For item pages, write one page per item.
For blogs, write about one idea or topic.
This will keep your audience's attention focused, and will keep your brand's voice and tone from sounding inconsistent and confused.
Oh, and by all means use embedded links to link to related topics when necessary, but be careful to focus on one topic per page.
Reading it Feels Like Work
Have you ever seen an attention-grabbing headline, clicked over to the website, and then clicked away immediately because you didn't feel like putting the work into reading the whole thing? Yeah, us too.
Typically "hard work" pages happen because they've been stuffed with empty words and sentences, like the example we showed earlier.
These pages are dangerous because they increase your bounce rate (people who leave your website after only looking at one page), make your page look less appealing to read.
Worst of all: these pages fail to communicate value because there's so much fluff in the copy that the real points - the ones that are valuable to your audience - are lost in there somewhere.
The Solution: Optimize for Mobile
Gone are the days when crowds used to gather to hear Abraham Lincoln read a four-hour rebuttal to an opponent's platform; our modern society likes when people are to the point and communicate clearly.
This has mainly been driven by the explosion of mobile phones and smaller screens. Lots of text is hard to read on a smaller screen, and how we write our copy has to change to adapt to these trends.
By always writing your copy with mobile in mind, we apply these principles:
Avoid large paragraphs and try to keep sentences short.
Use shorter words to communicate your message.
Cut out empty words.
Your Copy Sounds Wooden
We've noticed this tendency in the B2B space much more than the B2C space, probably because of that perception of fanciness we discussed earlier. Unfortunately, the most significant consequence of this style of writing is that not only does it tend to get filled with empty words, it often sounds wooden and unapproachable.
Two words a business owner should never want to hear are "wooden and unapproachable."
Why? Because people buy from brands and people they like and trust. Let's think about it this way:
You're a farmer at a networking event, and you meet two business owners, Robert and Stephen. Robert is wearing a three-piece suit and is standing with his arms crossed and talking but not smiling; Stephen is wearing a suit jacket, slacks, and is telling an entertaining story and moving his hands around.
Who are you more likely to buy from? Robert or Stephen?
If you're like most people, you'll choose Stephen. Why? Because he seemed more approachable and friendly, not wooden and reserved like Robert, and these subtle differences in how we communicate impact how people feel about us.
People (and brands) who seem approachable and friendly make their audience feel comfortable enough to want to buy from them.
The Solution: Keep Your Copy Approachable
Consider how your phrasing makes your page sound.
Read the copy on your web pages out loud to yourself.
Who does it sound more like: Robert, or Stephen?
Copy that sounds like Stephen should sound clear, friendly, and approachable.
Focusing on sounding positive and avoiding complicated language shows your reader that their experience of reading your website is what matters most, and doesn't make them feel uncomfortable, or like reading it is a chore.
By avoiding empty words and sentences, staying on-topic, and by working to be approachable and clear, you can write web page copy that keeps your reader on the page, drives the action you want them to take, and conveys the value of your services to your audience.
Need some help figuring out how to do it? Get in touch and let us know how we can make your brand sing with a content strategy based on data, analytics, and a deep understanding of how to write content that gets results. Get tips right to your inbox, and give us a follow on Facebook, Twitter, LinkedIn, and Instagram.
---