Tagged: Digital Marketing
- by Alyson Shane
The world of digital marketing changes every day.
From SEO updates, to shifts in posting strategies across social media networks, to digital advertising best practices — it can be hard to keep up and keep meeting your growth goals.
Working with an expert who offers digital marketing consulting can help you level-up your online strategy and edge past the competition. They bring a fresh perspective, ideas, and tactics to the table that you might not have known about or considered, and that can make all the difference.
That is, as long as you find a competent expert to work with.
One of the challenges with partnering with a digital marketing consultant is now knowing what you're getting into, and what you'll get out of the process.
That's why we've put together this overview what you can expect, and how investing in digital marketing consulting can help your business:
1. Audit your progress
The key to developing a successful plan is understanding what you've done to date and comparing it against industry benchmarks.
A digital marketing consultation compares things like your goals, target audience, and what you've done across all your marketing channels (social media, your website, newsletter, ads, etc.) to find ways to better align your actions with the outcomes you want to see.
An audit might also include reviewing the copy on your website, blog, and your newsletter to make sure that your messaging is on-brand and you're using keywords and language that are Search Engine Optimized (SEO).
2. Develop a new digital marketing strategy
One of the biggest outcomes of a digital marketing audit is the strategy that is developed during the process.
This starts with a SWOT analysis which assesses your Strengths, Weaknesses, Opportunities, and Threats. This gives the consultant insight into how you run your business, your position relative to your competition, how effective your digital marketing has been to date, and more.
Other things that need to be developed include Audience or Buyer Personas, lists of competitors, and other supporting documents that codify how your business engages (or doesn't) with your ideal customer base.
All of this information will be used to assess what you've done to date, the platforms and strategies you should be using, and develop an outline to help you start implementing the findings.
3. Create a high-converting sales strategy
Paid advertising is a "must" for most businesses looking to stay competitive. Google Ads (also known as Pay-Per-Click, or PPC ads) generate $2 in revenue for every $1 spent.
Whether you're new to the world of digital ads or you've been running ad campaigns for a while, getting a fresh take on the return-on-investment (ROI) of your ads can help you increase sales and generate more leads.
However, Google Ads aren't the only option — a digital marketing consult will help you determine which advertising channels will get you the best ROI as well as areas like:
Audience segments and targeting
Geo-targeting
Keywords
Duration
Budget
… and more!
4. Establish your KPIs
KPI stands for Key Performance Indicator, and refers to a set of quantifiable measurements that you can use to gauge your overall performance.
A digital marketing consultation will walk you through which KPIs and metrics you should be tracking in order to meet your specific goals and objectives. Your consultant should also explain how different KPIs relate to one another so you know how to gauge your success.
For example, when your social content has a high Reach but low Engagement, it means that your audience is seeing but not interacting with your posts. This is a sign that you need to find content that resonates with your audience in a more meaningful way to encourage them to engage via Likes, Comments, and Shares.
Ready work with a digital marketing consultant with over 20 years' experience publishing content online? Drop us a line and let's chat!
5. Drive growth across multiple channels
Omnichannel marketing is the process of creating a cohesive brand experience across multiple channels, like your social media, website, newsletter, ads, and more.
The best digital marketing consultants have experience with a wide range of marketing platforms and can help you think about how different elements of your strategy interact with and influence each other.
They can also help you think strategically about how your brand sounds on various platforms while staying consistent to your "brand voice".
After all, people talk to each other differently on LinkedIn and Instagram, but you might need to be active on both platforms — do you know how to "code switch" while still sounding authentic? A competent digital marketing consultant can show you how.
6. Help you develop processes for success
The key to great digital marketing is being organized and staying on-task, but this is easier said than done, especially if marketing is just one part of your job function.
A digital marketing consultation will help you take a top-down view of all your digital marketing channels and help you think about how to develop processes to keep everything running smoothly.
This can include how-to documents that you can refer back to, suggesting (and sometimes setting up) project management tools, and even creating visual frameworks so you can see how all the pieces of your plan connect at-a-glance.
How to Choose the Right Digital Marketing Consultant in 4 Steps
Hiring a digital marketing consultant is an investment, so you want to make sure you're spending your money on someone who will deliver the value you're looking for.
If you're not sure what to look for, here are five qualities to keep an eye out for:
1. Do they have the right experience?
Digital marketers come in all shapes and sizes, with different levels of expertise and focus. If you're looking for something specific, make sure they have experience in that area.
When researching potential experts to work with, pay attention to the clients they've worked with in the past, as well as the size and types of businesses they typically work with.
2. Can they "walk the talk"?
A digital marketing consultant should be able to showcase their knowledge by how they market themselves and their firm. Look at their website, social media accounts, and their overall approach to how they market themselves online.
Don't be fooled by flashy graphics and name recognition: if the company in question isn't actively "walking the talk" then they aren't worth your time.
3. Are they credible?
Anyone can make a claim about their abilities and results, so make sure to find testimonials and social proof from online sources before deciding which expert to hire.
4. Are they knowledgeable?
You're hiring someone to help educate you and set you up for success, so they need to have the knowledge and expertise to give you solid advice and answer any questions you may have.
Whoever you hire should have in-depth knowledge about digital marketing best practices, shifts and changes in trends, and lots of hands-on experience.
How Digital Marketing Consulting Can Help Your Business: Conclusion
There are lots of reasons why you might be considering hiring a digital marketing consultant, but the key to getting your money's worth is hiring someone competent, knowledgeable, and who you feel you can trust to point you in the right direction.
If you're looking for a consultant with over 20 years' experience publishing content online, drop us a line and ask about our free consultations.
If you're interested in levelling-up your own digital marketing knowledge, subscribe to our weekly newsletter for the latest news, trends, and insights you need to grow your business.
---
- by Alyson Shane
Do you have questions about outsourcing your business' digital marketing?
If you're struggling to figure out if your business is ready, you may be wondering:
Why should I outsource my digital marketing?
Should I keep my digital marketing in-house?
What parts of my digital marketing should I outsource?
What are red flags to look for when selecting an agency?
If you've wondered any of these things, then this post is for you. Let's dive right in:
Why Do Businesses Outsource Their Digital Marketing?
There are lots of reasons a business would outsource its digital marketing, but here are some of the most common:
You're not seeing the results you want from your in-house team/person
Many businesses outsource because their in-house team isn't meeting their goals.
This could be due to inexperience, disorganization, or a cultural mismatch. Whatever the reason, your marketing is always behind. If it's been a few months (or even years) since your business has launched a new campaign or tried a new strategy, then it may be time to outsource your marketing.
You don't have the resources to scale in-house
One person often isn't enough to manage all of a business's digital marketing needs. After all, graphic designers aren't copywriters or social media managers, and vice-versa, so you may still have skill gaps you need to fill to meet your marketing goals.
If hiring 2-3 more people is out of your budget, hiring an agency is a cheaper alternative that can give you the variety of skill sets you need to see success.
You're task-driven, not strategy-driven
Posting for the sake of being active on social media isn't a strategy.
As a business, you have revenue goals that need to be supported by your digital marketing strategy. While it may feel good to know you're posting 3-4 Instagram posts a week… that posting doesn't do you any good if there's no strategy behind it.
If you're not happy with your existing digital marketing strategy, then it may be time to outsource to an agency.
You have no reporting structure in place
If you aren't able to measure the results of your efforts then you'll never have a clear sense of where new business is coming from.
A qualified agency will work with you to set up a reporting system (we submit ours monthly and on a per-campaign basis) which will include a breakdown of what worked, what didn't, and suggestions for building on successes.
If you don't have a reporting system in place, then outsourcing to an agency can give you the clarity you need to make data-driven decisions about your digital marketing.
Why Outsource Digital Marketing? Your Questions Answered
Before we talk about the benefits of outsourcing your digital marketing, let's answer a few of the questions we hear most often:
Is outsourcing digital marketing cheaper?
Outsourcing your digital marketing to an agency is almost always cheaper than hiring in-house staff - usually by significant amounts, too.
Consider this: you could pay a single person to handle your marketing strategy, copywriting, social media, blogging, email marketing, SEO, landing pages, paid ads, and reporting.
Or, you could spend the same amount and have an entire outsourced team handling the same workload.
Consider the costs, scope, and quality of the work of a single person vs. a team of people, and it's easy to see how outsourcing becomes the most affordable option.
Is outsourcing digital marketing easier to manage?
Yes, outsourcing is easier to manage than in-house marketing because you don't have to manage an external team the same way you would with an employee.
Qualified agencies will have processes in place that will keep projects and campaigns running smoothly behind-the-scenes, allowing you to focus on your business without feeling the need to constantly check-in.
Does outsourcing guarantee a higher level of expertise?
Yes, outsourcing almost always guarantees a higher level of expertise than hiring in-house.
This is especially true if your business relies on new grads and less experienced marketers due to salary limitations. Most newbie marketers lack the hands-on experience needed to develop, manage, and execute a comprehensive marketing strategy.
Agencies, on the other hand, are typically founded by and employ digital marketers with years of experience, often in a variety of areas.
The Benefits of Outsourcing Digital Marketing
Let's talk about the best parts of outsourcing your company's digital marketing!
Outsourcing gives you outside insight into your business
Hiring an outside agency can give you a fresh perspective on how to approach your digital marketing.
Any qualified agency has a rigorous onboarding process that allows them to develop a deep understanding of your business, your customers, and how your products or services solve those problems.
This work, and the work of measuring and reporting consistently on your digital marketing, offers insight into your business, making them a valuable partner.
Outsourcing gives you access to experts
As we discussed earlier, the level of seniority and expertise that a business can access through an outside vendor is often much higher than they could hire for in-house.
Not only will you work with more experienced marketers, but qualified agencies will always be on the lookout for innovative new tools and techniques to amplify their efforts on behalf of your business.
Outsourcing guarantees a return-on-investment (ROI)
Put simply, agencies have a vested interest in generating continued ROI for your business, or else they risk losing your retainer. This means they'll continually work to find new ways to make campaigns more successful, increase open rates, and generate more interest about your business online.
(If you don't feel like you're getting that level of service right now, let's chat.)
Red Flags When Outsourcing Digital Marketing
We've spent a ton of time talking about all the benefits of outsourcing, but what about the red flags? What are some signs that the agency you're considering might not be all it's cracked up to be? Let's take a look:
They don't walk the talk
Let's face it: a lot of marketing agencies (older ones, especially) tend to offer digital marketing services to stay competitive, not because it's their passion.
As a result, you can tell pretty quickly which agencies are experts in areas like digital marketing and content strategy, and which are faking it for clients.
When considering who you want in charge of your digital marketing strategy, ask:
Do they post to their social media profiles regularly?
Is their content friendly, helpful, and interesting?
Do they show creativity and innovation in the content they share?
Do they have a newsletter, and is it any good?
Do they blog regularly to demonstrate industry expertise?
If the agency you're considering doesn't do any (or even some) of these, then they may not actually have the depth of knowledge and experience needed to deliver high-quality results.
They won't show past or current work samples
Whether that's sharing links to past or present client work or providing case studies, a qualified agency should be able to point to at least a few success stories.
If you're considering working with an agency but they're giving you the runaround on actual work samples, consider this a huge red flag and take your business elsewhere.
They force long-term contracts
No matter how great or experienced an agency might be, you'll both need some time to get to know one another and decide if your partnership is something you want to continue long-term.
If an agency is pushing for a multi-year contract before work has even begun, consider this a red flag.
Outsourcing Digital Marketing - Final Thoughts
Figuring out what to do with your digital marketing can be stressful, but outsourcing your needs to a qualified agency can bring strategy, clarity, and quality to your business' online presence.
As we've covered here, outsourcing is a cost-effective way to work with digital marketing experts who work hard to consistently deliver ROI for your business.
If you're ready to take the next step and work with an agency to grow your business, drop us a line and let's chat.
Still not ready to take the plunge? No worries! Our weekly newsletter will keep you informed with all the latest hand-picked digital marketing news and strategies. Subscribe now.
---
- by Alyson Shane
Even if you don't watch football, the results of last night's Super Bowl LII should have left you with your jaw on the floor.
No - we're not talking about how the Eagles pulled ahead at the last minute thanks to the touchdown pass caught by QB Nick Foles; we're talking about Netflix's surprise ad and movie release for The Cloverfield Paradox.
For those of you who may have missed it, Netflix sprung a trick play on audiences by investing in a highly-coveted Super Bowl ad for the latest installment in J.J. Abrams' sci-fi franchise Cloverfield: The Cloverfield Paradox.
The ad, which aired during the second quarter, ends with text which reads: "coming very soon" which was followed by an announcement from Netflix stating that they would begin streaming the film online immediately after the game.
Naturally people began freaking out about it online, hailing it as one of the most innovative ways to market a box-office film ever. Netflix's edgy, innovative strategy upended traditional assumptions about how movie advertising is done, and it's likely that things will never be the same.
Even if you're not in the business of making movies (also called "show business") there's a lot brands from other industries can learn from Netflix's groundbreaking move.
Let's explore: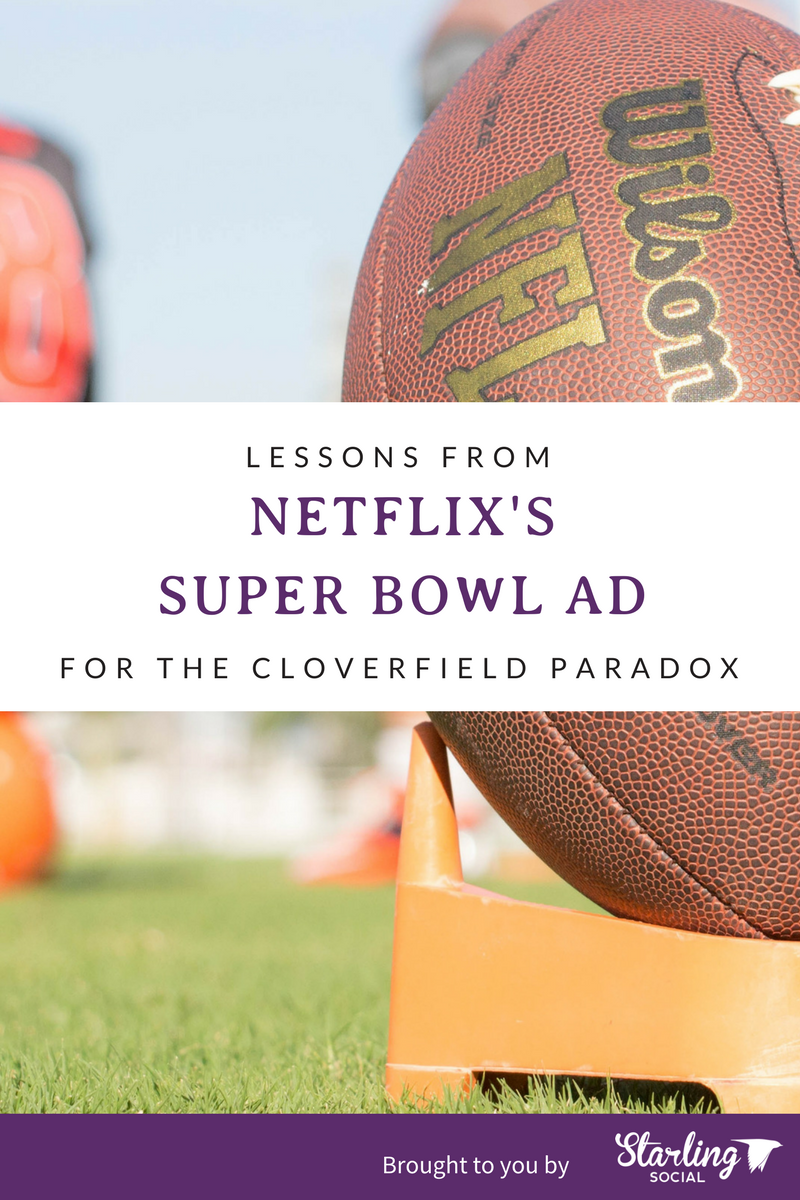 Experiment With Your Approach
We all know that buying a Super Bowl ad is one of the most effective (and expensive) ways to showcase your brand, product, or service to a captive audience of millions. In fact, it's not uncommon for movie studios to drop ads for upcoming theatrical releases during the Super Bowl.
What makes Netflix's approach different is that they barely gave their audience time to react to the ad before the movie started streaming. By breaking with the tradition of releasing teaser trailers, real-world ads, multiple full-length ads, and other traditional marketing tactics, Netflix broke the mold on traditional movie and TV advertising and gave audiences exactly what they wanted within hours of showing it to them.
Netflix took advantage of the energy, excitement, and captive audience generated by the Super Bowl and channeled as much of that engaged audience as possible into their digital streaming platform as soon as the game was over.
Your Takeaway
Don't be afraid to surprise your audience. We love the unexpected, especially when it comes to advertising, and breaking with tradition and experimenting on an ongoing basis will not only help you develop a better understanding of what your customers or clients behave, but you'll keep them on their toes which will keep them as engaged with your brand as possible.
Experiment With Audience Conversion Tactics
"You can't advertise during the Super Bowl and expect people to watch your movie right after!"

What do you think the odds are that someone, at some point throughout planning this campaign, said this? Pretty likely, and it's because what Netflix did flew in the face of traditional audience conversion tactics.
Think about it this way: Netflix managed to draw in an audience of viewers tuned into an unrelated live event and converted them to their digital streaming platform immediately after the event ended.
This is a huge risk for advertisers, as we know that it can be hard to replicate marketing ROI success across different audience types (Facebook audiences react to different content than LinkedIn audiences, for example) but Netflix wasn't afraid to experiment with a new approach which encouraged audiences to turn off one streaming service (their digital package or cable provider) and turn to another - their own.
Your Takeaway
If you know you have a captive audience on another platform or digital medium and you need to find ways of converting them, invest in ads specifically for the purpose of funneling them to your site or platform.
Don't be afraid to encourage cross-platform conversions! Pay attention to when audiences on other platforms are most engaged, or are likely to be online, and direct your advertising dollars into ads that run during those peak times in order to capitalize on the existing, engaged audience like Netflix did.
Don't be Afraid to Experiment. Period.
This isn't the first time that Netflix has shaken up traditional TV and movie advertising tactics.
Back in 2013, they shocked audiences by dropping all 13 episodes of House of Cards at once, effectively ushering in the age of binge-watching and changing how most people consume media.
At the time it was considered a groundbreaking move, but several years on the practice has become so commonplace that many of us allocate weekends to "binge" one season of a show or another. This shows us that taking risks and changing up traditional models can not only result in ongoing publicity and media - something every brand wants - but can fundamentally shape how your clients and customers interact with your products or services on an ongoing basis.
Your Takeaway
TRY NEW TACTICS.
If there's anything that this article and Netflix's strategies should tell you, it's that being bold and trying new methods of advertising, sharing information, and audience conversions is the way of the future.
Most brands are finding it harder and harder to stand out online, and the only way to create a viral hit à la Netflix is to step outside of your comfort zone and spend some time experimenting with new and innovative ways of reaching your audience.
With this new Super Bowl ad and immediate release Netflix has once again shown a determination to challenge the assumptions of traditional advertising, and we can't wait to see where they go next.
What's your reaction to Netflix's ad for The Cloverfield Paradox?
Let us know by dropping us a line on Facebook, Twitter, LinkedIn, or leave us a comment on Instagram!
---