Tagged: Content Strategy
- by Alyson Shane
No matter what keyword you're searching for, there's a pretty good chance that the #1 ranking result on a search engine results page (SERP) won't be there in a few months.
More than 4.4 million blog posts are published every day, so it's important to have a content strategy that focuses on your target keywords, includes lots of evergreen content, and a plan to tackle content decay so your posts stay relevant and keep driving high-quality organic traffic to your website.
What's the difference between direct, organic, and paid traffic?
Direct traffic is traffic that comes directly to your website — usually in the form of someone typing your website URL directly into their address bar.
Organic traffic is traffic that comes to your website from a search engine but wasn't paid for.
Paid traffic is traffic that arrives on your website as a result of a pay-per-click (PPC) ads campaign that you run on search engines like Google and Bing.
For the purposes of this article, we'll be focusing on organic traffic and how you can attract more of it.
What is content decay?
Content decay is the term that describes an ongoing decline in organic traffic and rankings on a search engine results page (SERP) for one or more blog posts.
The use of the word "decay" is important here because it describes how the decline happens: it's not a sudden drop; it's a gradual decline that can compound over time.
This happens because content that is newer is seen as more relevant by search engines. When someone types a query into Google, one of the details it looks for when showing the most relevant results is how recently the post was published.
To better illustrate this, let's look at the stages of the content lifecycle: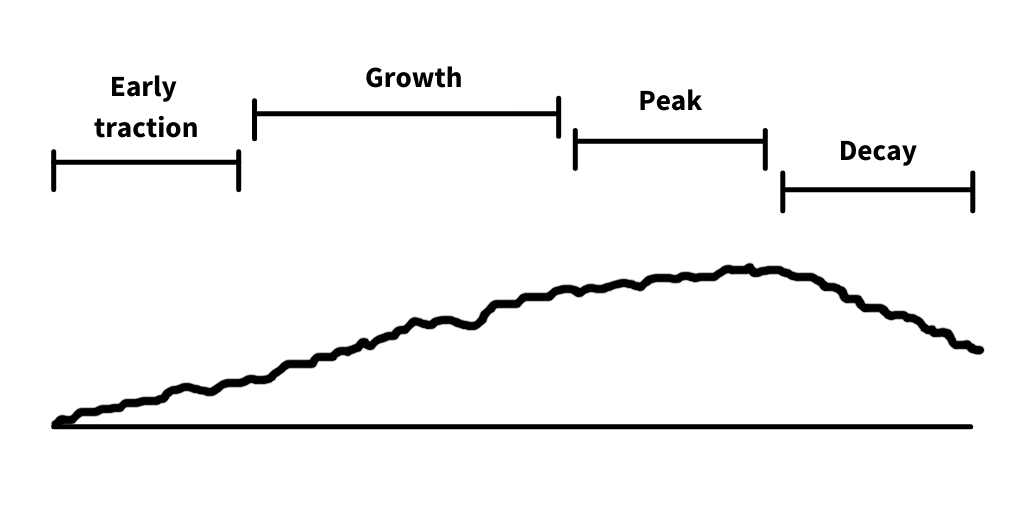 Stage 1: Early traction
A new blog post or page on your website takes time to start ranking on a SERP and drive organic traffic.
This happens because newer content is sorted (or "indexed") by search engines, which then use algorithms to determine how your blog ranks in terms of being search engine optimized (your SEO), how your content matches search intent, and more.
You might see some spikes in traffic over the first few weeks, especially if you've been promoting your blog post in your newsletter and on your social media channels, but generally speaking that will happen at the start and you'll be back to seeing traffic slowly building over time.
Stage 2: Growth
This phase varies in length, but generally describes the process of your post ranking higher for more queries and gaining backlinks (when another website links to it as a reference).
Like we said: this phase varies in length depending on the post topic, relevancy, and other factors.
Phase 3: Peak
The peak stage is — you guessed it — when growth starts to peak. This can happen for a few reasons:
The post stopped getting backlinks. People aren't linking to it as often, which means it's not staying as competitive on the search engine results page (SERP).
The post hit a natural ceiling. If the post ranked in the top slot for all the keywords in the topic and is limited by the number of keyword searches per month.
Someone published a new post (or updated an existing post) about the same topic. "Someone" meaning a competing business publishing content similar to your own.
The length of this stage depends a lot on the factors above.
Stage 4: Decay
This happens when the post starts to age and becomes less relevant (or "fresh") making it less competitive when being indexed by a search engine. In fact, letting a page go bad can result in a 91.9% loss of both traffic and traffic value.
This can happen even more quickly if the post covers a popular topic that lots of others are writing about.
What causes content decay?
Content decay can happen for a variety of reasons which is why it can be so hard to diagnose and fix, but here are some of the most common reasons:
Freshness, aka content age
Search algorithms prioritize content that was published as recently as possible, so when a blog post is newly published it's considered "fresh".
This isn't to say that content that was published back in 2008 can't still have some value to the reader, but "freshness" comes down to how well it's been updated to stay relevant.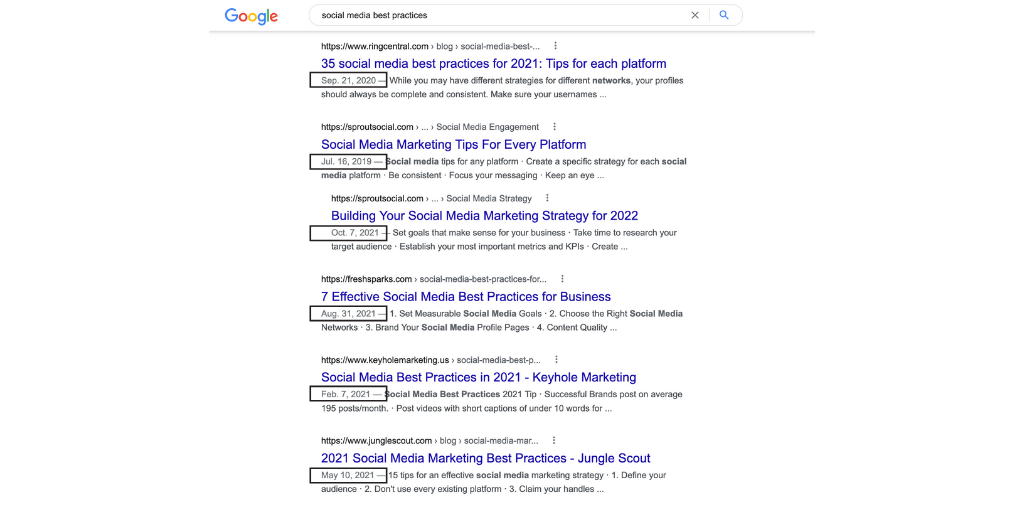 As we can see here, content that's two years old is a stretch in this SERP.
Search intent shift
"Search intent" refers to what a person is searching for when they type a query into a search engine.
Google and other search engines are always re-evaluating how users interact with the results of a search query to understand their intent. As the way users search for and interact with the results of a query changes, so do the results that rank for that query.
Topical Depth
Just like how search intent can change over time, particular aspects of a topic can evolve as more people continue to search for it.
As a topic evolves, your content might become a less relevant resource, which causes it to decay on the SERP.
Internal competition
This is one of the most common reasons for content decay: you have several pages on your website that all cover roughly the same topic, causing them to compete with each other for rankings.
This makes it harder for search engines to figure out which page to feature and can reduce the performance of all conflicting URLs.
Important: this isn't just limited to blog posts! Internal competition can refer to competing blog posts, product or service pages, glossary pages, and more.
External competition
This is probably the easiest to understand from a non-technical standpoint: when another website publishes fresher or better-optimized content, which causes yours to decay as a result.
If lots of websites are all competing for rankings and traffic about the same topics then it becomes easy to lose your rankings to them.
There are lots of factors that can cause your content to decay compared to the competition, but some of the most common include:
Their brand/authority. Bigger companies with brand recognition tend to get more traffic, which search algorithms see as making their content more "valuable".
The volume of backlinks. You'll remember that backlinking is when a website "links back" to our content, so naturally, a website with a lot of brand recognition will get more links back to it from other websites than smaller, lesser-known sites.
How well they're aligned with search intent. This means they've been optimized for SEO and have elements like the keywords, meta descriptions, and alt tags set up properly.
How does content decay impact organic traffic and SEO?
There are a few ways that content decay impacts where your posts show up on a SERP, including:
Click-through rates (CTRs) drop
2021 research from Zero Limit Web reveals that the first five organic results account for 67.60% of clicks in Google. This means that as your content decays and slips down on the search engine results page (SERP), your click-through rate will decline and cause you to get less traffic over time.
Loss of search visibility
When content starts to decay the number of keywords it ranks for goes down, which means your visibility goes down, too.
Backlinks decrease
Content decay hurts your ability to get backlinks because older content tends to not get linked to as often as "fresher" content.
This is especially true with very old content that hasn't been updated, since site owners might remove backlinks to your posts if they start to seem irrelevant or out-of-date.
Your site performance goes down
Content decay means that your post isn't among the best, most relevant results, and that people clicking on your link probably won't find what they're looking for.
This can cause people to "bounce" away, which means they've left your website without clicking on any additional links like your product or service pages, contact form, etc., and people who don't stay on your site can't become customers!
Signs of content decay: what to look for
There are a few ways to identify content decay when looking at a specific URL on your website. They include:
Your click-through rate (CTR) is going down
Click-through rates typically go down when your content starts slipping on the search engine results page (SERP) rankings.
This can be due to a few factors, including:
A competitor has outranked you
Search intent has shifted
Search engines updated the design of the SERPs
Traffic has plateaued
Like we discussed above, traffic plateaus can happen for a variety of reasons.
Sometimes it happens because your page is hitting the natural limit for a topic or keyword — but most of the time a plateau happens because the post is decaying and you're missing out on potential clicks.
Traffic is declining steadily
Take a look at your traffic over the past six months: if you see a steady decline, that's a strong sign that your content is decaying.
If the page you're looking at doesn't have a high volume of traffic it can be hard to use this as a way to identify decay, so we suggest comparing two date ranges to spot any differences.
Keyword rank and impressions are dropping
People often overlook content that's decaying because it's still getting clicks and traffic, but when a post starts losing impressions (number of views) or stops ranking for a wider variety of keywords than it used to, that's a sign that your content is starting to decay.
Loss of impression share or keyword ranking tell us two things could be happening:
Search intent is shifting on the topic
The content on your page isn't updated to meet this change
How to Grow SEO Traffic by Fixing Content Decay
If you're starting to feel like content decay is a hopeless game of whack-a-mole — don't despair! With the right strategy you can update your posts to help them be "fresh" again so they outrank your competition and drive targeted traffic to your website.
Here are a few simple actions you can take to help you fix content decay:
Expand the word count and add more depth and examples
Replace outdated statistics and references that make a post look "dated"
Add internal links from other posts to the updated pages
Re-promote the updated content in your newsletter and on social media
Looking for a deeper explanation of what to do? We've got you covered:
Expand past blog posts
Updating old posts allows you to increase the word count, which helps with SEO since the ideal blog post length should be 2100 - 2400 words.
Adding more content to your old posts makes your posts more valuable to your readers and causes search engines to see the post as "fresh" which helps you rank higher.
An easy way to do this is to perform a content audit that identifies posts that are shorter than they should be.
If you're not sure what to add, check social media and what people have said when sharing the post to get a sense of what people found valuable about it, then expand on those points.
Important: when updating old posts, always make sure that you keep the same URL so you still get the historical SEO value the post has earned over time.
Add new information to outdated posts
One of the easiest ways to "freshen" up stale content is to update out-of-date or irrelevant information. If your post cites a study that's more than three years old, update it with something new. If there's been an industry shift (like a new piece of technology, software update, etc.) make sure to update any outdated or incorrect information.
An easy way to do this is to perform a Google search for the topic and make note of what the sites who are ranking on the first page are talking about.
Ask yourself: "what are they covering that I'm not?" and develop a plan to add those sections to your old post.
Consider new keywords
Don't forget to reassess your target keywords when updating your content!
Keyword popularity changes all the time, which means that a popular keyword that once sent lots of traffic to your site might not be delivering the same results as it once did. This is especially common with trending keywords, but can happen to any of them.
Tools like SEMrush are great for tracking keyword popularity over time and allow you to track the performance of a specific keyword and look for related keywords that might work better.
You can also use tools like Exploding Topics to track content topics before they become too mainstream and try to capitalize on a wave of interest.
Consolidate old content
This is a great tactic when you have several shorter pieces focusing on the same (or related) topics that aren't ranking anymore.
If you do this, you have two options:
Keep one piece as the "main" piece and consolidate the others into it, or
Create a new post, drawing from the existing content, and consolidating it all together
Important: if you do consolidate your content, make sure to set up the correct 301 redirects from the old URLs to the new one. This shows the search engines that you've moved the content and have multiple pages now linking to the main post, and that this is the post you want them to care about and index.
Write new content
Pay attention to moments when you think "this could totally be its own post" when doing your content audit. This thought is a great sign that you can generate more content ideas from the content you've already published.
In this situation you may have been ranking and getting impressions for that topic at some point since you mentioned it, but now you're slipping in the SERPs because other people have been covering it more fully and more recently. As a result, it doesn't make sense to try and cover the topic in your existing content.
Instead, create new content that takes the decaying part and gives it a new lease on life. This allows you to recapture lost traffic and more by targeting other keywords related to that topic.
Update your internal and backlink strategy
Search engines see content that gets lots of links to it from other sites (backlinking) as more valuable and ranks them higher, so driving links to your newly-updated posts can help give them an SEO boost.
An easy way to do this is to start writing for other sites and including links to your newly-refreshed content. Getting more backlinks from other sites will help your new content perform better than simply updating and re-publishing it.
Make sure not to forget about adding new internal links from other posts to the new and newly-updated posts!
This creates a better user experience for the reader and helps search engines understand the content structure of your website better, both of which help your SEO.
Stop content decay today!
Content decay can feel like a frustrating game of whack-a-mole (and to some extent, it is) but with the right strategy in place you can keep your old content fresh, up-to-date, and keep driving lots of high-quality traffic to your site.
Did you love what you just read? Sign up for our newsletter to get the latest digital marketing news and strategies delivered right to your inbox once a week!
---