How to Use The KonMari Method for SEO
- by Alyson Shane
One of this season's most binge-worthy Netflix shows is, undeniably, Tidying Up with Marie Kondo. This charming and quirky reality tv show follows Marie Kondo, a Japanese organizing consultant and creator of the KonMari method, as she visits families to help them organize and tidy their homes.
As you can see, Marie Kondo has quickly become a household name since then: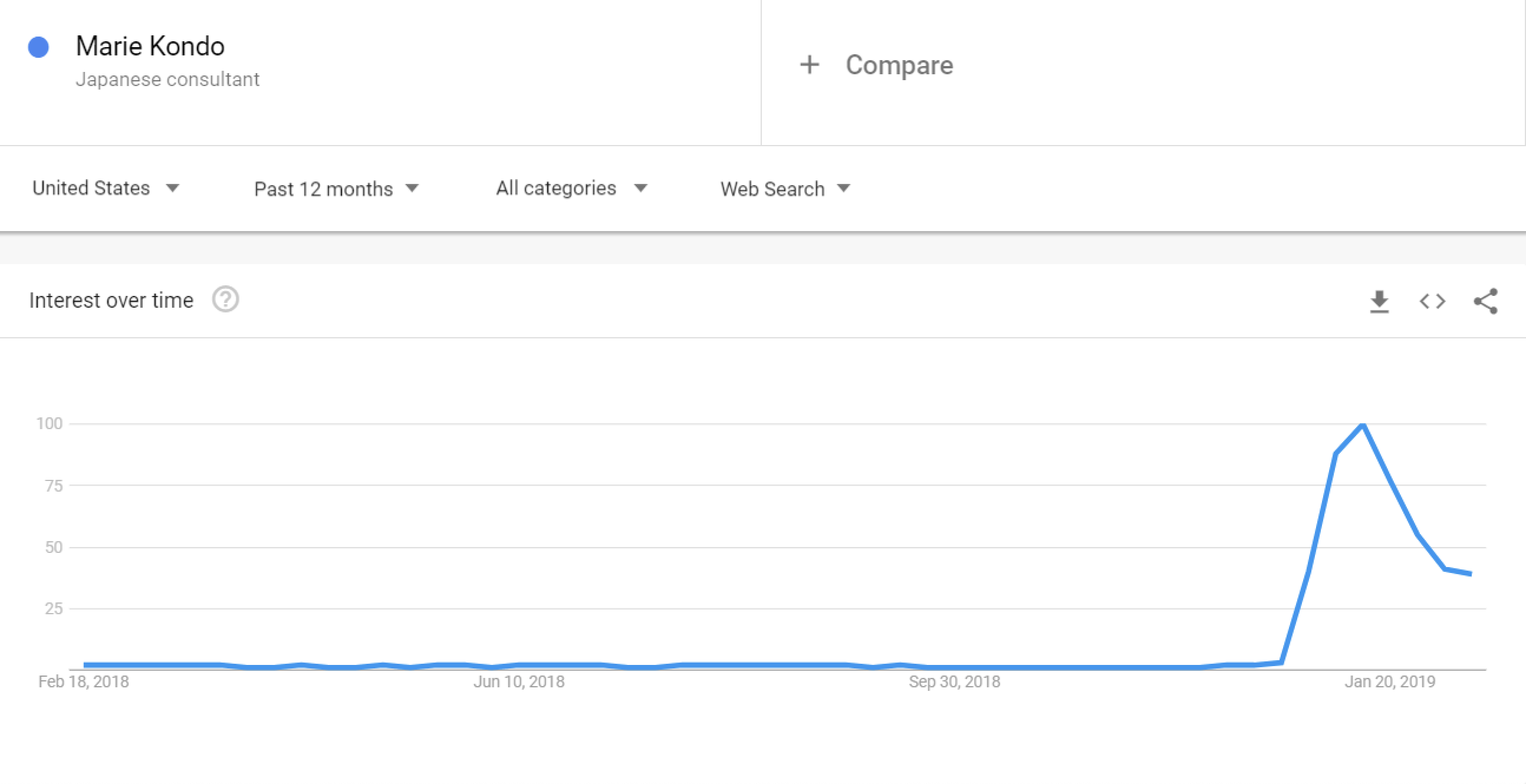 Since KonMari has been such a success at helping improving their personal lives, we started thinking: what if we applied the principles behind KonMari to improve SEO?
What can we "tidy up" to improve our organic page rank?
What about our pages (or website!) doesn't spark joy?
Today we're going to explore these themes (and more!) as commit ourselves to developing an SEO strategy that keeps our websites clean, tidy, and building towards our ideal lifestyle. Let's dive right in: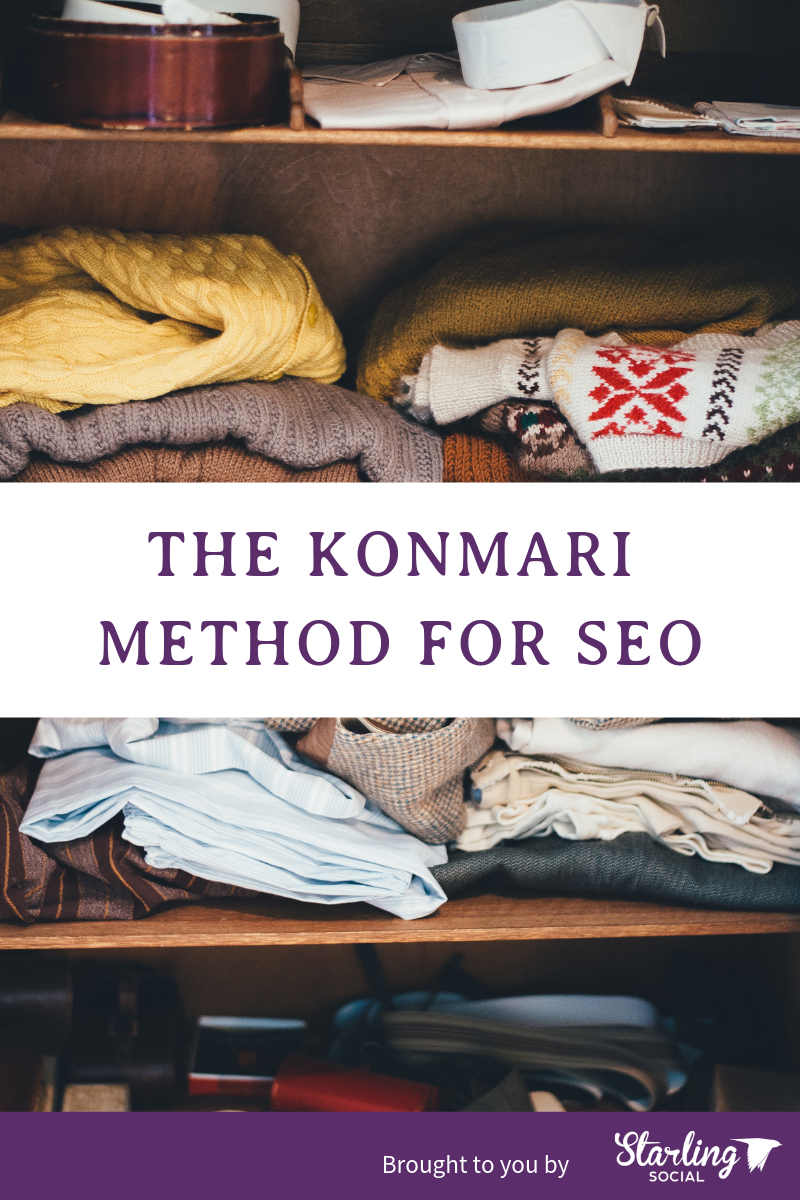 Applying KonMari to SEO
How can we apply the KonMari method to the basics of SEO? Let's start by considering The 6 Basic Rules of Tidying Up:
Commit yourself to tidying up
Imagine your ideal lifestyle
Finish discarding first
Tidy by category, not by location
Follow the right order
Ask yourself if it sparks joy
Okay - maybe at first glance SEO and KonMari don't seem 1-1, but stick with us: we've massaged these principles into a roadmap so you can declutter your website and create an SEO strategy that sparks joy.
1. Commit Yourself to Tidying Up (Your Website)
SEO success doesn't happen overnight. It takes time, effort, and an investment in areas like content creation (hello, blog posts!), a social media strategy, and an ongoing commitment to creating a website that is responsive, easy to read, and includes keywords and phrases that boost your organic Search Engine Page Rank (SERP).
Commit yourself to doing a proper SEO audit at least once per fiscal quarter, and to implementing any steps needed to correct the errors you find. Commit resources to tools that make sure you're receiving actionable data - and if you don't have the knowledge (or time) to do it yourself, partner with someone who can.
2. Imagine Your Ideal Lifestyle (Once Your Website Reaches Its Full Potential)
Ask yourself: what does success look like to me, and what kind of lifestyle would that mean for my life? Spend time thinking about the type of life you want to live, and how your website contributes to that success.
For example, figure out which keywords will help your website be seen by as much of your target audience as possible, and then rank those keywords based on which of them would drive your "ideal lifestyle" (aka: growing your business, closing leads, generating revenue, etc.)
3. Finish Discarding (Low-Quality Content) First
Before we can dive into the process of tidying up and sparking joy, we need to start by discarding the things that are no longer bringing us joy.
For your website, this can include:
Clear Up Search Indexes. Find any old PDFs, subdomains, or subfolders that may be hanging around and get rid of them.
Discarding Old Content. Reevaluate your website, tighten up your content blocks, and remove any stale or irrelevant content.
Discard Irrelevant Items. Review your robots.txt to make sure you're not blocking any items that search engine crawlers may need to access to index your site.
Disregard Irrelevant Pages. When was the last time you cleaned up your web pages? If you've never removed old or irrelevant pages, use sitemap tool to get started.
4. Tidy by Category, Not By Location (in the SERP)
Now that we've taken care of discarding the useless stuff, we can focus on tidying up our websites based on category, not where we want to end up on a SERP.
Some things you can tidy (aka optimize based on keyword research) include:
Meta titles
Meta descriptions
Headers (H1, H2s, etc.)
Image alt texts
Meta descriptions
5. Follow the Right Order (As You Go Through Your SEO Efforts)
This is where things can get a bit tricky: not only do you need to use your understanding of what will make the biggest impact re: your ranking factor, but you also need to figure out how to implement those changes efficiently.
6. Ask Yourself If It "Sparks Joy" (Hint: a Boost to Organic SEO Should 'Spark Joy'!)
This should be obvious: are the steps you're taking leading you to the results you want? Are the changes you're implementing helping, or harming your SERP ranking?
If not, stop spending time on those tactics and start focusing on changes that contribute to your ideal lifestyle (see #2 in this list). For example, if you're spending a ton of time creating content that isn't yielding the results you're looking for (aka: sparking joy) then pause that and re-evaluate ways you could be spending your time that would lead to more joy.
Getting Organized, The SEO Way
Even if you don't follow the KonMari method word-for-word, it's important to have an organizational plan to help you stay on top of your SEO efforts. As this industry continues to grow and impact how businesses find their customers (and vice-versa) it's not enough to assume that we can fix SEO problems as they happen - we need to be active in identifying and resolving them.
How do you find joy in your content and SEO? Tweet us!
Have a question about SEO? Leave us a comment on our Facebook page.
Want help developing a strategy that earns you the SERP ranking you want? Drop us a line.
Want to follow our Company Page? Follow us on LinkedIn.
Want some nice stuff to look at every day? Let's connect on Instagram.
Looking to stay up-to-date with our posts? Subscribe to our newsletter.
---