LinkedIn has become an invaluable tool for B2B businesses looking to reach and engage with their target audience.
With over 750 million members worldwide, the platform gives businesses a unique opportunity to connect with professionals in their industry, share valuable insights, and build relationships that can lead to new customers and increased revenue.
In this blog post, we'll be sharing how to write LinkedIn posts that convert customers, and providing you with tips and strategies to create engaging content that resonates with your audience and drives conversions.
Why LinkedIn Is a Valuable Tool for B2B Businesses
LinkedIn is the go-to social media platform for professionals, making it an ideal platform for B2B businesses to connect with potential customers.
Unlike other social media platforms, LinkedIn is designed specifically for networking and professional development, making it an ideal platform for businesses to build relationships with other professionals in their industry.
LinkedIn provides businesses with several tools and features to help them reach their target audience, including creating and sharing content, joining groups and communities, and connecting with other professionals.
With so many professionals using LinkedIn every day, it gives businesses a unique opportunity to reach a highly engaged and receptive audience.
As one of the largest professional social networks, LinkedIn offers an effective way to connect with like-minded individuals, grow your network, and share your ideas with the world. One way to do this is through timeline posts, which are short updates on your profile and your connections' timelines.
What's the Difference Between a LinkedIn Timeline Post and a LinkedIn Article?
LinkedIn timeline posts are short updates that you can share with your network. They are typically several sentences long and include text, images, videos, or links.
These posts appear on your profile and the timelines of your connections.
In contrast, LinkedIn articles are longer-form content you can publish on the platform. They are similar to blog posts and can include images, videos, and other media. LinkedIn articles are published on your profile and can be shared with your network.
How to Write Effective LinkedIn Posts
To help you navigate the LinkedIn algorithm and get the most out of your timeline posts, here are some timeline best practices:
Be Personable
Nobody wants to read stuffy business updates all the time. Write timeline posts that are thoughtful, relatable, and help your followers get to know you better.
Know Your Audience
To write a compelling LinkedIn timeline post, you need to know your audience. Think about who your connections are, what they're interested in, and what kind of content they're likely to engage with. Use this information to craft posts that resonate with your audience.
Don't bury the lede
The first 140 characters of your post is what people will see when they're scrolling. Use attention-grabbing text and emojis to entice people to click to expand your post and read more.
Keep It Short + Sweet
LinkedIn timeline posts are meant to be short and to the point. If you're writing a longer update, use bullet points or numbered lists to break up longer text.
Include Visuals
Visuals are a great way to grab people's attention and make your posts more engaging. Use high-quality images, videos, or infographics to illustrate your points and make your posts more visually appealing.
Use Hashtags
Hashtags are a great way to make your posts more discoverable. Use relevant hashtags to help people find your posts when they search for specific topics.
Engage With Your Audience
Finally, make sure to engage with your audience! Social media isn't a soapbox, so don't sleep on responding to comments and questions, and use your posts as an opportunity to start conversations with your connections.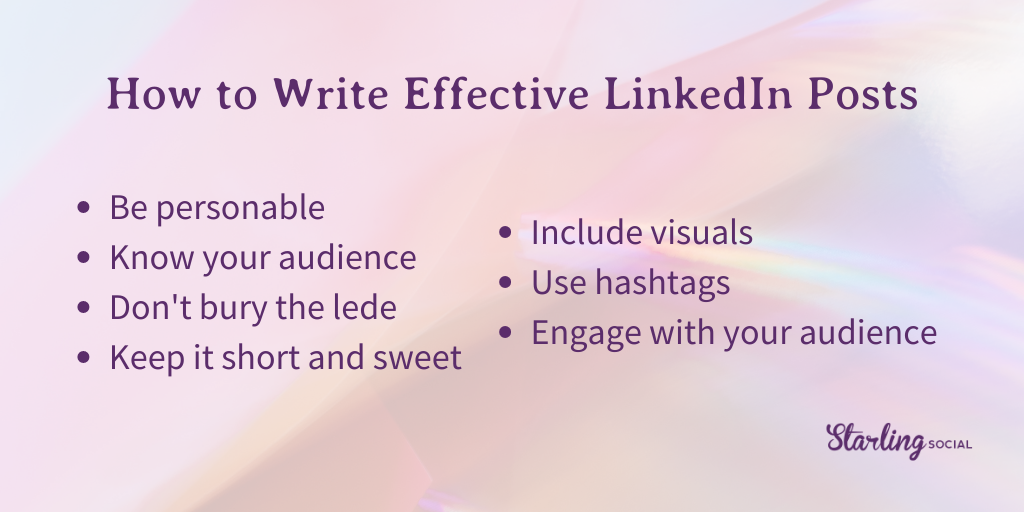 LinkedIn Timeline Post Best Practices
To help you navigate the LinkedIn algorithm and get the most out of your timeline posts, here are some timeline best practices:
Create Engaging Content
The LinkedIn algorithm favours content that generates engagement. The more likes, comments, and shares your post gets, the more likely it is to appear in people's timelines.
To create engaging content, focus on topics that are relevant to your audience and provide value. Pay attention to the posts that do well and lean into topics and themes that get the most engagement.
Post at the Right Time
Timing is critical on LinkedIn. You want to post when your audience is most active. According to Hootsuite, the best times to post on LinkedIn are Tuesday through Thursday between 8 am and 2 pm. However, testing different posting times is important to see what works best for your audience.
Use Hashtags
As I said before, hashtags are a powerful tool on LinkedIn. They make it easier for people to discover your content and join relevant conversations. When you use hashtags, make sure they are relevant to your post and your audience.
Engage with Your Audience
Engagement is a two-way street on LinkedIn. If you want people to engage with your content, you need to engage with theirs. Take the time to respond to comments and start conversations. You can also tag people in your posts to encourage them to engage with your content.
Build Relationships
LinkedIn is all about building relationships. Connect with people in your industry and engage with their content. You can also join groups and participate in discussions to expand your network. Building relationships takes time, but it's essential for long-term success on the platform.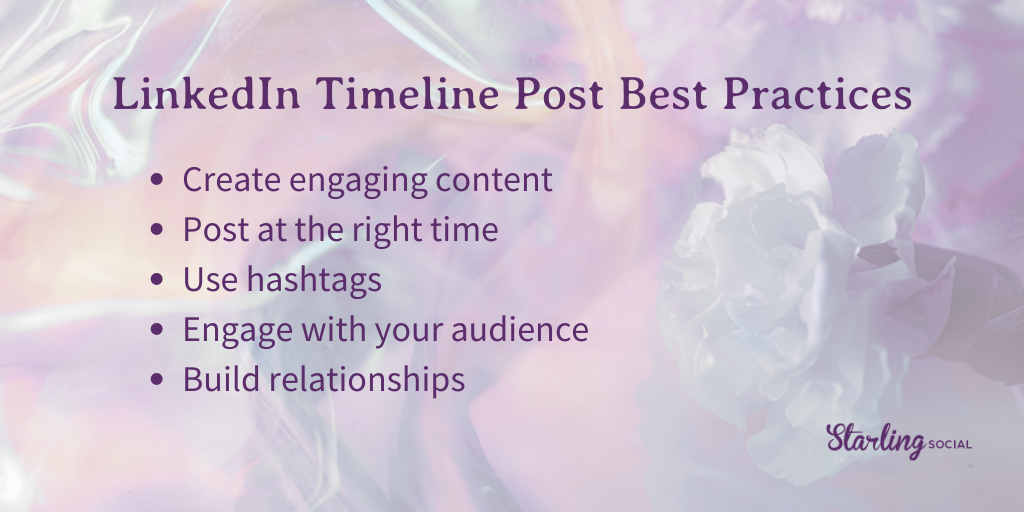 Start Creating Scroll-Stopping LinkedIn Posts Today!
LinkedIn timeline posts are a great way to share updates, thoughts, and insights with your network. To create compelling timeline posts, know your audience, use attention-grabbing headlines, keep it short and sweet, include visuals, use hashtags, and engage with your audience.
By following these tips, you can create scroll-stopping LinkedIn timeline posts that will help you grow your network and share your ideas with the world.
Want to get a roundup of the hottest digital marketing strategies sent right to your inbox once a week? Click here to subscribe to our newsletter!
---