Tagged: marketing
- by Alyson Shane
Whether you're a FT social media manager or a part of an agency handling the social media for multiple brands, having the ability to analyze relevant data and make quick decisions is essential.
That being said, being able to report on your findings and convey the information you've gathered in a way that makes sense to your C-Suite executives can often make or break your ability to drive the changes needed to continue to increase the ROI of your efforts.
With this in mind we've compiled a list of the top marketing metrics that our C-Suite clients care about the most. Let's dive in: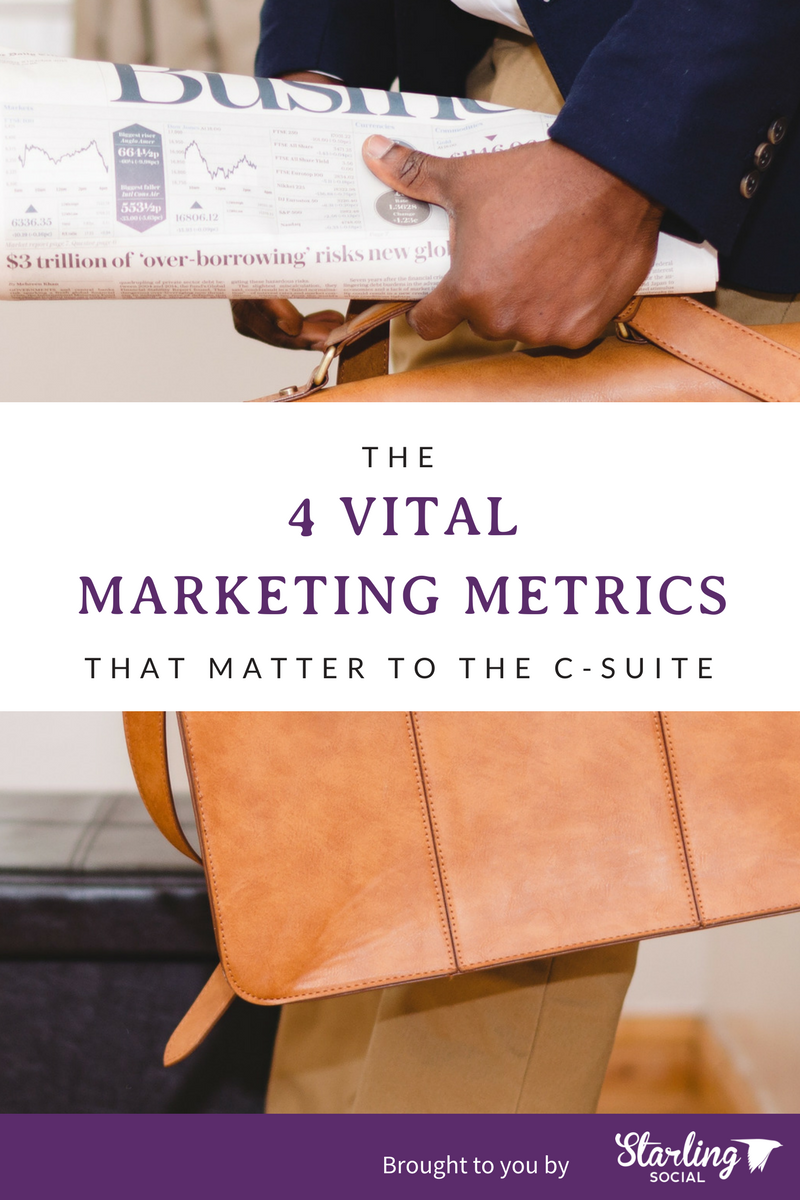 Followers
Followers may be one of the first metrics that traditional marketers are quick to write off, but slow down there! The number of followers you have is important because perception matters, and a high Follower rate acts as social proof to let other users know that a brand is worth following.
How to sell it to the C-Suite
More followers = increased perceived influence.
The key to conveying the importance of Followers comes down to being able to demonstrate that your followers meet your Target Audience criteria. Being able to demonstrate that a significant portion of your Followers are people who meet a business' Ideal Customer Profile (ICP) will ensure that leadership sees the value in the communication platforms we're using.
If industry influencers (these vary depending on your industry) are following your brand on social media, use this as an opportunity to collaborate or tap into their social following in order to increase awareness about your brand.
Some actions you can take include:
Develop Affiliate Business and Influencer lists. Use these lists to prioritize who your brand engages with on social media, and use their content as 3rd party curated content for your own timelines.
Share interesting, educational content. Share a variety of content to help potential new followers see the value in following your brand online.
Engage, don't just promote. Nobody wants to follow a brand that looks self-interested, so take time to quote tweets, respond to comments, and re-share interesting, industry-specific information whenever possible.
Engagement
Monitoring how often followers are liking, sharing, re-sharing, and commenting on a brand's social media content is one of the easiest ways to tell if the content you're sharing is resonating with your audience.
How to sell it to the C-Suite
Engagement = Reach = Followers = Leads / Conversions
One universal across all social media platforms is that their algorithms prioritize engagement above all else. This means that the more engagement your posts have, the higher organic (unpaid) reach your social content will have.
If your ultimate goal with your content is to drive conversions and new leads, then the more engaging your content is, the father it will reach.
Some actions you can take include:
Pitch social media as a customer service opportunity. Sprout Social found that 35% of people prefer social media to any other channel for customer support, which means you can leverage these platforms as a way to keep customers happy.
Seek out 1-1 conversations. According to Marketo, modern-day consumers look to social media as an opportunity to build relationships with brands. Give them that opportunity!
Leads Generated
Marketing and sales are intricately linked with one another, and one of the best ways to convey the value of social media and your digital marketing efforts is to link what you do to the leads generated by the brand you're working for (or with.)
Make sure to utilize tracking parameters in every URL you post so you can measure the leads generated from your paid and organic social campaigns and include your findings in your reports.
How to sell it to the C-Suite
Social campaigns = Conversions = Leads
The most important component of presenting this information isn't measuring which of your social campaigns have the highest lead conversion rate; it's understanding how many of those conversions became quality business leads that moved successfully through a brand's sales pipeline.
Some actions you can take include:
Identifying your buyer's journey. Different social campaigns will speak to leads who are at different places along the buyer's journey, so determine how a campaign will use copy, visual assets, and even video to encourage them to take the next step.
Test different content. Different content drives different responses, and a strong social strategy should include a variety of content combinations to avoid looking stale and continue to drive engagement.
Revenue
You must have known we'd be ending on this all-important metric.
Obviously whether a business is generating revenue will play in to whether or not they have the bandwidth, budget, and interest in social promotion, but your role as a marketer is to draw a connection between what you do and the revenue the business generates.
How to sell it to the C-Suite
Social promotion = engagement + reach = new leads / customers = revenue
Digital marketing is a game that requires long-term investment. C-suite executives who expect to see an instant increase in ROI need a reality check, because social promotion isn't just about acquiring new leads; it's also about nurturing existing relationships and converting our audience from followers to brand advocates.
Brand advocates are individuals who not only buy from the same brand on a repeat basis, but they actively engage with the business online, recommend their products and services to their friends, and colleagues, and generally report positive and trusting feelings about that brand.
Some actions you can take include:
Don't expect the most out of every channel. Depending on your industry, some social channels are great for lead generation, while others are better for nurturing existing relationships.
Some leads take time to convert. Most consumers (B2B and B2C) need time to familiarize themselves with a new brand before making a purchase or reaching out.
Are there any metrics that your c-suite is obsessed with? Let us know on Facebook, Twitter, LinkedIn, or on Instagram!
---
- by Alyson Shane
It's almost the holiday season (yahoo!) and while the the time away from the office may provide an opportunity to overeat (hi, carbs), toast to friends, family, and loved ones, and catch up on some much-needed rest, it's also a great opportunity to sink your teeth into a good book.
In our case, we love reading books about marketing from thought leaders in our industry. Reading their books provides us with valuable sources of inspiration and knowledge, helps us better understand the minds behind some of the biggest successes in our field, and often provide us with answers and lessons that we can apply to solving future challenges for our clients.
That being said, there are often lessons to be learned in books that aren't specifically about our industry, as well, which is why our holiday roundup includes some marketing and business classics, as well as a few other interesting reads thrown in for good measure.
So if you're thinking of putting aside some time to get a little learning in while you relax over the holidays, consider curling up with one of these entertaining, info-packed, thought-provoking reads: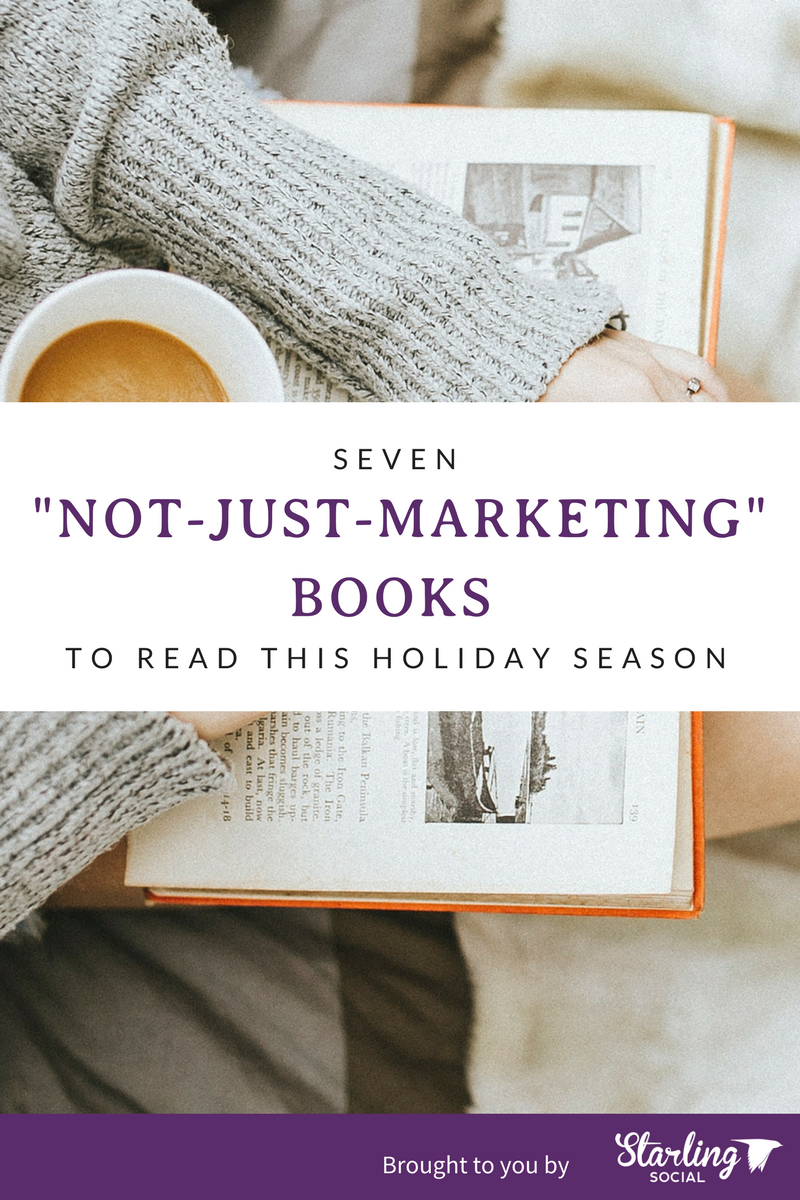 How to Win Friends and Influence People by Dale Carnegie is one of the best-selling self-help books ever written, and it played a pivotal role in how we think about how we represent our clients online.
When we act on our client's behalf, by posting to their social media, for example, we consider every engagement to be an opportunity to further develop our relationship with that individual. By using techniques outlined in the book (the TL;DR of which is essentially "be interested in people, listen, ask engaged questions, and be polite") we work to create meaningful relationships with our client's audiences and customers by paying attention and being genuinely interested in how they're doing, not just how they're engaging with us.
Whether you love or hate Apple products, this biography of Steve Jobs by Walter Isaacson is a fascinating look into the passion, values, and drive behind one of the most influential figures in the modern tech world.
Steve Jobs not only played a major role in revolutionizing desktop and mobile technology, but he created a fan base who have an almost cult-like obsession with his products, and this deep dive into the mind of the tech giant is a must-read for any marketer or entrepreneur.

Starting a new business can be daunting for any entrepreneur, especially if you're starting a business in a space that's already saturated with similar businesses (like *ahem* digital marketing.) Luckily, in 2005 professors W. Chan Kim and Renée Mauborgne and their book Blue Ocean Shift provided an innovative way of looking at how companies can create "blue oceans" of uncontested market space (compared to "red oceans" already full of competitors and their blood - yikes.)
While the original is a great read, the recently released an updated version of the original which includes updated case studies and examples, chapter expansions and additions, and a new preface by the authors (with the great title "Help! My Ocean is Turning Red") for businesses who may now be feeling the effects of increasing competitiveness in their market.
Malcom Gladwell is a whip-smart thinker who wrote one of our favorite books about language (The Stuff of Thought) and The Tipping Point is one of our favorite books about how trends catch on in popular culture.
Gladwell bases his analyses on several factors, including the "stickiness factor" which makes a message memorable (our pals in the startup world are probably familiar with this term), the power of context, and how external factors influence widespread human behavior. He also describes what he calls the "Law of the Few" and how 80% of change is created, discovered, and shared by three types of people: Connectors, Salesmen, and Mavens.
(If you read this one, or have read it, tweet at us and let us know which one you think you are!)
Despite the super-cheesy catchphrase ("UnAwesome is UnAcceptable", har har) Scott Stratten's book is a must-read for any marketer looking to make a significant impact in today's digital landscape and provides meaningful examples of the good, bad, and (ahem) UnAwesome. Even though it's a little junior - it's meant for people who don't already live their lives completely immersed in social media - it's still a valuable reminder of some of the most important aspects of navigating the digital landscape.
One of the biggest takeaways from the book is this: whatever you did before social media is only going to be amplified by your digital presence. If you're new to the world of personal branding, social media, and digital marketing, or just looking for an entertaining and clever refresher on the basics, then this book should be the first one on your holiday reading list.
If you're looking for an in-depth read about how humans communicate then we recommend Tom Standage's Writing on the Wall, which offers a historical perspective on where we've come from and where we are when it comes to sharing information.
Starting with the Roman Empire and erasable wax tablets used an informal messaging system (told you he started early), moving through the Dark Ages where most literary men lived in monasteries and information was scarce, through to Gutenburg and the printing press and into modern-day communications methods including TV, radio, and - of course - social media, Standage's book is a great read for anyone interested in the story of how our species has recorded, stored, and shared what we know.
Did 2017 feel like a year when you couldn't hear a balanced argument? Then dive into this collection of essays and arguments from marketers, authors, and thinkers from both sides of the spectrum when it comes to the positive and negative influence of social media on our society.
Interestingly, instead of dividing the book into "pro" and "con" sections, the essays are organized by subject, so the chapters like "Social and Personal Life," "The Human (and Political) Impact," and "Learning in and out of the Classroom" feel more like discussions than arguments for and against one side or the other.
One of the most pertinent questions of our time is "is social media doing more harm than good?" and this read should provide some valuable food for thought for those holiday debates with the family luddite.
Are you reading anything interesting this season? Tweet at us or leave us a Facebook comment and give us your recommendations!
---