Tagged: 2018
- by Alyson Shane
The start of a new year is an opportunity to consider what we want to spend the next 365 days doing with our time, and provides an important benchmark by which we can measure our progress.
We say "this year I'm going to get in shape" or "this year I'm going to eat fewer pancakes" (yeah, right). It's also an opportunity to assess how we've done over the past year, and to start setting goals to make positive changes in the year ahead.
Luckily, there's no better time to start making positive changes than right now, so here are a few "bad habits" that you may be guilty of making on social media over the past year, as well as some handy suggestions on you can improve on them in 2018: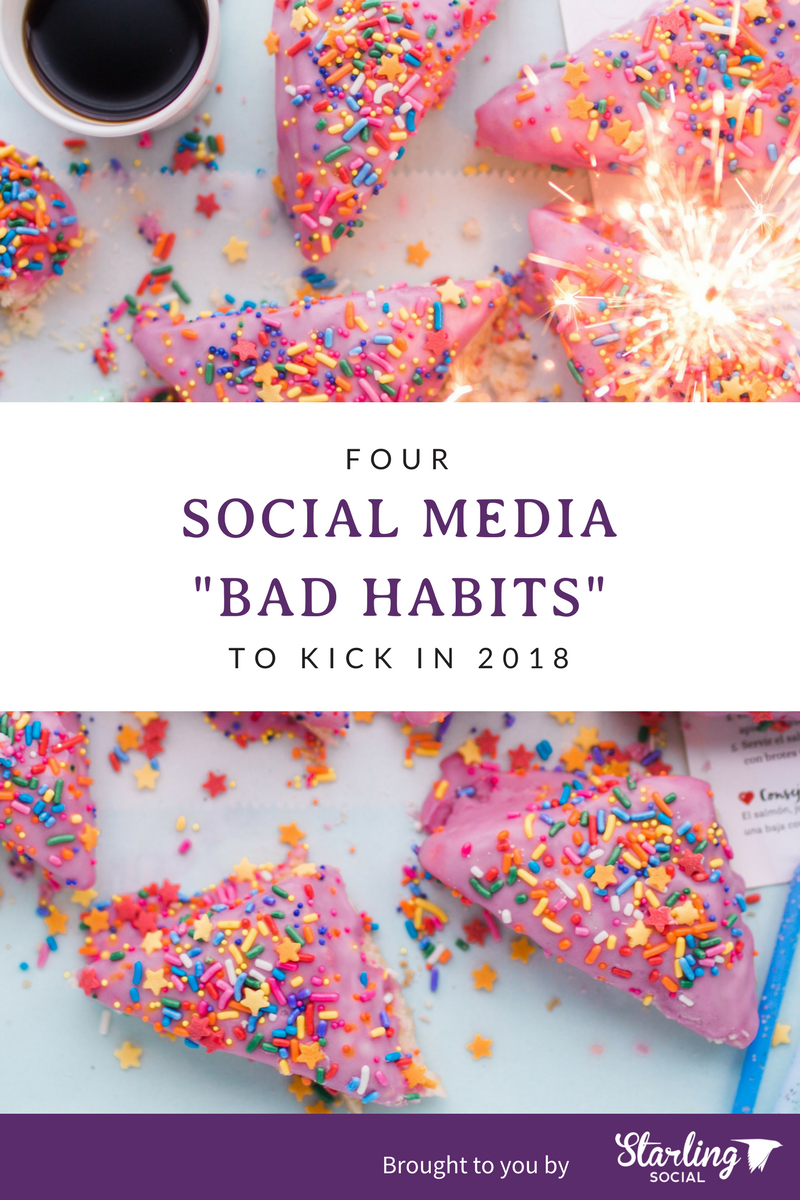 Being "All Business" Online
One of the biggest challenges facing the modern business landscape is how social media saturation forces brands to be more personal, quirky, and entertaining to their potential customers than ever before.
These days it's not enough to have a great logo and a website that converts; your brand has to have a strong set of values, an identifiable voice and tone appropriate for each social network, and the confidence to crack a joke once or be clever in a post or reply. Having a strong brand identity is essential in a world where most markets are over-crowded at best, and by being bold and confident in the content you share helps you stand out from the pack.
Your social media profiles are where your customers get to know you best, so use them as opportunities to show off your personality while still maintaining a professional and courteous approach.
Steps You Can Take
There are a few ways you can infuse your social profiles with a little extra personality from time to time. Some things you can try right now include:
Sharing curated content
Bonus points if it's from a thought leader in your industry, an industry partner, or a fellow colleague (assuming the content is appropriate.) Sharing curated content says "we liked this and wanted to share it with you. Since we both like this content, we have something in common."
Piggybacking on popular hashtags
Hashtags are essential to growing your audience on Twitter and Instagram and we love using popular hashtags like #WisdomWednesdays on Twitter to share insights from our clients' industries to their followers and help them reach a broader audience using the same hashtag.
Embracing memes
We're not suggesting that you start posting photos of Scumbag Steve every time you get a customer complaint, but memes are an easy way to add some "cool" points to your brand, and tools like memegenerator allow you to make your own, industry-specific jokes you can share.*
* If you make any silly industry memes, please tweet them at us.
Selling on Your Personal Facebook Profile
Unless you keep your friends in the dark about what you do, it's likely that you've shared updates and posts related to your business on your Facebook Timeline sometime within the past 365 days - and that's okay, you're a business owner and you need to hustle to keep the lights on.
What you should aim to nix in the new year is promoting your business directly through your Personal Profile, and working to grow your Business Page Audience instead of posting about promotions through your personal profile.
By focusing your efforts on growing your Business Page to a wider target audience, you increase the likelihood that you'll attract customers to your Page who have never interacted with your brand before, and who probably don't know you personally.
Steps You Can Take
The best way to promote your business on your own time is to re-share content from your Business Page through your personal profile (by clicking "Share > Share on Your Timeline" on the post) and to use your Business Page to find new customers beyond your personal Facebook connections (friends and family.)
Here's what you can do:
Set up a Facebook Business Page (if you don't have one already)
Fill in as much detail about your business as possible.
Invite people to 'Like' your page.
Post to your Facebook Page often, and measure the results.
Use existing Customer Lists (if available) to create Facebook Custom Audiences.
Use those audiences to create Facebook Lookalike Audiences.
Invest in some Facebook Ads to expand your audience beyond just your family and friends.
Re-target previous audiences, test, and keep expanding!
(If this sounds like way too much work just give us a shout. We're happy to handle this for you.)
Not Engaging With Your Followers
Real talk: all the content scheduling tools in the world won't help you build an audience who actually care about what you have to say, online or otherwise.
We believe that the best way to get others to care about you is to care about them first, and that means being engaged and responsive whenever someone mentions your brand. If someone has taken the time to leave you a comment, post a review, or re-share your content the easiest way to show them that you appreciate them is to say so.
Not responding tells your customers that you don't care about them, and that you aren't paying attention to them when they try to talk to you, address a concern, or file a complaint. It may feel tempting to 'hide', 'delete' or just ignore any negative commentary but think about it this way: how would you feel if a brand you used to love deleted your comment instead of addressing your concern?
So be thankful for it all: the bad, the good, and make sure to let your audience know how much you appreciate them.
Steps You Can Take
Showing your audience that you care about them not only builds brand loyalty with your existing customers, but it also shows any newcomers that they can always expect timely, helpful, and positive interactions with you online.
Here's a quick breakdown of ways you can show your audience that you're plugged in and listening to what they have to say:
Respond to Tweets, Facebook and Instagram comments as soon as possible.
Check your Twitter and Facebook DMs daily.
Check your Instagram Story Mentions and Messages daily.
Thank critics for their feedback and never lose your cool.
Be genuine in your replies and say "thank you" a lot.
Re-share user generated content related to your brand, like Instagram photos and Tweets.
Not Paying It Forward
The best thing you can do for someone else's business is buy from them. If you can't buy from them, re-share their content, give kudos or congratulations, and take time this year to lift up the businesses in your industry and community through your own social media channels.
Lots of businesses are wary of spending time promoting other businesses or people - we often get asked "what's the benefit of promoting other businesses?" and our answer is always the same: people want to do business with people they like, and the easiest way to be liked is to support others.
Steps You Can Take
By paying it forward with your social media you're directly contributing to promoting a business ecosystem which benefits both your business and those around you. You get to be a good person while also building good will within your industry and community - it's a pretty great deal, if you ask us. Here are a few easy ways to get started:
Showcase your values
Is you're an SME then you probably rely on your connection to your local community at least to some degree in order to keep your business running. With this in mind, re-sharing content that showcases your company's values can go a long way towards helping grow both your community and your customer base.
For example, if your office is full of animal lovers consider periodically sharing news from your local humane society.

Give shout-outs
Identify businesses in your industry and community that you can support through your online presence, such as other members of your local Chamber of Commerce, nonprofit member associations, and past and present clients (ask permission first)
For example, if your business is sponsoring an event, take the time to give a shout-out to the other sponsors who also made the event a possibility.
That's a wrap on 2017!
Do you have any big social media habits you plan to kick in the coming year? Let us know on Facebook, Twitter, or drop us a line on LinkedIn!
Oh, and PS: if you're looking for a team of creative, data-driven writers and digital marketers to take your brand to the next level in 2018 we're now accepting new clients. So y'know, give us a shout.
Happy New Year everyone!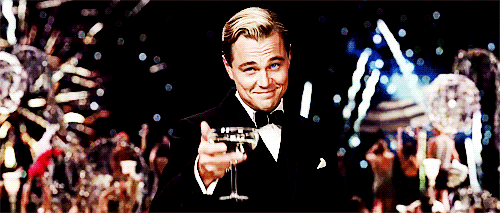 ---
- by Alyson Shane
It's almost the holiday season (yahoo!) and while the the time away from the office may provide an opportunity to overeat (hi, carbs), toast to friends, family, and loved ones, and catch up on some much-needed rest, it's also a great opportunity to sink your teeth into a good book.
In our case, we love reading books about marketing from thought leaders in our industry. Reading their books provides us with valuable sources of inspiration and knowledge, helps us better understand the minds behind some of the biggest successes in our field, and often provide us with answers and lessons that we can apply to solving future challenges for our clients.
That being said, there are often lessons to be learned in books that aren't specifically about our industry, as well, which is why our holiday roundup includes some marketing and business classics, as well as a few other interesting reads thrown in for good measure.
So if you're thinking of putting aside some time to get a little learning in while you relax over the holidays, consider curling up with one of these entertaining, info-packed, thought-provoking reads: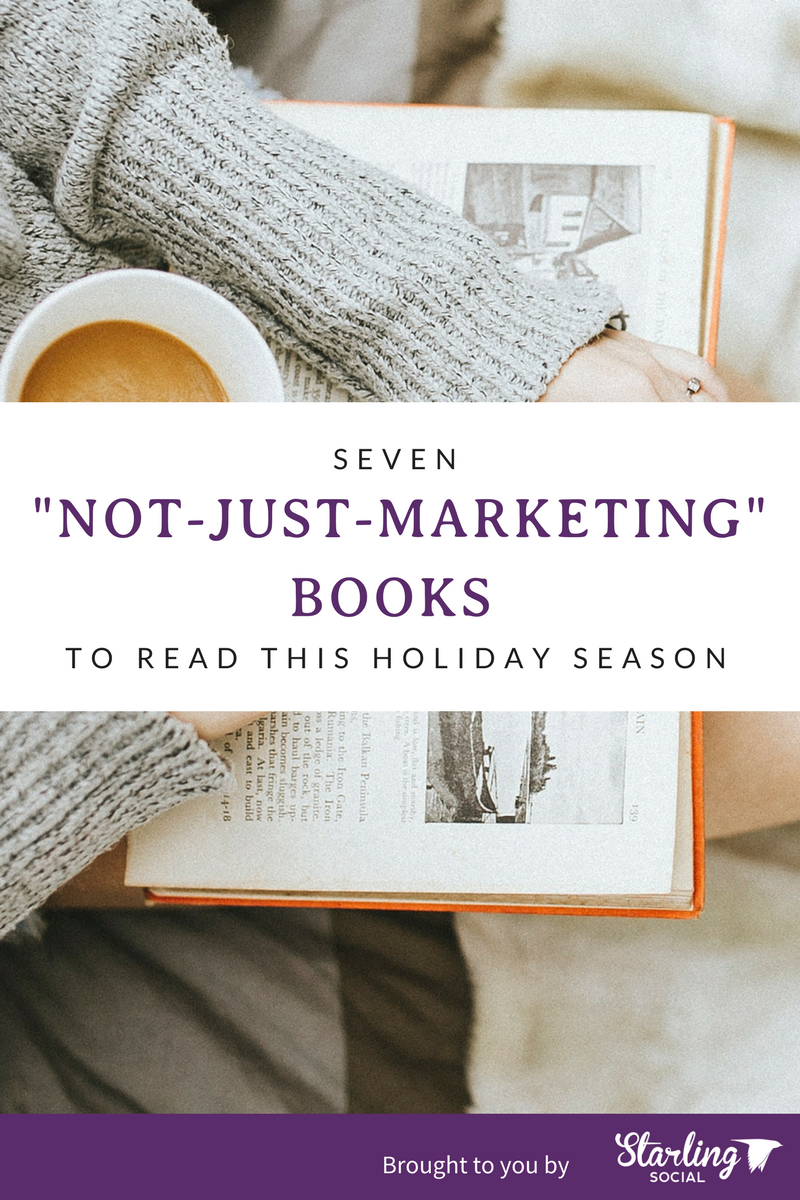 How to Win Friends and Influence People by Dale Carnegie is one of the best-selling self-help books ever written, and it played a pivotal role in how we think about how we represent our clients online.
When we act on our client's behalf, by posting to their social media, for example, we consider every engagement to be an opportunity to further develop our relationship with that individual. By using techniques outlined in the book (the TL;DR of which is essentially "be interested in people, listen, ask engaged questions, and be polite") we work to create meaningful relationships with our client's audiences and customers by paying attention and being genuinely interested in how they're doing, not just how they're engaging with us.
Whether you love or hate Apple products, this biography of Steve Jobs by Walter Isaacson is a fascinating look into the passion, values, and drive behind one of the most influential figures in the modern tech world.
Steve Jobs not only played a major role in revolutionizing desktop and mobile technology, but he created a fan base who have an almost cult-like obsession with his products, and this deep dive into the mind of the tech giant is a must-read for any marketer or entrepreneur.

Starting a new business can be daunting for any entrepreneur, especially if you're starting a business in a space that's already saturated with similar businesses (like *ahem* digital marketing.) Luckily, in 2005 professors W. Chan Kim and Renée Mauborgne and their book Blue Ocean Shift provided an innovative way of looking at how companies can create "blue oceans" of uncontested market space (compared to "red oceans" already full of competitors and their blood - yikes.)
While the original is a great read, the recently released an updated version of the original which includes updated case studies and examples, chapter expansions and additions, and a new preface by the authors (with the great title "Help! My Ocean is Turning Red") for businesses who may now be feeling the effects of increasing competitiveness in their market.
Malcom Gladwell is a whip-smart thinker who wrote one of our favorite books about language (The Stuff of Thought) and The Tipping Point is one of our favorite books about how trends catch on in popular culture.
Gladwell bases his analyses on several factors, including the "stickiness factor" which makes a message memorable (our pals in the startup world are probably familiar with this term), the power of context, and how external factors influence widespread human behavior. He also describes what he calls the "Law of the Few" and how 80% of change is created, discovered, and shared by three types of people: Connectors, Salesmen, and Mavens.
(If you read this one, or have read it, tweet at us and let us know which one you think you are!)
Despite the super-cheesy catchphrase ("UnAwesome is UnAcceptable", har har) Scott Stratten's book is a must-read for any marketer looking to make a significant impact in today's digital landscape and provides meaningful examples of the good, bad, and (ahem) UnAwesome. Even though it's a little junior - it's meant for people who don't already live their lives completely immersed in social media - it's still a valuable reminder of some of the most important aspects of navigating the digital landscape.
One of the biggest takeaways from the book is this: whatever you did before social media is only going to be amplified by your digital presence. If you're new to the world of personal branding, social media, and digital marketing, or just looking for an entertaining and clever refresher on the basics, then this book should be the first one on your holiday reading list.
If you're looking for an in-depth read about how humans communicate then we recommend Tom Standage's Writing on the Wall, which offers a historical perspective on where we've come from and where we are when it comes to sharing information.
Starting with the Roman Empire and erasable wax tablets used an informal messaging system (told you he started early), moving through the Dark Ages where most literary men lived in monasteries and information was scarce, through to Gutenburg and the printing press and into modern-day communications methods including TV, radio, and - of course - social media, Standage's book is a great read for anyone interested in the story of how our species has recorded, stored, and shared what we know.
Did 2017 feel like a year when you couldn't hear a balanced argument? Then dive into this collection of essays and arguments from marketers, authors, and thinkers from both sides of the spectrum when it comes to the positive and negative influence of social media on our society.
Interestingly, instead of dividing the book into "pro" and "con" sections, the essays are organized by subject, so the chapters like "Social and Personal Life," "The Human (and Political) Impact," and "Learning in and out of the Classroom" feel more like discussions than arguments for and against one side or the other.
One of the most pertinent questions of our time is "is social media doing more harm than good?" and this read should provide some valuable food for thought for those holiday debates with the family luddite.
Are you reading anything interesting this season? Tweet at us or leave us a Facebook comment and give us your recommendations!
---