Tagged: ecommerce
- by Alyson Shane
If you run an eCommerce business, you probably don't need to be reminded that Black Friday and Cyber Monday (BFCM) are two of the most important dates on your calendar.
With $158 billion in projected sales during "Cyber Week" in 2022, finding ways to stand out can seriously impact your business's bottom line.
But how can you stand out among the ads, emails, and thousands of other marketing messages competing for customers' attention? If you're not sure, check out our list of 10 Black Friday and Cyber Monday campaigns ideas:
How to Start Planning a Cyber Week eCommerce Strategy
As we head into the holiday season, here are some things to keep in mind:
Start planning at least 4-6 months in advance. This is critical! You know that these dates are coming since they occur annually, so ensuring that your landing pages are set up, your website is optimized, and your ads are organized and ready to roll is critical for success.
Expect your Facebook ad costs to go up. On average, Facebook's cost per thousand impressions (CPM) go up by 50% during this period, so adjust your advertising budget and expectations accordingly.
Actually, just expect higher ad costs overall. Advertising costs on every channel spike up around Black Friday and Cyber Monday, so anticipate this as you start to plan.
Now that we've covered the basics, let's dig into ____ strategies to help you sell more products this season:
1. Start Building Your Audiences in Advance
"Retargeting" refers to the process of showing relevant ads to people who have visited pages on your site or who have taken an action like adding something to their cart, have saved an item to their wishlists, etc.
To build this audience in advance, run Facebook ads using the "Conversion" objective. This will cause Facebook to show ads to people who are likely to buy as a result of seeing ads, or at the very least, get them to your site so you can retarget them later.
This way, you already have an audience of recent website visitors who you can retarget when BFCM comes around.
2. Beef Up Your Retargeting Campaigns
Almost half of BFCM purchases come from repeat buyers, which is why retargeting is such an essential part of any holiday ad campaign.
During the week leading up to Black Friday, run a retargeting campaign highlighting all the deep discounts and sweet deals you're offering. Since these customers are already familiar with your brand, they're more likely to convert.
3. Promote "Early Access" Black Friday Deals
We've said it before, but we'll repeat it: email marketing is one of the most important elements of any eCommerce strategy.
However, with 116.5 million emails sent out on Black Friday, even the most click-worthy subject lines might not be enough to help you stand out in customers' inboxes.
We suggest sending your BFCM emails a week early to avoid the onslaught. Start emailing exclusive offers and discount codes to your most engaged subscribers in advance.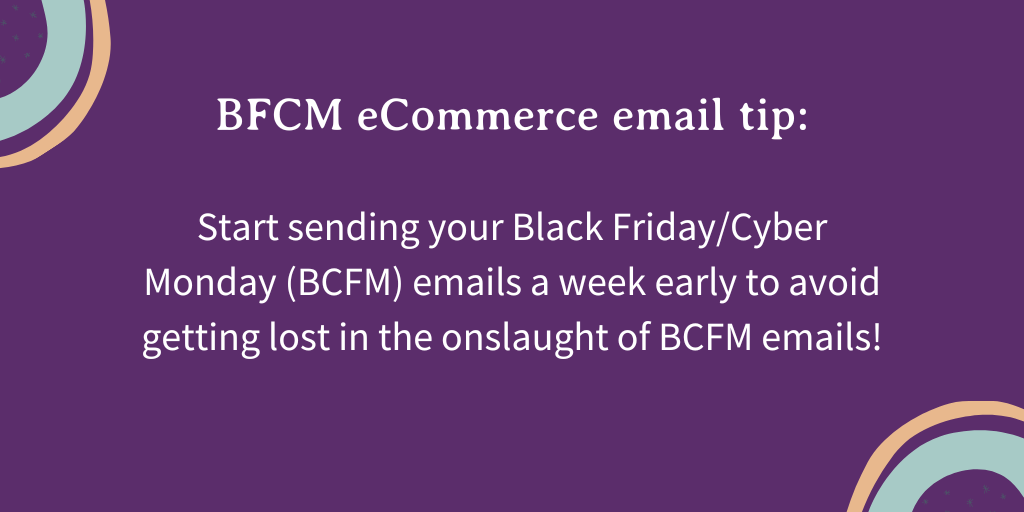 4. Segment Your Email List
Sender, beware: while email marketing can be super effective, it's also bad to spam your subscribers and cause people to unsubscribe or mark your emails as "spam."
Instead of blasting everyone on your list during the lead-up to BFCM, we suggest segmenting your list and breaking it up so you can send personalized, targeted emails your subscribers are excited to receive.
This way, you can avoid sending multiple emails to the same people in a single day and highlight the deals and offers that are most relevant to the person opening the email.
5. Double Down on High-Activity Days
Okay, this might sound like we're contradicting ourselves but hear us out: even though generally we want to avoid sending more than one email a day, on holidays like Thanksgiving, Black Friday, and Cyber Monday, a single email is going to get lost in the shuffle.
Instead of hoping that people slick on your single send, we suggest this approach:
Send one email in the early morning, so your customer wakes up to a deal
Send a second email in the middle of the day highlighting different deals
Send a third email in the late afternoon/early evening with a call-to-action (CTA) that time's running out
It's essential to use different subject lines, emojis, and CTAs in all of these emails, so people don't feel like they're getting bombarded with the same messages all day.
6. Highlight BFCM Across All Your Channels
In the lead-up to BFCM, all your marketing should highlight the deals you'll be offering.
Promote them across your Facebook and Instagram ads, pay-per-click (PPC) campaigns, emails, and social media posts.
When creating content for these campaigns, ensure that your offers are consistent across all your feeds, so customers know what to expect.
7. Double-Check Your Site Speed
One of the biggest reasons people "bounce" away from a site is because it loads too slowly. Just a one-second delay will reduce conversions by 4.42% for each second.
That's why we recommend using a free tool like Google's PageSpeed Insights Tool to help you identify areas that need improving before the glut of holiday traffic hits your site.
8. Remove Unnecessary Plugins and Javascript
This is a bit in the weeds, but hear us out: leaving unused or unnecessary plugins or javascript on your site can slow it down, so work with your web developers to audit your site in the months leading up to BFCM to make sure any unused software has been removed.
9. Audit Your Product Pages
The weeks leading up to BFCM are the perfect time to give your product pages a facelift and ensure they're as enticing as possible.
Some things to look for are:
Are all the images high-resolution?
Do they show the product(s) being used in various settings?
Do they showcase all available colours or styles?
Are the product descriptions clear and SEO-optimized?
Is the CTA clear and engaging?
10. Use Google's Address Auto-Filler at Checkout
This is one of our favourite tips to help move customers through the conversion funnel as fast as possible!
This plugin automates adding someone's address to the checkout page, saving them time and reducing the likelihood of opting out of the purchase before finishing.
Get Ready for BCFM 2022
Black Friday and Cyber Monday are coming soon, so start preparing as soon as possible, so your eCommerce business doesn't miss out on this essential time for sales and conversions.
If you didn't start building your audiences months ago, it's okay — there are still several steps listed above that you can do between now and then.
If you need help creating a BFCM campaign strategy custom-tailored to your eCommerce business, the team at Starling Social is here to help.
You can also stay in the know with the latest digital marketing strategies by subscribing to our weekly digital marketing newsletter!
---
- by Lauren Wagn
Chances are you've been part of an eCommerce sales funnel.
You see a new brand on Instagram. Their product catches your eye as you scroll your feed and soon you're looking at a post on their page from 52 weeks ago. They've convinced you! Next thing you know you've ordered from their website and are eagerly awaiting the package in the mail.
Does this sound familiar? This isn't by accident. That brand probably had a killer eCommerce content strategy.
The most successful businesses don't just post on the fly. Everything they do is perfectly curated to help consumers along their sales funnel and one step closer to purchasing their product.
Want to learn how to do it, too? Well then keep reading!
Why is content strategy important for eCommerce?
With an estimated 12 million to 24 million eCommerce businesses on the internet, setting yourself apart from the pack is crucial. While your brand may be unique, you need to convey this to consumers.
Luckily, you're marketing in the same space you're selling in.
This is where content creation and strategy comes in.
Posting consistently just isn't enough. You need a good strategy to guide your decisions and get the results you want. This is where content strategy comes in.
By auditing your process, you can see where exactly you need to improve. This isn't a one-time action, however. To keep reaching your goals, you'll need to continue to edit and improve your strategy.
What are your brand's goals?
The first step is looking at where your business is currently and where you would like it to be in the future. This will vary from organization to organization.
What would you like your business to achieve?
Here are some potential goals to consider:
Higher conversion rate
Better return on investment (ROI)
Increased sales
More engagement on social media
Take this time to compile data on your brand's current position. Without knowing where you are, it's hard to determine where you're going. This will also act as your starting point when comparing future data.
Once you understand where you'd like to see your business it's time to figure out how you're going to get there.
Who is your ideal audience?
Your ideal audience is who is going to help you reach your goals. But first, you need to figure out who they are and how to reach them.
They're also known as buyer personas. Don't limit yourself to a single buyer persona as this can constrict your growth. Get creative and determine an array of people that can be helped by your product.
These personas are made up of several components:
Demographic: This is quantitative information about your ideal audiences such as age, location, income, and gender.
Psychographic: As the name implies, this focuses more on the psychological characteristics of your clientele. Personality, interests, attitudes, and views are all covered under this.
Buying habits: This is a reflection of both the product you sell and the audience's psychographics. Will they need a lot of information and time before making a purchase or will they impulsively buy?
Pain points and goals: Look at what problem your potential customers may be having or, alternatively, look at where your customer aspires to be and how you can help them get there.
Now write it down!
Create profiles of who may be consuming your content. Give them names, backgrounds, behaviours, and desires. This will help you formulate how you're going to address them through your content strategy.
We have a whole guide on creating these buyer personas in case you get stuck!
How does your audience consume content?
Once you know who you're making content for, you'll need to determine where they'll be most likely to consume it. Otherwise, all your hard work copywriting is for naught.
Your buyer persona profiles will come in handy here. With the information you've gathered on who you want to be your audience, you can research where this particular audience is.
If you've determined that your ideal customer is a Baby Boomer, then TikTok probably isn't the channel to reach them as only 5% of Boomers have a TikTok account.
That doesn't mean using a single channel, however. While one channel may be the most successful based on your research, it is still important to spread your content strategy across multiple channels to increase its reach.
This is also the time to consider what hashtags will help land your content in front of your ideal customers.
For example, if your ideal audience is health-conscious, the hashtag #friesbeforeguys will not be the best route to their Explore page.
What kind of content will help move your customers through the sales funnel?
This is where the "strategy" in content strategy starts to shine.
If your marketing terminology is a little rusty, a sales funnel is a visual representation of the journey that the customer takes that begins with awareness of the brand and ends in a sale. (P.S. we have a blog post with 20+ useful marketing terms here.)
Each step of the funnel requires different content to keep the momentum moving.
The steps are:
Awareness: This is when the consumer first hears about your brand. Types of content that can help you hit this first step are promoted or hashtagged social media posts, evergreen content like blogs that have ended up on their search engine results page (SERP), or easy to produce content such as quizzes.
Interest: This is when potential customers begin to look into how to solve their pain points. Content that promotes what you offer and the benefits of your product can help facilitate this step.
Discovery: This happens when your potential customer is aware of your brand and begin seeing it as a solution to their pain points. Use content that helps finalize your product as the solution to their problems such as guides and pros and con lists.
Action: This is when the decision is made and your potential customer converts to an actual customer. Even though they have purchased your product, there is still content strategy at play. Reinforce their decision through FAQ pages and testimonials to ensure they are repeat customers.
A content calendar can help you organize your strategy to make sure you're posting everything you need to for customers at every stage of the sales funnel. This will help you to create consistent and high-quality content.
Start developing your eCommerce content strategy today! Click here to drop us a line and let's chat.
How well is your content working?
Content strategy is never over! Trends and algorithms are always changing and to stay at the top of your game, you need to continuously evaluate your strategy.
Create a list of key performance indicators (KPIs) and monitor how your strategy aligns with your goals. For example, if your goal is to increase traffic to your website, what types of posts have the best clickthrough rate (CTR)?
You can also look for blockages in your sales funnel. If customers are making it to your website and stopping short of purchasing, consider what type of content you can make to address this. Maybe grabbing the attention of consumers is your strong suit but you need to work on converting them. Add this to your list of goals and audit your content.
This can also be a time to compare yourself to the competition. Research your competitor's strategy and results and see how yours lines up. If you've reached your first round of goals, try using other brands as a benchmark and heighten your aspirations.
Conclusion
A brand is only as good as its customers think it is. Having an amazing product is only the first step. With a strong eCommerce content strategy, your brand can increase its reach and get its products in the right hands.
By knowing who your audience is and why they need your product, you can tailor your approach specifically to them. Set goals, research your ideal audience, and continuously audit your strategy to grow your business.
If you're ready to find out why we say process equals success, then reach out and let's chat!
---
- by Alyson Shane
Are you struggling with low conversions on your ecommerce website?
When designing an online store, a lot of focus tends to go to the homepage since it's the first thing visitors see when they arrive on the website. However, the real goal of any ecommerce website is sales, and those sales happen on the product page.
If you're seeing low conversions (sales), then your product pages might be to blame.
In this post we'll cover the three most common ecommerce mistakes businesses make on their product pages, and what you can do to fix yours.
What is a Product Page?
Product pages are exactly what they sound like: they're pages on your website dedicated to a featured product.
Unlike a landing page, which is designed for a specific campaign, product pages exist only to convey the value of the product and to promote a sale. Prodigy pages tell shoppers what the product looks like, tells them what it feels like, what makes it better than similar products, and why it's something they absolutely need to own.
Now that we've covered what a product page is, let's dive into the most common e-commerce mistakes, and how to fix them:

1. Poor-quality product images
One of the biggest mistakes ecommerce businesses make is not investing in high-quality product images and video.
Since customers can't see, touch, or try the products before buying, your product images need to be clean, high-resolution, and help the customer picture what the product is like in real life.
The internet is a sketchy place, and as an independent seller there's even more pressure on your business to look legitimate and create a sense of trust with your customers.
Beautiful, eye-catching images help your customers feel more confident in their purchase.
Which product images do you need for your ecommerce product page? Here are some must-haves:
Primary images
Primary images are standard, high-resolution images where the product is emphasized against a pure white background (like the images you see on Amazon, for example).
These photos should look professional, and should showcase the product from a few different angles.
Lifestyle images
These images are intended to show the product being used in real-life. This could mean showcasing a pair of earrings on a real person's ear, or how the humidifier your company sells will look in a living room or an office.
Illustrations
While not as important as primary or lifestyle images, infographics or "how to" manuals or illustrations can show how easy your product is to use.
Videos
Short videos are one of the fastest ways to sell products through your ecommerce store. Research found that customers are anywhere from 64-85% more likely to buy after watching a product video, and you can re-use the video elsewhere on your social media (like in ads, for example) to get the most out of your investment.
Important: while DIY is of course an option, we recommend working with professionals for your product images and video. Bush-league video taken on a smartphone, or in poor lighting, can hurt your business more than paying for a pro.
2. Writing Bad Copy
The second-biggest mistake ecommerce businesses make is writing bad copy.
Website copy should be concise, engaging, and inspire the reader to take action (aka: buy)... but this is easier said than done. Not everyone has almost 20 year's experience writing for the web.
To keep your product page copy short and snappy, follow these steps:
Focus on the unique value proposition (UVP) of your product. What makes it better than similar, competing products?
State all the benefits of using your product as a bulleted list
Use your copy to address any questions or doubts customers may have
Highlight any warranties or return policies you offer
Write your copy for SEO and include keywords when you can
Use a casual, friendly tone without jargon or run-on sentences
3. Not Sharing Social Proof
Social proof, according to Wikipedia, is a "psychological and social phenomenon referring to people's reliance on the feedback and actions of others to determine what is right and what is wrong in a given situation."
Why does social proof matter? A study from Trustpilot found that 92% of consumers read reviews on the internet, and 80% of shoppers trust reviews as much as personal recommendations.
But how do you collect social proof? One of the easiest ways is by emailing your customers and asking them to share their feedback. Since there's usually nothing in it for them, it might take a few follow-up emails showing that their feedback is important to you to get a customer to agree to submit a review.
The second (and more powerful) approach is to be proactive and incentivize your customers to leave reviews by offering them discounts and rewards in exchange for leaving honest feedback on your website.
A benefit to this second tactic is it builds customer awareness and loyalty from the get-go.
If your customers are leaving lots of negative reviews, take the time to respond to them in a polite, courteous way and reassure them that you'll do everything you can to improve moving forward. Whatever you do, always respond to customer reviews, and never respond with a rude or disrespectful comment.
Even better: reviews are social proof that you can repurpose into social media quotes and testimonials to use elsewhere in your marketing.
Common eCommerce Product Page Mistakes: Conclusion
There are lots of moving parts to any ecommerce business strategy, but keeping your product pages up-to-date with professional images, clever copy, and social proof is the easiest way to make sure your customers complete a purchase before leaving the page.
If you're struggling to increase conversions on your ecommerce website (or if you need help increasing brand awareness to increase website traffic) get in touch and receive a free quote for service.
You can also stay up-to-date with the latest digital marketing news and strategy from across the internet by subscribing to our weekly newsletter.
---