10 Black Friday and Cyber Monday Strategy Ideas for Ecommerce Businesses
If you run an eCommerce business, you probably don't need to be reminded that Black Friday and Cyber Monday (BFCM) are two of the most important dates on your calendar.
With $158 billion in projected sales during "Cyber Week" in 2022, finding ways to stand out can seriously impact your business's bottom line.
But how can you stand out among the ads, emails, and thousands of other marketing messages competing for customers' attention? If you're not sure, check out our list of 10 Black Friday and Cyber Monday campaigns ideas:
How to Start Planning a Cyber Week eCommerce Strategy
As we head into the holiday season, here are some things to keep in mind:
Start planning at least 4-6 months in advance. This is critical! You know that these dates are coming since they occur annually, so ensuring that your landing pages are set up, your website is optimized, and your ads are organized and ready to roll is critical for success.
Expect your Facebook ad costs to go up. On average, Facebook's cost per thousand impressions (CPM) go up by 50% during this period, so adjust your advertising budget and expectations accordingly.
Actually, just expect higher ad costs overall. Advertising costs on every channel spike up around Black Friday and Cyber Monday, so anticipate this as you start to plan.
Now that we've covered the basics, let's dig into ____ strategies to help you sell more products this season:
1. Start Building Your Audiences in Advance
"Retargeting" refers to the process of showing relevant ads to people who have visited pages on your site or who have taken an action like adding something to their cart, have saved an item to their wishlists, etc.
To build this audience in advance, run Facebook ads using the "Conversion" objective. This will cause Facebook to show ads to people who are likely to buy as a result of seeing ads, or at the very least, get them to your site so you can retarget them later.
This way, you already have an audience of recent website visitors who you can retarget when BFCM comes around.
2. Beef Up Your Retargeting Campaigns
Almost half of BFCM purchases come from repeat buyers, which is why retargeting is such an essential part of any holiday ad campaign.
During the week leading up to Black Friday, run a retargeting campaign highlighting all the deep discounts and sweet deals you're offering. Since these customers are already familiar with your brand, they're more likely to convert.
3. Promote "Early Access" Black Friday Deals
We've said it before, but we'll repeat it: email marketing is one of the most important elements of any eCommerce strategy.
However, with 116.5 million emails sent out on Black Friday, even the most click-worthy subject lines might not be enough to help you stand out in customers' inboxes.
We suggest sending your BFCM emails a week early to avoid the onslaught. Start emailing exclusive offers and discount codes to your most engaged subscribers in advance.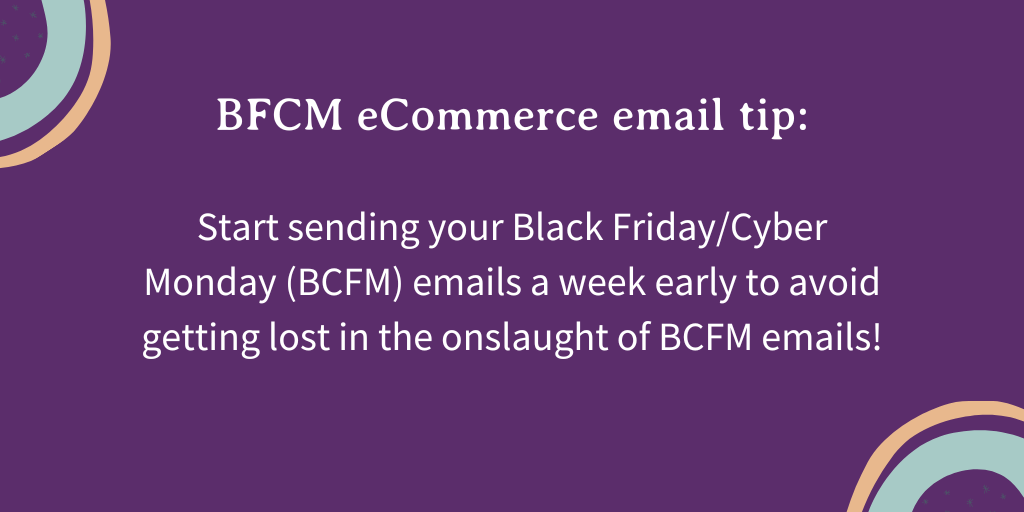 4. Segment Your Email List
Sender, beware: while email marketing can be super effective, it's also bad to spam your subscribers and cause people to unsubscribe or mark your emails as "spam."
Instead of blasting everyone on your list during the lead-up to BFCM, we suggest segmenting your list and breaking it up so you can send personalized, targeted emails your subscribers are excited to receive.
This way, you can avoid sending multiple emails to the same people in a single day and highlight the deals and offers that are most relevant to the person opening the email.
5. Double Down on High-Activity Days
Okay, this might sound like we're contradicting ourselves but hear us out: even though generally we want to avoid sending more than one email a day, on holidays like Thanksgiving, Black Friday, and Cyber Monday, a single email is going to get lost in the shuffle.
Instead of hoping that people slick on your single send, we suggest this approach:
Send one email in the early morning, so your customer wakes up to a deal
Send a second email in the middle of the day highlighting different deals
Send a third email in the late afternoon/early evening with a call-to-action (CTA) that time's running out
It's essential to use different subject lines, emojis, and CTAs in all of these emails, so people don't feel like they're getting bombarded with the same messages all day.
6. Highlight BFCM Across All Your Channels
In the lead-up to BFCM, all your marketing should highlight the deals you'll be offering.
Promote them across your Facebook and Instagram ads, pay-per-click (PPC) campaigns, emails, and social media posts.
When creating content for these campaigns, ensure that your offers are consistent across all your feeds, so customers know what to expect.
7. Double-Check Your Site Speed
One of the biggest reasons people "bounce" away from a site is because it loads too slowly. Just a one-second delay will reduce conversions by 4.42% for each second.
That's why we recommend using a free tool like Google's PageSpeed Insights Tool to help you identify areas that need improving before the glut of holiday traffic hits your site.
8. Remove Unnecessary Plugins and Javascript
This is a bit in the weeds, but hear us out: leaving unused or unnecessary plugins or javascript on your site can slow it down, so work with your web developers to audit your site in the months leading up to BFCM to make sure any unused software has been removed.
9. Audit Your Product Pages
The weeks leading up to BFCM are the perfect time to give your product pages a facelift and ensure they're as enticing as possible.
Some things to look for are:
Are all the images high-resolution?
Do they show the product(s) being used in various settings?
Do they showcase all available colours or styles?
Are the product descriptions clear and SEO-optimized?
Is the CTA clear and engaging?
10. Use Google's Address Auto-Filler at Checkout
This is one of our favourite tips to help move customers through the conversion funnel as fast as possible!
This plugin automates adding someone's address to the checkout page, saving them time and reducing the likelihood of opting out of the purchase before finishing.
Get Ready for BCFM 2022
Black Friday and Cyber Monday are coming soon, so start preparing as soon as possible, so your eCommerce business doesn't miss out on this essential time for sales and conversions.
If you didn't start building your audiences months ago, it's okay — there are still several steps listed above that you can do between now and then.
If you need help creating a BFCM campaign strategy custom-tailored to your eCommerce business, the team at Starling Social is here to help.
You can also stay in the know with the latest digital marketing strategies by subscribing to our weekly digital marketing newsletter!
---