Tagged: Facebook
- by Alyson Shane
Increasing Facebook conversions is a never-ending process of optimizing, tweaking, and changing.
With so many options to choose from, campaign optimization may seem complicated or even downright overwhelming, especially at the start. Luckily, there's a secret to targeting that can increase your conversions:
Targeting mobile users only when they're on wi-fi.
Why is targeting users on mobile wif-fi so effective? Let's break it down: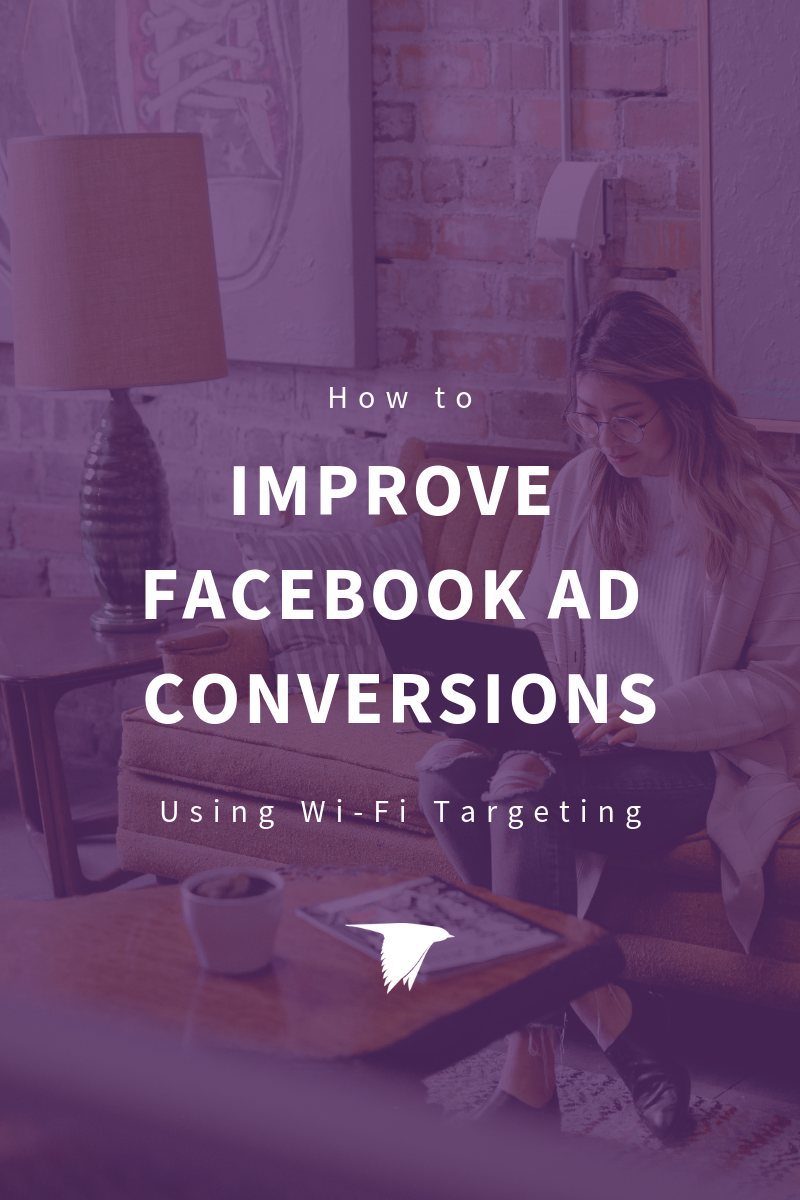 Wi-Fi Users Are Probably Stationary
Someone sitting and scrolling in a coffee shop, on the bus, or in their living room is more likely to the time needed to convert than someone standing in line at the grocery store or while out for a walk.
Video Loads Faster on Wi-Fi
Video get 20 percent more clicks than images, according to Hubspot, and since the average human being only has an attention span of eight seconds, it means if your video doesn't load quickly, you'll lose those views and conversions.
If you've ever tried to load a mobile video while sitting in a moving vehicle, you'll know that being connected to wi-fi can make a big difference in how quickly content loads on your screen.
App Conversions Happen Faster
If your business' conversion goals are download-related like an e-commerce app, game, or tool, then whether or not your user is connected to wi-fi can make a big difference in your download rates.
Not only will targeting mobile wi-fi users help your app download faster, but a stable internet connection will help your new user have a more seamless first time experience.
Your Website Will Load Faster
Having a website that's optimized for mobile is essential these days, not just for your search engine page rank (SERP) rating, but so your content performs better on social media and in ads.
After all: the latest news shows that Google is moving to mobile-first indexing, which means your website will have a competitive advantage.
Even better: running ads that target mobile wi-fi users means your website will load like lightning and leave the competition in the dust.
How to Run Wi-Fi Only Facebook Campaigns
Running a Facebook advertising campaign using wi-fi only targeting is easy - just follow these steps:
In your Ad Set, opt into the targeting setting at the 'Placements' setting
Select "Edit Placements"
Scroll down and select the "Only when connected to Wi-Fi" option

... and that's it! Told you it was easy.
Watch your Cost Per Acquisition
Since we're limiting the size of our audience we can expect our Cost per Impression (CPM) to go up, but what's important is that because we're running more efficient ads, our Cost per Acquisition (CPA) will go down.
Try running of these A/B tests and let us know what your results are!
Want to get these and other hand-picked tips on running better Facebook ads, making smarter social media decisions, and more? Subscribe to our newsletter.
---
- by Alyson Shane
In our last post we talked about how to choose the right Facebook Custom Audiences for your business' targeted advertising campaigns, and now we're back with an even better, more hands-on set of steps to help stretch your advertising dollars further and increase conversions:
Facebook Lookalike Audiences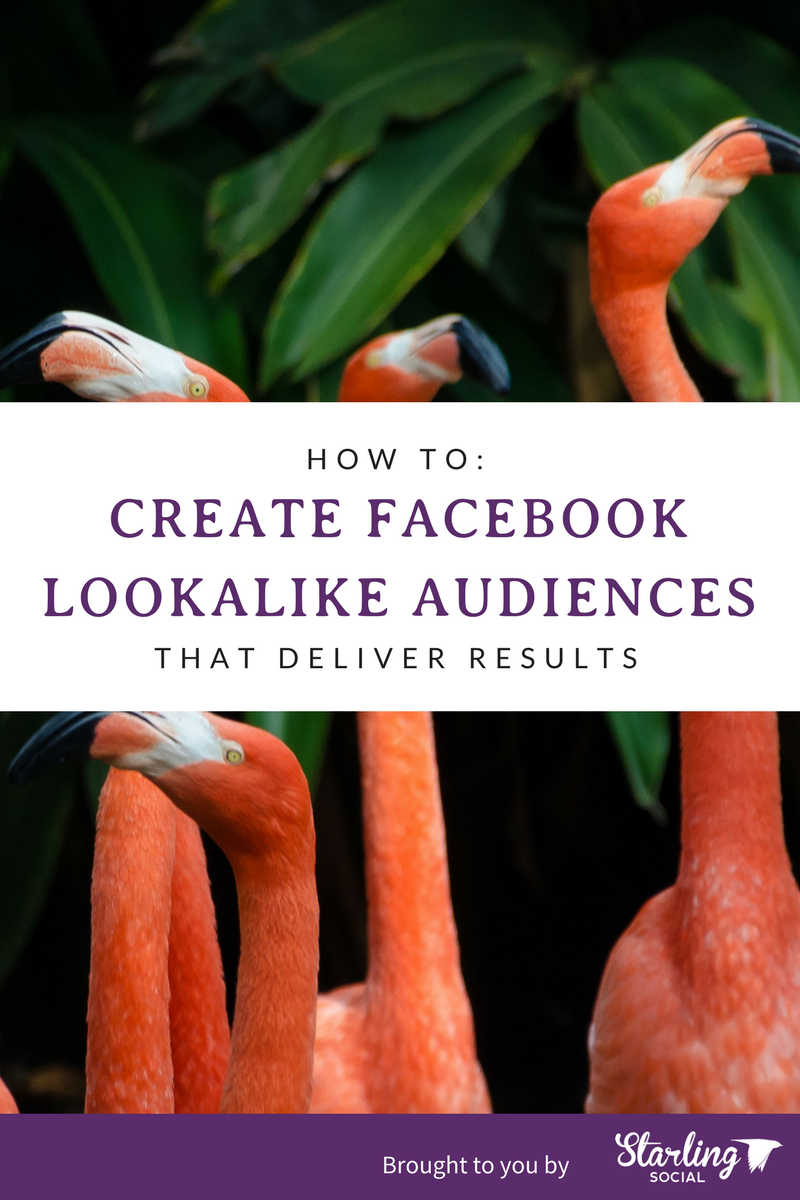 What Are Facebook Lookalike Audiences?
Facebook Lookalike Audiences are exactly what they sound like: they're audiences created from the profile data you've previously uploaded when creating your Custom Audiences.
This option is a huge boon for marketers and business owners alike, as it allows you to take a relatively small sample size (say, 10,000 of your customers) and create a Lookalike Audience of hundreds of thousands of people.
Facebook will use the profile data from these audiences to create a new list of Facebook users who share similar demographics and interests. This is a super-reliable way to optimize your campaign targeting and make sure that you're not just re-targeting the same people from previous campaigns.
Before we get started, you'll need to have the following prepared and in-hand:
Access to your customer lists (emails or phone numbers), usually pulled from a system like MailChimp, or Shopify for our e-commerce friends.
Facebook Conversion Pixels set up on the pages you want to track results for.
The visual assets, headline and ad copy that you want to test*.
* We recommend using at least 2-3 of each, which will allow you to test how different combinations of words and text perform with your audience.
Let's get started!

1. Open your Business Manager and click on the "Audiences" option under your Assets column.
2. Select 'Custom Lookalike Audience' from the drop-down "Create Audience" menu.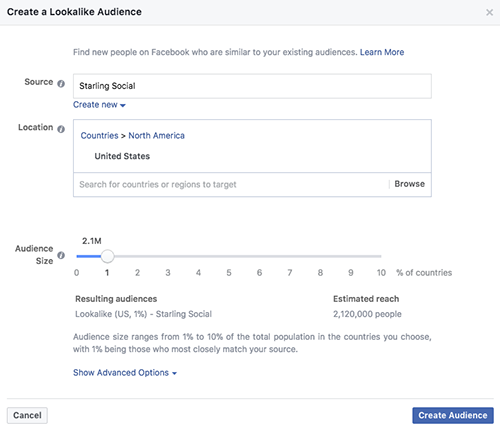 3. Select the Audience Size you'd like to target. We recommend creating two versions of the same custom audience: one at 1% and 3%, which will allow you to target users who most closely match your original Custom Audience, as well as a broader audience of users who may not be as close a "match" as the 1%.
4. Click "Create Audience" and wait while Facebook matches users and populates your new list.
5. Once this process is complete (it may take a few minutes) open up your Power Editor and begin setting up your Ads as you normally would. When setting up your targeting, just select your new Lookalike Audience from the drop-down menu:

... and that's it! Now you can take your visual and content assets and begin setting up your Facebook Ads like you normally would.
Using Lookalike Audiences to Increase Sales
Now that you've learned how to create your own Facebook Lookalike Audience, it's time to begin using it to drive conversions and increase sales... starting now!
Here are a few ways you can leverage the power of your audience:
Grow Your Facebook Page
One of the easiest ways to grow your Facebook Page is to target one of your Lookalike audiences. This allows you to save time and takes the guesswork out of targeting new users who may not have interacted with your page before.
Increase Sales for Your E-Commerce Store
If you run an e-commerce store you can set up Facebook Ads that deliver to your Lookalike Audience which sends them directly to your website to start buying. For example, if you have a women's wear section on your website you can create a Custom Audience of only women, then you can use Lookalike audiences to deliver ads to women who closely match interests or demographics of the women who have completed a purchase.
Increase Subscribers, Signups, and Get Leads
For B2B businesses like us here at Starling, we want to focus on increasing the number of actions which will allow us to connect with other businesses (lead gen). The easiest way to do this is to encourage people to take any of the following actions:
Fill out a contact form
Subscribe to our newsletter
Sign up to receive a piece of gated content
This tactic is similar to what an e-commerce website would do: upload a Custom Audience, create the Lookalike Audience, and then send people directly to a landing page on your website specifically set up to encourage them to submit their information.
Get started!
Now that you know how to set up and use Facebook Lookalike Audiences, it's time to start implementing them as a routine part of your Facebook Ad strategy. If you still have questions, drop us a line or connect with us on Facebook, Twitter, LinkedIn, or Instagram. We're always happy to chat.
---
- by Alyson Shane
Businesses are starting to wake up to the fact that, often, organic posting and engagement just isn't driving the traffic to their Facebook pages and Instagram profiles that it once did and are turning to Facebook Ads as a cost-effective way to get in front of hundreds or even thousands of new potential customers.
Here at Starling Social we've used Facebook Ads to help our clients increase webinar registration, generate new B2B leads, drive inbound website traffic, and more. We love it because Facebook allows us to dig deep and create Custom Audiences which help us retarget people who have previously engaged with our client's business in some way. This helps us keep their advertising budget low while achieving a high return on investment (ROI) for our efforts on their behalf.
If you're new to the world of Facebook Ads, or if you're still trying to wrap your head around which types of Custom Audiences you should choose for your next Facebook Ad Campaign, then you've come to the right place.
This post is a comprehensive overview on what Facebook Custom Audiences are, and the various types you can choose from to increase brand awareness and generate new leads for your business.
Ready? Let's get started!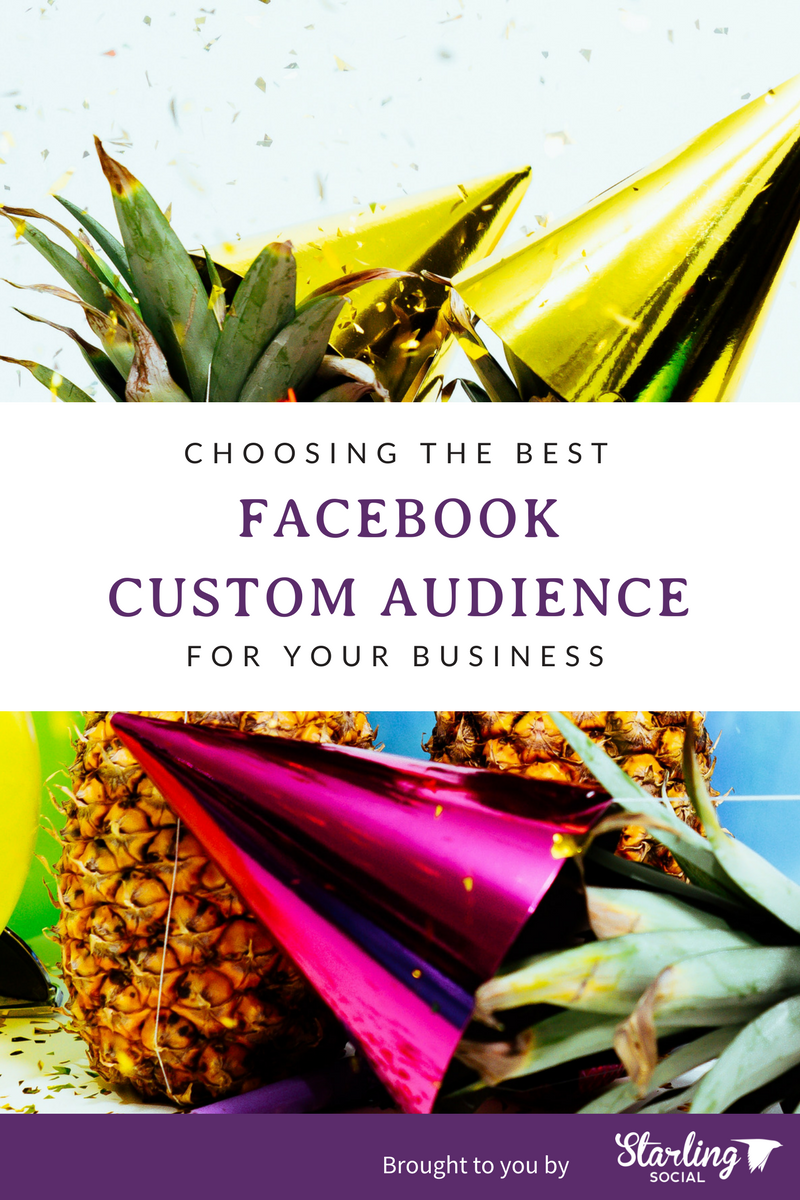 What's a Facebook Custom Audience?
Facebook Custom Audience is just that: a custom audience you can create in your Facebook Ads Manager (or Power Editor) that you can target with your ads. One of the options available is o target people who have an existing relationship with your business - say, fans of your Page - and create a campaign which retargets this audience.
Facebook gives you six options to define the existing relationship between your ad audience and your business, which are:
Customer File. Upload a customer file (eg: list of individuals who have purchased from your e-commerce store within the past 365 days) to match your customers with people on Facebook to create an audience from the matches.
Website Traffic. Create a list of people who visited your website or took a specific action which corresponds to your Facebook Pixel.*
App Activity. Creates a list of people who launches your game, app, or took specific actions based on the Facebook Pixel installed in your app.
Offline Activity. Upload a list of people who have interacted with your business in-store to create a custom audience based on phone numbers or other offline channels.
Engagement. Creates a list of people who have recently engaged with your content on Instagram or Facebook.
* A Facebook Pixel is a code you (or your developer) installs on your website or in your app to track conversions from Facebook Ads and collect data to do stuff like build the Custom Audiences we're discussing here.

Let's sink our teeth into the different Custom Audience types available, and how they differ from each other:
Customer File Audiences
Customer File Audiences are based on a list of existing contacts available to you, such as newsletter subscribers or customers who have purchased from your e-commerce site. Syncing your customer list can be done one of two ways:
Manually uploading your audience in a .csv or .txt file.
Syncing your email CRM to your Facebook Ad Account.
Important: you can't mix data types, so you'll need to upload separate files for emails vs. phone numbers, for example.
We recommend giving your Custom Audience a short, easy-to-identify name which describes the specific audience, such as "Email signups" or "Past Customers."
Website Traffic Custom Audiences
If your business doesn't have a large enough database of emails, phone numbers, or Facebook User IDs to create a Custom Audience based on the steps above, you can use Website Custom Audiences to retarget visitors who have already visited your website.
This is a big boon for many businesses who are in the process of building their newsletter lists, for example, because all you need to do is make sure your Facebook pixel is installed and wait for people to visit your website. When they do, Facebook will recognize the users and automatically add them to an Audience, ready to be retargeted.
App Activity Audiences
With the explosion of mobile app popularity and Facebook mobile ads, it's no surprise that this option is becoming a popular solution for many app-based businesses.
The option allows you to target people who have previously used your app but haven't come back to use it within the last month (for example), or, you can target people who have abandoned their carts (added an item to their cart but never completed the purchase.)
There are lots of ways to retarget app audiences (currently there are 14 actions/non-actions you can target), but the most popular options are:
Achieved a certain level in your game.
Completed a large purchase.
Recently opened your app.
Recently completed a purchase.
By targeted users who have (or haven't) completed a specific action you can tailor your retargeting ads with copy and visual content which compels them to come back, such as new levels, discounts, or ads featuring new items for purchase.
Offline Activity Audiences
The Offline Activity option allows you to build Custom Audiences based on one or multiple offline events, such as Add Payment Info, Add to Wishlist, etc.
When you choose "Offline Activity" as tour Custom Audience type in Ads Manager, you can add multiple filters to refine the audiences to your specific needs. You can select multiple offline events and filters such as People Interacted Offline, Add Payment Info, Initiate Checkout, and more from the drop-down menu to restrict your list.
If you want to get super-granular, you can refine your data even further using the Custom Value or Aggregated Value options, which allows you to add conditions or values which are specific to your business goals. For example, you can add "source equals to call" to track the number of calls your business has received.
Engagement Custom Audiences
The Engagement option is especially exciting because it means you can use your ads to retarget people who have already shown an interest in your business on social media, which increases the likelihood that they will convert by 70%, according to FetchProfits.

If you click on "Engagement", a window will appear which will prompt you to define an Engagement Audience based on six different engagement types. They are:
Video. This will target users who have watched at least three seconds of your videos on your Facebook Page or Instagram business profile.
Lead Forms. If you already use Lead ads, you can get in front of people who have opened or completed your lead form.
Fullscreen Experience. This option relates to the Facebook Canvas Ad option, and will retarget users who have opened your Canvas collection ads.
Facebook Page. This is our favorite because it allows you to retarget anyone who has interacted with or visited you Facebook Page.
Instagram Business Profile. This is similar to the Facebook Page option, but retargets to people who have interacted with your Instagram business profile.
Event. Event retargeting is the latest addition to the Facebook Engaged Audience family, and allows you to retarget people who have RSVP'd to an event on Facebook.*
* Events must originate from your business page. Facebook won't allow you to target people who have attended similar events, or events which weren't hosted from your page.
Bonus: Custom "Lookalike Audiences"
One of our favorite ways to leverage the power of Facebook Custom Audiences is to create custom lookalike audiences. These audiences are exactly what they sound like: audiences of hundreds or thousands of people who don't know about your brand yet, but are likely to become your customers.
Lookalike audiences can be created from:
Email Lists
Current or Past Customers
Page Fans
Website Custom Audiences
App Activity
Conversion or Standard Events
Engagement (App, Video, etc)
Want to learn more about the incredible benefits of creating and using Facebook Custom Lookalike Audiences? Stay tuned for our next post! If you're still struggling with Facebook Ads and would like some help elevating your brand and reaching new customers for your business, drop us a line, we're happy to help.
Want to engage with us in the meantime? Subscribe to our newsletter or say hi on Facebook, Twitter, LinkedIn, or Instagram.
---