Tagged: marketing strategy
- by Alyson Shane
If you run a B2B (business-to-business) company, then generating new leads and increasing brand awareness is one of your top goals.
But with so much competition in the marketplace, it can feel overwhelming to find ways to continually stand out and showcase what makes you different.
Enter: webinars. An easy, inexpensive approach to reaching your target audience.
According to research from Zippia, a whopping 73% of webinar attendees become qualified leads, and over a dozen of Starling Social's clients have decided to work with us after attending a workshop that I've delivered.
So I can say from experience that webinars can offer a great return on investment (ROI) — but before I dive into how to create a webinar and generate new leads, let's talk about what a webinar is:
What Is A Webinar?
"Webinar" is a portmanteau of the words "web" and "seminar" and is exactly what it sounds like: a presentation, seminar, or workshop delivered digitally.
Usually a webinar consists of a subject matter expert (like me, or like you) sharing knowledge and insights with attendees.
Since webinars are delivered online there's typically a series of slides to go along with the presentation, and a Q&A session afterward where attendees can clarify things they may not understand or might have extra questions about.
In my opinion, the biggest value-add of a webinar is the interactive element. Engaging with attendees throughout the presentation, and after during the Q&A, offers opportunities to showcase your knowledge, empower attendees, and keep them engaged from start to finish.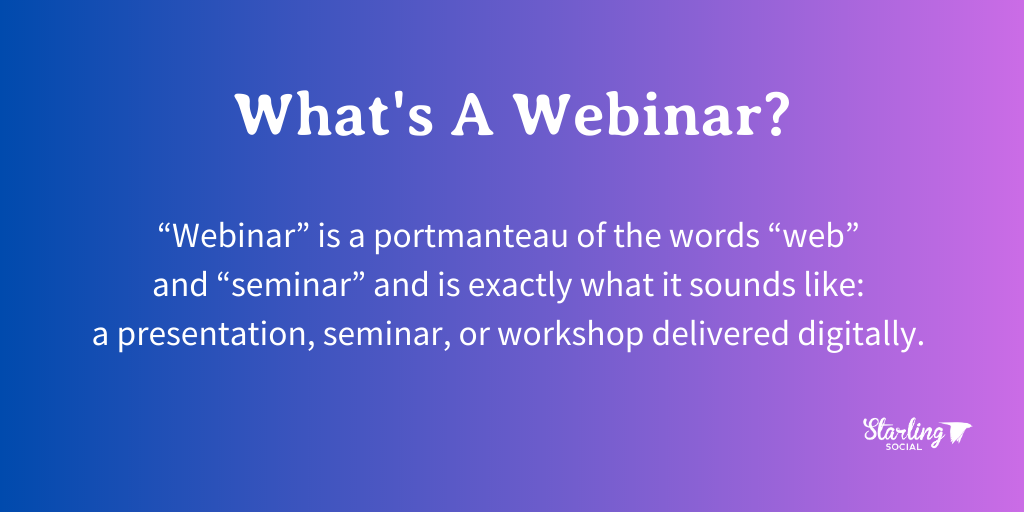 Now that we've covered the basics, let's dive into how to create a webinar:
How to Create a Webinar: 10 Simple Steps
1. Start With Your Priorities
Webinars can cover lots of topics, but by identifying one specific topic that's relevant to your target audience is the easiest way to create a webinar that has value and attracts participants.
If you're not sure what to focus on, try doing some audience research. Here are a few steps to get started:
Consider the most frequently asked questions your customers have. Use these questions as the basis of your webinar.
Look at your social media content. Take a look at the posts that get the most engagement, comments, and shares and use these trends to guide the topic you choose.
Use a tool like Quora or AnswerThePublic. Look at the discussions to see what people are asking about and choose a topic based on what you see.
Some webinars are high-level and cover a series of sub-topics under one umbrella, while some are super macro-level and hone in on exploring a single topic or theme.
The best way to decide on what to cover is to do your research, brainstorm as many topics as possible, and choose a topic that aligns with your strengths and interests.
2. Choose A Webinar Format
Knowing how you want to present your content in advance will make creating the webinar a million times faster.
Consider your personality and objectives, and take a look at these options before deciding:
Presentation Webinars
This is the most common type of webinar. Presentation-style webinars are straightforward, with one person (you) speaking while slides, a video, or an audio file plays in the background.
Protip: keep your attendees engaged with polls, Q&A sessions, and group discussion sections. This allows people to share their experiences and creates a more cohesive group learning experience.
Interview Webinars
As the name suggests, this webinar style focuses on someone interviewing an industry expert who shares their knowledge and fields questions from attendees.
If you're running the webinar then you'll likely be the one doing the interview, so you'll want to look for an interviewee who has at least one of these qualities:
Someone at the forefront of their industry
Someone with a lot of expertise in your field
Someone with a lot of influence in your field
Product-Based Webinars
Webinars in this style are intended to show off a specific product or service and highlight its usefulness to potential customers.
Usually, the person running the webinar will do a screen share to show the products interface and functionality to attendees.
This type of webinar is great for converting people who may not be familiar with your product or service and converting them into a customer, or upselling existing customers who might not have known the benefits of using a specific feature.
The nice thing about this style of webinar is that you can create webinars for newbies (aka, people who might become customers) and convert existing customers by creating in-depth webinars that upsell aspects of the tool or service they might not already be taking advantage of.
Moderated Panel Discussion Webinars
As the title suggests, this style of webinar consists of a bunch of speakers talking about the same topic, moderated by someone (typically you, in this case).
Webinars in this style are great for bringing together a handful of industry experts and leaders so attendees can learn from all of them at once. They can also be a great way to extend your personal network by creating opportunities for others to shine and share their knowledge.
Q&A
This is self-explanatory: the entire webinar is an opportunity for attendees to ask you questions in real-time and offers the chance at a dynamic learning environment.
3. Organize Your Tasks
The scope of your event depends largely on you and how aggressive you want to be, but here are a few tasks you'll want to tackle (or assign to someone on your team):
Promotions: consider how you'll be promoting your webinar. This can include email marketing, social media posts, social media ads, landing pages, etc.
Content: time to figure out what goes into the webinar! This task focuses on organizing the webinars themes, presenters, content (slides and talking points) and design.
Operations: make sure to have an email signup list created, a webinar presentation tool tested and ready to go, and follow-up tasks like "thank you" emails already scheduled to send to your list of attendees.
4. Pick a Webinar Tool
This can be as fancy or as simple as you want it to be!
Some webinars I've hosted have been through WebinarJam and GoToWebinar, which are great options but might not be ideal if this is your first time hosting a webinar.
My suggestion is to keep it simple, host the event through Zoom, and use screen sharing to share slides that are saved as a PDF (my favourite) or as a PowerPoint or Keynote presentation.
When choosing a tool, some things to keep in mind include:
How many attendees do you expect?
Do you plan to save a recording to share later?
What's your budget?
How important is personalization and branding?
5. Plan Your Visuals
Visuals are one of the most important parts of your webinar! The content that shows on your screen not only helps emphasize what you're saying, but can also provide additional context for attendees and act as reference material if they want to refer back to the slide after the webinar is over.
(This is up to you of course, but I always make my slides available after a webinar whether a recording is available or not. It's just an extra value-add that helps attendees!)
Some webinar visual "do's" include:
Keep slide content high-level. Use bullet points, images, and charts and graphs to emphasize your points, but don't make them super text-heavy. Some tips here include:

Memes, gifs, and funny images. Surprise people and make attendees less likely to tune out.
Use short paragraphs. Even your bulleted lists should be as short as possible.
Lean into stats and data. People love numbers and including stats to back up what you're saying can help attendees remember what you're saying.

Have a summary opening slide. This should list the topics you'll be covering and any other essential information (date, time) and availability of the content once the webinar is over.
Introduce yourself and other presenters. Don't assume that attendees know everything about you! Use this as a chance to highlight your expertise and remind attendees why you're the one they came to see.
6. Prepare the Space and Equipment
Make sure to choose a quiet space with a door that closes for your webinar, like a home office or a conference room. The last thing you want is for someone to come barging in during the middle of your presentation!
Equipment and connectivity also plays an important role in a successful webinar. Landlines are less likely to cut out during your talk, and headset microphones tend to cut out less often than wireless models, so consider using them if possible.
If you aren't sitting at your desktop PC, make sure that your laptop is fully charged so you don't disconnect in the middle of saying something important.
Lastly, make sure to use a high-quality camera and good lighting. This is your chance to shine, so make sure you and other presenters don't look like potatoes. If you're hosting the event with others, do a dry run a few days before to make sure everyone's tech setup works, that there are no distractions in the background, and that they look as flattering as possible.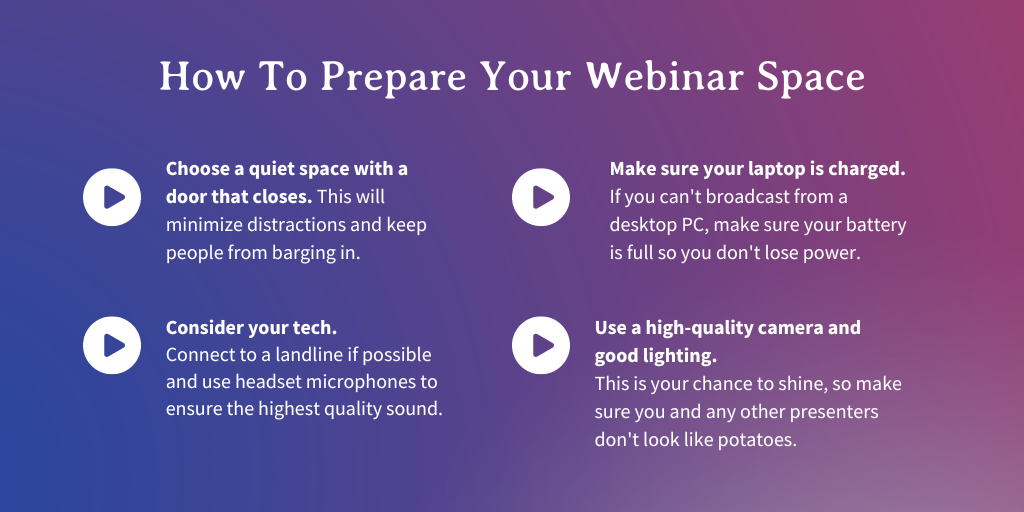 7. Create the Registration or Landing Page
Where your attendees register for your event depends a lot on your technical ability — some people prefer to use tools like Eventbrite, while others prefer to create specific landing pages on their own websites.
(Personally I like to do both. I create an Eventbrite event so it gets seen on that platform and connects with potential attendees there, and create a landing page on the Starling Social website so I can direct people to our website when promoting the webinar on my own feeds.)
No matter where you create the registration or landing page, it should include:
A short summary of the webinar's goals, including a few bullet points for readability.
The host's experience and relevant knowledge or expertise as it applies to the topic.
The webinar's time, date, and location.
The time zone. I listed this separately because it's an often-overlooked detail but is essential since people might not be tuning in from where you live.
8. Start Promoting Your Event
I typically wait until after the webinar is 99% ready to go before I start promoting it — this way I can speak to specific items I'll be discussing and can tailor my marketing messaging to appeal to as many attendees as possible.
Ideally you want to give yourself three to five weeks of promotion before your webinar date, and should use as many promotional avenues as possible. This includes:
Email marketing
Organic marketing (like this blog post!) and social media
Social media ads
Website promo like popups, landing pages, and banners
Remember: the more work you do to promote your webinar, the more people will see it and potentially sign up to attend, so don't skimp on this step!
9. Rehearse!
Don't skip this step! If you're hosting a webinar with multiple people, it's crucial to set aside an hour or so to run through the content and address any technical problems. Things to look for include:
Audio issues and inconsistencies
Video playback issues
Framing and lighting
Internet connectivity issues
Rehearsing is just as important if you're hosting the webinar by yourself. It's hard to be "on" when it's just you talking to a screen, so I suggest running through your talk at least once before you deliver it so you sound natural and conversational
10. Deliver Your Webinar
The big day is here! Make sure all your presenters are on the call at least 15 minutes before the webinar is scheduled to start so you can test everyone's mics and connections before your attendees start arriving.
After the webinar is over, send a follow-up email that includes the following:
A thank-you note for attending
A link to a recording or slides if they're available
A discount code or incentive to encourage conversions
Create a Webinar That Builds Your Audience and Gets Leads Today
As you can see, creating an effective webinar that converts isn't as hard as it might seem!
By spending the time to build a webinar that caters to your target audience, you can create an engaging lead generation tool that excites and empowers attendees and turns them into leads, then clients, then return customers who keep coming back for more.
Sign Up for My Upcoming Webinars With Volunteer Manitoba!
If you're in Manitoba, you can register for one of my three upcoming workshops with Volunteer Manitoba!
This series of workshop-style webinars "stack" your learning, so you can start one and build on your knowledge over the next two presentations, or jump in and register for the workshop that best meets your needs.
While these webinars will be tailored to a nonprofit audience the strategies and insights can be applied to organizations of all sizes and scopes, so if one of these topics appeals to you don't wait to register!
October 19, 2023
09:00 AM to 12:00 PM CST
Exactly what it sounds like! This workshop is perfect for people who are looking to build their foundational knowledge of each social media platform, what makes them different, and how to think strategically about how to use them.
January 18, 2024
09:00 AM to 12:00 PM CST
Confession: this is my favourite workshop of this series! As a content marketer I love helping others think strategically about content!
This is a hands-on workshop designed to help you understand how to think about content for your digital marketing campaigns in a high-level, strategic way.
We'll cover why content is important, different types of content and how they differ from each other, how to develop "content pillars", and lots more.
February 15, 2024
09:00 AM to 12:00 PM CST
Another workshop that is exactly what it sounds like!
Email marketing is one of the most effective ways of connecting with your target audience and growing any business or nonprofit, and this workshop covers everything from list growth strategies, to content ideas, and lots more.
---