Tagged: email marketing
- by Alyson Shane
Email marketing is one of the most important aspects of a successful digital marketing strategy, offering as much as a $44 ROI on every $1 spent.
What makes email marketing so successful is that it allows you to connect with your audience where they live: in their inbox. We've written about how to improve your email marketing results before... but what about the tools you can use to get there?
Today we'll be reviewing some of the best email marketing tools on the market, and giving you an in-depth overview of the differences in pricing, features, and availability, and how deep into the customer journey they can take you.
Using the tool that's best suited to your business' goals is the best way to guarantee success with your email marketing campaigns, so let's eliminate the guesswork and dive right in: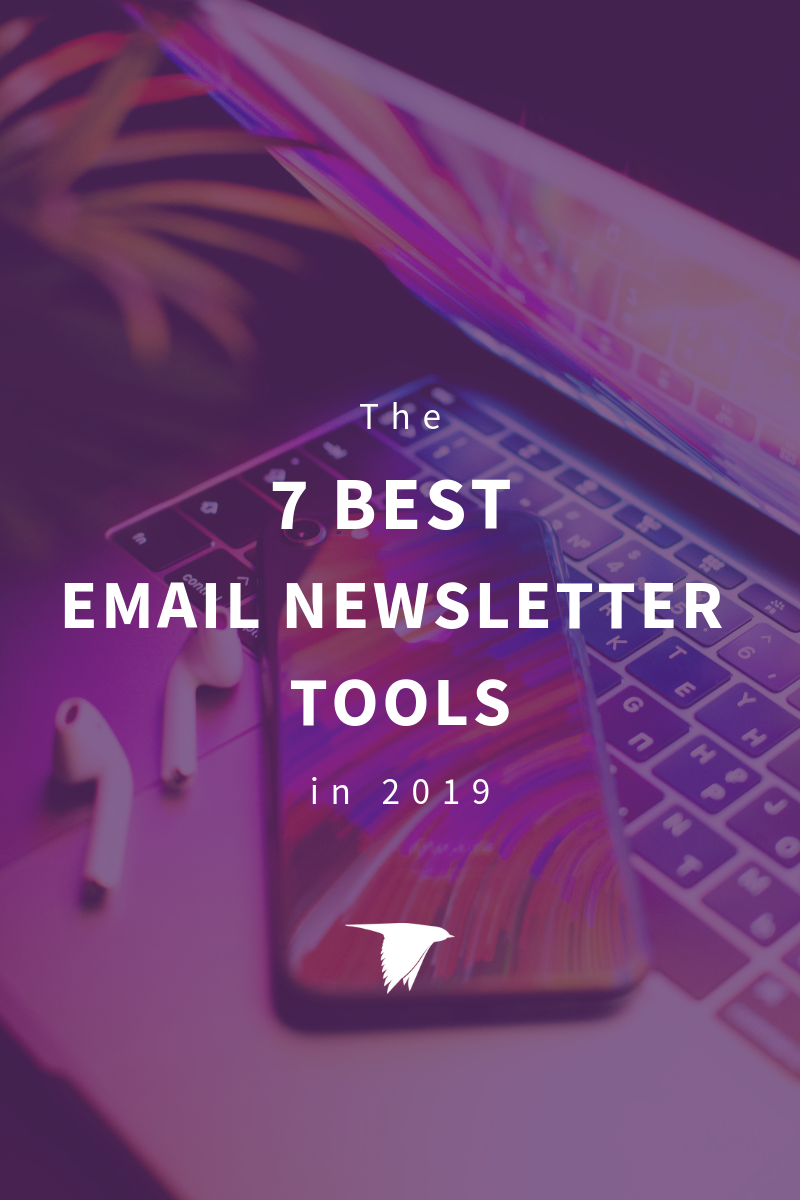 Cost: $50 per month
HubSpot is one of the biggest names in digital marketing, and their email management service offers an easy to use drag and drop editor to design eye-catching emails, as well as the ability to review your analytics on a per-send basis.
Arguably the most powerful feature of HubSpot's EMS is how well it integrates with their free form tools (for easy lead gen) and their CRM system, which allows you to connect your email analytics to other parts of your sales cycle.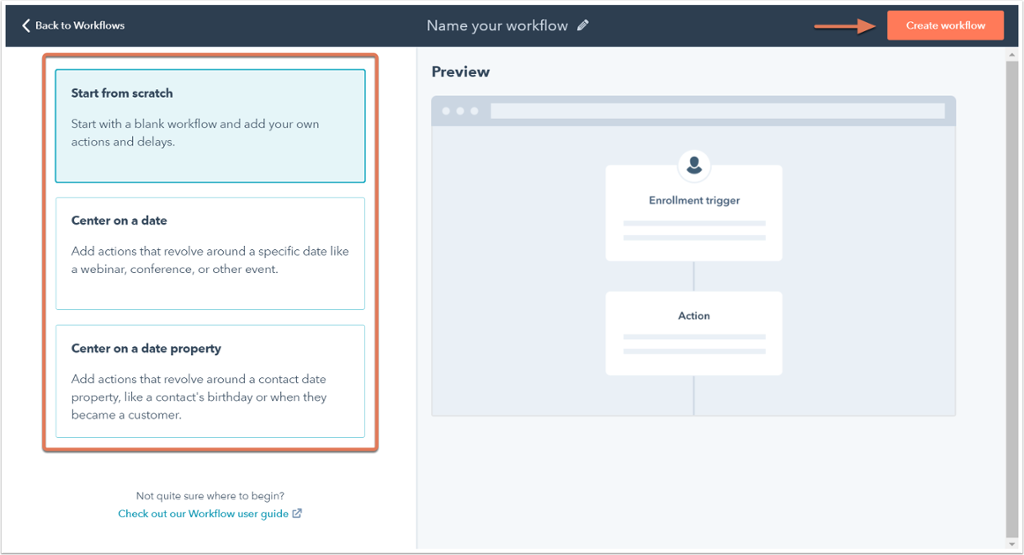 Source: Hubspot
Price: Free up to 2,000 subscribers or up to 14,000 emails a month
Benchmark also offers drag-and-drop functionality, as well as a ton of templates to choose form if you're not comfortable enough designing your own.
Some of their best features include A/B split testing, detailed analytics on campaign-specific performance, spam testing, and lots more.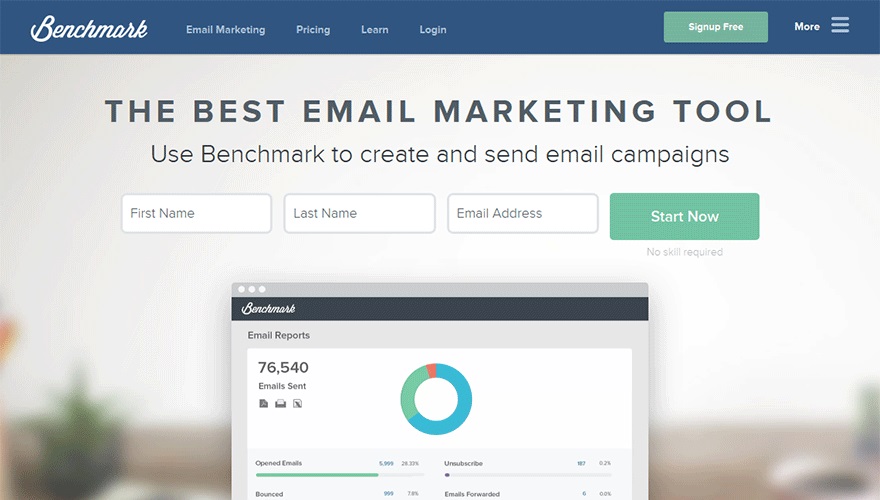 Source: Benchmark
Price: Free 30 day trial, $15/month afterward
GetResponse offers features that become available as you need them, ranging from a small set of "starter features" to a full suite of enterprise-level features like landing pages and webinars.
Like other tools in this list, GetResponse also offers drag-and-drop layouts to design your own template, plus a ton of templates to choose from it's easy to A/B test, send to different audience segments, and more.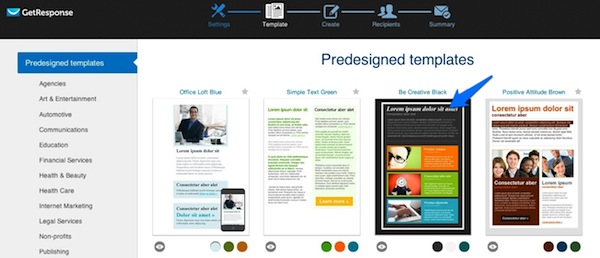 Source: GetResponse

Price: Free up to 6,000 emails a month, starts at $25/mth for 40,000

Not tech-savvy? Then don't worry: SendInBlue has you covered. This tool offers an HTML editor, drag-and-drop functionality, and a massive template gallery to help you select a pre-built template that grabs readers' attention.
Even better: SendInBlue has the capabilities to build robust automation pipelines that send different emails based on specific actions taken by your contacts.
However, SendInBlue doesn't have a built-in CRM system so if you're a quickly-scaling team you may want to consider another tool.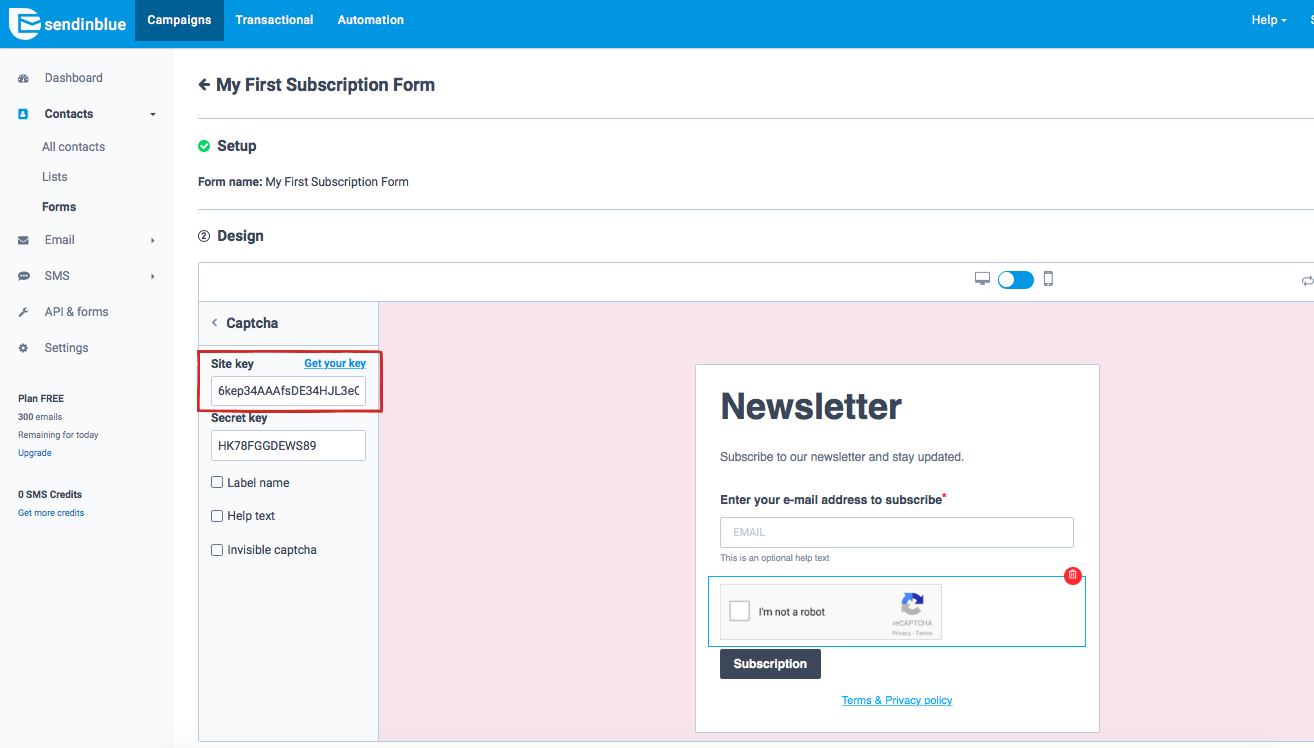 Source: SendInBlue

Cost: Free up to 200 emails per day (6,000 emails per month), with prices starting at $8.69 a month for 30,000 emails.
MailJet is an email service that prides itself on being developer-friendly, with an impressive API (application programming interface) that allows developers to build their own email platform.
One of the unique customization features that MailJet offers is the ability to create dynamic content that is personalized for each recipient based on customer data, like their geographic location or their name.

If your team needs an email service that allows for multiple approvals and seamlessly allows teams to collaborate on the same draft, then MailJet is the tool for you.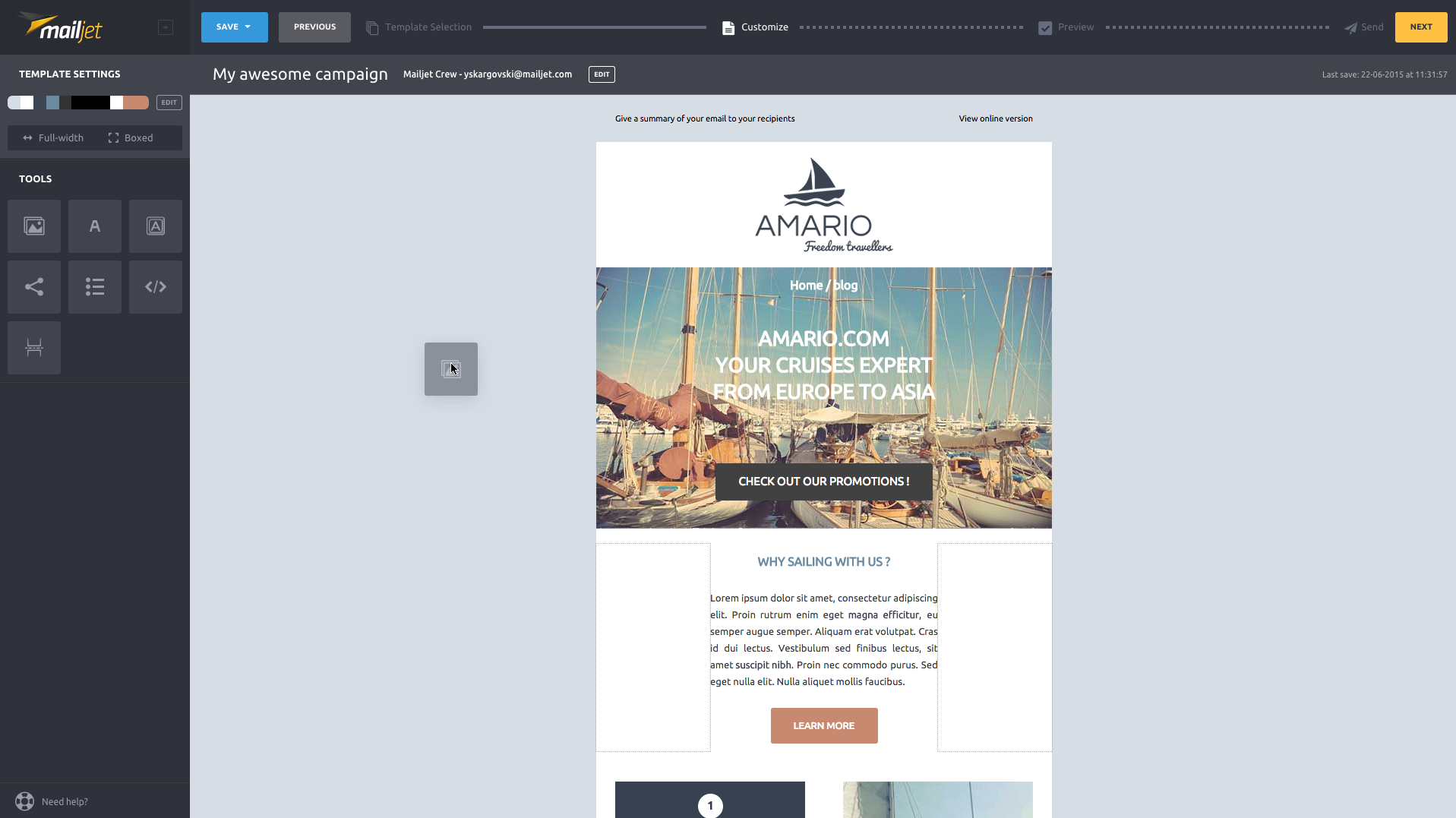 Source: MailJet

Price: Free up to 12,000 email sends per month to a list size up to 2,000. Pricing starts at $10 per month for 500 subscribers.
MailChimp is a free email marketing service that's great for small to medium-sized businesses looking to start getting into email marketing, or who aren't focusing on a business model that includes a lot of opt-ins and landing pages.
However, as you scale it's likely that you'll start to use other email marketing tools instead, as you'll start butting up against the limits of its automation and segmentation features.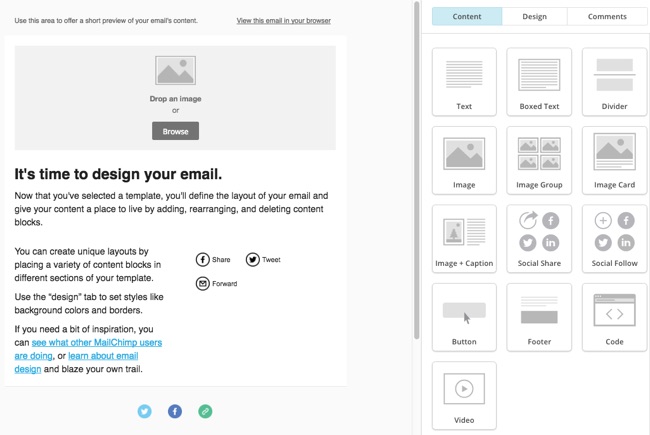 Source: MailChimp

Price: Free trial for 60 days before paying, then prices start at $20 per month for a list size up to 500 contacts.
Constant Contact is great for businesses with larger teams, and has a multi-channel support system that can help onboard and resolve pretty much any problem with ease.
Constant Contact comes with tons of templates and a powerful email builder than allows you to create newsletters that reflect your brand and tell your story. Unfortunately, like MailChimp it lacks the automation features needed for businesses who are looking to rely on their email list as a growth tool.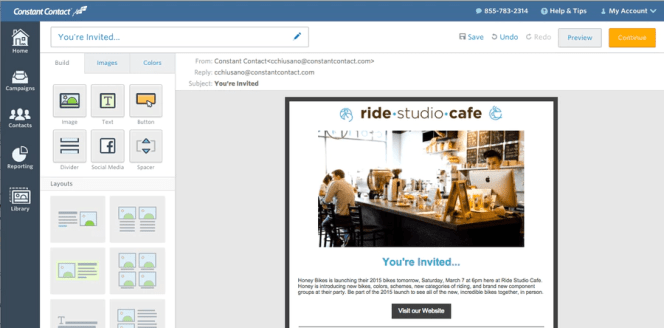 Source: Constant Contact

How to Choose the Right Email Service
As you've probably figured out, not all email services are created equal. If you're wondering how to choose the right email service to suit your business' needs, consider these questions:
Consider your strategy. Do you need to start implementing list segments that allow you to track subscriber growth based on specific lead gen tools... or do you just need to send an email once a month?
Review your budget. Do you have the budget to pay for a service, or can you get by with a free one for now?
Rank your needs. Compare the criteria below against the information listed above to figure out which service will give you the most bang for your buck:
Templates

Tracking

Automation

Mobile functionality
Not sure where to get started with your email marketing strategy? Drop us a line - we'd love to talk strategy with you!
Not ready for a chat? That's cool, just subscribe to our weekly newsletter and get hand-picked social media, digital marketing, and content resources and news sent straight to your inbox.
---
- by Alyson Shane
Just like Dungarees, round glasses, and Doc Martens, email marketing is making a comeback in a big way right now.
Why? Because businesses are realizing that email marketing is the fastest and easiest way to connect with customers where they live online: in their inbox.
Research published recently by MarketingSherpa found that 78% of 35 to 44-year-olds were the most likely to prefer email, and 70% of people between 18 and 34 prefer that businesses communicate with them via email.
Unfortunately, just because people prefer it doesn't mean that the tactic is as effective as it could be. ReturnPath's State of Email Marketing found that less that the average open rate for emails is 15%, and 60% of marketers reported average click-through rates or just 8%!
What's going on here? If email marketing is so effective, why are so many businesses struggling to see the results they're looking for?
The answer is simple: customers have become more sophisticated in how they consume content, which means businesses need to step up their email game if they're going to stay competitive, creative, and successful.
Here are three ways you can amplify your email marketing efforts, increase engagement, and foster better connections with your customers: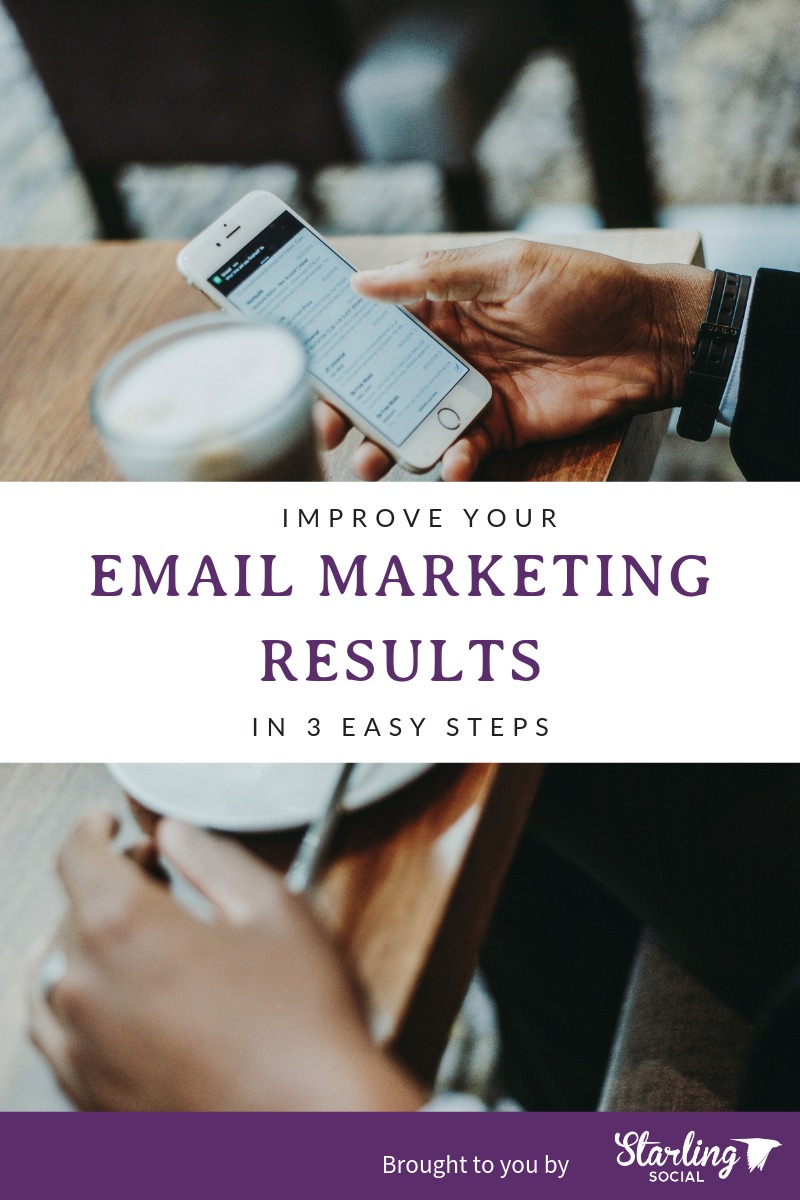 1. Segment Your Lists
Most businesses have one 'Master List' they send all of their emails to regardless of how, when, or why that person subscribed, but this is the old way of doing things.
Take some time to organize your email list based on one (or more) of these metrics:
Purchase history
Past email clicks or opens
Website activity
Demographics
Job title
Connections (e.g. conference leads)
Think about it this way: if +70% of people want to receive emails, then you're competing with a lot of clutter in any given inbox. By sending emails targeted at specific segments of your list you can speak directly to their pain points, needs, and pique their curiosity.

Segmenting your list gives you a high-level view of the different kinds of people who want to hear from you, and gives you a chance to customize what you say to them.
By creating content that is tailor-made for a specific segment of your audience not only tells your reader that your business is actively working to help solve their unique challenges, but also increases your metrics.
Check out a couple of jaw-dropping stats about email segmentation from MailChimp:
Segmented emails earn 14.31% more opens than non-segmented campaigns.
Segmenting by open date earns 29.56% higher than non-segmented campaigns.
Segmenting by merge field earns 54.79% more clicks than non-segmented campaigns.
2. Use a Triggered Messaging Program
One of the sneaky tricks to getting people to engage with your emails is to engage strategically with them. One way to do this is to launch a triggered messaging program.
Triggered messages are emails that get sent automatically when a user does (or doesn't) take a specific action. For example, if someone abandoned their cart on your e-commerce website, you can send them a "triggered message" at a strategic time offering them a discount if they complete their purchase.
By taking the time to make your interactions meaningful and related to the person's experience you can build trust with your customers and encourage them to buy from you more often.
3. Pay Attention to Your Data
Data is what separates the wheat from the chaff when it comes to your marketing.
This is especially true when it comes to email marketing because data plays such an important role in understanding your audience so you can personalize your communication with them.
Some things to start tracking and measuring include:
Mobile vs. desktop viewers (use this to optimize how your emails are laid out)
Conversion rate (how many people clicked on a link and completed an action like filling out a form or buying a product)
Which Calls-to-Action (CTRs) are earning the most email signups (use them more)
How many contacts share your email (which types of articles and offers tend to get shared the most)
Create Real Connections
The key to running a successful business is to take the time to understand your customers and connect with them through your content. Implementing these three tactics will allow you to:
Build trust with your audience
Prove you're listening to their wants + needs
Provide them with content that has value - not just salesy BS
These are the things that the modern customer cares about, and by implementing these three steps you can make sure your emails are creating connections and conversations needed to keep them engaged and interested in your brand.
If you want help segmenting your list and building a better email marketing strategy, just let us know.
Want weekly social media and marketing news (not just ours!) sent right to your inbox each week? Smash that subscribe button.
---
- by Alyson Shane
It's hard to stand out online these days.
Between social media, digital ads, email marketing, and every other kind of advertisement out there, users see an estimated 11,250 ads each month each month. That's a lot to take in, and it's a lot to try to stand out from.
But it's not enough for your business' content to stand out; you also have to get your customers to engage with it, and take action. But how can you do this?
We're going to tell you: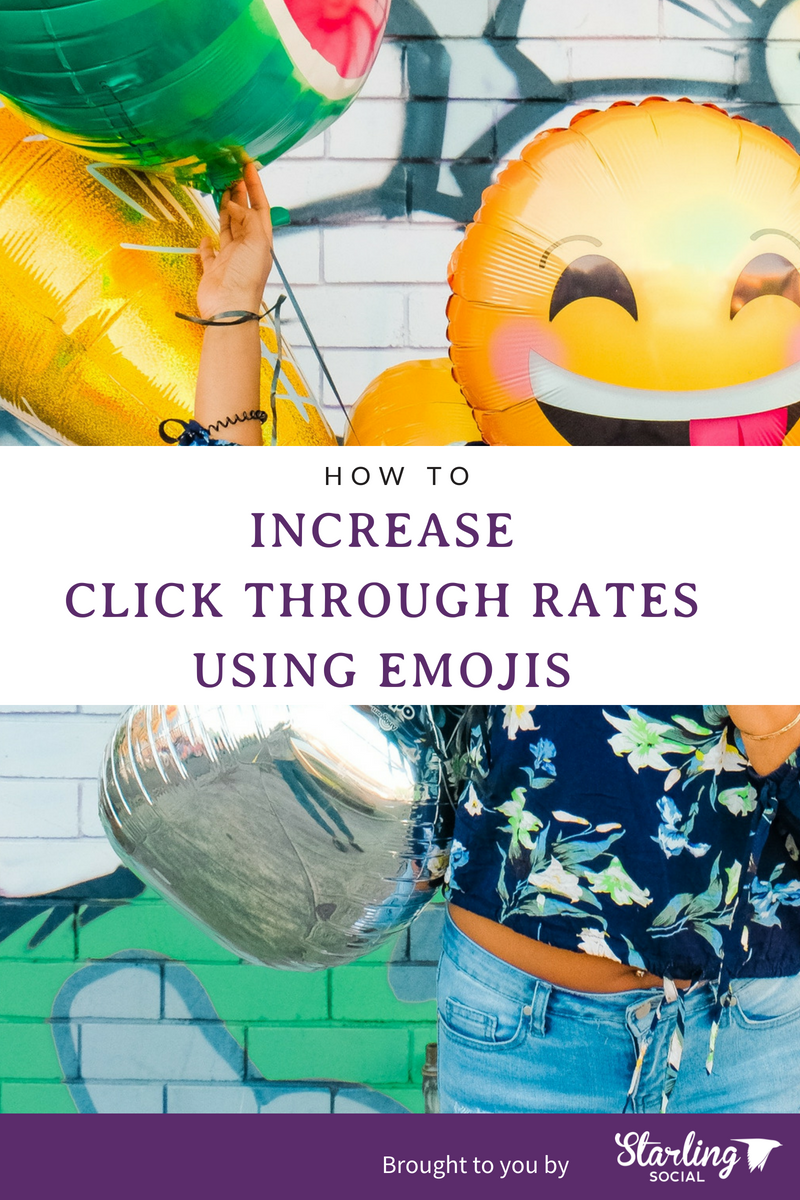 How Emojis Can Solve Your Low Click-Through Rates
The most effective way to tell if your campaign is going well is to calculate your click-through rate (CTRs.) Your click-through rate is "the percentage of people who view your ad (impressions) and then actually go on to click the ad (clicks.)"

Low CTRs are usually an indicator that your campaign messaging isn't resonating with your audience. Sometimes it's the messaging; other times it's the visual elements. Occasionally, low CTRs are due to poor audience targeting.
Most often low CTRs are because your content sounds stuffy and wooden.
Modern consumers expect their brands to talk and sound like them, with 45% reporting that they like "brands that don't take themselves too seriously." These results, along with the growing consumer class made up of Millennials, may explain why big food brands like Wendy's have started roasting their competitors on Twitter: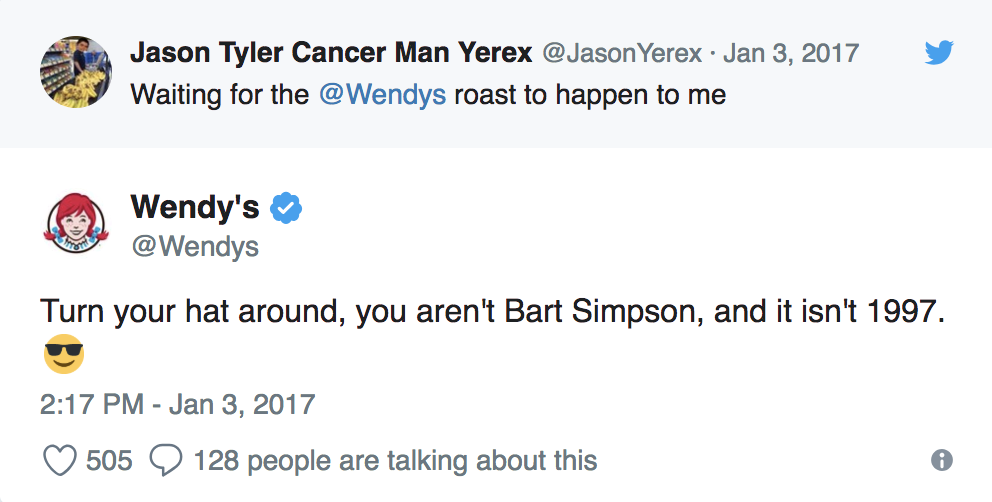 Now, we understand that most businesses out there aren't about to start sassing people online, but an easy way to copy the "humanness" of a Wendy's tweet is to start using emojis.
According to one study, 68% of millennials said they are more comfortable expressing emotions using emojis, and by literally speaking their language your business immediately becomes more relatable and will stand out from the other brands competing for their attention.

But how can you choose the right emojis to increase CTRs without committing emoji abuse and sounding inauthentic as a result?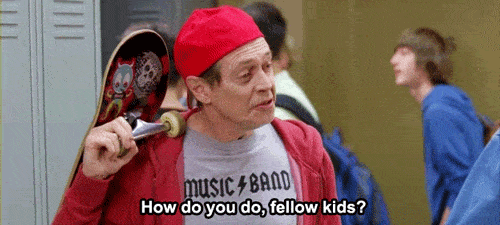 Be smart with the emojis you use.
A recent study found that this list of emojis earned the highest click-through rates: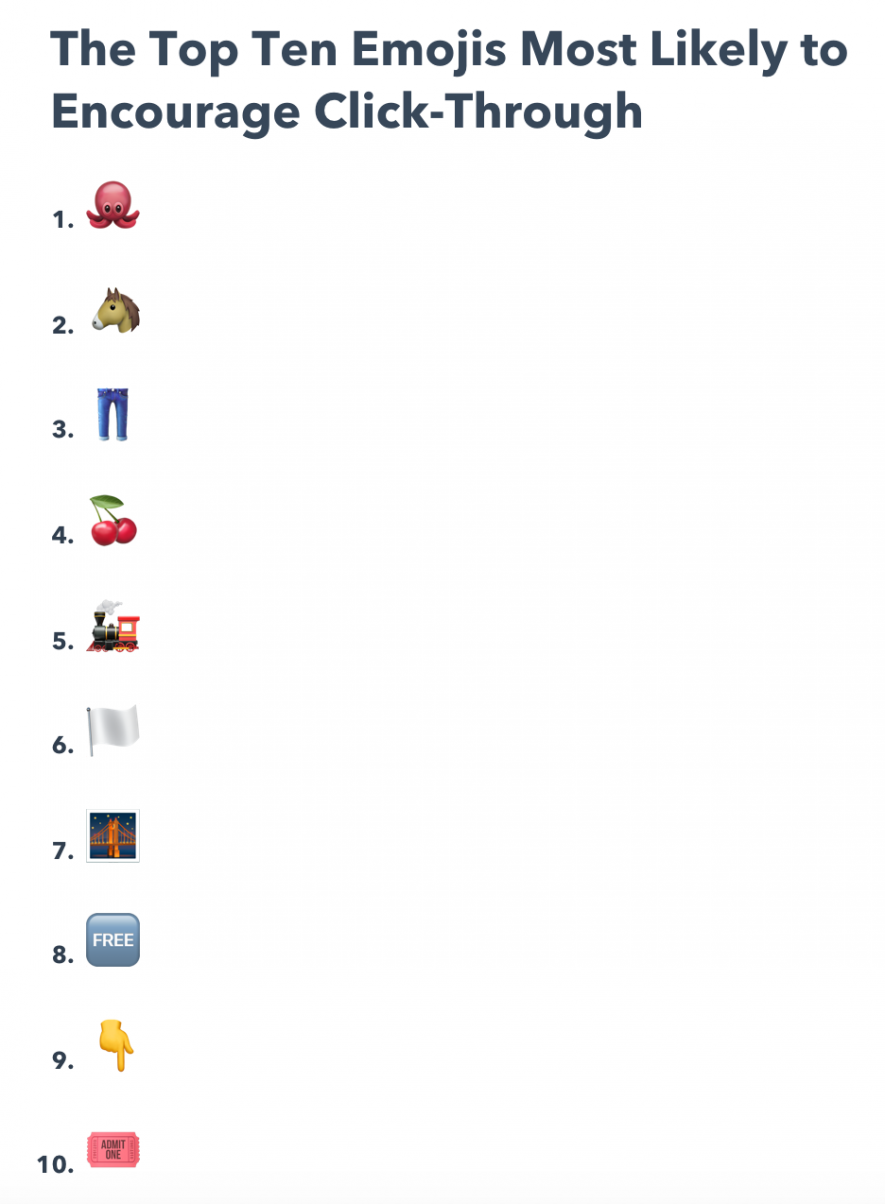 What do you notice about this list? If you noticed that none of them are faces, then you're correct! In fact, the data shows that using uncommon emojis increases click-through rates by attracting extra attention to your link because people don't see them very often.

Increase CTRs by Adding Emojis to Email Subject Lines and Body Text
Did you know that 44% of consumers prefer email as their favorite way to interact with a brand, and that email users send and receive approximately 269 billion emails every day?
That's a lot of email to compete with.
Even worse, one study found that even though people are opening your emails, 52% of them are unlikely to bother taking an additional step to click-through to your website.
Luckily, research shows that emojis not only increase email open rates, but emojis increase click-through rates as well. The study compared campaigns for Valentine's Day and Father's Day that A/B tested two email subject line formats: one with emojis, and one without, and the results were startling:
The Valentine's Day email that included a "lips" emoji in the subject line drove a read rate of 24% and an inbox placement rate of 89%, compared to a read rate of just 20% and an inbox placement of 83% for text-only subject lines.
The Father's Day campaign that used a "wrench" emoji in the subject line earned a read rate of 22% and an inbox placement of 96%, compared to a read rate of 21% and an inbox placement rate of 88%.
These are huge differences that you can replicate right now just by using emojis in your email marketing campaigns. In fact, there are lots of ways to get creative with emojis!
Use Emojis Make Your Emails Stand Out
Emojis help your emails stand out in a reader's inbox. Think about most of the emails you get: how many of them are text-only subject lines?
It's pretty uncommon to see emojis in subject lines these days, which makes using them a power move in terms of grabbing your readers attention.
One of the companies rocking the emoji game is CoSchedule. Check out how they use emojis to enhance their message in their email subject lines:

See how they embed emojis in their titles to enhance their messaging? They catch your eye and make them seem fun without losing their informational value.
Use Emojis in Social Media Ad Copy and Headers
We've already talked about the fierce competition your business faces against the 11,000+ ads audiences see every single day, so businesses need to get creative and think outside of the box in order to create ads that grab attention and drive action.
Luckily, results have shown that using emojis in your social media ads can dramatically increase the number of CTRs your ad generates.
One company called Scoro A/B tested two ads: one with an emoji in the subject line, and another without. Check them out: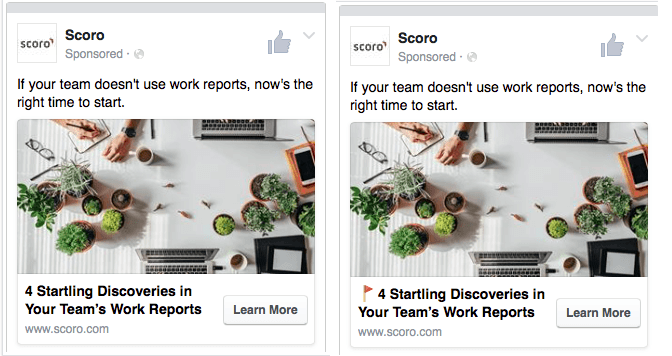 The headline with emoji resulted in 241% higher click-through rate. Wow!
Ask yourself: what are some upcoming social media campaigns your business is planning that could use an 'emoji injection' in the ad copy? Get creative and start experimenting!
Use Emojis on Social Media
Adding emojis to your social media content is an easy way to sound relatable and authentic. Check out how thredUP uses emojis to easily respond to a tweet:

We also love how Cath Kidson uses "checkmark" emojis in their tweets to break up the text and create the feeling of a checklist in their tweet: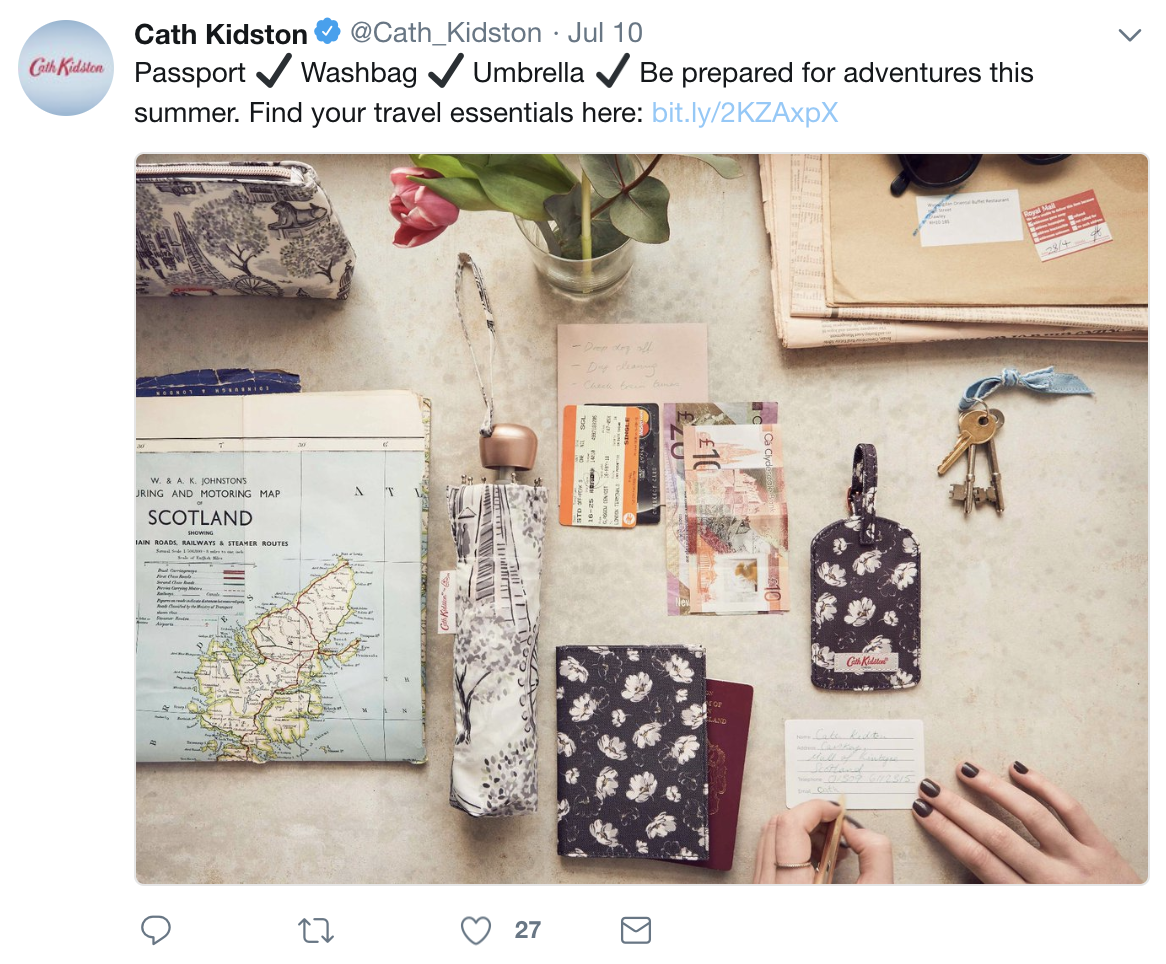 Use Emojis in Meta Titles
That's right: emojis now show up on search engine result pages.
Emojis now appear content that's "relevant, useful, and fun." Obviously emojis will stand out in on a results page made up entirely of text, the using emojis in meta titles has an even more important function: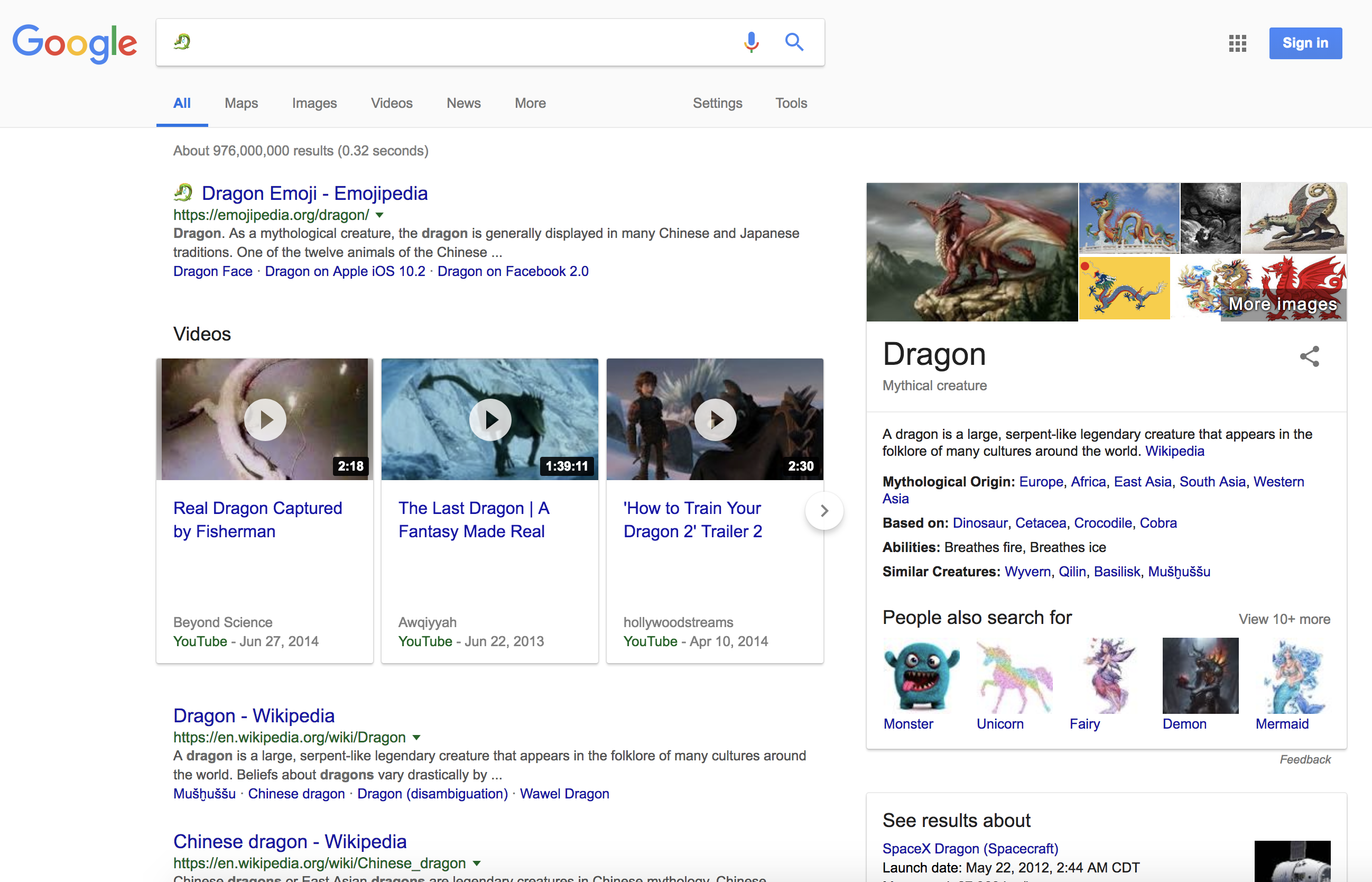 Did you notice that an emoji search for a dragon also returned results without the emoji in the page title? This matters, because Google is showing a variety of results relevant to the specific emoji.
This means that by including emojis in your meta titles you can show up in search results for emoji searches as well as text based-searches. Not sure which emojis to use, and which to avoid? Check out this list of the most-used emojis.
Use Emojis in Your Push Notifications, Messaging, and ChatBots
Does your business have a mobile app, or use chatbots on your website?
If you answered "yes" to either of those questions, then it's time to start integrating emojis into your copy asap. Check out how Air Tailor uses emojis in the welcome message on their website: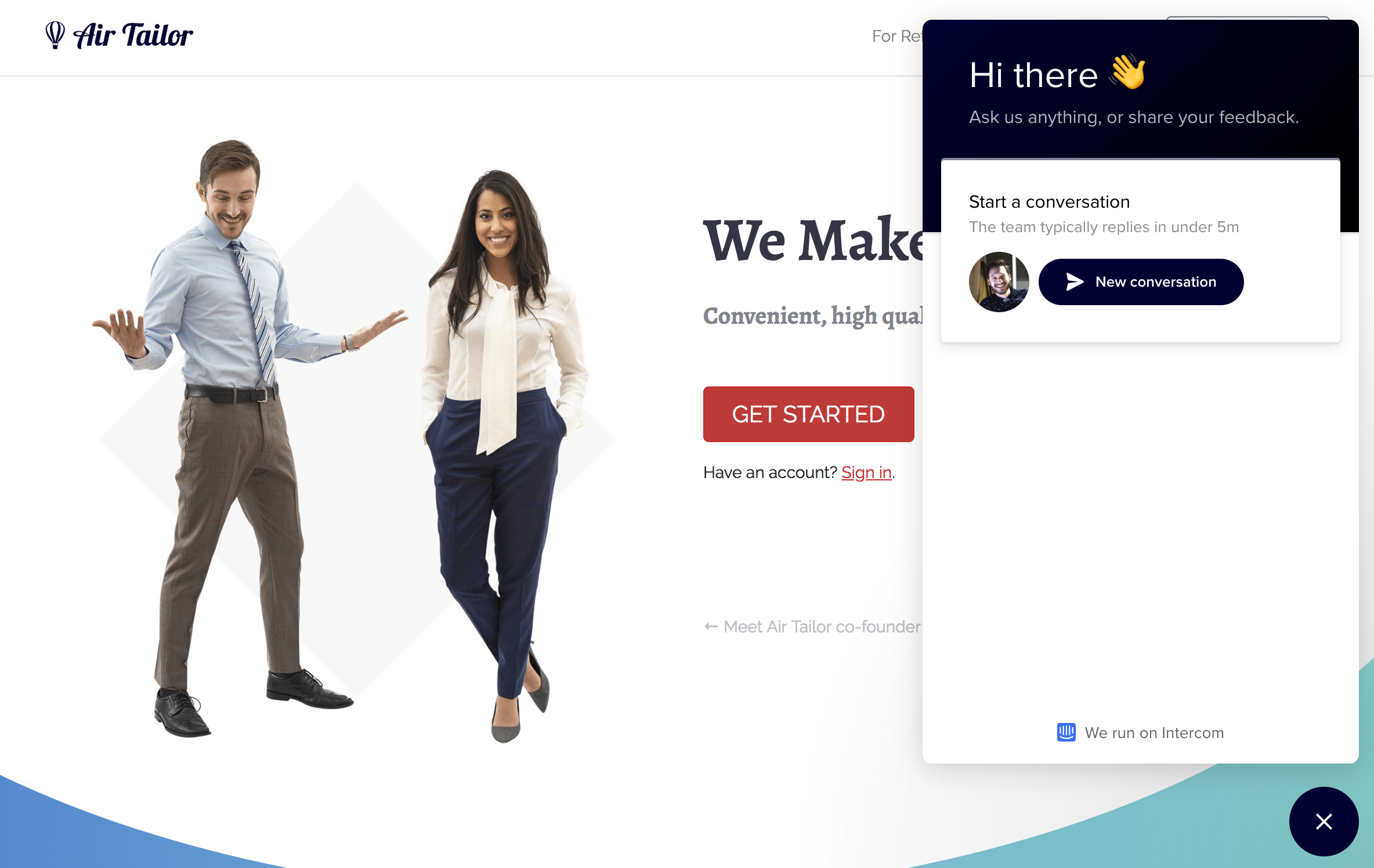 According to this case study, Air Tailor has used emojis in their messaging to grow by 100% every year.
This should come as no surprise as research found that push notifications with emojis drive higher engagement rates than those without. This is because emojis sound human, and make the content you're sharing (and the action you want your customer to take) more fun than just text-only notifications.
Improve Your CTRs with Emojis
Using emojis gives your business a competitive advantage by drawing attention to your content and helping your brand sound more "human" and authentic.
Just like with all your business' content: strategic and thoughtful in what you say, and use emojis to showcase your business' casual and playful side to increase your click-through rates.
How do you love using emojis in your content? Leave us a comment on our Facebook page!
What's your favorite brand using emojis on Twitter? Tweet us your answer!
Looking for a more B2B connection? Follow us on LinkedIn!
Love visual eye candy? Let's connect on Instagram!
Oh, and if you want some help using emojis and a killer content marketing strategy to connect with your audience and grow your business, drop us a line.
---