Tagged: Announcements
- by Alyson Shane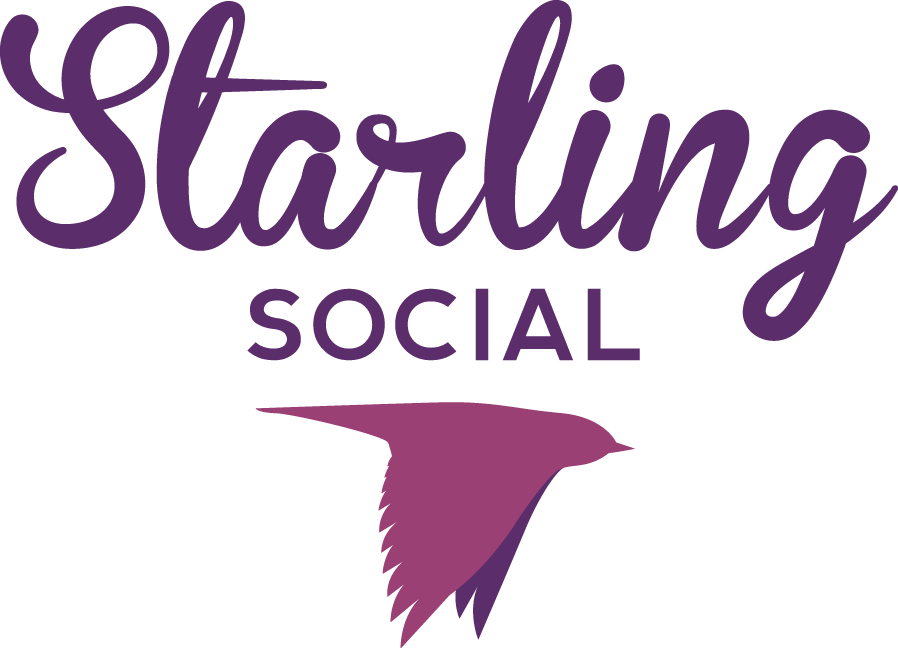 Transitioning from being a freelancer to business owner can be a challenge, especially when you've relied on your name recognition and personal brand to help you succeed.
That being said, it's also important to realize when changes need to be made, and when the time has come to shift focus and start looking at larger and more long-term goals and objectives.
With that in mind, here's a personal message from me, Alyson Shane, the owner of Starling Social. Below is a little information about why we've rebranded, what you can expect from us, and our formal "hello!" to you as we launch:
Realizing that it was time for a rebrand
I've been freelancing since 2014, and while using my own name was great at the outset, as my business began to grow I realized that I had a perception problem:
When I met with a prospective client as a freelancer, one of their first questions was inevitably "how many clients do you have?" which was their way of assessing whether I, as an individual, could balance their needs with those of my existing clients.
When it was just me that question made sense, but as my business began to grow and I started bringing on contractors to manage parts of my day-to-day workload, I realized that I needed to re-frame the conversation from the outset so that our clients knew exactly what to expect.
Why a starling?
Starlings aren't the most well-known bird, but I chose one for our name for several reasons:
Starlings are social birds. Wikipedia describes them as "gregarious" which felt fitting.
A flock of starlings is called a "murmuration." As a writer and content marketer, this play on words was incredibly appealing.
Starlings are mimics. These birds have "diverse and complex vocalizations, and have been known to embed sounds from their surroundings" (also from Wikipedia).
Considering that we're in the content marketing business, a logo which emphasized our ability to be diverse, adaptable, and to be able to integrate our client's messaging and values into our workflow was perfect.
Additionally, the alliteration of 'Starling Social' was just too good to pass up. I worked with brilliant designer Rachael Hosein to come up with the branding, which I'm over the moon about.
What is my role?
As the owner and founder, I'll be the face and main point of contact here at Starling Social.
When we work with you to develop a social media campaign, when we're presenting at a conference, or when we're staying connected with our local community by attending a Winnipeg Chamber of Commerce event, I'll be the one you'll be speaking to and working with.
Behind the scenes, the rebrand will allow me to delegate more of my workflow to my team, allowing me to spend more time working with our existing clients to come up with new content strategies and hone our processes, on-board new clients, and focus on growing the business.
That being said, I'll still be very involved with day-to-day operations such as scheduling, tone, messaging, and approving any copywriting which goes out, so as a client you can expect to receive the same attention to detail that you've come to expect from me as a freelancer.
What you can expect from us
You need a content marketing agency who are as passionate about growing your business as you are, who live to help businesses like yours craft your story and spread your message.
If you know me personally or we've worked together before, then you're already familiar with how passionate I am about these things. Now you can depend on a team of driven, talented people who care just as much as I do about helping your brand succeed online.
With that in mind, we'd like to say hello. We're Starling Social, and we're here to Make Your Brand Sing.
---