Posts by Alyson Shane
- by Alyson Shane
Fall is here, so you know what that means: the holiday season is right around the corner, and Black Friday & Cyber Monday (aka, BFCM) is the first in the series of important dates for almost every business out there.
As an agency that's worked with dozens of e-commerce companies over the years, we know a thing or two about what it takes to run a killer BFCM campaign that not only skyrockets your sales, but helps you plan more effectively and turn those one-time purchases into repeat customers.
Which is where this post comes in! Consider this your comprehensive checklist to building out the best BFCM campaign your business can manage.
(And if you'd rather we do the leg work for you, just let us know!)
But enough about us! Back to you, your business, and your BFXM strategy:
Predicted Trends for BFCM 2023
Before we get into what you should be doing this year, let's look at some industry trends that will be impacting this strategy:
According to findings from Forbes, consumers are looking for a shopping experience that's fun, personalized, and better for the environment. This includes:
Social commerce: Selling products right through social media. Think about this as the digital equivalent of "impulse shopping" or "impulse shelves".
Personalization: Showing consumers "related" products to similar to items they've bought before.
AR/VR experiences: This is a bit niche, but if you've got the audience (and budget) these immersive experiences will really stand out this season.
Subscription services: Think monthly "box bundles" like IPSY, Sakuako, or Bespoke Post.
Ethical and eco-friendly emphasis. Consumers are looking to support brands who have a "green" focus, like eco-friendly packaging or using locally-sourced products.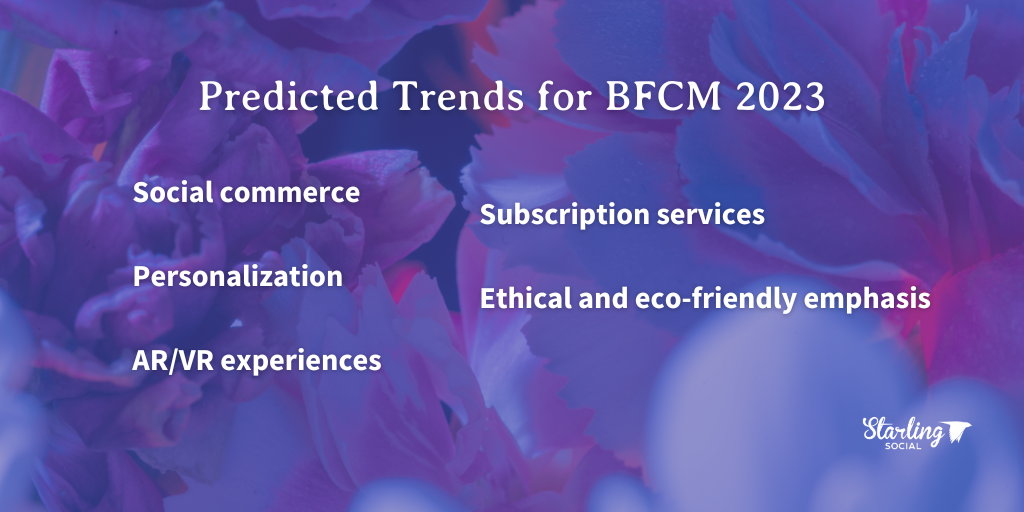 Step 1: Plan Early, Go Late
Shoppers are eager to get a head start on their gift buying and are looking to "stretch out" their purchasing windows to account for the economic uncertainty in the market.
71% of retailers in CNBC's Supply Chain Survey expect consumers to cut back on spending in response to inflation, so plan your campaigns to start promoting early, and expect to extend those deals later in order to get as many shoppers buying for as long as you can.
Let's dig into that in more detail:
Embrace the Extended Sales Season
BFCM is one of the most important shopping weekends of the year so it makes sense that you'd see tons of ads on that weekend — but marketing messaging shouldn't be limited to just those days. We want to build anticipation in advance and make sure our audience is aware of the great deals they can expect to see!
This applies both to ecommerce vendors and brick-and-mortar businesses, too. According to eMarketer, brick-and-mortar holiday spending reached $1 trillion for the first time in 2022 — a 3.9% gain from 2021, and BFCM saw a double-digit increase in traffic to 72.9 million shoppers — proving that brick-and-mortar shopping is back in business.
Given that shoppers will be weighing their purchases (and the associated costs and discounts) before they buy, it's crucial to start promoting your offers as soon as you can, and extending them for as long as your budget allows.
Prep Your Website for Traffic Spikes
There are lots of important things to do to prep for BFCM, but one often-overlooked area is making sure your website is prepared to handle a huge influx of traffic.
Don't believe us? Check out these stats about consumer behaviour and website load speeds from Website Builder Expert:
One in four visitors would abandon a website if it takes more than four seconds to load.
Pages that load within two seconds have an average bounce rate of 9%.
The two-to-three second mark is the turning point where bounce rates skyrocket – 40% of consumers will wait no more than three seconds before abandoning a site.
As these stats show, it's essential to talk to your web development team and ask them to perform a speed check on your home page and the most popular product pages.
Make Mobile-First a Priority
Your website should look good and be easy to read and navigate no matter what size screen a customer is using to browse. The process of making sure your website scales up and down properly is called "responsive design" and is something every website should prioritize, especially during sales seasons like BFCM.
Google and IPSOS did a survey which found that 59% of shoppers surveyed say that being able to shop on mobile is important when deciding which brand or retailer to buy from.
Want more prood? Outerbox estimates that over 50% of all eCommerce purchases during the 2022 holiday season were made on a smartphone, so it's safe to assume that this stat will apply to the 2023 holiday season, too.
If you're not sure how to check how responsive your website is, we recommend using a tool like Responsively (even better, it's open-source and free to use!)
Embrace "MCommerce"
"Mcommerce" is a fancy way of saying "mobile-first ecommerce" and ties into the point we made above about the increasing numbers of people who shop exclusively on mobile devices.
While responsive website design can help convert your browsers into customers, you may also want to consider making it even easier for mobile-first browsers to buy during BFCM by adding the option to use digital wallets like Apple Pay, Google Wallet, or Amazon Pay to your checkout process.
Use Urgency to Increase Sales
Most BFCM sales are impulse buys that are driven by discounts, promotions, and limited-time offers and deals that create a sense of urgency.
A report from Experian found that emails that convey a sense or urgency had at least 14% higher click-to-open rates, 59% higher transaction-to-click rates, and twice as high transaction rates compared to their average marketing emails.
You can also use colour psychology in your visuals to create a sense or urgency. Studies have found that red, orange, and royal blue buttons create the most sense of urgency, while orange encourages action.
Visual symbols on your website like countdown timers or pop-ups that notify a browser when someone has purchased a BFCM product can reinforce feelings of urgency and create feelings of scarcity for the products you're promoting.
Do An Audit of Your Top Sales Channels
Whether you're a brick-and-mortar or online only seller, now is the time to take a critical look at which digital channels are yielding the highest return-on-investment.
If you've been running ads on social media and Google, for example, look at the conversion rates between both types of campaigns and decide where the extra effort (or ad budget) should go leading up to BFCM.
If you're a Starling Social client, you can use our Live Dashboard to get a birds-eye view of how all your ad campaigns are performing across the web, making this decision even easier.
Create a Contingency Plan
This part might feel uncomfortable, but by asking yourself what could go wrong and preparing for the worst is the best way to make sure you're able to bounce back as quickly as possible if something goes off the rails.
Some things to review and plan for include:
Are you ready to act if your website crashes?
How will you adapt if your shipping company is overwhelmed with demand?
What will you do if inventory doesn't arrive on time?
How can you pivot your product and sales offerings if necessary?
By identifying worst-case scenarios and making plans to address them, you can feel confident knowing that you're ready to handle whatever BFCM throws your way.
Plan Your Inventory for a Surge in Demand
This should be a no-brainer, but ordering the products you plan to promote for BFCM well in advance is essential to ensuring that there aren't delays in your ability to ship what you sell.
Keep in mind that we're still experiencing a post-pandemic slowdown of the supply chain, so ordering what you need as early as possible is strongly recommended.
Here are a few tips to help you get ready:
See What's Historically Done Well
Look at last year's sales reports and filter them by BFCM dates to identify products that have historically done well during this period.
Use "ABC analysis" to Identify High-Revenue Products
"ABC analysis" is the process of looking at which products generate the most revenue. Eazystock has a great breakdown of how it works:
Category A: this is the smallest category and consists of the most important stock items.
Category B: will generally be slightly larger in terms of volumes of SKUs and will usually be made up of products of less value.
Category C: this will typically be the largest category where products will contribute the least to your business's bottom line
BFCM is a great way to boost revenue by promoting "A grade" products, as well as the chance to clear out dead stock by selling them at a deep discount.
Plan Your Season Delivery Strategy in Advance
Some people think of shipping as just another part of the process, but when used correctly, it can be a huge positive and strategic advantage.
A shipping strategy is one that strikes a balance between affordability, alignment with customer needs, and workability with your ecommerce logistics — but that's easier said than done.
According to Wonderment, there are a few things to take into consideration when you take a critical look at your shipping strategy:
Understand Your Shipping Data
Before you make a change, look at your shipping data and pay attention to:
Average shipping cost per order
Average package dimensions
Average delivery timeframe
Average number of shipping zones
Where orders are being shipped to
Which shipping methods are most popular/least popular
This data can help you identify issues like where items might be crossing shipping zones unnecessarily, or where the dimensional weight (how much space the item takes up in relation to the packaging) might be costing you extra.
Decide Whether or Not to Offer Free Shipping
Free shipping sounds great from a consumer perspective, but can hurt your profit margins and even impact your overall customer experience.
62% of shoppers expect their free shipping orders to arrive in just 3 business days, so keep stats like this in mind if you don't expect to be able to meet those expectations.
That being said, there are some advantages to free shipping, which are:
Implementing a free shipping threshold to increase total purchase value.
Making shipping a VIP perk for repeat customers, or those who sign up to a mailing list.
Use conditional shipping so it's not available for every item.
Step 2: Prep Your Digital Marketing
Now comes the fun part (for us, anyway!)
Your digital marketing is an essential part of BFCM success, so make sure to get started on these tasks as soon as you can (or enlist the help of your digital marketing partner).
Share sneak peeks of upcoming sales on social media, encourage people to subscribe to your mailing list for exclusive deals, and start prepping your social media ad strategy to promote your biggest revenue-generating items.
Let's take a deeper look at how to get ready:
Launch Your Email Marketing Strategy
We say this all the time: your email list is one of the best tools at your disposal to capture repeat customers and build excitement about your products and services.
We already talked about inviting site visitors and social media followers to join your mailing list to be the first to hear about BFCM sneak peeks and special discounts — but there's a deeper strategy at play here!
When sending promotional emails, focus on promoting one particularly attractive sale instead of overwhelming the reader with all your BFCM deals at once.
With this tactic, you can send multiple promotional emails showcasing different offerings, giving you more chances to stand out in someone's inbox.
Remember: people are being flooded with BFCM emails around this time, so it's critical to not rely on an e-blast or two in order to get the word out about what you're offering.
Some other email marketing strategies to use during BFCM are:
Start sending early. Send "warm up" emails that tease out promotions and build anticipation for BFCM and get subscribers excited to check back.
Using countdowns to create urgency. Encourage immediate purchases by including a countdown timer in your email to reinforce that this is a limited-time deal.
Employ product cross-sells and upsells. If someone has an item in their cart but hasn't completed the purchase yet, send them an email with a product recommendation based on what they're already considering to increase how much they buy.
"Nudge" away from cart abandons. Email reminders that items are still in someone's cart, or that inventory on an item they haven't finished buying, can be great ways to encourage someone to complete a purchase.
Customize your emails. Customize subject lines, previews, and body text with customer's first and last names, email addresses, cities, or even countries. According to Sender, email personalization lowers the cost of acquisition by up to 50%, improves marketing spending efficiency by 10-30%, and boosts revenues by 5-15%.;
Create Visual Assets for Your Website, Emails and Social Media
Visuals are the easy way to help create a unique and exciting BFCM experience for your customers, so spend some time getting these ready in advance.
Even if you're not a graphic designer, there are tools like Canva that make it easy to create banner images, email headers, and scroll-stopping social media images and ads.
Retarget Past Visitors and Customers
If you haven't set up a Meta pixel yet, now's the time to set one up. If you have one installed already, now's the time to start putting it to good use.
The Meta Pixel is a piece of code that you put on your website or Shopify store that allows you to understand the actions people take on your website, allowing you to run more effective ads.
Not only can you use a Meta pixel to retarget people who've visited your website before and remind them about your BFCM sales, but you can also retarget people who have bought from you before.
Retargeting past customers is especially effective because they're easier to reach and more likely to buy from you than a brand new customer, so make sure to include this step in your BFCM marketing strategy!
Step 3: Create an Exceptional Customer Experience
If increasing revenue and selling products is the first goal of BFCM, then turning those customers into repeat customers and loyal brand advocates should be the second goal.
Here's how to prep for it:
Reward Existing Customers
A great way to increase the number of customers and subscribers in your database is to entice them with offers in advance of BFCM in order to access BFCM-specific deals and promotions.
By giving existing customers an opportunity to access a specific sale earlier or offering subscriber-exclusive deals, you can collect those all-important emails and increase your revenue even before the holiday begins.
Use Chat to Solve Customer Problems
Adding a chat feature to your website is a great way to solve and address customer's issues and questions in a timely way, which increases the likelihood that they'll buy from you even if they encounter an issue on the site or have some other problem.
Since you'll likely have lots going on during BFCM, we suggest identifying some potential issues or questions and knowing how to answer or solve them. This could include:
Details about BFCM sale item dimensions and materials
How to get a specific discount code to work
Shipping details
Solving login or signup issues
If you're expecting to have limited resources over the weekend you can always look at using an AI chatbot service like Intercom, but we suggest having a real human standing by to help people if possible to really enhance the customer service experience.
Don't Sleep on Your DM's
Chat is one thing, but a whopping 40% of consumers expect brands to problem-solve in the channels of their choice (e.g., Instagram Messenger) so make sure to have someone on your team checking all your channels. This could include (but isn't limited to):
Instagram comments and DMs
Facebook comments and Messenger
WhatsApp messages
McKinsey found that consumers spend 20-40% more with companies that are responsive to questions and complaints on social media, so investing in this level of customer support can make a massive difference in the amount of revenue you generate from BFCM,
Have a Process for Hassle-Free Returns
It's inevitable that some customers are going to want to return what they bought during your BFCM sale — that's just the nature of retail and ecommerce.
Offering a stress-free and literally free return process can also give you a competitive advantage: eCommerce Fastlane found that 79% of shoppers expect return shipping to be free, but only 49% of online retailers offer it.
This gives you a massive competitive advantage against other BFCM sellers, builds trust in your brand, and creates a positive and long-lasting relationship with your customers.
Make sure that your return policy is clear, fair, and is located throughout your website. Some of the best places to make this policy known include:
Your Shipping & Return Policy page
Your FAQ page
On product pages
In order notification and update emails
Step 4: Have a Year-Round Promotional Plan
BFCM is a great opportunity to boost revenue, move products, and attract new customers to your business — but now what? Let's explore:
Nurture Seasonal Shoppers Into Regular Customers
Keep your BFCM customers engaged by maintaining an active and entertaining social media presence and leveraging all those email signups we talked about earlier.
Use these channels to remind them of all the other great products you have for sale, use your email lists to segment them into categories that you can promote specific products to based on what they bought during BFCM, and keep them engaged with other limited-time offers and sales.
If you weren't able to capture their email during BFCM, don't worry! Just make sure you installed that Meta pixel we talked about earlier so you can retarget them with ads based on what they viewed and bought (or didn't buy).
Do a Debrief and Plan for The Future
Outside of revenue earned, BFCM is a great opportunity to test and experiment and look at what worked, and what didn't.
Make sure to take notes, screenshots, and document your decisions and the outcomes they led to. These reports will give you a benchmark for next year, and will give you insights into image, caption, and audience targeting and behaviour data that you can leverage all year long, and if you're a Starling Social client, we handle creating these reports for you so you don't even have to do anything!
All The Best This BFCM!
BFCM can be a chaotic time, but by starting early and doing as much prep and planning in advance as you can, you can create a seamless start to the holiday season for your business and for your current and future customers.
If you're looking for support with your BFCM campaigns (or just your digital marketing in general) be sure to drop us a line. We're ready to help!
Looking for more handy resources? Check out this list of related topics:
---