Tagged: tools
- by Alyson Shane
You're a smart, savvy business owner who knows that social media marketing is a critical aspect of promoting your business, reaching your target audience, and connecting with your customers.
However, without the proper tools to manage, track, and hone your social media activities managing your profiles can feel overwhelming, frustrating, and downright confusing.
Why? Because not all social media marketing tools are created equal.
The right social media management tools will streamline your processes, help you stay organized, and keep you on track, but it can feel confusing and overwhelming when you're trying to figure out which ones to use.
Here at Starling Social we use a variety of tools to manage our client's activities, and today we want to share some of our favourite tools to take you from social media novice to pro in no time.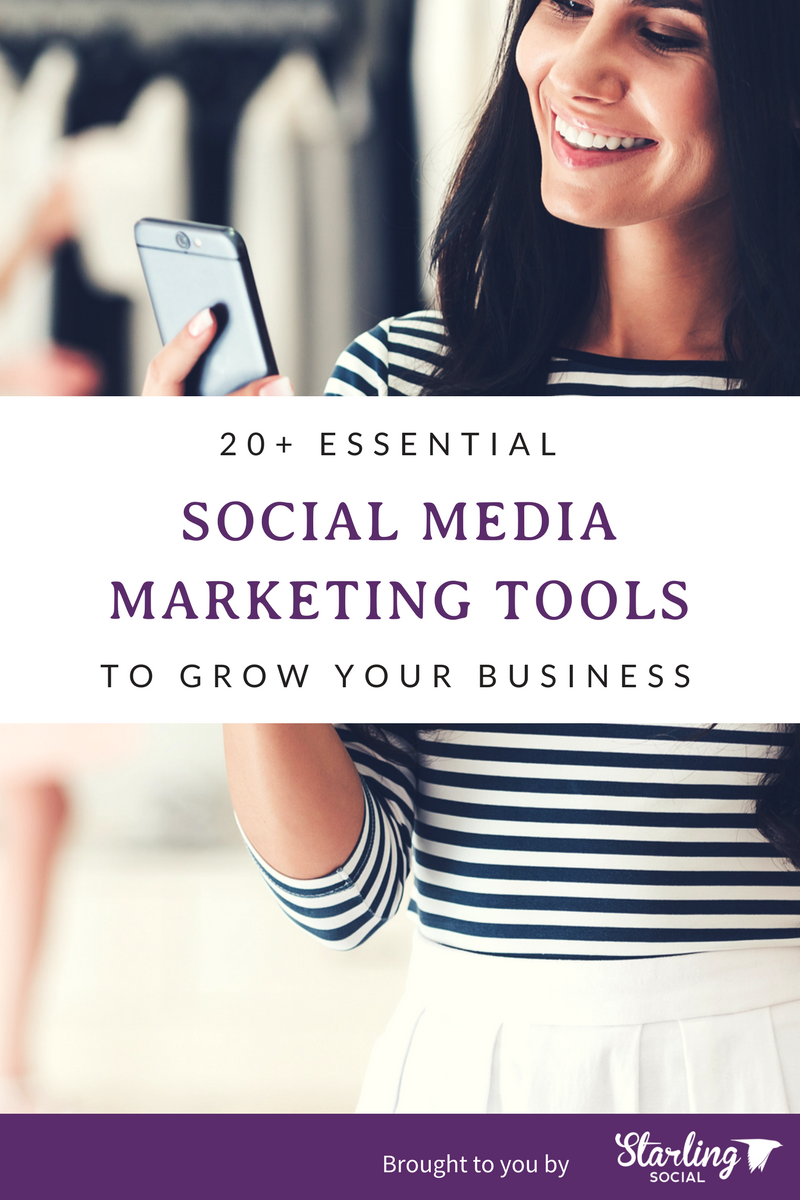 Managing Social Media Content
Buffer is our go-to scheduling app for social media content across multiple platforms. Paid users have access to a calendar view which is incredibly useful for plotting out what we want to share and when, as well as comparing when we shared previous pieces of content.
"Buffering" your posts will allow the app to publish your content at a time that Buffer's analytics engine deems appropriate based on when it believes your content will earn the most clicks and shares.
However we don't recommend relying solely on this feature - tracking your engagement levels is the best way to determine when to post.
Hootsuite is another social media scheduling app, but with an important feature: Hootsuite allows you to view "streams" of each social network you manage in order to stay on top of the action. This can be especially useful for checking Twitter Lists, and for staying on top of comments, @ mentions, shares, and direct messages.
We keep Hootsuite open in a tab all day long and use it to track engagement as it happens in real-time across all of our client's social networks.
We'll admit: we're not wild about using Hootsuite for scheduling content (we prefer Buffer's user interface and range of scheduling options) but ultimately it's up to you which tool you prefer.

Meet Edgar, your new content BFF: this adorable little octopus is actually a super-powerful app which allows you to create content "libraries" that you can re-use again and again. Once you've added some content to your library (eg: "My Blog Posts") you can select a social network to post to and schedule it to post as many times a week as you'd like/ This means you can schedule weekly, recurring content across multiple social networks without having to worry about re-scheduling it every time it gets shared out - major time saver!
Not just that, but Edgar will analyze your content to determine which posts in your library have earned the lowest levels of recent engagement and will re-share that content in order to help it get seen by more people. So, if you have a 6 month old blog post that hasn't been seen in a while you can count on Edgar to make sure your followers see it again.
If This, Then That (IFTTT) is a powerful app which connects multiple apps for you. IFTTT can do things like automatically push out a new blog post to your social feeds when you hit 'Publish' on your website; automatically send out reminders each week; and so much more - the 'recipe' possibilities are basically endless.
Re-sharing content on Instagram is a hassle no matter how you slice it, but RePost allows you to re-share Instagram content without having to take a screen shot, crop the image manually, and re-create a post within the app.
This is an invaluable tool for anyone who regularly re-shares content on Instagram, so make sure to add it to your list of "must have" mobile apps.
Searching for new hashtags on Instagram can be a hassle and a challenge if you don't know what to look for, or aren't regularly doing research into the most popular tags being used.
Tagsforlikes is a tool which generates popular tags for you to include in your content based on various topics and themes, though we recommend saving these in a separate document to reference later if you plan on using them more than once.
Help Your Content Stand Out
7. Emoji App
This one probably feels obvious, but using emojis in your social media marketing is an easy way to create additional visual interest and help your content feel more fun and engaging.
Plus: it's free!
Nothing clutters up a sharp-looking social media post like long URLs, and bit.ly is a great tool for shortening links that would otherwise take up your entire character count.
Not just that, but bit.ly users can also track click-through and engagement rates on their shortened links, which can be incredibly useful for tracking user engagement. We like to set up multiple landing pages with custom bit.ly links in order to see which ones are performing the best on our client's social feeds.
Trello is our favourite project management tool, especially when multiple parties are involved with creating, editing, reviewing, or managing a project. Trello allows you to create columns with 'Cards' for each task that you can use to create checklists, attach images, files, and links, assign actions to specific users, and more.
Find Killer Content to Share
BuzzSumo allows you to search the most popular content being shared most often across all social networks relating to specific keywords, find influencers in your industry, and find content to share on your social networks in order to engage with your target audience.
Even better: you can set up alerts to receive notifications if content mentioning your identified keywords gets published.
Alltop is another content aggregator website which allows you to search through multiple headlines from across the web.
We like it because it will organize content topics into groups based on where they were published (e.g.: Forbes, Business Insider, TechCrunch, etc) which saves tons of time and research.
For those of you that still use RSS readers, this tool is for you: Feed.ly is basically an RSS feeder which allows you to follow content from any websites or blogs that you follow.
You can organize your content, read saved content again, search for new and interesting content topics and sources, and more.
Scoop.it is a content marketing tool which allows you to set up content objectives, build content calendars for your social media profiles, blog and newsletter (read more about creating eye-catching newsletter content here).
Scoop.it scrapes the internet for content every day and will deliver customized content relevant to your niche to you every day, providing you with an easily accessible list of fresh content to read and share.
Creating Visual Assets
(for Non-Designers)
Canva is our favourite tool for creating beautiful and eye-catching designs in a heartbeat.
Not only does Canva come pre-loaded with trendy and varied layout templates, backgrounds, graphics, and stock images, but you can create images sized perfectly for your blog, social networks, newsletter, and more.
Free stock images are a must-have for creating social media graphics, and while there are a variety of websites and options available, Stocksnap's extensive, searchable library makes it our go-to whenever we need some sharp stock images.
Other options include: Pixabay, Death to Stock, and Unsplash.
Need to create animated videos in a pinch? Use GoAnimate to customize backgrounds, characters, and scenes easily in order to promote your product or service.
They offer a 14-day trial with a variety of pricing options depending on your needs, an extensive library of content, and offers a hands-on, DIY approach to creating fun and interesting animated videos.
4x as many consumers would prefer to watch a video about a product than to read about it, which means if you aren't leveraging video as part of your social media arsenal you're missing out.
Vidyard allows you to create short, professional-looking videos without all of the equipment and setup traditionally associated with video productions.
Managing Your Information
Tired of logging in and out of your accounts all the time? Struggle to remember your passwords for all your social media accounts? Use 1Password to keep track of your passwords so you don't have to.
Other options include: LastPass,
When was the last time you backed up your data? If you've ever experienced the stress and anxiety that comes with a hard drive crash then you know how important it is to keep backups of all of your information, whether it's work-related or not.
We recommend using Backblaze, which is cheap like borsht, which automatically backs up all of your data and will store it safely in case of an emergency.
There's nothing worse than not being able to access your information wherever you go. Instead of relying on emails or thumb drives (which are being phased out anyway), start storing your information in Google Drive, which is free if you have a Gmail account. Google Drive keeps your files synced, stored, and easily accessible no matter where you are.
Other options: Dropbox
You don't have to be a sales rep to benefit from using a Customer Relationship Management (CRM) tool for your business. Keeping track of who you meet, where you met them, and your relationships not only helps you track where your leads come from, but you can use Insightly to track your sales funnel and identify where your bottlenecks are in your sales process.
Other options: BallPark, HubSpot
One of the best ways to figure out how to optimize your processes is to track your time, and we depend heavily on Toggl to help us track how much time we're spending doing different tasks.
For example, if we look at our week at-a-glance we can see how many hours we spent doing specific tasks for each client, and can use that information to find ways to improve our processes.
Do you use any of these tools? Did you learn about a new tool today? Tweet at us and let us know!
Want more insight and tools to help your brand stand out online? Download our free ebook Get Social! Content Marketing for You & Your Brand now.
---