Tagged: books
- by Alyson Shane
It's almost the holiday season (yahoo!) and while the the time away from the office may provide an opportunity to overeat (hi, carbs), toast to friends, family, and loved ones, and catch up on some much-needed rest, it's also a great opportunity to sink your teeth into a good book.
In our case, we love reading books about marketing from thought leaders in our industry. Reading their books provides us with valuable sources of inspiration and knowledge, helps us better understand the minds behind some of the biggest successes in our field, and often provide us with answers and lessons that we can apply to solving future challenges for our clients.
That being said, there are often lessons to be learned in books that aren't specifically about our industry, as well, which is why our holiday roundup includes some marketing and business classics, as well as a few other interesting reads thrown in for good measure.
So if you're thinking of putting aside some time to get a little learning in while you relax over the holidays, consider curling up with one of these entertaining, info-packed, thought-provoking reads: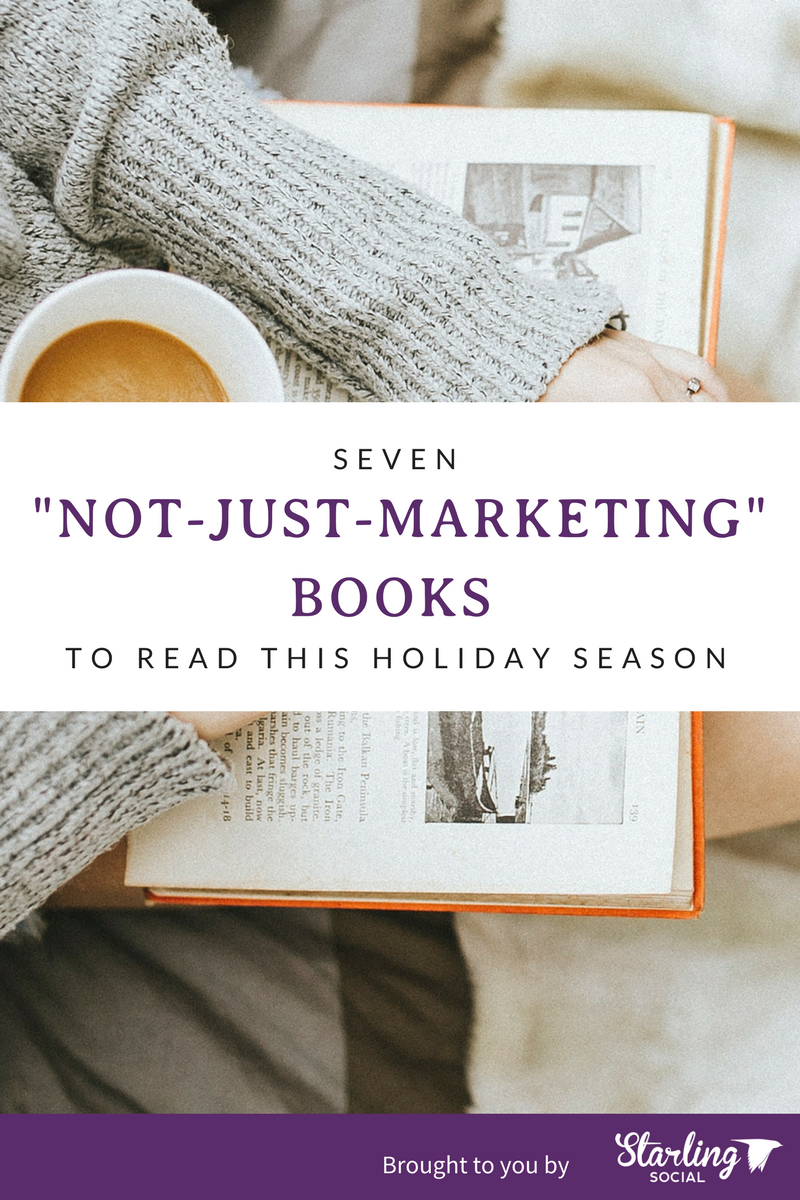 How to Win Friends and Influence People by Dale Carnegie is one of the best-selling self-help books ever written, and it played a pivotal role in how we think about how we represent our clients online.
When we act on our client's behalf, by posting to their social media, for example, we consider every engagement to be an opportunity to further develop our relationship with that individual. By using techniques outlined in the book (the TL;DR of which is essentially "be interested in people, listen, ask engaged questions, and be polite") we work to create meaningful relationships with our client's audiences and customers by paying attention and being genuinely interested in how they're doing, not just how they're engaging with us.
Whether you love or hate Apple products, this biography of Steve Jobs by Walter Isaacson is a fascinating look into the passion, values, and drive behind one of the most influential figures in the modern tech world.
Steve Jobs not only played a major role in revolutionizing desktop and mobile technology, but he created a fan base who have an almost cult-like obsession with his products, and this deep dive into the mind of the tech giant is a must-read for any marketer or entrepreneur.

Starting a new business can be daunting for any entrepreneur, especially if you're starting a business in a space that's already saturated with similar businesses (like *ahem* digital marketing.) Luckily, in 2005 professors W. Chan Kim and Renée Mauborgne and their book Blue Ocean Shift provided an innovative way of looking at how companies can create "blue oceans" of uncontested market space (compared to "red oceans" already full of competitors and their blood - yikes.)
While the original is a great read, the recently released an updated version of the original which includes updated case studies and examples, chapter expansions and additions, and a new preface by the authors (with the great title "Help! My Ocean is Turning Red") for businesses who may now be feeling the effects of increasing competitiveness in their market.
Malcom Gladwell is a whip-smart thinker who wrote one of our favorite books about language (The Stuff of Thought) and The Tipping Point is one of our favorite books about how trends catch on in popular culture.
Gladwell bases his analyses on several factors, including the "stickiness factor" which makes a message memorable (our pals in the startup world are probably familiar with this term), the power of context, and how external factors influence widespread human behavior. He also describes what he calls the "Law of the Few" and how 80% of change is created, discovered, and shared by three types of people: Connectors, Salesmen, and Mavens.
(If you read this one, or have read it, tweet at us and let us know which one you think you are!)
Despite the super-cheesy catchphrase ("UnAwesome is UnAcceptable", har har) Scott Stratten's book is a must-read for any marketer looking to make a significant impact in today's digital landscape and provides meaningful examples of the good, bad, and (ahem) UnAwesome. Even though it's a little junior - it's meant for people who don't already live their lives completely immersed in social media - it's still a valuable reminder of some of the most important aspects of navigating the digital landscape.
One of the biggest takeaways from the book is this: whatever you did before social media is only going to be amplified by your digital presence. If you're new to the world of personal branding, social media, and digital marketing, or just looking for an entertaining and clever refresher on the basics, then this book should be the first one on your holiday reading list.
If you're looking for an in-depth read about how humans communicate then we recommend Tom Standage's Writing on the Wall, which offers a historical perspective on where we've come from and where we are when it comes to sharing information.
Starting with the Roman Empire and erasable wax tablets used an informal messaging system (told you he started early), moving through the Dark Ages where most literary men lived in monasteries and information was scarce, through to Gutenburg and the printing press and into modern-day communications methods including TV, radio, and - of course - social media, Standage's book is a great read for anyone interested in the story of how our species has recorded, stored, and shared what we know.
Did 2017 feel like a year when you couldn't hear a balanced argument? Then dive into this collection of essays and arguments from marketers, authors, and thinkers from both sides of the spectrum when it comes to the positive and negative influence of social media on our society.
Interestingly, instead of dividing the book into "pro" and "con" sections, the essays are organized by subject, so the chapters like "Social and Personal Life," "The Human (and Political) Impact," and "Learning in and out of the Classroom" feel more like discussions than arguments for and against one side or the other.
One of the most pertinent questions of our time is "is social media doing more harm than good?" and this read should provide some valuable food for thought for those holiday debates with the family luddite.
Are you reading anything interesting this season? Tweet at us or leave us a Facebook comment and give us your recommendations!
---