How to Scale Facebook Ads the Right Way
Facebook Ads have been a "must" for almost every business over the last several years thanks to its robust and detailed targeting options that allow you to show your ads to your target audience.
But what do you do if you feel like you've hit a ceiling with your Facebook Ads return-on-investment (ROI)? What other tactics can you use to extend your reach and help your ads get shown to even more of your ideal customers?
Keep reading to find out:
How to Scale Facebook Ads the Right Way
There are two main ways you can scale your ads: through your budget, or through your audience targeting.
Let's start with how to scale your budget
Option 1: Increase your budget
This probably comes as no surprise, but one of the easiest ways to get more out of your Facebook Ads is to increase how much you're spending.
This sounds simple, but scaling your budget on Facebook isn't the same as other platforms like Google or Bing Ads.
(Also: if you're looking for a team with 20+ years' experience running pay-per-click ads like Google and Bing, let's chat.)
But back to Facebook: every time you change your Ads budget, the algorithm that decides who sees your ads changes, too. If you change your budget mid-campaign you run the risk of resetting the Learning Phase (Facebook's way of saying "we're figuring out what to do next").
Generally speaking, the guidelines for scaling is to keep all budget changes within 20% or less of the original budget. Here's a video that digs into the "why" in deeper detail, but for the sake of this post we've summarized it into a handy chart: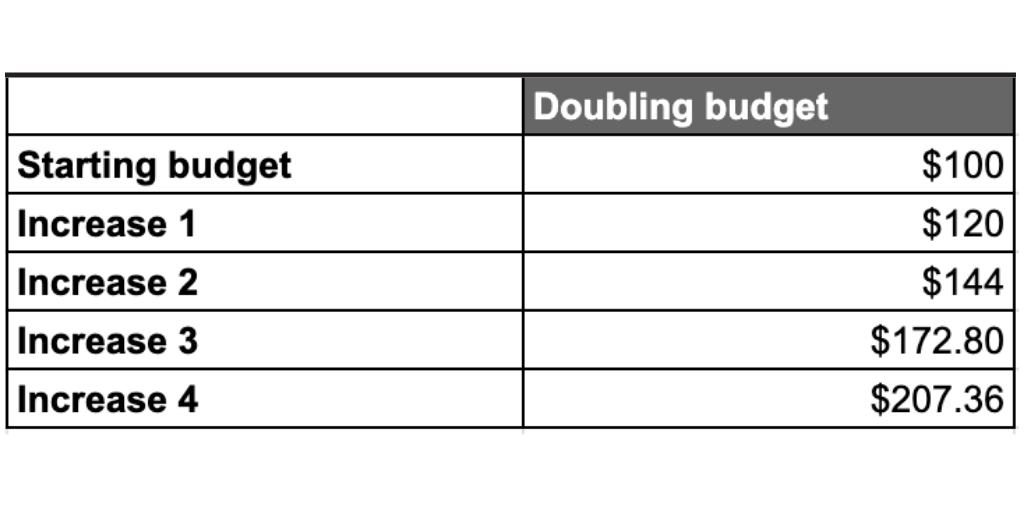 The above applies to both daily and lifetime budgets (we prefer lifetime budgets since you don't run the risk of maxing out your daily limit and missing out on potential Impressions).
Option 2: Extend Your Targeting Into "Lookalike" Segments
If you're looking for a way to scale your campaign beyond just the budget, consider expanding your targeting into audiences that are similar (but slightly different) than the audiences you've already targeted.
One way to do this is to target audiences who like similar products or services.
For example, if you're a small business selling personalized children's stuffed animals, create a new target audience of people who Like the Business Pages of stores in your area that carry gifts, furniture, and items for babies and new families.
The way we described above is one way to do it, but another way to take the guesswork out of things and let Facebook's algorithm do the heavy lifting by creating Lookalike Audiences.
Lookalike Audiences are exactly what they sound like: they're groups of people who "look like" your target audiences. You can set them up easily just by following these steps.
Another way to lean into using Lookalike Audiences is to create "seed" audiences of people with similar attributes to people who meet this criteria:
People who have added products to their cart
Newsletter subscribers
People who filled out a lead gen from
High-value customers
Option 3: Go After the Competition
A rising tide floats all boats, but why leave customers on the table when you could make them aware of your products and services, too?
To do this, see if you can set the competitor up as a targeting option.
This will likely only show up for larger brands, but you don't have to be a big brand to attract customers from a larger competitor (in fact, when most people realize there's a local option they choose to buy from that business, instead).
Option 4: Use Affinity Brand Audiences
Similar to competitor brands, "affinity brands" refer to brands that your customers also buy from.
Let's use the "stuffed animals" example from above, if we're trying to target audiences of people who would be interested in baby gifts and products we can target audiences of people who have visited websites about parenting, baby food, diaper, and other related topics.
Option 5: Test With Broad Targeting
"Broad targeting" is when you create a Facebook Ads campaign focused on the conversion action you want more of… then you leave the rest up to the Facebook algorithm.
If that sounds dicey, we know! That's why this option has a caveat: only test with this option if you already have high volumes of the desired conversion action.
Aka, in order for this option to work, you need at least 100 desired conversions happening per week. Otherwise Facebook's algorithm won't have enough data to make smart decisions on your behalf.
Start Scaling Your Facebook Ads Today
These are some high-level strategies to scale your Facebook Ads results and generate an even better return-on-investment (ROI) on your ads, but there are all sorts of individual strategies that can be applied on a per-business basis.
If you're ready to start getting more out of your Facebook Ads, drop us a line and let's chat.
---