Posts by Rose Regier
- by Rose Regier
This guest post was written by Rose Regier.
So you're sitting down to create some content for your digital marketing channels. You're doing this a month ahead of time because you read this and you get why posting on the fly is a) not strategic and b) not the best use of your time.
Your first thought might be, "What's new in our business that we can talk about? What haven't we talked about yet? Hmmmm, do we have any nice photos to share? Should we jump on a TikTok trend? Maybe show our support for an issue everyone is talking about?"
You draft some content and are about to put it into your queue - here's where we're going to stop you.
Before you're done, you need to make sure every piece of content you just drafted answers this one question:
"What's in it for my customer?"
Running each piece of your content through your own internal "What's in it for them" filter might be the single most important way to make sure your digital marketing is strategic.
Every person (whether they're aware of it or not) is walking around the world trying to find what's in it for them—as they scroll, as they shop, as they eat, and as they binge a show. They're looking for a payoff.
We're Wired for Connection
It might seem selfish, but actually it's just human nature. We're driven to connect what's out there to our personal experience.
Brené Brown is a researcher who's spent the past two decades studying courage, vulnerability, shame, and empathy. Here's what she found:
"Connection is why we're here. We are hardwired to connect with others, it's what gives purpose and meaning to our lives, and without it there is suffering."
Understanding this fundamental drive will change the way you relate to your customer and also deepen your relationship with them.
This is also why getting to know your ideal customer is so important. You can't relate to everyone, so you need to understand the specific people with whom you're trying to connect, to know what they want from you.
Part of the client onboarding process at Starling Social is creating your ideal customer personas. The exercise itself is often very clarifying for our clients, and from there we can use these personas as a reference when we're crafting your content, so we can act as an extension of your brand.
All this talk about connection and meaning might sound a little deep for a digital marketing strategy, but this doesn't mean your content has to be serious. You don't have to strike at the heart of your customers' desires and pain points every time. It could be that sometimes your customer is looking for a little escape, for beauty, for some entertainment, or for a laugh.
In addition to considering what your customer wants from you, how you connect also depends on your brand. If you're not sure what your brand is, start with our post on brand questions by Chelsée Curé.
Finding Your Content Sweet Spot
Your brand + what's in it for your customer = your content sweet spot
The more you hit that content sweet spot, the more likely it is that your customers will want to engage with your stuff.
Some companies focus inward too much and only consider their offerings when creating content. They forget that your blog and your social media channels are a conversation.
It's kind of like going on a first date and the person you're meeting with talks nonstop. It only takes a few minutes of this before you're eyeing the door, and getting out of an in person conversation is a lot harder than a simple unfollow.
Asking what's in it for your customer will ensure you don't get tunnel vision so they keep coming back for more.
Have we convinced you? Ok great, now let's put it into practice.
What's In It for You: Examples

Have you seen the acronym TL;DR in our weekly newsletter? It stands for "Too long; didn't read" and we use it to give you a quick summary of something we read so you don't have to.
What's in it for you? You get all the juicy info without having to read a long (and possibly boring) article, but we always include a link in case you want to dive in.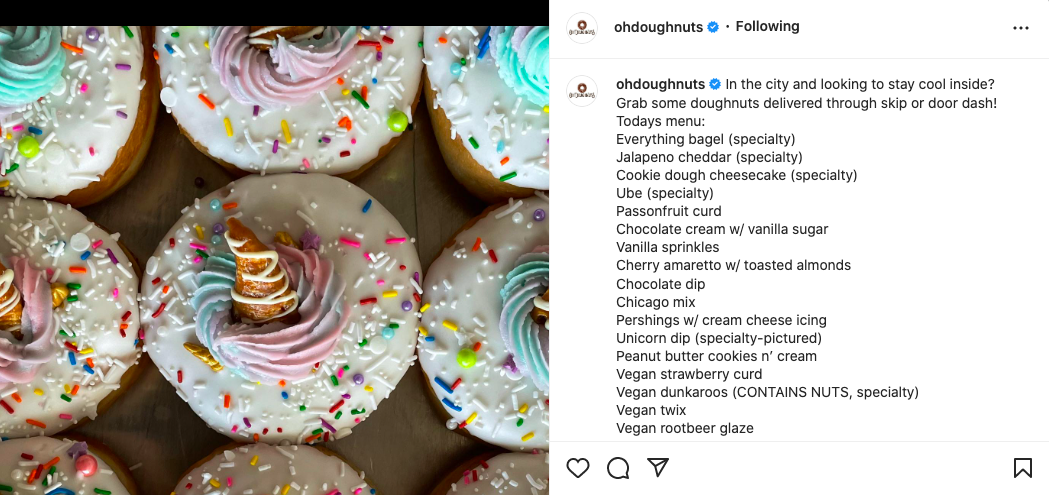 What's in it for you? Craving doughnuts? You can take a quick peek at Oh Doughnuts' IG to pick your flavour before you head to the shop. This post also lets you know that you can have doughnuts delivered to your house, which means you don't have to get sweaty to get doughnuts.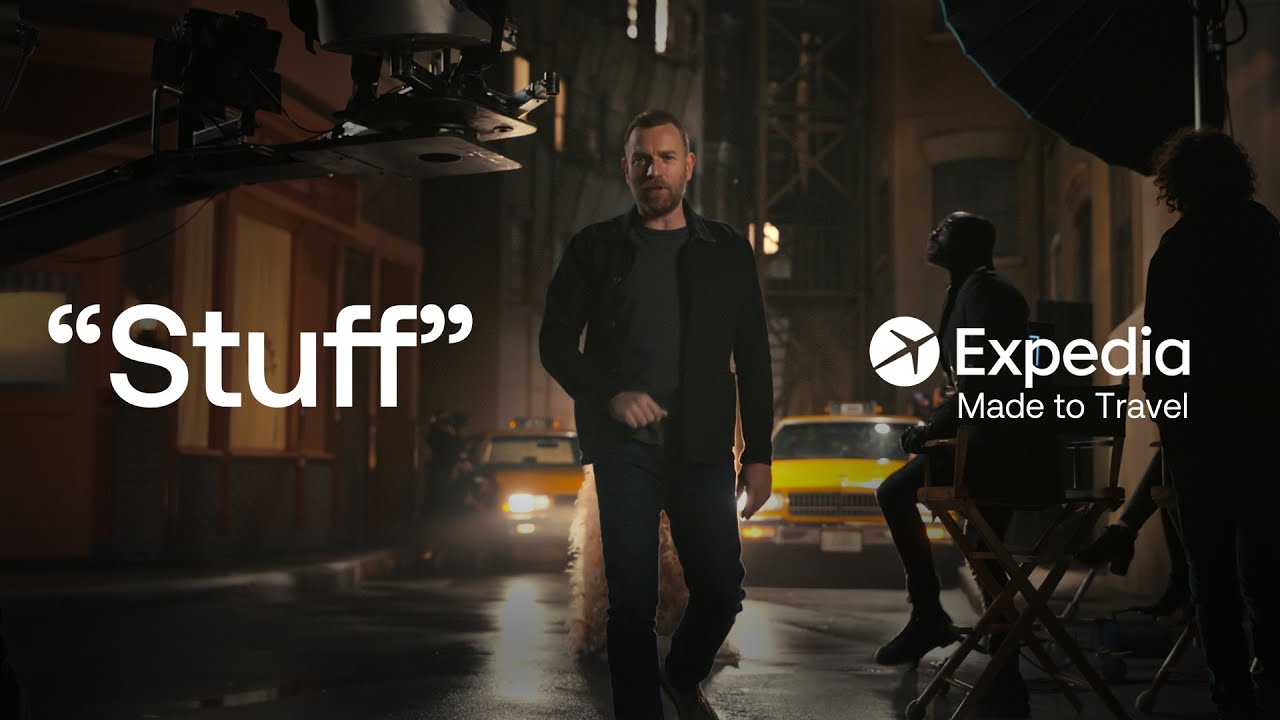 This Expedia commercial with Ewen McGregor acknowledges—and pokes fun at— our obsession with accumulating stuff, and then ends with him walking onto a white sand beach. You hear the waves crashing and see a family with two kids running into the water.

What's in it for you? Spending your money on experiences instead of stuff will make you happier, and Expedia will help you save more on those experiences.
Its especially inspirational because most of us have spent the better part of two years stuck at home with online shopping or home renovations filling the void left by lack of travel. We're ready to have experiences again.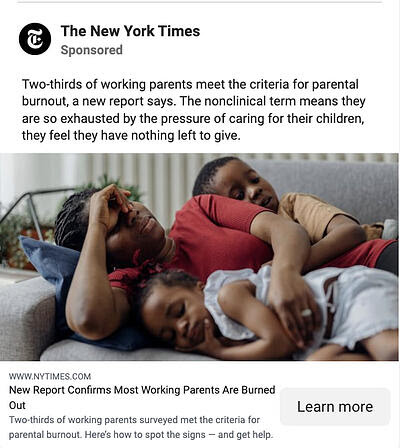 This Facebook Ad for an article by The New York Times is geared toward parents of young children. The copy and image are a great example of a company understanding its customers and where they are at right now.
What's in it for you? Validation. Knowing you're not alone and you're not abnormal for feeling burnt out is a relief, plus the article offers a way out.
What Do Your Customers Want?
What do each of these examples have in common? Yes, they all make it clear what's in it for you, but what's in it for you in each case is a feeling rather than a product—ease, happiness, validation.
These examples hit on another fundamental truth when it comes to marketing: what your customers want isn't just a product/service, they want the feeling that accompanies it.
Curious about how else we can help you be more strategic with your digital marketing? Get in touch! We'd be happy to answer your questions.
---
- by Rose Regier
This post was written by our Account Manager Rose Regier.

It's no secret that we love a good spreadsheet. Let's just say they spark joy, so we use them a lot. And the monthly content calendar spreadsheet we use with our retail clients might be our favourite.
If you're not a retail business, don't go just yet! What we're about to share can apply to any type of business.
Before we dive in, let's talk about why we should plan our content. Why go to all the effort of planning content a month in advance? Wouldn't it be easier and less time consuming to post on the fly?
Read on, because we're about to show you how planning content frees up time to spend on essential marketing activities that have a big impact on the success of your brand.
Here are the benefits of a monthly content strategy:
1. Strategy in action
Planning posts in monthly blocks allows you to see at a glance how your content aligns with your digital marketing strategy. It also allows you to identify any gaps in content and make sure no product category is left behind.
2. Consistency is key
Building and maintaining a relationship with your audience takes consistent effort over time. Posting a flurry of content one week and then disappearing for a month can leave your followers feeling annoyed or disinterested. Using a content calendar allows you to spread out content so that your audience hears from you regularly and stays engaged. Plus, it's great for the algorithms.
3. Tracking for the win
Although the monthly content calendar is mainly a planning tool, it also keeps a record of what you've done in the past.
This allows you to keep track of what you've posted so a) you can avoid duplicating content and b) you can measure the effectiveness of each category of product posts.
4. Stay one step ahead
Identifying key events — like holidays, sales, and product launches — and plugging them into the content calendar ahead of time means you never have to worry about those important posts slipping your mind.
Let's move on to the "how." How does the monthly content strategy work exactly?
How does our monthly content strategy work?
Our cloud-based monthly content planning spreadsheet allows multiple people to contribute in real-time. This gives our clients and account managers the ability to collaborate on the content planning process.
We work together to choose specific products to highlight based on the following criteria:
New arrivals
Most loved items
Products we need to move
Holidays or seasons
Sales or promos
Each month gets a tab in the spreadsheet, and serves as a record of the content we've shared. Product categories are colour coded for a quick visual way to see the variety in planned content (e.g. clothing, accessories, jewellery) and identify any gaps in the schedule.
Here's an example of how the calendar might look like before the product details have been added:
Of course, we also leave room for posting user-generated content. Customer reviews are 12 times more trustworthy than messaging from a business, so we make sure to work content created by customers who know and love our clients into the mix.
In a perfect world, all content would be planned in advance, and we could wrap it in a bow and send it out into the world.
The reality is that planned posts sometimes need to change, and some posts are time-sensitive and need to be created in real-time. Staying on top of upcoming posts to ensure the content is still accurate/relevant is crucial, so we bake this into our process.
Posting on the fly might seem faster and easier, but our brains work better when we dedicate ourselves to one task for a few hours as opposed to rapidly switching from one task to another.
Creating content in "blocks" of time instead of posting on the fly ensures higher-quality, on-brand content because we're not scrambling to come up with something new every day.
Even better: having the foundation of a monthly content plan frees us up to spend time on the behind-the-scenes activities that get results for our clients:
Monitoring and responding to customer comments/messages
Researching and adjusting hashtags
Staying on top of social media trends and social platform updates
Engaging with customers and vendors by commenting on their posts and stories
Reviewing and sharing user-generated content
Analyzing data across all platforms and adjusting the marketing strategy
Want to know more about working with us and how we can help your business succeed? Get in touch and let's chat!
Do you want articles like this one delivered right to your inbox once a week? Then click here and subscribe to our hand-picked roundup of must-read articles.

---
- by Rose Regier
Now that the initial shock of the magnitude of COVID-19 has worn off and it is decidedly not business as usual, it's time to revisit your social content.
You've communicated how your business offerings have changed—whether it's temporary closure, moving your store online, or curbside pick-up—so what now? What kind of content do your people want to see?
The uncertainty of not knowing when things will return to normal, or even what the new normal will look like, is making people crave familiarity, comfort, and connection. Tapping into those feelings in a way that's appropriate for your brand is key when creating online content during this time. Here are five content ideas to help you get started.
1. User-generated content
Show your followers some love when they tag you by sharing their content with your audience.
Share other local businesses' content to show your support, while taking a bit of pressure off you to come up with fresh content if you're feeling overwhelmed at the moment.
Contribute to the greater good and help combat the spread of misinformation by sharing content from credible sources about navigating the pandemic.
2. Interact with your followers in new ways
People are engaging on social platforms more than ever. Two out of every three consumers who responded to an IZEA survey felt like their usage of social media was definitely going to end up increasing over the course of the next few weeks and months.
If your team hasn't gotten personal on social before, now might be the time to introduce yourselves via video. Take people on a tour of your website, your home office, or show them your curbside pick-up station.
If you're not sure what your followers want to see, ask them! Use questions and polls on Instagram stories to get insights into what your customers want from you, and then give it to them.
3. Start sprinkling in regular content
We're a month into this era of staying at home, and at this point, people don't want all COVID all the time. Take a look at some of the posts you were planning before this all happened and start sharing them intermittently.
Be mindful of your photo choices - if they show someone doing something that is currently not possible, make sure your copy recognizes this by using language like "dreaming of.." or "can't wait to..."
If you're feeling awkward about asking people to buy from you, acknowledge it, and let people know you're doing what you do to keep your team employed.
4. How-tos and tutorials
Since people aren't able to try on or touch your product, have someone on your team do a product demo. Unboxing videos are hugely popular on YouTube, so show people what they can expect when their package arrives.
If you're service-based, think of ways to show your service through video, whether it's sample sessions or tutorials. Don't be afraid they'll get too good at doing it for themselves, just take a look at all the unfortunate haircuts happening right now.
Consider sharing a video of you doing something unrelated to what your business offers - making your favourite recipe (just let's not pretend people will have all the ingredients in their pantry), or showcasing your hidden talent. It's ok if some of your content is just for entertainment, especially if your business is closed at the moment.
5. Feel-good content
What does your business offer that could be useful to people right now? Think about donating to local charities or supporting frontline workers in some way. Is someone in your community or on your team really stepping it up right now? Recognize them with a small act of kindness, and share it with your followers.
You could also share some of the funny moments that have happened while you're working from home. Have a dress-up challenge with your team for your next video conference and share a photo.
3 BONUS TIPS:
1. Since things are changing so quickly, it's crucial to revisit your planned posts almost daily, or if you are swamped and don't have someone managing your social media, pause your queue for now. A big news day can change people's mindsets and render your posts irrelevant or tone-deaf.
2. Keep in mind that although this pandemic is affecting everyone, not everyone is having the same experience. Framing this as an opportunity to watch Netflix and eat chips is insensitive to the real struggles people are having.
3. Humanity and connection are what people want right now - as long as it makes sense for your brand. Nobody wants to hear Burger King say "We're all in this together."
Still stuck on what to say? Don't worry, we're here to help. Drop us a line and let us know how we can help you grow your business and keep connecting with your customers.
---