Tagged: linkedin
- by Alyson Shane
LinkedIn has become an invaluable tool for B2B businesses looking to reach and engage with their target audience.
With over 750 million members worldwide, the platform gives businesses a unique opportunity to connect with professionals in their industry, share valuable insights, and build relationships that can lead to new customers and increased revenue.
In this blog post, we'll be sharing how to write LinkedIn posts that convert customers, and providing you with tips and strategies to create engaging content that resonates with your audience and drives conversions.
Why LinkedIn Is a Valuable Tool for B2B Businesses
LinkedIn is the go-to social media platform for professionals, making it an ideal platform for B2B businesses to connect with potential customers.
Unlike other social media platforms, LinkedIn is designed specifically for networking and professional development, making it an ideal platform for businesses to build relationships with other professionals in their industry.
LinkedIn provides businesses with several tools and features to help them reach their target audience, including creating and sharing content, joining groups and communities, and connecting with other professionals.
With so many professionals using LinkedIn every day, it gives businesses a unique opportunity to reach a highly engaged and receptive audience.
As one of the largest professional social networks, LinkedIn offers an effective way to connect with like-minded individuals, grow your network, and share your ideas with the world. One way to do this is through timeline posts, which are short updates on your profile and your connections' timelines.
What's the Difference Between a LinkedIn Timeline Post and a LinkedIn Article?
LinkedIn timeline posts are short updates that you can share with your network. They are typically several sentences long and include text, images, videos, or links.
These posts appear on your profile and the timelines of your connections.
In contrast, LinkedIn articles are longer-form content you can publish on the platform. They are similar to blog posts and can include images, videos, and other media. LinkedIn articles are published on your profile and can be shared with your network.
How to Write Effective LinkedIn Posts
To help you navigate the LinkedIn algorithm and get the most out of your timeline posts, here are some timeline best practices:
Be Personable
Nobody wants to read stuffy business updates all the time. Write timeline posts that are thoughtful, relatable, and help your followers get to know you better.
Know Your Audience
To write a compelling LinkedIn timeline post, you need to know your audience. Think about who your connections are, what they're interested in, and what kind of content they're likely to engage with. Use this information to craft posts that resonate with your audience.
Don't bury the lede
The first 140 characters of your post is what people will see when they're scrolling. Use attention-grabbing text and emojis to entice people to click to expand your post and read more.
Keep It Short + Sweet
LinkedIn timeline posts are meant to be short and to the point. If you're writing a longer update, use bullet points or numbered lists to break up longer text.
Include Visuals
Visuals are a great way to grab people's attention and make your posts more engaging. Use high-quality images, videos, or infographics to illustrate your points and make your posts more visually appealing.
Use Hashtags
Hashtags are a great way to make your posts more discoverable. Use relevant hashtags to help people find your posts when they search for specific topics.
Engage With Your Audience
Finally, make sure to engage with your audience! Social media isn't a soapbox, so don't sleep on responding to comments and questions, and use your posts as an opportunity to start conversations with your connections.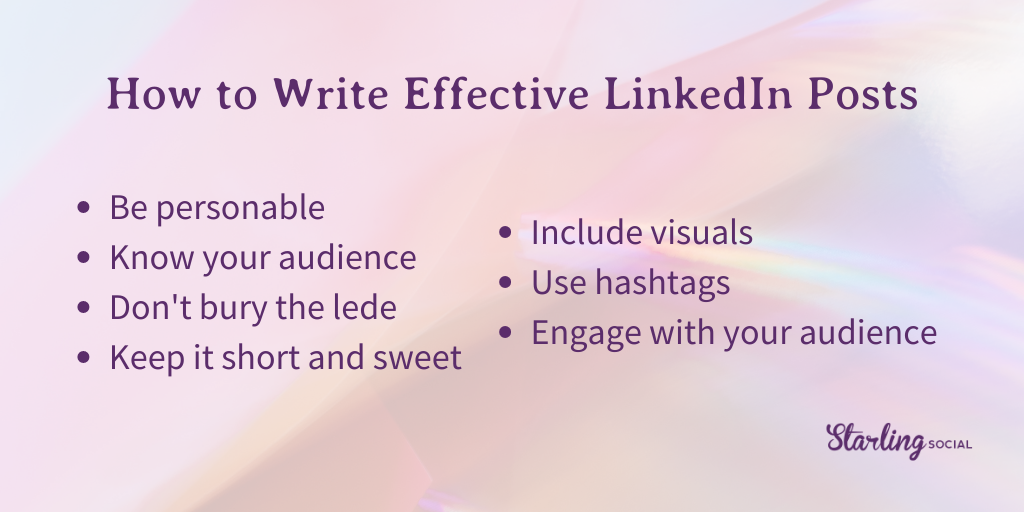 LinkedIn Timeline Post Best Practices
To help you navigate the LinkedIn algorithm and get the most out of your timeline posts, here are some timeline best practices:
Create Engaging Content
The LinkedIn algorithm favours content that generates engagement. The more likes, comments, and shares your post gets, the more likely it is to appear in people's timelines.
To create engaging content, focus on topics that are relevant to your audience and provide value. Pay attention to the posts that do well and lean into topics and themes that get the most engagement.
Post at the Right Time
Timing is critical on LinkedIn. You want to post when your audience is most active. According to Hootsuite, the best times to post on LinkedIn are Tuesday through Thursday between 8 am and 2 pm. However, testing different posting times is important to see what works best for your audience.
Use Hashtags
As I said before, hashtags are a powerful tool on LinkedIn. They make it easier for people to discover your content and join relevant conversations. When you use hashtags, make sure they are relevant to your post and your audience.
Engage with Your Audience
Engagement is a two-way street on LinkedIn. If you want people to engage with your content, you need to engage with theirs. Take the time to respond to comments and start conversations. You can also tag people in your posts to encourage them to engage with your content.
Build Relationships
LinkedIn is all about building relationships. Connect with people in your industry and engage with their content. You can also join groups and participate in discussions to expand your network. Building relationships takes time, but it's essential for long-term success on the platform.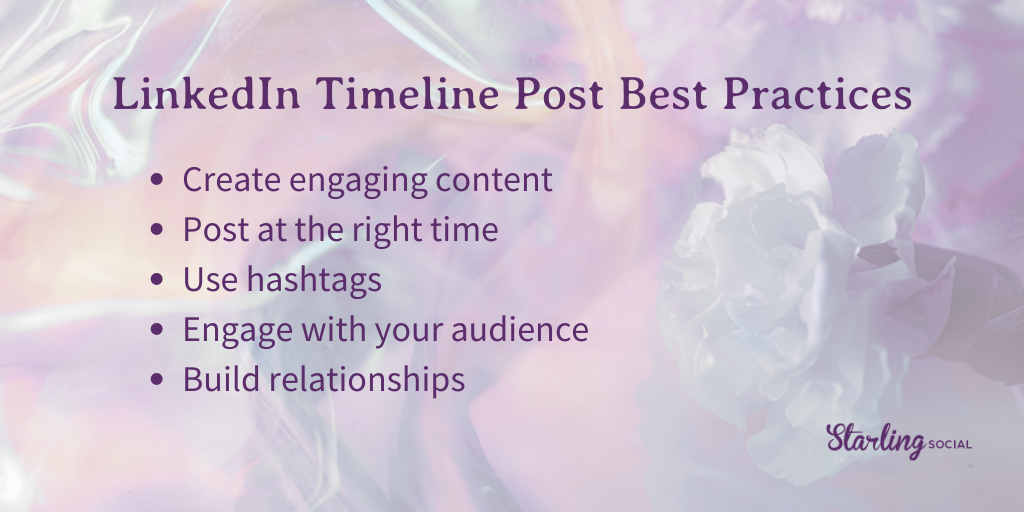 Start Creating Scroll-Stopping LinkedIn Posts Today!
LinkedIn timeline posts are a great way to share updates, thoughts, and insights with your network. To create compelling timeline posts, know your audience, use attention-grabbing headlines, keep it short and sweet, include visuals, use hashtags, and engage with your audience.
By following these tips, you can create scroll-stopping LinkedIn timeline posts that will help you grow your network and share your ideas with the world.
Want to get a roundup of the hottest digital marketing strategies sent right to your inbox once a week? Click here to subscribe to our newsletter!
---
- by Alyson Shane
By: Alyson Shane, President
Publishing articles on LinkedIn is one of the best tools at your disposal to position yourself as a subject matter expert, keep your name top-of-mind, and generate leads for your business.
Recently, Hubspot found that LinkedIn is 277% more effective at generating leads than Facebook and Twitter.
This means that if you run a business or have ambitions to get known by the broader professional community in your area, LinkedIn is the number one place to do it.
But it's not enough to just publish posts to your profile — the secret to being successful on the platform lies in regularly publishing LinkedIn articles.
What are LinkedIn articles?
A LinkedIn article is a piece of long-form content that you can create and share through LinkedIn's internal publishing platform.
LinkedIn articles are like blog posts published just to LinkedIn, and offer the opportunity to share your insights and expertise with your connections and the people in your industry.
LinkedIn article publishing best practices
Make your titles between 40 - 49 characters long
According to research from OkDork, articles with titles between 40 - 49 characters earned the greatest number of post views overall.
This is important if you're republishing your blog posts from your website to LinkedIn, since Hubspot found that the ideal blog post title length is 60 characters.
With this in mind, you might want to consider creating some alternate titles for your LinkedIn posts if your original titles are a bit too long for the platform.
Use "how-to" and list-style headlines
This tracks with other data we know about blog posts, which is that 36% of readers prefer list-based headlines.
According to research from OptinMonster, "how-to" headlines are the third most popular headline preference at around 17%.
When it comes to LinkedIn articles specifically, OkDork's data showed that LinkedIn readers clicked on articles that included "How" in the title 45% more often than posts with titles that didn't include the word "How".
Titles like these have been popular since forever (seriously, it feels like I've been giving this advice since I started publishing content +20 years ago) because they tell the reader exactly what to expect from the piece.
Taking the guesswork out of what a reader can expect increases the likelihood that they'll take the time to read what you've written.
Write long-form content
When it comes to LinkedIn articles: longer is better.
The best-performing blog posts should be 2100 - 2400 words, users on LinkedIn prefer posts that are about the same length: ideally, between 1900 - 2000 words.
One reason for this is because LinkedIn readers expect content that is well-researched, insightful, and useful — something that's almost impossible to achieve in a 500-word post.
Important: this doesn't mean you should "pad" your post with fluffy sentences or extra paragraphs just to hit a word limit. People will realize that what they're reading isn't providing real value and will simply click away, or even worse: will stop reading your posts overall.
Include images
Images help break up your text and increase readability by giving the reader a visual "break" from big walls of words.
This is especially true if your audience is reading your post on a mobile device, which in LinkedIn's case is about 20% of all monthly users (about 63 million unique monthly users, to be exact).
While images directly relating to your text are ideal (and make great social media shareables), the right stock image can go a long way towards helping people digest a long post.
Some great sites for finding free stock images are Pexels, Unsplash, and Pixabay.
Write for an 11-year-old
Data shows that most adults read at an 8th-grade level, which means that if your content is too hard to read, people will simply "tune it out" and not finish reading what you have to say.
If this sounds intimidating, take a look at a few books written for this level:
The Harry Potter series
most books by Tom Clancy
most books by John Grisham
The Great Gatsby
What does it mean to "comprehend" text?
A person who reads below an 8th-grade level could read a book or an article written for a higher level of comprehension, but they won't understand much of what they read.
Reading is looking at and interpreting written text
Comprehension is understanding the meaning behind those words
Now, you might be saying "but Alyson, my audience are all smart, educated, and good-looking people!" (ours are, too) but writing for a higher reading level means that fewer people will be able to understand what you say.
While writing for this level might feel patronizing, think about it another way: writing for an 8th-grade reading level means that everything you publish is simple and easy to understand.
Publish consistently
Social media in general is all about consistency, but it's especially true when it comes to publishing long-form content like LinkedIn articles.
Here's why:
The algorithm prefers consistency
The algorithms that power social networks like LinkedIn, Instagram, etc. prioritize showing content from accounts that deliver "value" to their followers.
One of the metrics that algorithms see as "valuable" is consistency in posting, since your audience are likely to both expect to hear from you, and statistically more likely to interact with your posts when they see them. You'll see increased engagement
Just like I said above, you'll get a boost in visibility when you post consistently because that's what the algorithm prefers, but publishing regularly also helps more people find, read, and follow what you share.
If you post once, then don't publish anything again for a few months, the people who read your first article and might have been interested in what you said will have moved on.
On the other hand, if people expect to hear from you on a regular basis they'll not only look forward to your content, but will actively look for your content.
You'll stay top-of-mind
Publishing articles regularly means that your name will keep popping up in front of people who've connected with you. Staying top-of-mind means that when someone needs a service you offer, you'll be the first person they think of.
(Anecdotally, I can't begin to tell you many how many people say they know me "from my articles on LinkedIn".)
Vary your topics
Topics like leadership, productivity and efficiency are all overplayed on LinkedIn, which means people are more likely to gloss over your piece if you write about them.
There's already been so much said on these subjects that it'll be hard to say anything new or groundbreaking which risks your article sounding generic or repetitive.
Instead, try writing about topics like:
How-to's and instructional pieces
Trending topics in your industry
Personal stories and anecdotes
Choose the right hashtags
Choose hashtags that are suited for a business-focused audience when creating a post to promote your new article — no #blessed hashtags here, please!
If you're not sure which hashtags to use, LinkedIn's post editor will suggest some for you to choose from.
Make sure not to overdo it on the hashtags or your post will look spammy. Unfortunately, some people make the mistake of cross-posting from their Instagram account and winding up with a post that has a block of hashtags that looks like this:
(These are hashtags I copied from a real post just now. Yikes!)
For reference, Sendible recommends using no more than three to five hashtags per post.
Cross-promote your blog
This is a power move! Publish your articles to your company's blog, then re-publish them to LinkedIn as LinkedIn articles and link back to your website in your piece.
This makes it more likely that people will click through to your website to learn more about you and the services you offer.
Here's an example of how to do it:
"This post was originally published on the Starling Social blog — check out more of our how-to articles by clicking here."
Start publishing LinkedIn articles today!
Now that you know what to do, it's time to start publishing your LinkedIn articles and watching your connections grow on the platform.
Using LinkedIn articles strategically will help you get in front of your target audience, attract views to your posts, increase referrals, and more.
If you're not sure what to write about, drop us a line and let's chat about our copywriting services can take it off your plate.
Interested in getting the latest digital marketing news and strategies sent right to your inbox once a week? Sign up for our newsletter!
---