Tagged: documentation
- by Alyson Shane
Every business owner knows that social media saturation, competitive paid promotions, and fierce online competition in over-saturated marketplaces make it harder than ever for a business to stand out online.
Enter: the Voice + Tone document.
This super-powerful document helps maintain a unique and on-brand "voice" across all of your communication channels. It's critical to help consumers understand your brand's values, mission, and your unique value proposition (UVP.)
Not only does a voice and tone document help your brand sound more like a human and less like a robot, but this document will help to guide building a trusting two-way relationship with customers and affiliate businesses, and increases the likelihood that users will respond to and share your content, which amplifies your organic (non-paid) social efforts.
We've already written about why your business needs proper documentation to find (and keep!) your brand's voice and tone, and today we'll be digging deeper into how you can discover the elements that matter to your brand, and how to incorporate them into a killer Voice + Tone document that helps differentiate your business from your competitors and conveys your brand values to your customers.

Let's dive right in: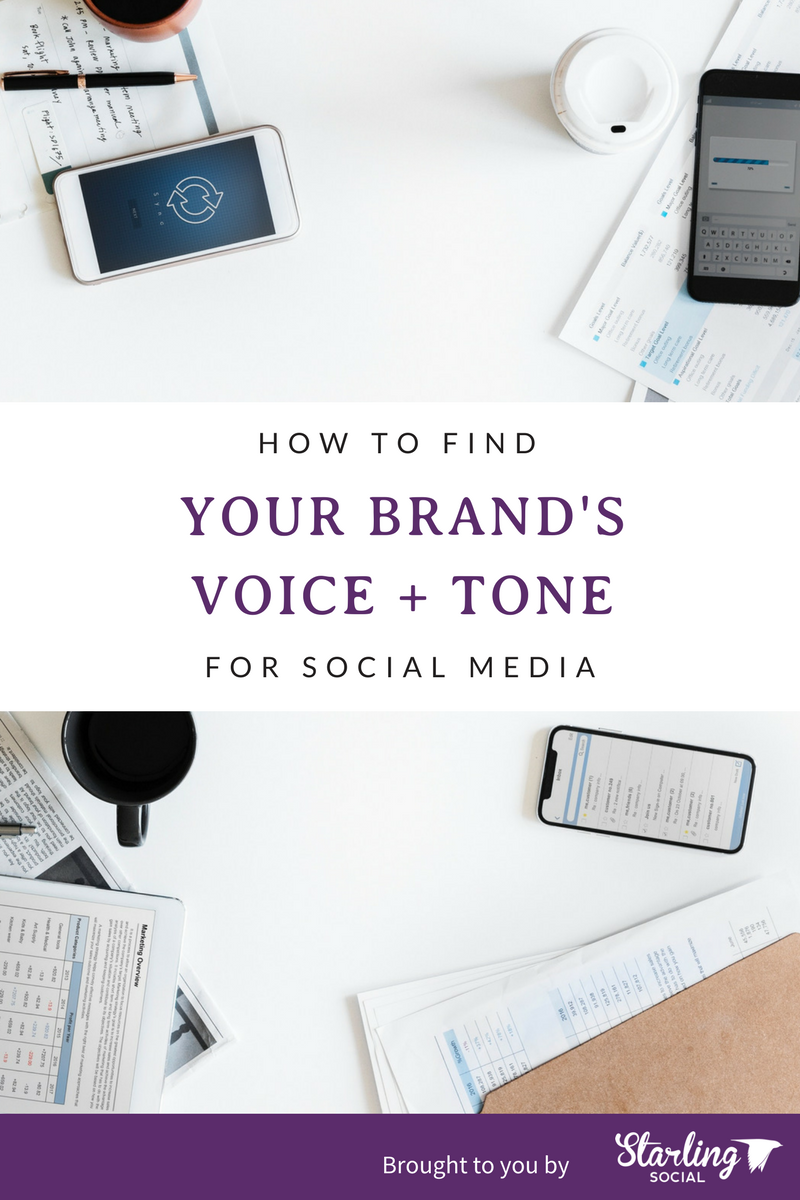 Voice + Tone: A Refresher
Voice and tone sound similar, but are actually two parts of a whole. Your brand's voice should be consistent across all of your digital channels and communication platforms (blog, website, newsletter, ads, etc.); however, your tone may differ depending on who you're speaking to, and where.
Think about it this way:
Voice: How your brand expresses its personality in general. Typically we look to specific adjectives, values, and pre-determined statements about the brand to guide our voice.
Tone: How your brand's voice is applied in different situations. "Tone" can differ depending on the social network and context in which you're speaking (e.g.: users use more formal language on LinkedIn than Facebook.)
Finding Your Brand's Voice + Tone
Finding your brand's ideal voice and tone may take several iterations to get right, especially after times of change such as a new product launch, change in management at the C-suite level, or a merger. However, these steps will get you started:
Build a Brand Persona
You've probably heard about "Buyer Personas" or "Buyer Profiles" before, but have you spent the time necessary to develop a "persona" for your brand?
If you haven't, now's the perfect time to sit down and ask yourself and your management team some important questions about how you want your brand to be perceived online (hint: your UVP may have some answers, so make sure to have it on-hand as well.)
Some questions to get you started include:
What are our values? What sets us apart from our competitors?
Who are we creating content for? Who are our "audience" online?
Where do our audience spend time online? How do we want to communicate with them?
How does our audience communicate with us and others on social media? What language and tone are they using?
Write With Buyer Profiles in Mind
One of the most effective ways to understand how to talk to your audience is to re-assess who you're talking to, and where they are in their Buyer Journeys. Tf you have them, this is the ideal time to whip out your Buyer Profiles (or your Ideal Customer Profile [ICP] if you have one) to use as your guide.
As an example, here are some voice and tone takeaways that we helped determine for a client, who runs a consulting agency specializing sales strategy and optimization:
CEO/Senior Sales Leaders
Ideal company/employee size: 200 - 1000
At least 20 people on the sales team
At least 5 years in business
Over $50 million in revenue
With this in mind, here are the assumptions we can make about our readers when creating copy:
They're not looking for "light" content. They're seeking out the best expertise in their field, which means applying a "data-driven approach" which uses data, surveys, and statistics to validate our claims whenever possible.
They're already familiar with industry terms. We don't need to explain what a CRM system is, for example, because these individuals will already be using - or at least be aware of - these abbreviations and terms.
They're at least somewhat tech-savvy. Or, they are interested in developing their knowledge in this area, and are relying on our content to point them in the right direction and help them define the tools and processes that will help them grow their business.
Pivot as Needed
One of the most important aspects of a voice and tone document is that it's not set in stone. Just as your business grows and changes, so too should the supporting documentation that keeps the wheels of your marketing machine on-brand behind-the-scenes. We recommend revisiting this document at least once annually (ideally during your year-end marketing review), but feel free to update as-needed.
Want some help crafting a killer voice + tone document for your brand? Drop us a line and let us know how we can help; we're always looking for exciting new brands to work with. In the meantime get to know us on Facebook, Twitter, Instagram, or on LinkedIn - we can't wait to meet you.
---