Everything You Need to Know About Podcast Advertising
- by Alyson Shane
Are you trying to figure out if podcast advertising is right for your business?

Podcasts have become insanely popular these last few years. Over 1/2 of all Americans have listened to one, and nearly 1 in 3 people listen to at least one podcast every month.

Last year, it was more like one in four.

As a result, businesses are projected to spend over $500 million on podcast ads by 2020.

Why? Because 75% of podcast listeners actively listen to podcast ads, and are likely to follow a specific call-to-action after hearing it.

In this post, we'll cover the basics of podcasting, and share the key things to consider when planning your podcast advertising strategy.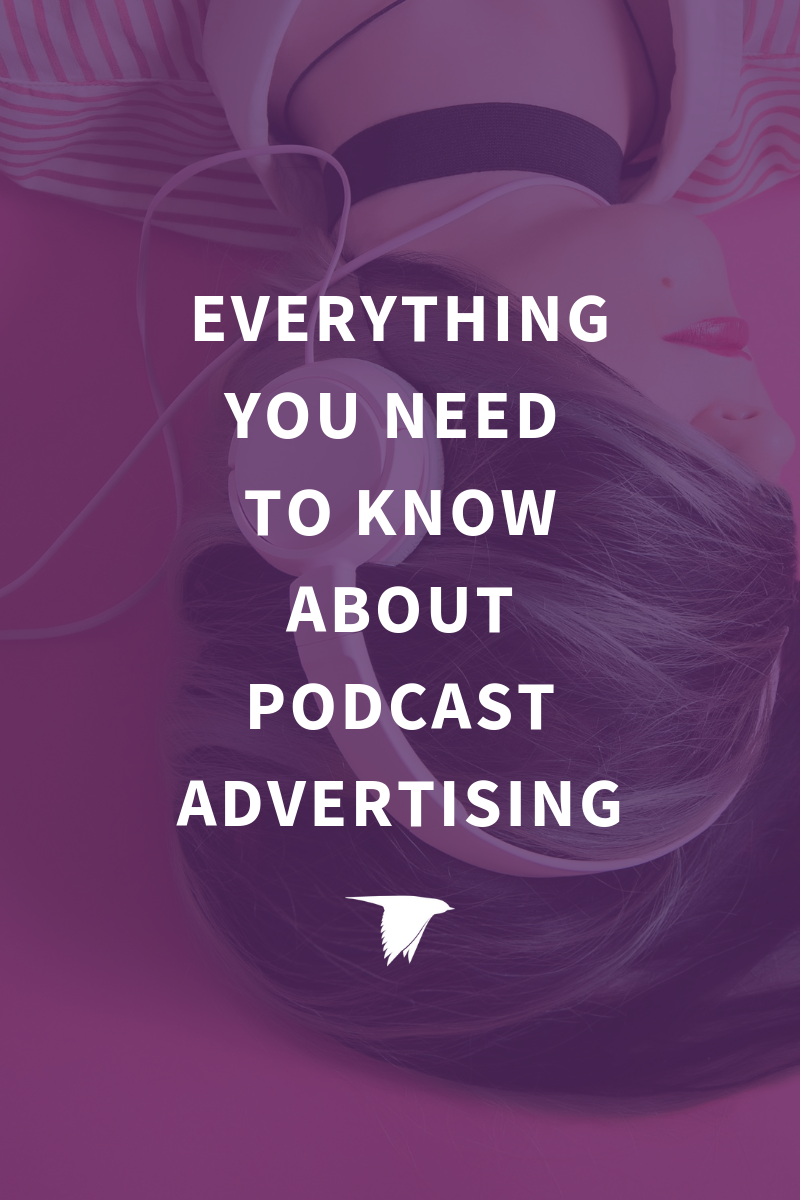 Podcasting Terminology 101
If you're fresh to the world of podcasting, here are a few key terms you need to know before we dive in:

Pre-roll: an ad that plays at the start of the podcast.
Mid-roll: an ad that plays in the middle.
Outro: an ad that (wait for it) plays a final call to action before the podcast ends.

Offer code: a code included in your call-to-action to track where signups, downloads, or purchases come from.
Native ads: ads hosts read as part of the natural flow of their shows.
Direct response: URL or offer codes for podcasts that can be tracked.
Cost per Mille (CPM): how to measure the ad expense per 1000 podcast listens.
Cost per Acquisition (CPA): how to measure how much it costs you to acquire a new customer through an ad.
How to Find the Right Podcasts for Advertising
Think Like Your Customers
Before you invest in a podcast ad, think about the kinds of people who are most likely to become your customers. This is a great time to break out your buyer personas, but if you don't have any, ask yourself some of these questions:

Am I advertising to men, women, or both? What are the demographics of my ideal customer (age, income, spending habits)?
What are the demographics of my ideal customer (age, income, spending habits)?
What do the podcast hosts have in common with your customers?
Get Real Endorsements from Podcast Hosts
One of the best things about podcast advertising is you can offer samples of your products or free use of your services to the hosts themselves.

Samples create the opportunity for hosts to give a real, honest testimonial about how your company improved their life. These testimonials sound honest because they are honest.

They're why 38% of people who listen to podcasts have reported buying products or services mentioned on podcasts.

Choose Your Podcast Ad Type
There are two categories of podcast ads, which are:

Dynamically Inserted Ads: Ads inserted into a podcast after recording. These ads change depending on when the podcast is played, among other factors.

Dynamically inserted ads are great for targeting specific listeners with a standalone ad that can be tracked and measured.

Baked In Ads: As the name suggests, a baked in ad is read live by the podcast host and isn't inserted after the podcast has been recorded. Everyone who downloads the podcast hears the same ad.

These ads create a more organic feel, but can be difficult to track due to a lack of targeting.

Dynamic ads are a great way to A/B test two versions of your ad messaging with the same audience. These are also better for time-sensitive specials and offers, since you'll want to swap them out with different ads after.
Deciding How Much to Spend on Podcast Ads
Before you start spending, ask yourself these questions:

What's my goal and how will I track it? (eg: signups, downloads, calls)
What is my total budget?
Not sure how to calculate a podcast advertising budget? Think about is this way:
According to AdvertiseCast, and the average industry rates for podcasting are:
$22 for a 30-second ad CPM
$26 for a 60-second ad CPM
Your CPM goes up depending on how many people listen to the podcast, so if you're hoping to buy a 60-second spot you can expect to pay around $1500 to advertise on a podcast that has 10,000 listeners.

Though some podcasters charge a flat fee, most use either a CPA or CPM formula to set their rates.

For example, if a podcaster's CPM is $30, you'll pay $30 for every thousand unique downloads of the episode where your ad plays. If the podcast has 10,000 listens per episode, your CPM will be $300 per episode.

As a result, advertising on smaller, niche podcasts is great if you're just getting started.

Use the formula above as a reference to determine how much you can afford per episode of each podcast you'd like to advertise on.
Measure + Track Ad ROI
There are a few ways to track how well your podcast ad is performing, including:

Custom URLs: Include a custom URL in your ad that's easy to remember, and directs visitors to a custom landing page designed specifically for the ad campaign.

Promo Codes: Include a promo code for listeners can use when they complete a purchase on your website. You can use multiple promo codes to track different ad campaigns at the same time.

Surveys: Ask buyers or subscribers how they heard about you at checkout, or in a capture form.

Start Small and Experiment
The best way to start podcast advertising is by experimenting with modest budgets. Find smaller, niche podcasts about topics your customers care about first.

Begin with a few tests to understand works, and what doesn't, and don't be afraid to try something different.
Want more information like this sent right to your inbox every week? Subscribe to our newsletter for hand-picked stories and marketing news you care about.

---