How to Use Customer Data in Your Content
- by Alyson Shane
What are you doing with your customer data these days?
If you're not regularly mining it for details on how to create content that answers their questions and moves them through your sales funnel, you're missing out!
In this post, we'll explore how to use customer data to create marketing copy and content.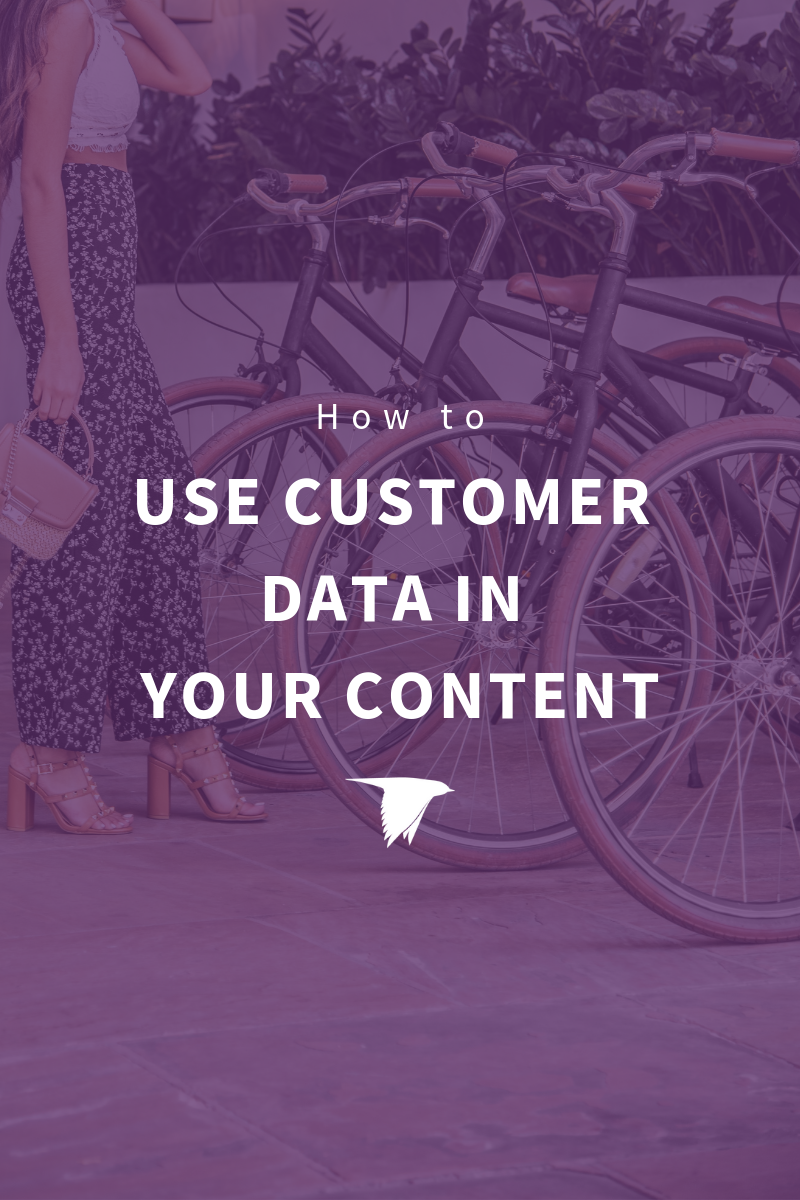 How Can You Collect Customer Data?
Analytics tools like Social Report and Zoho Analytics can help you understand what your followers are doing on social media, but these options will help you collect more specific data about who your audience and customers are.

Surveys, Quizzes + Questionnaires
Surveys are a great way to learn more about your audience, and can also be a great lead gen tool! In fact, according to LeadQuizzes, the average quiz has a 31.6% lead capture rate.

You can decide to email your most engaged customers or find out more about prospective customers by creating a quiz on your website. Either way, make sure to keep your surveys and questionnaires short and clear, so your customers stay engaged.
Contests + Giveaways
Contests and surveys are great ways to engage with your community and get them excited about your brand. It's also an excellent way to gather specific data about the people who are interested in what you're giving away.
Because you can set the parameters of your contest or survey, you can get as specific with the data needed to enter as you'd like.

Free Gated Content
"Gated content" refers to content that is free, but only after the reader provides some basic information about themselves; usually their name and email.
Use the data you collect to create case studies, infographics, and info-packed PDFs that demonstrates how you solve your customers' problems, then gate that content.
How Can You Use Customer Data to Create Content?
Create Engaging Content
The most important thing to learn from analyzing this data is understanding what your customer care about. If you see that specific topics, phrases, and keywords tend to rank lower, or not at all, phase them out of your marketing copy and swap in the latest data.
Remember: people's needs change over time, so you need to be regularly generating new customer data to review and introduce into your content marketing plan.
Show How You Solve Their Problems
By understanding more about what your customer's needs and problems are, you can create content that shows them how your business helps them solve it.
For example, if you run an HVAC company, you can use customer data to find out which furnaces are most popular. Then, publish a blog post listing the Pros and Cons of each, with a call-to-action (CTA) to contact a technician for more details.
This kind of content shows you're listening to your customers. It also has the added bonus of being extra SEO-friendly, since you're optimizing to match the text your customers are typing into search engines.
Learn the Type of Content Your Customers Love
There are lots of ways that you can share information about your products and services online: through text, images, video, infographics, webinars, etc.
Make sure to pay attention to the Engagement Rate that your posts receive, and note the type of content that tends to do the best.
Learn the Best Time to Publish Your Content
You want to be publishing content when your audience is online, which means paying attention to when they're most active. Monitor your social media analytics to find out when your audience is spending the most time online, and plan your publishing to occur during those peak times.
Don't forget to make a point to be active on social media during this time to talk to your followers about the new post as well - social media isn't just a soapbox!
Create Content That's Geo-Specific
One of the easiest ways to speaks to a customer's needs is to get specific to where they live. Use your customer data to understand where your customers are coming from and create content that targets them specifically.
Even better: if you advertise through Facebook, the options to get ultra granular are almost limitless.
For example, a retirement community advertising available units would want to target 55+ seniors looking to sell their homes in suburban postal or ZIP codes with ads promoting newly-renovated suites. See? Ultra granular.
Start Using Customer Data in Your Content
When you spend the time to understand your customers, you can craft content that speaks to how you solve their problems. It's really that simple!
Remember to connect with your customers regularly: on social media, through email, on your blog, and wherever they may be online. Use the data you collect to periodically re-evaluate what your audience is saying to you.
Do you have a favorite way to collect customer data? Tweet it at us! Don't forget to smash that "subscribe" button and get posts like this delivered right to your inbox every week.
---