6 Reasons Content Marketing Works for Every Industry
- by Alyson Shane
This post was written by our Copywriter & Content Strategist Hannah Clark.
Do you sell stuff, or the doing of stuff? No matter what products or services you offer, marketing your stuff is just a part of staying in business. Most businesses are, understandably, interested in the advertising efforts with the best return for their dollar. Logically, it's an easy choice. In practice, it's not so simple. Everyone seems to be allergic to advertising these days. So what are brands to do?
They need to be making content. A lot of them just don't know it yet.
A while back my Mom (who is a business owner) asked me what my job title is and I told her I'm a Content Marketer. She said, "No one is going to know what that means. I don't know what that means. You should just tell them you work in marketing."
Well, if you don't know what that means, this one goes out to you. This is why you (and my Mom) should be creating content, and why it works.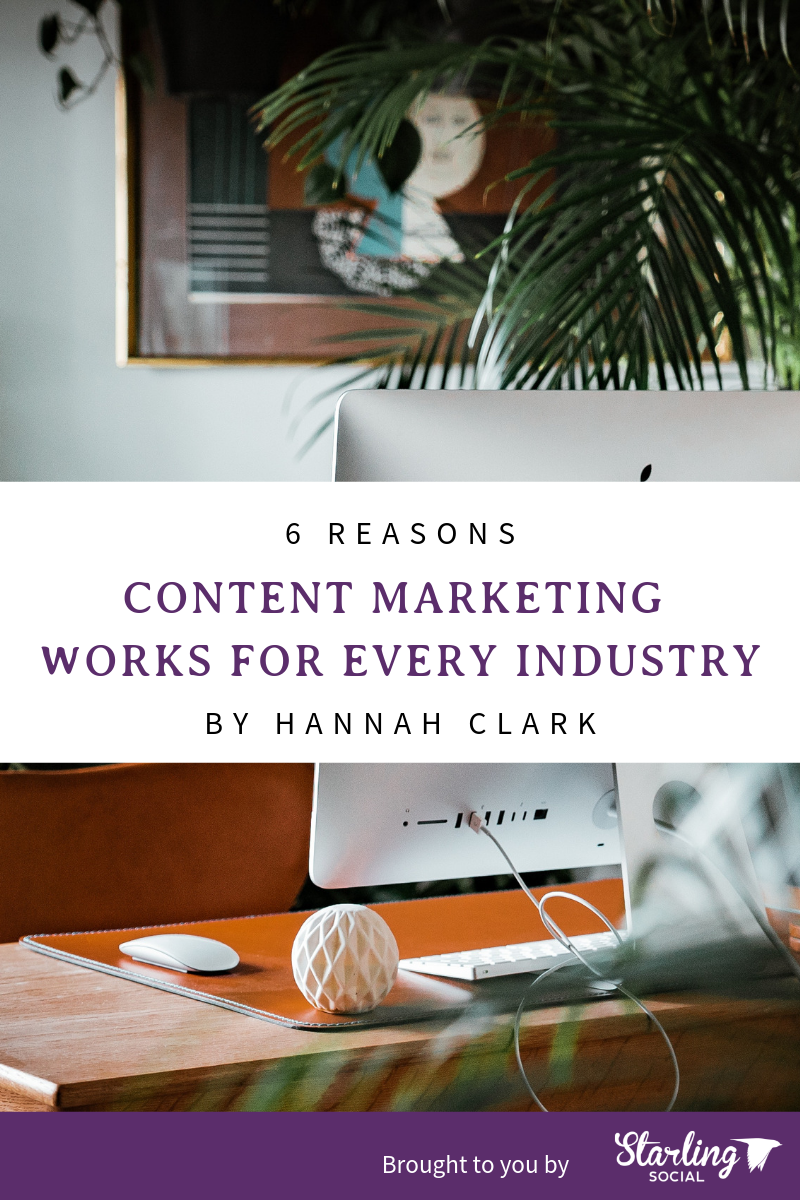 1. The Options Are Limitless
First of all, let's just outline what I mean by 'content'. When I say content, I'm really talking about multimedia. Back when the internet was taking its baby steps, we might have said 'blogs', 'articles', or 'photos' instead of content.
These days, we have so many more choices. We still have blogs, articles, and photos—we also have videos, e-newsletters, memes, podcasts, infographics, ebooks, quizzes, and other interesting nuggets that keep us logging in every couple of minutes. 'Content' is the umbrella term for, essentially, internet stuff.

The diversity of the world of content is exactly why it's so exciting. It doesn't matter if you sell sweaters for cockatiels, or you're a plumber, or you're a non-profit trying to save the rainforests. The right kind of content can help you communicate, clearly and effectively, with who you're trying to reach.
It can help you break down big, complex concepts into easy-to-digest chunks. Or, you can use it to tell the story behind your organization and show people why they should care.
2. Three Words: Return On Investment
Maybe you're familiar with this old chestnut:
"Half the money I spend on advertising is wasted; the trouble is I don't know which half."
Listen. The guy who said that, John Wanamaker, died in 1922. Shit has changed. We have the internet now, and just about anything can be measured.
We can put an article on a website or a video on YouTube and tell you exactly how many people have seen it, over any time period, and how long they stuck around. Cross-reference that data with your sales and it's pretty obvious if something is or isn't working.
Here's the crazy part though; making content is possible at any price point. You can make it yourself, for free, by pointing your phone camera at yourself and talking at it. You can pay a marketing agency, like Starling, to create blog posts and email newsletters for a very reasonable rate. Or, if you want to take it all the way, you can spend a little more and get a video production company to create a knockout brand video for you. A content marketing strategy can be completely customized to your budget.
Better yet, the content you make isn't like a typical advertising campaign that disappears (along with all your money) after the campaign ends. Unlike billboards and banner ads, content is something you own forever. You can keep content on your website indefinitely, and it only gets more valuable as it accrues traffic from Google. The more people have seen your content, the higher up it rises in Google's search results.
3. It Sells Without Selling
Speaking of search results, here's a question for you; what do you do when you have a passing curiosity? Do you beeline to Google? Maybe you ask Siri or Alexa?
Web search is the driving force of content marketing. Before people look for products, they're looking for answers. Whatever you use the internet for—to learn something new, compare prices, pass the time, whatever—there's someone on the other side of that search benefitting from your curiosity.
You don't have to use your content to ask people to buy stuff. You just have to assume there are people out there interested in what your company is about, then make stuff for those people. Trust me, they're out there—and if you aren't, they'll find your competition.
4. It Starts a Relationship...
Last year, my partner and I had just made an offer on our first home. As a first-time homeowner, I was freaking out. I was worried about stuff that probably wouldn't happen and excited about all the possibilities of being a mortgagee.
Meanwhile, I was searching frantically for everything from home inspection, to renovation before & afters, to furniture that will be forever out of my price range. I hadn't even closed on the place yet, but I was already forming an opinion about products, services, and brands.
During that time, I consumed thousands of pieces of content. DIY reno videos, home decor blog posts, and an embarrassing number of Pinterest pins. And that's just the "sexy" stuff. I was also making searches like 'how to apply foam sealant', 'when to replace hot water heater', and 'how to install wall shelving'.
Before long, I actually needed to know a lot of this stuff. When that time came, the brands that took the time to make this information available were the ones that got my business.
5. ...and Builds Loyalty
At the point that someone like me makes a decision like that, the decision is based on something more profound than price comparison. If you've ever checked out Simon Sinek's massively popular TEDTalk, Start with Why, you know that an emotional connection is far more powerful in marketing than logic and reason. When you give people a reason to love you, it's harder to leave you.
This is the point when your content marketing efforts really start paying off. Your loyal customers will start to share it.
"This workout video whipped my booty!"
"This was that article I told you about that breaks down how the stock market works."
"This photo really inspired me to re-decorate my office."
This, right here, is word-of-mouth in action. Content marketing helps you generate word-of-mouth by giving people something to talk about.
6. Nobody Likes Ads
This is a safe space, so let's all admit it. We hate ads. We skip them, block them, and tune them out. We would rather have an unsightly 'Save the Trees, No Flyers Please' sticker on our doors than deal with the endless ads.
So let's stop advertising to people. Let's start talking to people. Helping people. Entertaining people.
Let's create some friggin' content.
Psst! Want more stuff like this delivered to your inbox each week? (Yeah, you do) Subscribe now.
---