9 Tips for Writing Instagram Captions for Business
- by Alyson Shane
This post was written by our Account Manager Alicia Kurz.
So you've figured out the perfect photo and got someone to stop scrolling, now what?
You have a few seconds for your caption to inform, entertain, tell a story, reflect your brand's personality, be easy to follow, get the user to spend as much time as possible on your post, and get the coveted double tap. If you've done a really good job, they might even leave a comment!
No pressure.
While the caption might not be quite as crucial as the photo, if your picture isn't telling the 1000 words it needs to be, then this is your opportunity to fill in the gaps.
Think about these eight tips before you click the share button.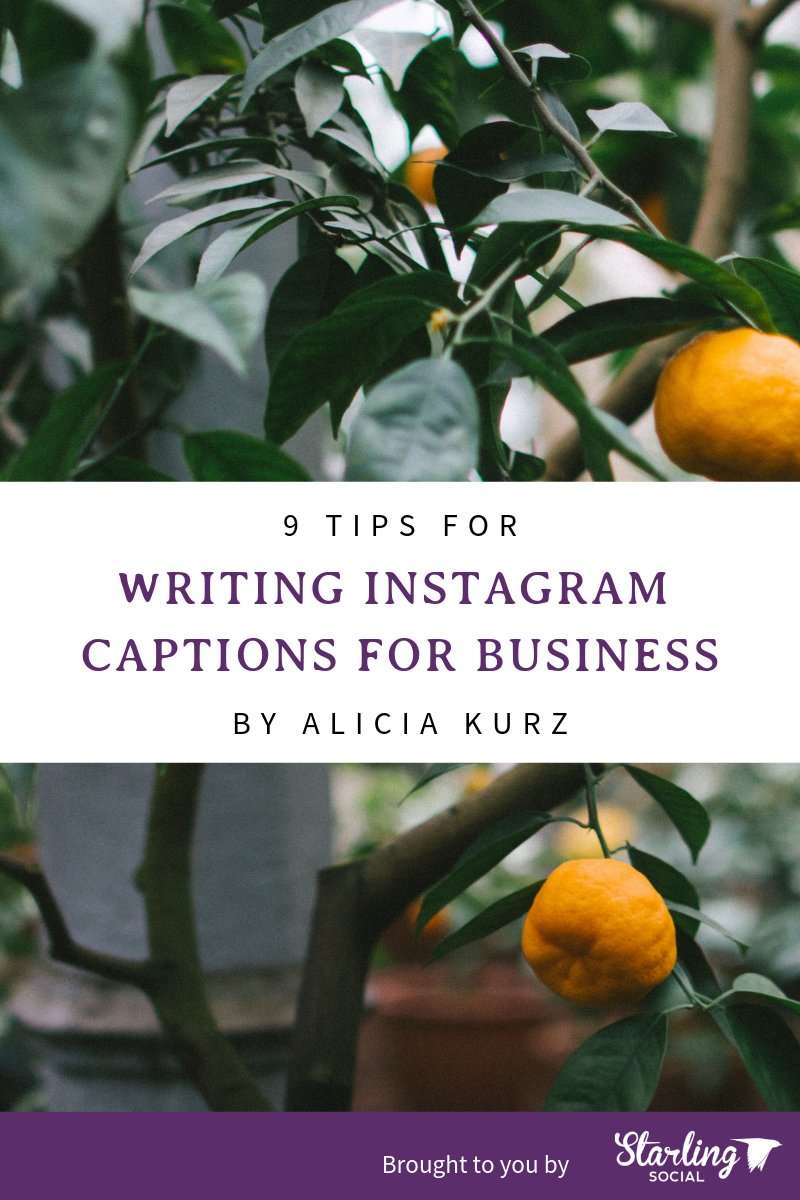 1. Know your audience
Create audience personas. You probably don't talk to your friends the same way you speak to your dad, right? Create two or three fictional people who are most likely to be engaging with your brand. Start with the basics like age, gender, occupation, behaviours and interests, and pain points — which means figuring out how you can solve their needs.
Think about the language you would use when talking to these personas when you write your captions.
2. Have a brand voice
People should be able to read your caption and have an idea of who wrote it without looking at the photo. Build a brand persona. Think of your persona like a best friend for your audience personas.
If you're writing for a company and you are speaking for more than one person then always use "we" or "our."
Keep it consistent and always use the appropriate language. Is your company run by sassy millennials who let you bring your pets to work or a middle-aged, straightedge man who won't be using abbreviations like "LOL"? Sometimes it's okay to use modern slang or abbreviations that your audience will be familiar with.
Check out the comment section on @wendys page for a healthy dose of sass.
3. Build a brand story
Your captions should be easy to follow and understand for new followers, but a great way to get viewers invested in your account is by building a brand story.
Create an emotional connection with your followers by sharing your ups and downs. Let them know the behind the scenes of upcoming events in your company. Give followers something to talk about if your brand comes up in conversation!
One of the most amazing accounts for this is @mrolrandosoria. He's amazing at grabbing your attention with his humour, but also keeping it real with truths about hard break-ups and struggles with his career. Orlando built a social following around a gold pair of scissors, Martha Stewart and Nate Berkus, and he makes you feel like you're in on an inside joke when these topics come up in his captions.
4. Keep length in mind
Generally, people don't like to read, so put the important stuff first.
Only the first three lines of your captions will show up in a feed before you have to click "more" to read the entire thing. Instagram gives you about 125 characters before you're cut off.
Don't hide important sale information or other big news after a paragraph of text. Chances are most people will only stick around for those precious 125 characters before the next colourful image grabs their attention.
BUT, if you have something of value to say that your followers will appreciate, use the generous 2,200 character count. A great example of a company consistently using long-form Instagram captions in a significant way is @natgeo.
If your content matters to people, then they will stick it out until the end.
5. Split up text with emojis
Emojis are a great way to draw in a reader's eye and add a little personality to your caption. You can even use emojis to replace words, but make sure your meaning is clear, and don't go overboard!
Check out @starbucks and @localwanderer for examples of frequent, but fitting uses of emojis in captions.
6. Chill on the hashtags
Excessive hashtag use looks spammy and desperate, and you're better than that. Limit your use to three or four relevant, targeted hashtags to get the effect that you're looking for.
The algorithm is always changing, so play around with your content. The "view insights" button underneath your posts on your Instagram business profile shows how many people saw your post due to hashtags.
See what works for your brand and adjust accordingly.
7. Ask "what's in it for them?"
If you have something to offer, then offer it. It takes more than an eye-catching photo for people to stop and comment on your post.
Why should someone spend 15 seconds commenting on your photo? Will you answer each question left on your page? Can you do a monthly giveaway for people who comment on your post? Give them a reason to stop on your photo.
8. End with a call to action
Prompt your followers to do something like "comment," "start," "follow," or "discover" in a way that will add value to their lives. Maybe that looks like entering a giveaway, sharing a coupon code to people who DM you, or offering valuable information. It's all up to you!
Asking a question that your readers care about is an excellent way to get comments on your posts.
Don't make people leave Instagram unless it's SUPER IMPORTANT. Yes, link in bio is great, but if you are giving an option of tagging a friend or leaving the feed to click the link in bio, (will I ever find my place again?!) filling out a subscriber form, and then getting junk emails forever, they're likely not going to do it.
9. Edit for trolls
If you use the wrong there/their/they're, you better believe that at least three people are going to comment about it because they need to feel good about knowing the correct use of the word and EVERYONE ELSE NEEDS TO KNOW YOU DID IT WRONG.
Pro tip: use a program like Grammarly or Hemingway Editor and walk away from your writing for at least 10 minutes before you hit that share button. A fresh pair of eyes usually catches those minor mistakes.
Are you looking for someone to take over your social pages? Contact us here.
Get weekly marketing tips straight to your inbox? Subscribe now.
This post was written by our Account Manager Alicia Kurz. Get to know the rest of the Starling Social team and let us know how we can help grow your business.
---