TikTok SEO in 2023: What It Is and How To Do It
Where do you go when you're looking for recommendations?
Until recently, most of us went to Google.
In fact, so many people use Google to find recommendations or look something up that the term "Google" has become synonymous with looking something up, putting it in the same camp as "Kleenex","Frisbee" and even "Dumpster" — but all that's starting to change.
Mobile apps have taken over the market, and TikTok recently overtook Google as the most popular search engine for the first time in 15 years, with 40% of Gen Z stating that TikTok is their go-to search engine.
This shift in how people are searching for new products and businesses represents a new way for businesses and marketers to think about search engine optimization (SEO).
In this article, I'll cover what TikTok SEO is, why it's important and share insights on how you can get your content to the top of the Search results page to connect with more of your ideal customers.
What is TikTok SEO?
TikTok SEO is the practice of optimizing your TikTok videos to rank higher on the "Search" results page so more users can find your content and follow you.
The platform uses a sophisticated algorithm to show users what they want based on their interests, interactions with other posts, accounts they follow, and more.
With an SEO strategy optimized for TikTok, you can create content that the algorithm loves and is likely to be searched and discovered by your target audience.
Why is TikTok SEO Important?
The short answer is: TikTok has a massive user base! If we take a look at TikTok's user growth you can see that it's showing no signs of slowing down: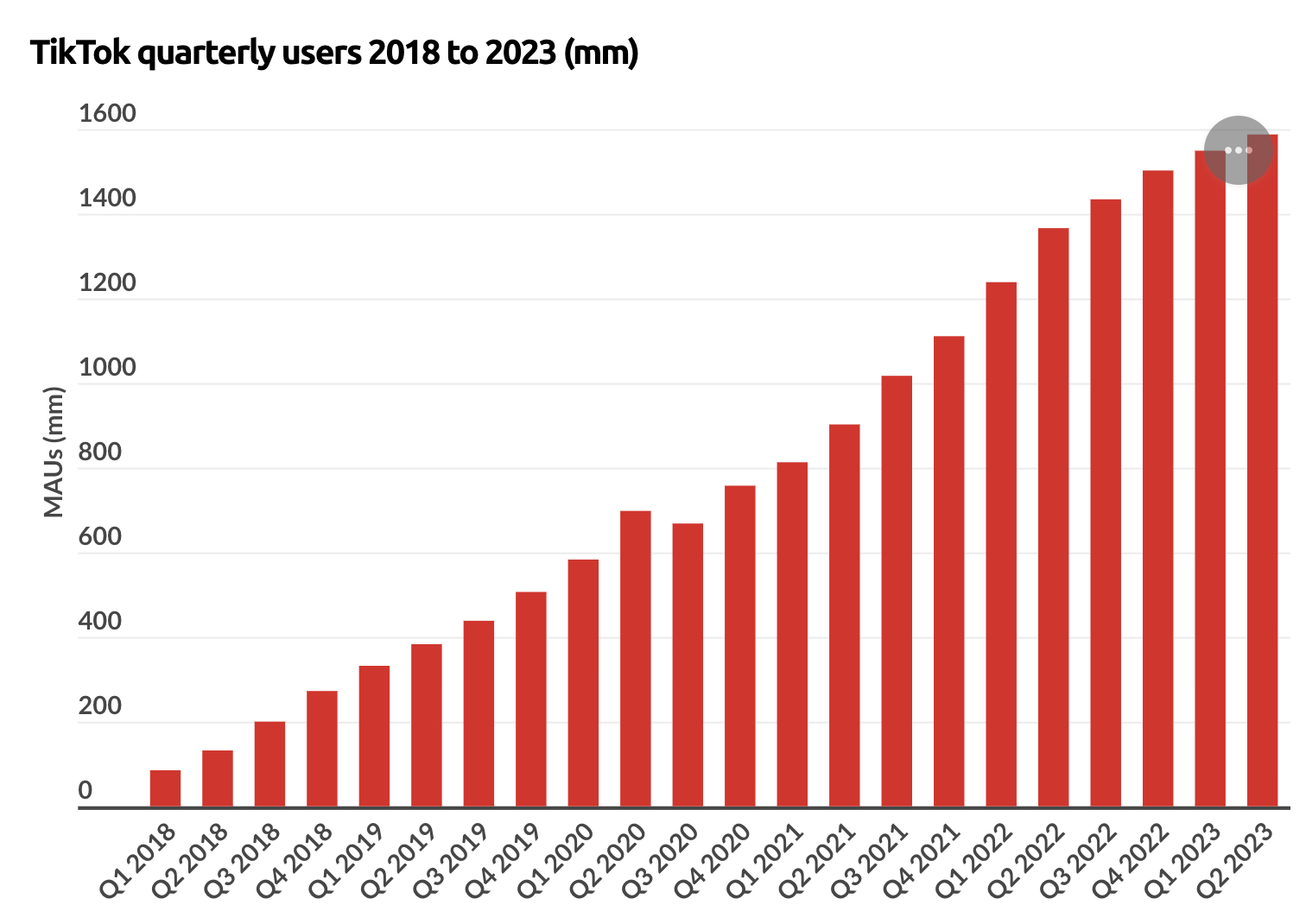 Source: Data.ai, CNBC + Business of Apps
TikTok may call itself an entertainment hub rather than a search engine, but that doesn't mean it doesn't serve that purpose too.
These days, TikTok has adapted to this explosion in usage and has adapted several search engine-like features like suggested keywords in its search bar and comment sections, putting it in the same league as Google.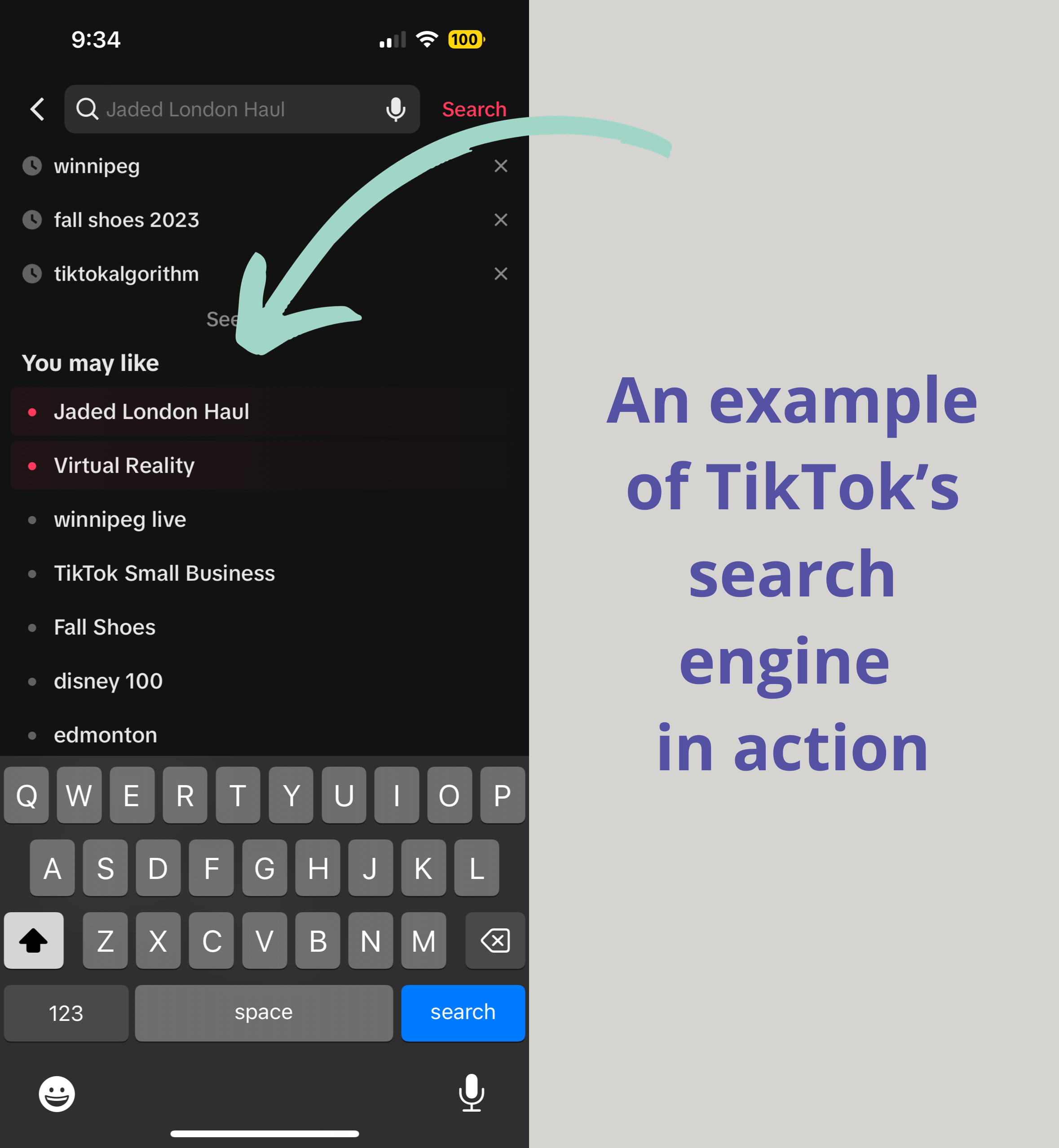 So as more users turn to TikTok to look for content, we need to adapt to those changing behaviours.
How Does TikTok's Algorithm Work?
TikTok doesn't make their algorithm publicly available, but there are a few high-level details that we've been able to figure out.
The first step is demographics.
When someone signs up for TikTok, the app will show them content based on their demographics and location, along with any categories that they've indicated that they're interested in.
For me, I'm a 35-year old woman in Winnipeg, Manitoba, Canada. TikTok might start showing my videos of The Winnipeg Jets (our local hockey team), home renovation ideas, how to make cocktails, ice fishing, and other videos based on my age, pronouns, and location.
Some of those things might appeal to my interests, but some might not. So how does TikTok get me to stay in the app?
The algorithm "learns" what I like by analyzing what I scroll past, and what I engage with through likes, comments, and saves.
TikTok's algorithm also ties into your cookie history, meaning that it taps into your internet browsing history and curates what it shows you based on what you look at online.
4 Ways to Optimize Your TikTok Content
Here are four things you need to to to optimize your TikTok strategy:
Include keywords into your captions and videos
Research and use relevant hashtags
Use trending TikTok Audio
Post longer videos
Be consistent with your niche
Step 1. Include Keywords In Your Captions and Videos
With search, everything is about intent, and that's expressed in what users type into the search field in order to find what they're looking for on the platform.
The first step is to weave relevant and detailed keywords that your audience actively looks for. Here's where you should add them:
If you're not sure where to start, open up the TikTok app and use the search bar's predictive text. Just type in your starting keyword and see what the app suggests from there: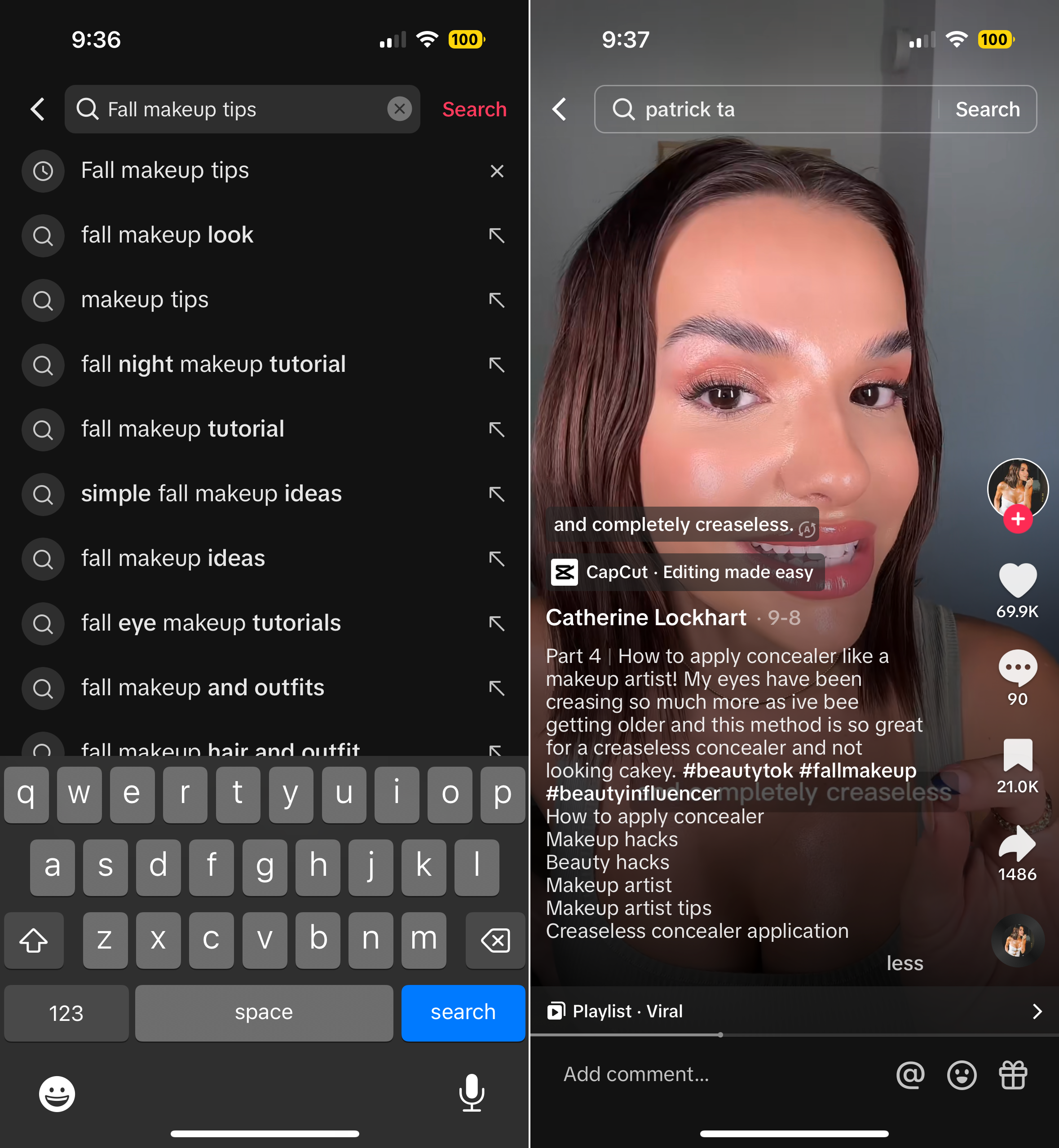 So if you're a company selling footwear, you might want to use keywords and phrases like ""athletic footwear", "sneaker trends", or "sports shoes fashion"
Protip: State your keyword out loud within the first few seconds of your video to make sure the algorithm picks up on it.
Step 2. Include Relevant Hashtags
Using the right of TikTok hashtags can catapult you right into the spotlight of your ideal audience and potential followers.
At Starling, we recommend using a "blended hashtag strategy" which is the process of using both wide-reaching and niche-specific hashtags.
High-level or trending hashtags allow you to reach a wide audience, while niche hashtags allow you to show your posts to people who are already looking for related content in your niche.
How Many Hashtags to Use?
TikTok doesn't set a limit for the number of hashtags you can use, but we recommend sticking to 3 - 5 "blended" hashtags.
This allows you to post captions to stay at the forefront of the post and can keep your TikToks from looking spammy.
Bonus: Use TikTok's geo-specific tags in your videos to help increase visibility in your area. This is ideal for restaurants and brick-and-mortar stores!
Step 3: Use Trending TikTok Audio
TikTok's algorithm prefers content that taps into trending audio, so it's important to check the app often to find out what sounds are blowing up on the platform.
If you're looking for a trend that's more niche-specific, just open up TikTok and type in "trending sounds" in the search bar.
Protip: Choosing the "this week" filter will show you the hottest rising content, and give you some inspiration for how you can recreate it to suit your brand's needs and message.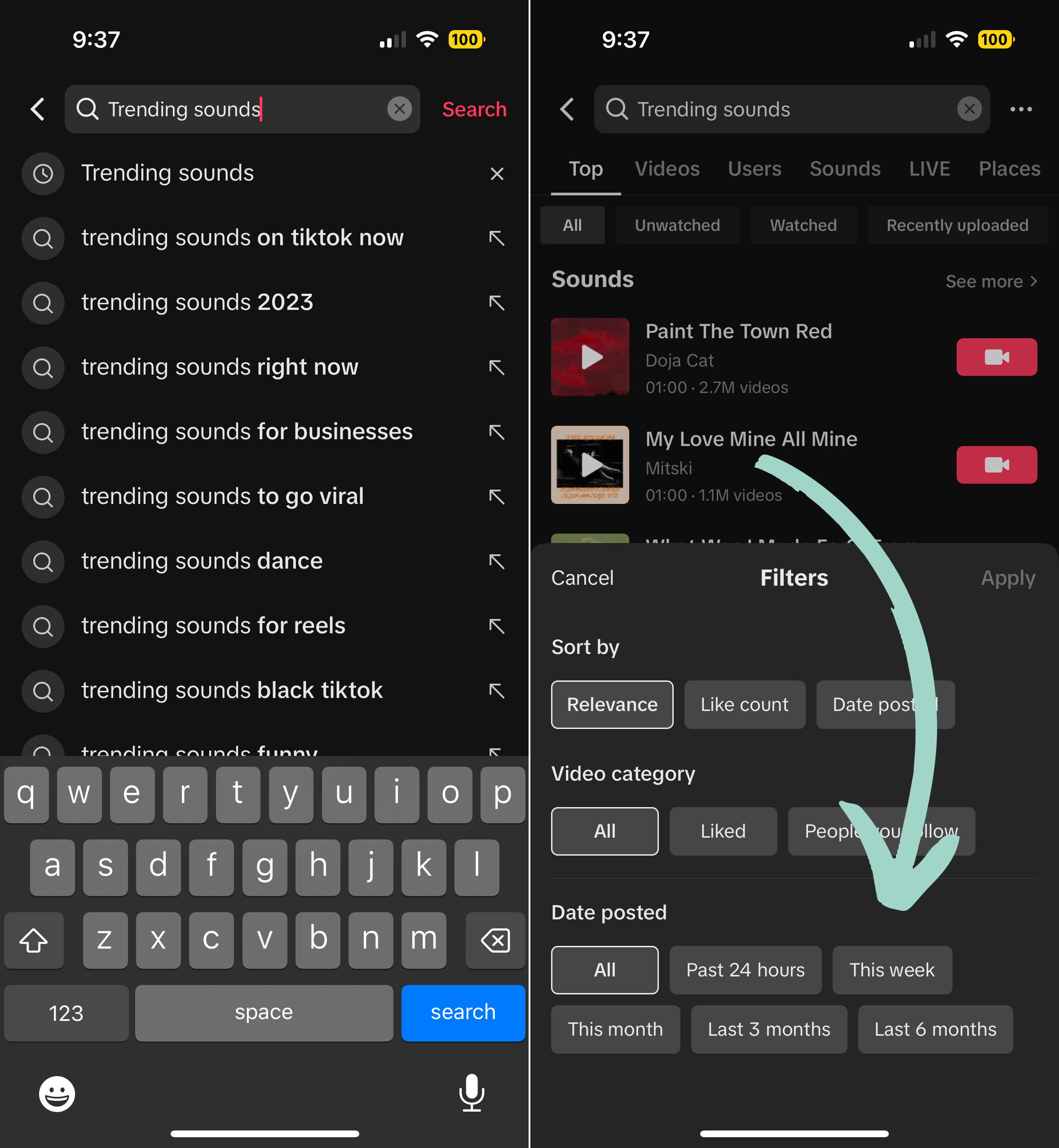 Step 4: Post Longer Videos
A lot of what we've seen on TikTok to date has been short, snappy videos, but the platform recently announced that users will be able to upload videos of up to 15 minutes, showing that they're encouraging longer-form content.
Not only do longer (5-ish minute videos) appear to be trending with the algorithm right now, longer posts also give you more time to repeat your keywords and increase the likelihood that your video will get picked up and shown to more of your target audience.
Step 5: Be Consistent With Your Niche
Like every social media platform: consistency is key.
Learning how to "work" TikTok's algorithm and tap into SEO best practices on the platform will teach the algorithm who you/your brand are, what you offer to other users, and which users should see your content.
Start Growing on TikTok Today!
TikTok is one of the fastest--growing social networks out there, and if your brand is trying to reach a younger audience then it's a "must" for your digital marketing strategy.
If you're not sure where to start, drop us a line!
---