The Top 7 Digital Marketing Podcasts of 2023
It's no secret that podcasts are one of the most popular ways to consume media these days. According to data from DemandSage, 41% of people in the United States tune into a podcast every month, with 28% of the population tuning in weekly, so if you're a regular podcast listener, you're not alone!
Personally I like to listen to political podcasts, miniseries, and (of course) podcasts about digital marketing and marketing in general.
I've actually been listening to podcasts since 2006 when I got my first iPod Nano. I decked it out in a skin from TokiDoki like this one and would listen to them on the bus on my way to and from work. My commute was a minimum of 45 minutes each way, so I got a lot of listening in!
My obsession with podcasts has only gotten stronger over the years. I find them to be a great way to learn new things and stay up-to-date with the latest news and trends.
So today I'm going to be sharing some of my top marketing podcasts for 2023 so you can get your learning on, too!
How to Choose the Right Podcasts
Just like movies and music, choosing the right podcast is a highly personal decision, and with so many out there it can feel overwhelming to sift through them all and find the right one for you.
While I'll be making some recommendations below, here are a few things to keep in mind when considering what to listen to:
Consider Your Listening Goals
Do you want to be inspired by your fellow marketers, or do you want to learn practical insights from case studies and niche topics?
Also consider whether you prefer interview-style content, or if you prefer lively banter between a couple of hosts. Personally I don't like "acted" podcasts where it's more like listening to a radio play, so I tend to tune these out.
Consider Your Preferred Format
When it comes to podcasts, format matters.
While podcasts are typically auto-first, you might find that you prefer to listen to podcast that also provide transcripts for accessibility, or that you prefer watching video versions because they can be more engaging.
Experiment with different styles and find what works for you!
Consider Extra Content
Lots of podcasts offer additional materials that can increase your learning experience. Some things to keep an eye out for include:
Episode highlights
Links to mentioned articles and resources
Timestamps
Downloadable guides
Blog post summaries
Consider the Hosts
The host's personality and style can really make or break a podcast, and if you don't connect with the host(s), chances are you won't be listening to that podcast for long.
Personally I've found that this ties back into the podcast's format more than anything; some hosts thrive doing interviews while some just want to chat it out, and what you wind up listening to really comes down to your personal preference.
Consider the Editing
The way a podcast is edited can really elevate the listening experience. Of course, the type of podcast editing that elevates your listening experience is highly personal, but some things that can really make or break a podcast include:
Sharing previews of upcoming topics
Using extra audio or musical clips to add context or atmosphere
Using editing techniques that turn interviews into immersive journalism pieces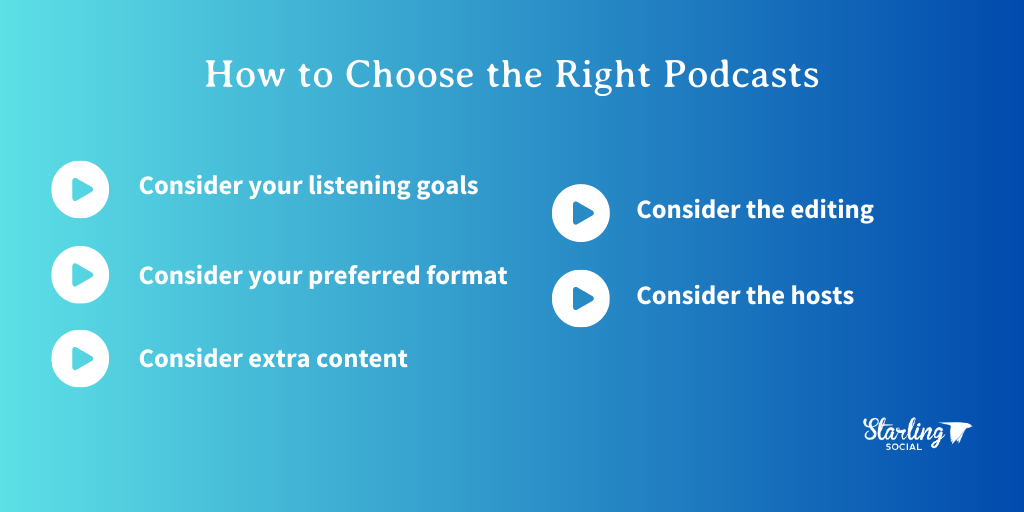 The 7 Best Marketing Podcasts of 2023
Now that we've talked about how to choose the right podcasts to subscribe to, let's explore some of the best marketing podcasts out there:
Hosted by Mitch Joel
Confession: I started with this podcast because it's my favourite. I've been listening to Six Pixels of Separation since 2007 and Mitch Joel's insightful, thought-provoking interviews played a huge role in shaping how I think about my industry.
While some of the podcasts on this list are specific to a certain niche, what I like about Six Pixels is that it's a bit all over the map. At first glance some of the topics might not seem 1:1 about marketing, but trust me — you'll walk away from every episode having learned something new that will make you a better marketer.
Hosted by Buffer
If you're looking for a quick, snackable podcast then don't sleep on this essential listening from the team behind Buffer.
Most episodes are 10-15 minutes long, super straight and to-the-point, and tend to be focused on timely topics like the ideal TikTok length, algorithm optimization strategies, and more.
While new episodes aren't published that regularly — right now they update about once a month — there are over 200 archived episodes to explore and the quality is excellent.
Hosted by Mikhail Myzgin
As someone who was around pre-social media and witnessed how digital marketing has leaned into big data and gamification (among other tactics) to keep audiences engaged, I'd be lying if I said I wasn't aware that there's a dark side to my industry.
I've also studied philosophy and ethics, and think a lot about how to balance achieving our clients' marketing goals without wading into ethically gray areas.
That's why I love Ethics in Marketing: it offers a chance to think about how to make ethical decisions with our marketing strategies that are fair, kind, and respectful to our audiences. Episode topics range from how nonprofits can handle ethical dilemmas, to advertising and disinformation, to manipulation and dark patterns.
Hosted by Ralph Burns and Kasim Aslam
If you're looking for a podcast with hands-on advertising strategies to attract and convert new leads that you can apply today, this is the podcast for you.
This podcast is great because it's easy enough to understand that someone new to the industry can get a lot out of it, but the hosts and guests are subject matter experts so they're able to go deep on a variety of topics and pull insightful suggestions and pieces of wisdom out of every conversation.
If you're looking to learn more about the nitty gritty of social media ads, pay-per-click (PPC) advertising, and how to build a robust, competitive ad strategy that gets results, you won't want to miss this one.
Hosted by Shankar Vedantam
Okay, this podcast isn't actually about marketing, specifically, but that doesn't mean it doesn't deserve a spot on this list.
I've been listening to this podcast for years and first became interested in it because it explores "the unconscious patterns that drive human behaviour" and (as you may have noticed) I like to apply a multi-faceted understanding to my work as a marketer. After all, I'm marketing to humans, so understanding our behaviour and motivations helps me do that more effectively.
Topics covered on this podcast range from compulsive consumption, the psychology of self-doubt, how stories help us make sense of the world, and much more.
Hosted by Simon Sinek
This is another podcast that isn't specifically about digital marketing, but offers conversations and thoughtful insights that can help shape the way you do business, think about your brand and industry, and provide inspiration for creative success.
I love this podcast because it reminds me that my life is so much more than just the work I do. I'm a creative person and I get to run a company that allows me to enjoy creative freedom, flexibility, and to continue to grow personally and professionally while doing something I enjoy.
Hosted by Tod Maffin
Back to basics with this one! This daily podcast gives you a quick, 10-minute-or-so rundown of what's been happening in the world of digital marketing.
From the latest Twitter/X drama, to updates and feature rollouts, changes to policies, and more across the largest social media platforms, this podcast is a must-listen for those of us who want to stay at the bleeding edge of strategy and results.
Hosted by Michael Stelzner
Here's another podcast that's been around for ages, which in my view speaks to its importance and usefulness for people in my industry.
This podcast is one of several offered by the folks at Social Media Examiner, and don't let the cutesy aesthetic of their website and brand fool you — these folks are some of the savviest out there, and their website and podcast have been a go-to for me for years.
Each weekly episode runs about 45 minutes and provides a deep dive into new skills, strategies, and tactics to get the most out of your efforts. Michael also does interviews with industry leaders, breaks down algorithm changes and updates so you can be agile in your approach to each platform, and lots more.
Build Your Digital Marketing Skills Today!
By listening to these podcasts (or just a handful, I know the list is pretty comprehensive) you can elevate your skills as a digital marketer and easily stay in-the-know about the latest industry news.
If you're more of a reader, you can subscribe to Starling Social's weekly digital marketing newsletter. Each week I choose the most timely news and resource articles and sum it up in a short, snappy email that you get every Tuesday morning (because nobody wants more emails on a Monday). You can sign up for next week's send here.
Ready to take those digital marketing to-do's off your plate? We can help! Click here to learn more about Starling Social's managed digital marketing services.
---