8 Thoughtful Ways to Celebrate Pride Month 2023
The sun is out, the flowers are blooming, and that's the first signal that Pride month is just around the corner.
Canada's Pride is a celebration of the LGBTQ2S+ community and their achievements, struggles, and contributions to our society. Toronto held the first Pride event in Canada in 1971, and since then, it's become louder and prouder. June is filled with parades, marches, rallies, parties, drag brunches, and other cultural activities that bring together LGBTQ2S+ individuals, allies, and organizations — it might be our favourite month of the year!
Whether you're an LGBTQ2S+ individual, an ally, or someone who just wants to show support, we've put together a list of 8 ways you, or your business, can get involved — and 4 things to avoid.
Attend a Pride Parade
Do you like bright colours, music, dancing and floats? Attending a Pride parade is a great way to show your support for the LGBTQ2S+ community and immerse yourself in Pride's joyful, celebratory spirit.
Invest in DEI Training
If you're an employer or a business owner, consider investing in employee diversity, equity, and inclusion (DEI) training. DEI training can help create a more inclusive and supportive workplace for LGBTQ+ individuals and other marginalized communities.
Educate Yourself
This is your excuse to buy more books. Plenty of books, documentaries, and podcasts explore the LGBTQ2S+ experience, from the Stonewall riots to the fight for marriage equality. Learning about the struggles and achievements of the LGBTQ+ community can help you better understand and appreciate the diversity and resilience of this community. One of our favourite spots in Winnipeg is Willow Press, an LGBTQ2S+author-owned book store. Meghan also has a background in gender and sexuality education, which they use to find the best and most inclusive and empowering resources and stories for all ages.
Include Pronouns in Email Signatures
Including pronouns in email signatures is a small but important step towards promoting inclusivity. When you include your own pronouns in your email signature, you're signaling that you recognize and respect the gender identity of others, and you're making it easier for people to communicate their own pronouns. It's a really simple and free action to take that makes a big difference in how you show up for the people around you.
Support LGBTQ2S+ Owned Businesses
Winnipeg is full of amazing LGBTQ2S+ businesses in your community. Unfortunately, these
small businesses often face discrimination and challenges that other businesses don't. By shopping at LGBTQ2S+ businesses, you can help support the community and promote inclusivity. Luckily, all of these businesses are incredible and The Rainbow Pages has an up-to-date list of Queer-owned businesses in our community, which you can find here.
A few of our absolute favourites are:
Volunteer for an LGBTQ2S+ Organization
There are many organizations that support the LGBTQ+ community, from advocacy groups to youth centres to health clinics. Volunteering for one of these organizations is a great way to give back and show your support for the community. You can find LGBTQ2S+ organizations in your community through a quick online search or by reaching out to your local LGBTQ2S+ centre. If you're based in Winnipeg, the Rainbow Resource Centre is currently looking for volunteers.
Share and Review Your Favourite LGBTQ2S+ Art, Music and Movies
The list of LGBTQ2S+ artists, musicians and actors that have made important contributions to their respective fields feels endless. Listening to their work, watching their movies or viewing their art can be a powerful way to connect with the community. Any time you feel like you've found something awesome from a member of the Queer community, share it on your social platforms, show your friends, and even leave a Google Review. It all counts!
Celebrate with Friends and Family
Whether you're LGBTQ+ or an ally, Pride is a time to celebrate love, acceptance, and inclusivity. You can host a Pride-themed party, cook a rainbow-coloured meal, make a playlist that embodies the theme, or simply spend time with the people you love and appreciate.
You know we're not all talk and no action. This year, Starling Social, Alyson Shane, is sending the team $100 in Skip the Dishes credits to spend on their favourite queer-owned businesses throughout Pride Month — keep an eye on our social pages to see their favourite spots!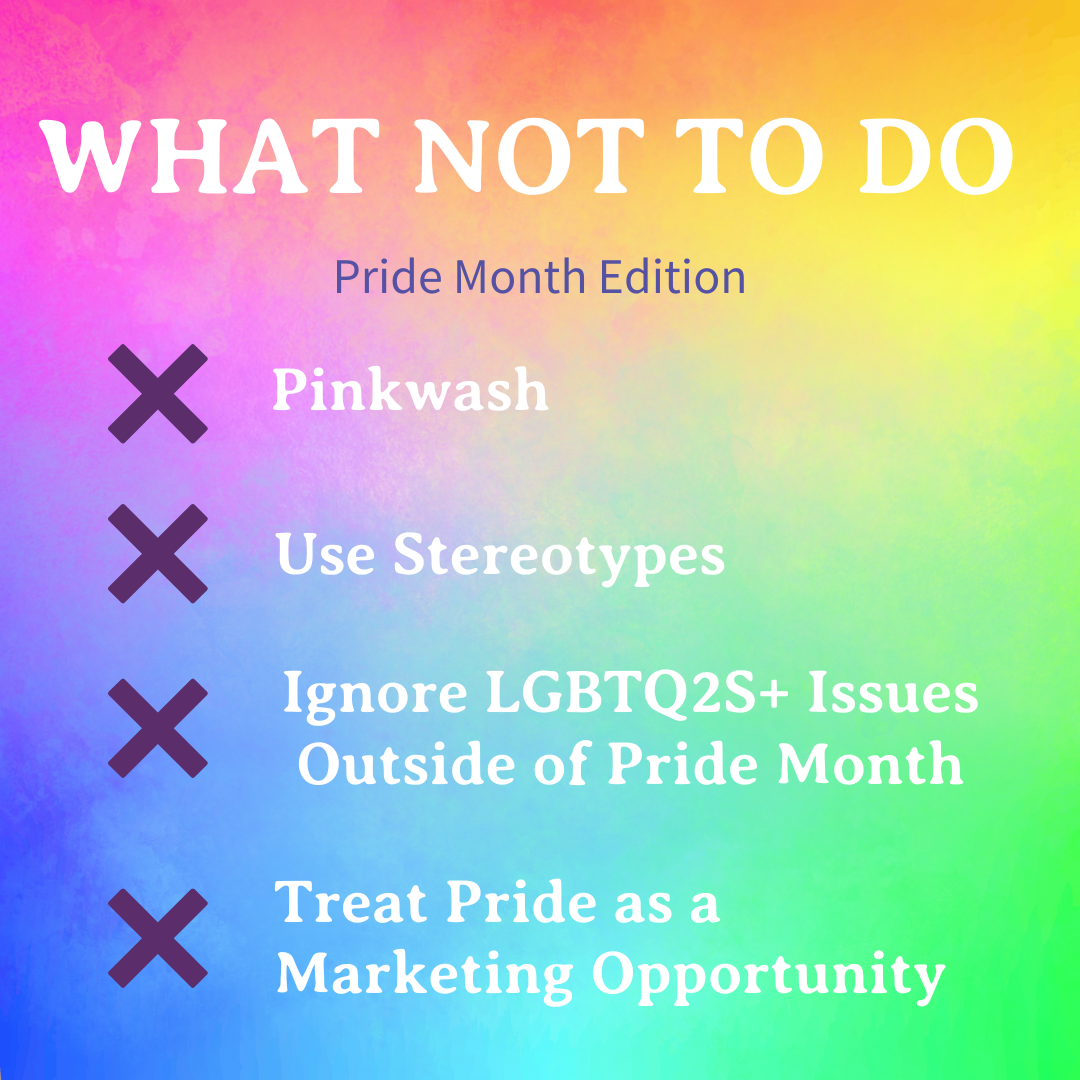 We know that actions speak louder than words. And even if you're well-intentioned, we often see businesses making big mistakes during Pride that cause harm to the LGBTQ2S+ community, and really just isn't a good look. On that note, here's what we are absolutely not doing in June and what you should also avoid.

Pinkwashing
While this sounds like it would be a fun thing, it's a really lame move.
Pinkwashing refers to companies using the rainbow flag and LGBTQ2S+ themes to market their products without supporting the LGBTQ2S+ community. This can include everything from selling rainbow-themed merchandise to using LGBTQ2S+ imagery in advertising campaigns without actually donating to LGBTQ+ causes or supporting LGBTQ2S+ employees. Businesses should avoid engaging in pinkwashing and instead focus on making meaningful contributions to the LGBTQ+ community.
Treating Pride as a Marketing Opportunity
On a similar note, Pride Month is not a marketing opportunity. Don't use Pride as a way to promote your brand or products unless you have a genuine commitment to LGBTQ2S+ causes. Instead of using Pride as a way to sell products, businesses should focus on ways they can support the LGBTQ2S+ community — like using any of the ideas above.
Ignoring LGBTQ2S+ Issues Outside of Pride Month
While Pride Month is an important time to celebrate and support the LGBTQ2S+ community, it's important for businesses to remember that these issues and challenges exist year-round. Businesses should strive to promote inclusivity and support for the LGBTQ2S+ community beyond June and commit to creating a more inclusive workplace and society.
Using Stereotypes
Don't use stereotypes or caricatures of LGBTQ2S+ individuals in your marketing campaigns. This includes using phrases like "gay best friend", which can be offensive and dismissive of the experiences of LGBTQ2S+ individuals. Focus on celebrating the diversity of the community and promoting inclusivity.
As we approach another Pride Month, think about a few of the ways you or your business can commit to supporting the LGBTQ2S+ community, and re-evaluate if your current practices are still appropriate — we're looking at you, companies who change their social media icons to a rainbow, yet make no contributions to the LGBTQ2S+ community!
Let's all celebrate Pride Month thoughtfully and respectfully, showing our support and appreciation for the community.
---