50+ Valentine's Day Subject Lines for E-commerce Sales
Love is in the air, and Valentine's Day 2023 is just around the corner!

Valentine's Day is a huge day for online retailers, which means you've probably been thinking about how to make the most of the day — but have you considered how the lingering effects of the pandemic have changed consumer behaviour?
Statista said Valentine's Day 2022 saw $23.9B spent on gifts for partners, friends, pets and more. Spending is down from $27.4 billion in 2020, but while spending might be down compared to previous years, E-commerce spending is up.
Before the pandemic, people tended to spend money on dates and tactile experiences, but the trend toward online shopping is expected to increase.
This means email marketing is more important than ever, which is why we've put together this roundup of some of the best, most clickable email subject lines to promote your products this season:
5 Subject Line Best Practices
Before we dive into V-Day specific subject lines, let's take a second to review what makes a subject line worth clicking on in the first place:
1. Make it personalized. One way to personalize your emails is to list the "from" field as coming from a person at your company instead of the company name. This helps humanize your brand.
You can also personalize your emails based on information about the subscriber. For example, if they've added an item to their cart but not checked out, you can email them a discount if they check out now.
2. Use numbers. A study from Yesware that analyzed over 115 million subject lines sound that including numbers in subject lines can increase both open rates and reply rates: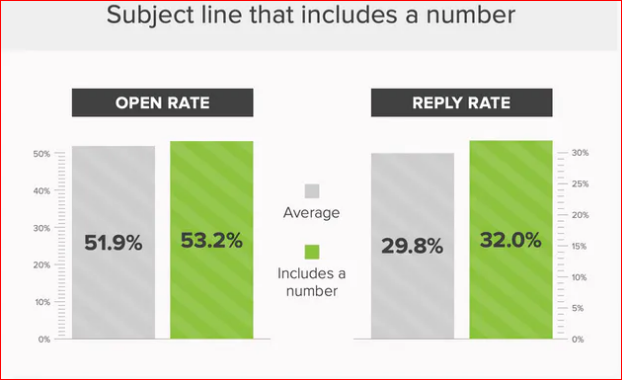 3. Keep it short. Almost 50% of people prefer to check their emails on their phones, so a lengthy subject line will get cut off after 43 characters.
A study from Marketo found that subject lines with just four words earned the highest open rates (18.26%), but the click-to-open rate (or CTO, which measures how many people opened and clicked on an email) happened with seven-word subject lines (10.8%), followed by nine words (10.6%) and six words (10.1%).

4. Use your preview text/preheader text strategically. While subject lines should be short, you can amplify your message using this email section. Here's an example we love from Derek Halpern, that asks a question that entices people to open his email: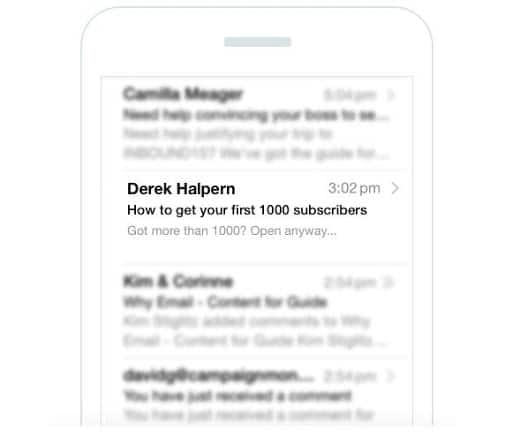 5. Use power words. "Power words" are exactly what they sound like — they're words that trigger an emotional response in the person reading them. We've included lots of them in the subject lines below, but here's a list of 801+ power words via SmartBlogger for you to use.
Bonus: Use emojis (sparingly). Emojis are an easy way to help your subject line pop in a subscriber's inbox. Just make sure to follow these two rules:
Only use one emoji per email. More than one could trigger spam filters.
Don't use emojis in place of words. Some email providers don't display emojis, which could harm your messaging.
Generic Valentine's Day Email Subject Lines
Sometimes, simple is best. We love these subject lines because they play into themes like love, being creative with gift-giving, and highlighting special offers like buy one, get one free (BOGO).
The best Valentine's savings are here!
Save 15% on all Valentine's Gifts
Will you be our Valentine?
Don't miss these Valentine's Day deals!
Up to 80% off Valentine's gifts!
Gifts your sweetheart will love
Be mine! Our Valentine's Day gift guide is here
Your Valentine's Day gift is inside
These Valentine's Day gifts are better than roses
Treat your sweetheart (and yourself)
1 for you, 1 for your Valentine
Don't miss these sweet Valentine's Day savings!
A special Valentine's treat for you
I choo-choo-choose you - Valentine's Day sale
Spoil your sweetheart with our Valentine's gift guide
Gifts that'll make them fall in love over again
Feel the love this Valentine's
Valentine's Day gifts they'll love
Treat yo'self this Valentine's Day
A sweetheart deal for you!
Don't miss these sweet savings
Happy Galentine's Day!
Treat your best gals this Galentine's Day
Valentine's Day Email Subject Lines That Mention Shipping
Mentioning shipping dates and deadlines in your email subject line is a great way to create a sense of urgency and encourage subscribers to open your email immediately.
Protip: offering free shipping in the subject line is a great way to grab people's attention and get them to buy from you while they're ankle to take advantage of the discount.
Only 14 days left for FREE Valentine's shipping
Free shipping until February 14
Final day to order for Valentine's Day
Order now for delivery by February 14!
Last chance for FREE delivery by Valentine's Day
Save this Valentine's with free shipping
Our Valentine's gift to you: free shipping!
Ship more, save more this Valentine's Day
Last chance to get FREE Valentine's Day shipping
The perfect Valentine's gift: free shipping!
Last chance to get your gifts before Valentine's Day
Order NOW to get your Valentine's Day gift on time
Guaranteed delivery for Valentine's Day
LAST CHANCE: save on Valentine's Day shipping
LAST CHANCE to get your Valentine's gifts on time
Better than roses: FREE Valentine's Day shipping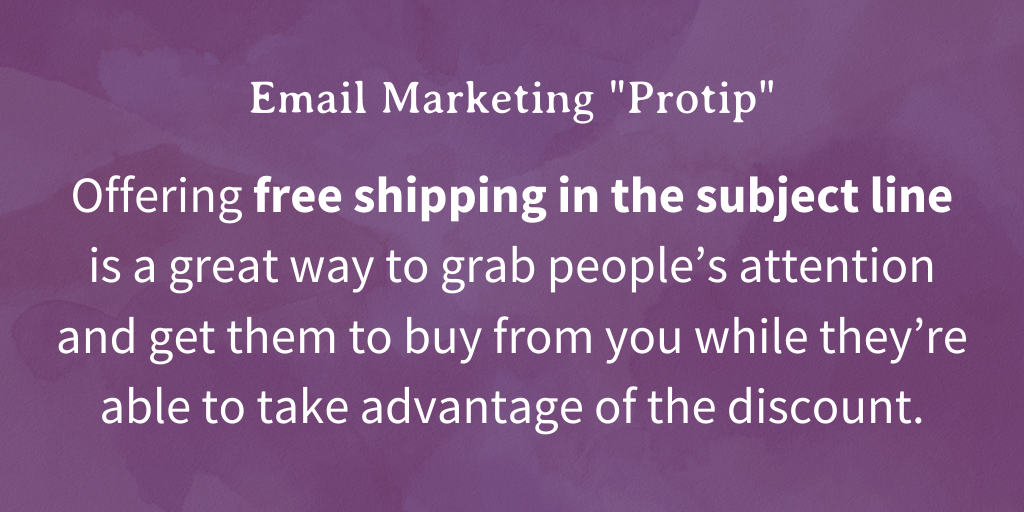 Valentine's Day Email Subject Lines With Emojis
Like we said earlier: emojis are a great way to stand out in subscriber's inboxes. They also "break up" the subject line and pre-text/preheader which makes them both easier to read. Win-win!
Protip: the examples we're using are generic ones to get you inspired, but the more unusual the emoji you use, the higher the likelihood that people will open your email.
Happy Valentine's Day ?
Cupid's calling — it's almost Valentine's Day ?
Valentine's Day gifts your sweetheart will love ?
Sweets for your sweetheart ?
Sparkling savings this Valentine's Day ?
Buy one, get one free this Valentine's Day ❤️
Celebrate Valentine's Day in style ?
Find the perfect Valentine's Day gift inside ?
Valentine's Day gifts for your sweetheart ?
Show how much you care this Valentine's Day ?
10 last-minute Valentine's Day deals ⏰
Don't miss these Valentine's Day savings ?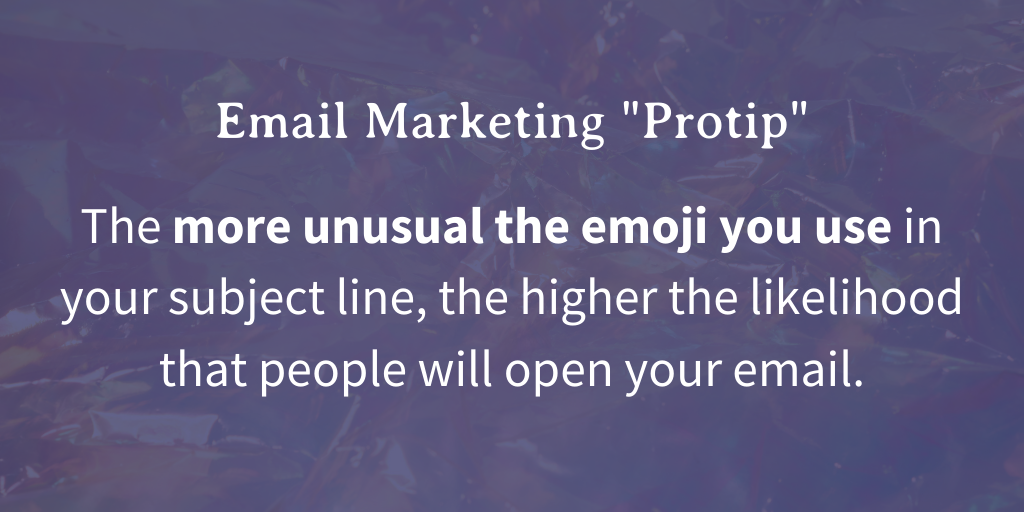 Spread the Love This Valentine's Day
As you can see, when it comes to Valentine's Day email subject lines, the sky's the limit! Adding a fun, holiday-themed twist to your email marketing is easy, especially when you use the post above as a reference.
Looking for more timely tips on creating effective marketing campaigns? Subscribe to our weekly roundup of the hottest digital marketing news and strategies! Click here to get in on next week's send.
---