How to Test (and Improve!) Your Instagram Ad Conversions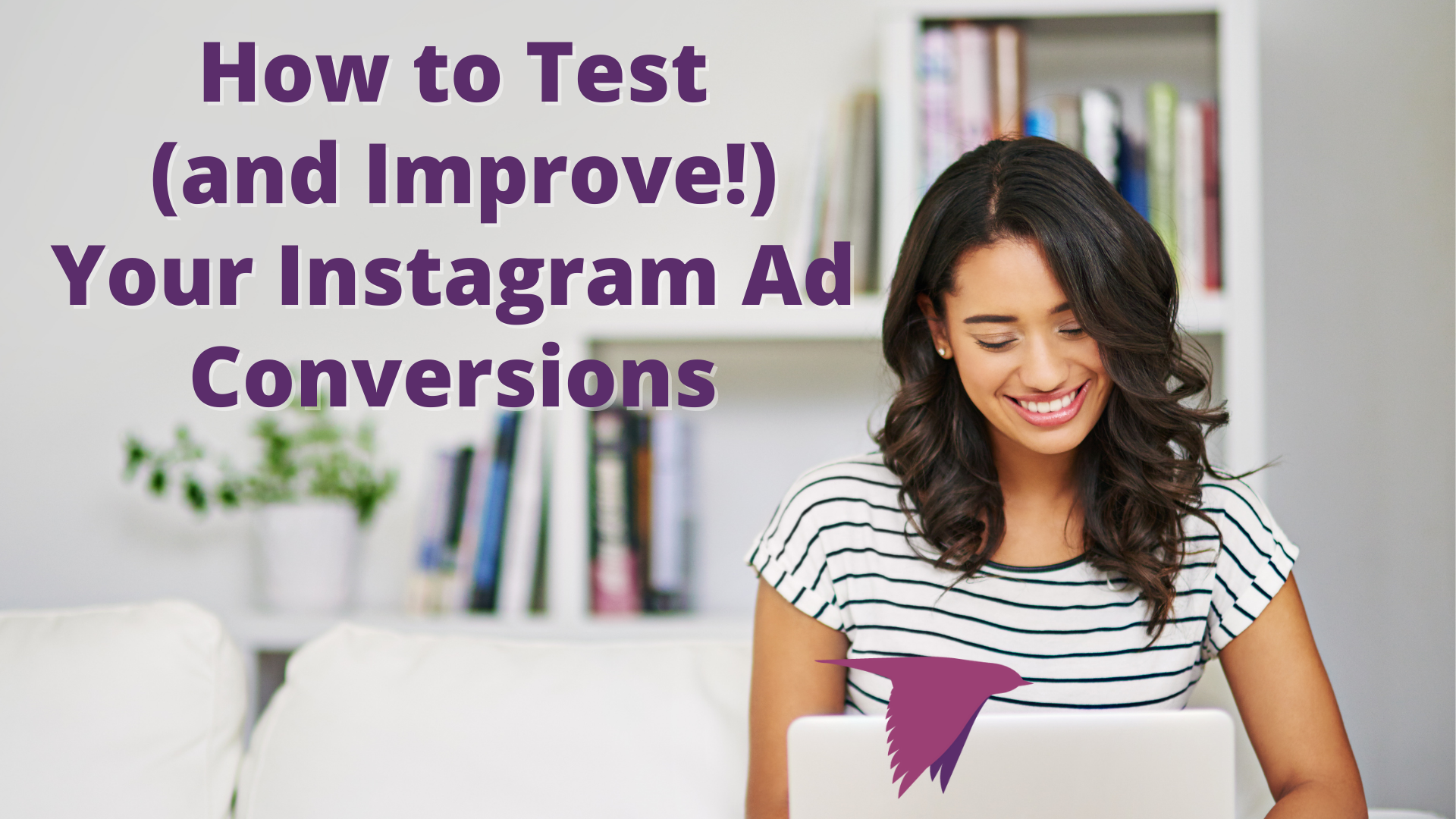 If you've built up a following, produce quality content, and use strategic hashtags, it's likely that your Instagram posts are getting a decent organic reach.
The main disadvantage people have with organic Instagram posts is that the app always has done a great job of keeping content in-app. This means that people have to be really interested in your product to stop scrolling and check out the link in your bio to find out more about your product or service.
Social media apps, Instagram included, are making it harder to scale your growth without investing in ads. Luckily, you don't need a huge budget to reach a lot of people outside your existing audience.
Since the goal of Instagram ads are to get people to leave the app, this not only requires a strong copy, image and call to action; but you also have to target your ads so the right people see them and put their scrolling to a stop to visit your page.
Here are the three key elements to test the effectiveness of your campaign:
Objective
Messaging
Audience targeting
It's important to only test one factor at a time to get a clear idea of what works and what doesn't.
Choose the Right Objective
When you choose an ad objective, it tells Instagram (through Ads Manager) what action you want people to take on your ad. The campaign objective will determine the results you are trying to achieve.
Your objective choices are:
Awareness
Traffic
Engagement
Leads
App Promotion
Sales
An awareness objective will show your ad to people who are most likely to remember them.
A traffic objective will send people to a destination like a website, app, or Facebook event.
An engagement objective will get more messages, video views, post engagement, Page likes or event responses.
A leads objective will collect leads for your business or brand.
An app promotion will find new people to install your app and continue using it.
A sales objective will find people likely to purchase your product or service.
Facebook/Instagram/Meta… whatever you want to call it, will determine who your ad is shown to, and where and when they see it.
Instagram knows that on your bus route to work you might have some extra time to make a purchase, but when you're on the app mid-weekday for a little break, you probably aren't doing serious shopping.
If you choose the wrong objective you will miss out on conversions and get a poor return on your investment.
If you want to drive people to your website to buy a product, choose the sales objective. If you're looking to show off your new store location, then an awareness campaign would be your best bet.
Send the Right Message
Instagram ads give us a few places to test your messaging:
On your photo or video
Primary text
Call to action
Test images with and without text. Try using a mix of urgent calls to action with a mix of inviting and welcoming ones. Ex. "Limited stock available! Get yours before they sell out," or "Your new favourite XYZ is waiting for you."
For example, we like to try options that include the price and options that don't. Another great tip is using keywords that your audience immediately recognizes and connects with. For example, a boutique owner would be attracted to words like wholesale, buy direct, or retail buyers.
Although we aren't thrilled with the constant changes Facebook and Instagram keep throwing at us, updating Ads Manager to give us more text options was a great move!
You can even customize your copy and graphics for each placement.
Pro Tip: Use this feature to customize your ads for the best practices of each placement and to make sure your ad will run with the right size in the right spot.
It's best to use different aspect ratios for different placements. That way, your image or video covers the whole mobile screen and grabs peoples' attention.
The different text option is a great way to maximize your return on investment. You have 5 chances to grab attention and Ads Manager will use optimized text for each placement. For example, Instagram Stories work well with short copy.
Use the Right Call to Action
You have 12 choices when choosing a call to action (CTA) button:
Learn more
Apply now
Book now
Contact us
Donate now
Get quote
Order now
Get access
Shop now
Sign up
Subscribe
Send WhatsApp message
That's a lot of choices. Typically, you want your CTA to match the action you are trying to get people to take. However, that could still leave you with several options, and there are some exceptions. For example, a client of ours set up an ad campaign to get donations for their organization. We decided that it was best to choose the "Learn more" button instead of the "Donate now" button for two reasons:
When you choose "donate now" an automatic text appears under it saying "not affiliated with Meta." This option took away our chance to add a link description, and they wanted to provide as much information as possible.
The "Learn more" button is the most widely used CTA for Facebook and Instagram ads.
This is another important feature to test in your ad campaigns. Do people want to press Subscribe vs. Sign Up? Or will you get even better results with "Learn more"?
Choose the Right Audience
Make multiple audiences so you can test which ones work! Ads Manager's A/B testing lets you run Instagram ads targeted to two different audiences (or whatever else you choose to test) and gives you clean data sets.
There are a few different options for targeting your audience including:
Retargeting vs new data
Individual interests
Interest categories
Lookalike audiences - post engagement lookalike, website traffic lookalike, purchase lookalike
Each time you test a new audience/message/objective it will become clear what works for your brand and what doesn't.
How to Test With A/B Testing
A/B testing is an unreal feature to find out which message/objective/audience gives you the highest return.

Create different versions of the same ad that has one different element to test. Simply toggle the Create A/B Test option over and once you create your first ad Instagram will ask you to create a second ad with whatever options you want to test.
As you become more confident you can feel better about increasing your ad spend — but not by more than 20% at a time or Ads Manager will have to "learn" all over again.
Make sure you keep detailed reports of your ads so you can easily compare which ads perform best. It will make creating future ads much easier and gives you a better chance of success.
If you loved this information but feel like your time is better spent running your business, contact us today and we'll handle all your ad planning, scheduling and reporting for you!
---