Tagged: analytics
- by Alyson Shane
Whether you're a FT social media manager or a part of an agency handling the social media for multiple brands, having the ability to analyze relevant data and make quick decisions is essential.
That being said, being able to report on your findings and convey the information you've gathered in a way that makes sense to your C-Suite executives can often make or break your ability to drive the changes needed to continue to increase the ROI of your efforts.
With this in mind we've compiled a list of the top marketing metrics that our C-Suite clients care about the most. Let's dive in: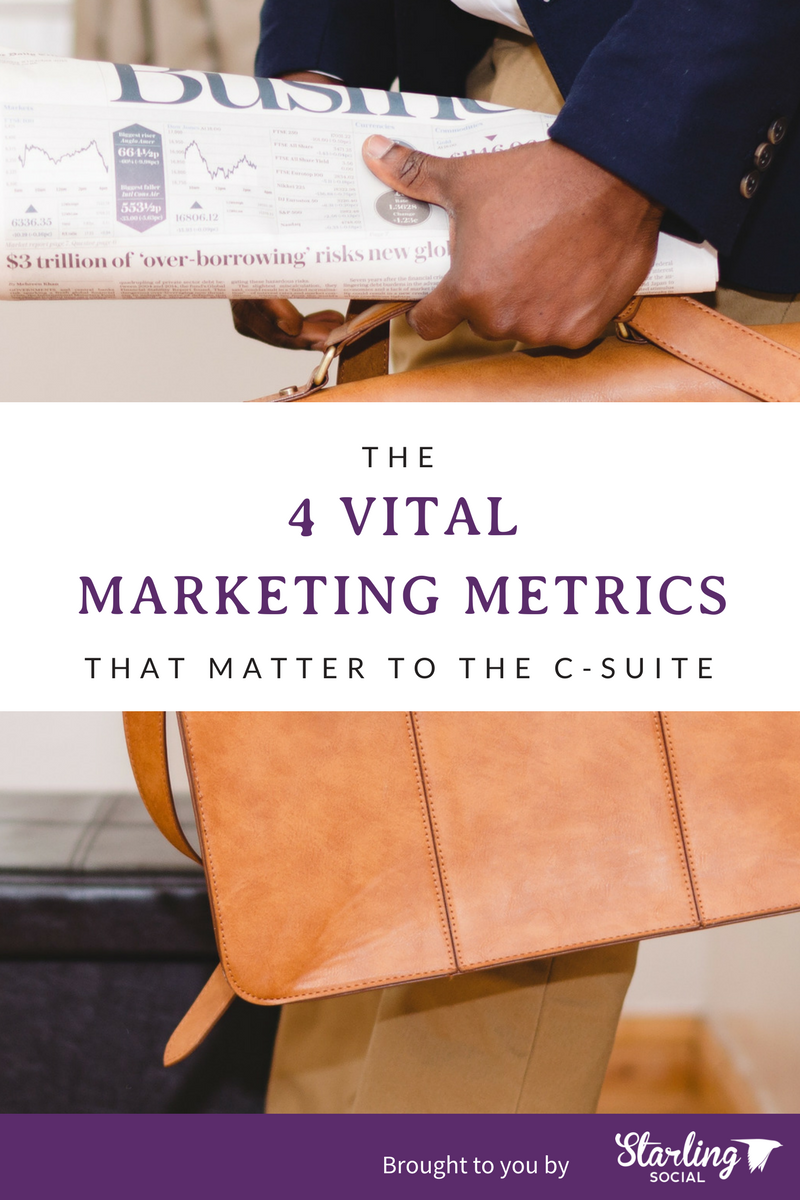 Followers
Followers may be one of the first metrics that traditional marketers are quick to write off, but slow down there! The number of followers you have is important because perception matters, and a high Follower rate acts as social proof to let other users know that a brand is worth following.
How to sell it to the C-Suite
More followers = increased perceived influence.
The key to conveying the importance of Followers comes down to being able to demonstrate that your followers meet your Target Audience criteria. Being able to demonstrate that a significant portion of your Followers are people who meet a business' Ideal Customer Profile (ICP) will ensure that leadership sees the value in the communication platforms we're using.
If industry influencers (these vary depending on your industry) are following your brand on social media, use this as an opportunity to collaborate or tap into their social following in order to increase awareness about your brand.
Some actions you can take include:
Develop Affiliate Business and Influencer lists. Use these lists to prioritize who your brand engages with on social media, and use their content as 3rd party curated content for your own timelines.
Share interesting, educational content. Share a variety of content to help potential new followers see the value in following your brand online.
Engage, don't just promote. Nobody wants to follow a brand that looks self-interested, so take time to quote tweets, respond to comments, and re-share interesting, industry-specific information whenever possible.
Engagement
Monitoring how often followers are liking, sharing, re-sharing, and commenting on a brand's social media content is one of the easiest ways to tell if the content you're sharing is resonating with your audience.
How to sell it to the C-Suite
Engagement = Reach = Followers = Leads / Conversions
One universal across all social media platforms is that their algorithms prioritize engagement above all else. This means that the more engagement your posts have, the higher organic (unpaid) reach your social content will have.
If your ultimate goal with your content is to drive conversions and new leads, then the more engaging your content is, the father it will reach.
Some actions you can take include:
Pitch social media as a customer service opportunity. Sprout Social found that 35% of people prefer social media to any other channel for customer support, which means you can leverage these platforms as a way to keep customers happy.
Seek out 1-1 conversations. According to Marketo, modern-day consumers look to social media as an opportunity to build relationships with brands. Give them that opportunity!
Leads Generated
Marketing and sales are intricately linked with one another, and one of the best ways to convey the value of social media and your digital marketing efforts is to link what you do to the leads generated by the brand you're working for (or with.)
Make sure to utilize tracking parameters in every URL you post so you can measure the leads generated from your paid and organic social campaigns and include your findings in your reports.
How to sell it to the C-Suite
Social campaigns = Conversions = Leads
The most important component of presenting this information isn't measuring which of your social campaigns have the highest lead conversion rate; it's understanding how many of those conversions became quality business leads that moved successfully through a brand's sales pipeline.
Some actions you can take include:
Identifying your buyer's journey. Different social campaigns will speak to leads who are at different places along the buyer's journey, so determine how a campaign will use copy, visual assets, and even video to encourage them to take the next step.
Test different content. Different content drives different responses, and a strong social strategy should include a variety of content combinations to avoid looking stale and continue to drive engagement.
Revenue
You must have known we'd be ending on this all-important metric.
Obviously whether a business is generating revenue will play in to whether or not they have the bandwidth, budget, and interest in social promotion, but your role as a marketer is to draw a connection between what you do and the revenue the business generates.
How to sell it to the C-Suite
Social promotion = engagement + reach = new leads / customers = revenue
Digital marketing is a game that requires long-term investment. C-suite executives who expect to see an instant increase in ROI need a reality check, because social promotion isn't just about acquiring new leads; it's also about nurturing existing relationships and converting our audience from followers to brand advocates.
Brand advocates are individuals who not only buy from the same brand on a repeat basis, but they actively engage with the business online, recommend their products and services to their friends, and colleagues, and generally report positive and trusting feelings about that brand.
Some actions you can take include:
Don't expect the most out of every channel. Depending on your industry, some social channels are great for lead generation, while others are better for nurturing existing relationships.
Some leads take time to convert. Most consumers (B2B and B2C) need time to familiarize themselves with a new brand before making a purchase or reaching out.
Are there any metrics that your c-suite is obsessed with? Let us know on Facebook, Twitter, LinkedIn, or on Instagram!
---