7 Hot Email Marketing Trends for 2023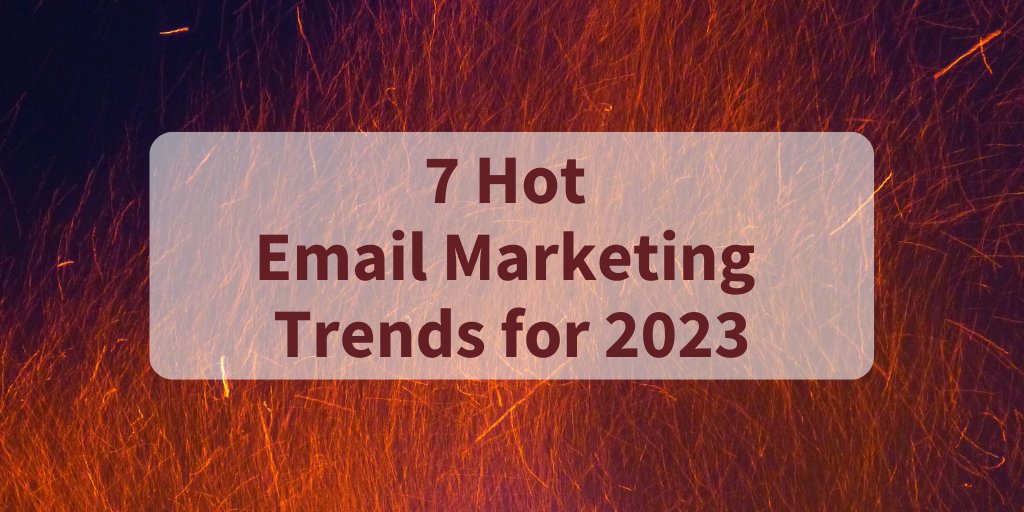 If you want to make meaningful connections with your customers, help them find out about your products and services and regularly grab their attention, email is a must-have in your marketing strategy for 2023.

89% of marketers state that email marketing is their primary strategy, and the global email marketing market is projected to increase to $17.9 billion by 2027.
This means there's no better time to invest in this effective, scalable, and cost-effective way of reaching your customers!
But email marketing (like any marketing) can only be successful if you pay attention to the latest trends and adapt accordingly.
That's why we've put together this list of email marketing trends you need to know for 2023 — let's dive in:
Trend 1: A Focus on Privacy
In 2018 the General Data Protection Regulation (GDPR) legislation redefined the world of email marketing. It made the practice of cold emailing and email list building illegal, and forced businesses to rethink how they gather data.
Before the GDPR passed, you could legally buy "lists" of emails and blast out emails to anyone on that list. Those around in the 90s and early 2000s might remember the wave of spam that regularly flooded our Yahoo and Hotmail inboxes — this was because rules like the GDPR didn't exist.
Since then, consumer expectations about how, when, and why a brand can email them have pivoted to an increased focus on privacy.
In a world where customers are increasingly sensitive to how often they hear from brands they follow, our favourite tactic is to ask leads to fill out a short questionnaire about how often they want to hear from our clients.
You can put this questionnaire on a landing page, but we prefer adding it to a "welcome" email since people are less likely to fill out lengthy forms.
This has the added effect of:
Adding more segments to your subscriber database
A better understanding of your subscriber's wants
Helping subscribers get what they expect
Trend 2: Opening Rates Aren't the Main KPI
Apple's release of iOS 15, iPadOS 15, macOS Monterey, and watchOS 8 has a new feature to protect users' data from 3rd party apps. From Apple:
"In the Mail app, Mail Privacy Protection (MPP) stops senders from using invisible pixels to collect information about the user. The new feature helps users prevent senders from knowing when they open an email, and masks their IP address so it can't be linked to other online activity or used to determine their location."
Email tools use pixels that "fire" when someone opens their email, which calculates the open rate of any email you send. But now, Apple preloads all email content which means the pixel never fires and the email appears "opened" even if the recipient never looks at it.
This means marketers have less reliable data about things like:
When users open emails
Where users open emails
The device users are using to open emails
The activity on the device used to open the email
Now, if a recipient is on an Android device or a PC, this doesn't necessarily apply, but with 49% of all smartphone users in the U.S. alone using Apple devices, it's safe to say that if you need to take your open rates with a grain of salt in 2023.
Instead of focusing on open rates as the leading key performance indicator (KPI), we suggest looking at data like:
Click-through rate. How many people clicked one or more links in your email.
Conversion rate. How many people clicked through and took an action like completing a purchase or filling out a form.
Bounce rate. The percentage of emails you sent that couldn't be delivered to an inbox.
List growth rate. The rate at which your email list is growing.
Trend 3: Hyper-Personalization
33.2 billion emails were sent in 2022, meaning brands compete for more attention in subscribers' inboxes than ever before. In response, more companies are using personalization to grab subscribers' attention.
Personalization is an email marketing trend that can have a variety of positive effects, including:
Improving open rates by 42%
Increasing the average click-through rate (CTR) by 14%
Increasing conversions by 10%
Personalized subject lines can improve open rates by 26%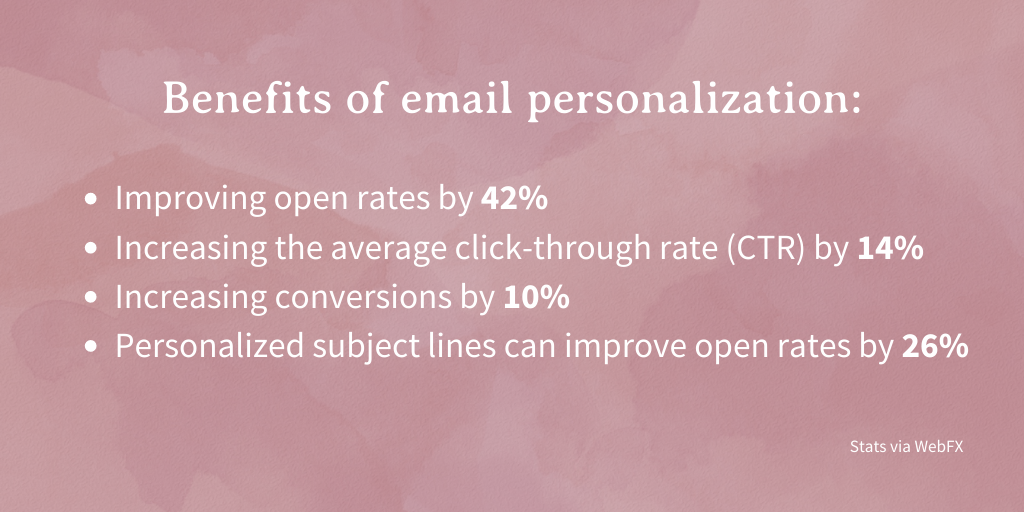 What happens if you don't lean into personalization? Here are some actions customers have reported taking after receiving a non-personalized or mistargeted email:
68% of people automatically delete emails
54% unsubscribe
45% categorize them as junk or spam
29% become less willing to buy products
13% visit the website less frequently
10% never visit the website again (yikes!)
Stats aside, this trend has been on the rise for years and is expected to continue, so here are a few actions you can take to keep subscribers engaged with your emails:
Segment your audiences and tailor promos and messaging to those segments
Recommend specific products based on audience segment
Send "trigger" emails based on subscriber behaviour
Recommend products or content based on individual subscriber behaviour
Trend 4: Focusing on Mobile
81% of emails are opened on mobile devices nowadays, and people use their phones to sort through the emails they receive and decide what's worth opening and what isn't.
With this in mind, it's essential to make sure that your emails are formatted to look good on smaller screens by taking actions like:
Ensuring your designs are mobile responsive
Write short, snappy emails that get right to the point
Include big buttons and clear calls-to-action (CTAs)
Keeping your emails free of clutter and being sensitive to how much copy you put in your emails can go a long way to increasing your click-through rate and conversions.
Trend 5: Email Marketing Automation
Email marketing automation allows you to pre-design how and when a subscriber hears from you because the emails they receive are predetermined based on specific actions they've taken.
Also known as "drip campaigns," this type of email marketing performs better than regular email campaigns because the interactions feel personalized and friendlier.
As a result, this type of email campaign can generate 320% more revenue than non-automated emails.
Some ways you can automate your emails are:
Using email templates and "drip" campaigns available through your email marketing tool.
Automate list "scrubbing," which is the process of comparing two (or more) email lists to look for data that doesn't match, is incomplete, or is duplicated.
Sending automated transactional emails to customers
Automating your onboarding process with a "drip" campaign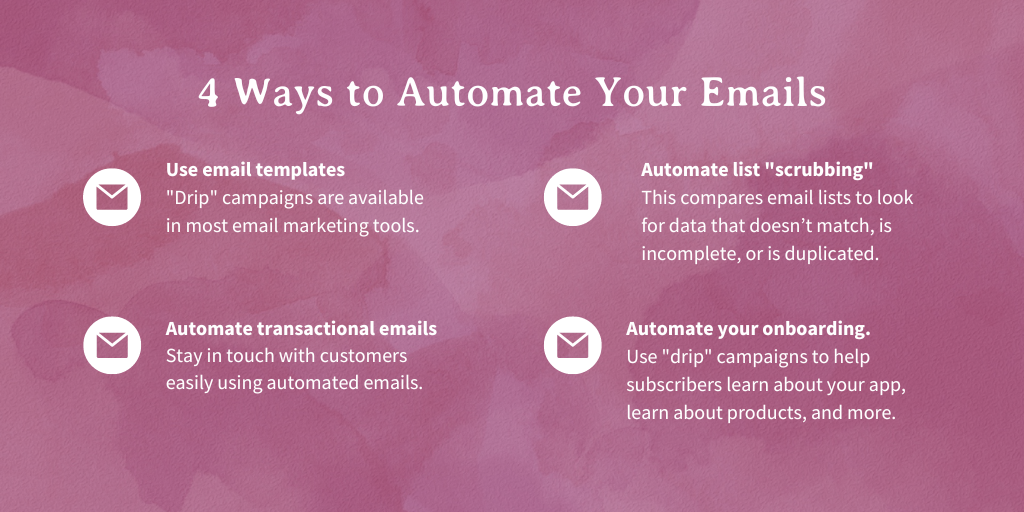 Trend 6: Interactive Emails
Interactive emails are (you guessed it) emails that include elements that boost customer engagement and keep them interested in the content of your email.
These are perfect for eCommerce businesses because they allow you to create eye-catching, engaging emails that keep customers interacting with your content (and increasing the likelihood that they'll buy).
Some examples include:
Rollover effects to showcase a handful of products
Animated buttons and calls-to-action (CTAs)
Interactive image and product carousels users can click through
"Accordion" features that make long-form emails more compact
Surveys, pills, and other interactive content
Note: since some of these require changes to the Javascript code behind your email, you'll want to either have an in-house IT person help put these together or use a tool like Klayvio or Freshinbox that can help you do it yourself.
Trend 7: Rethinking Your Email Design
We've talked a lot about emerging trends, but the hottest trend in email marketing right now is reconsidering how your emails are designed from the bottom up.
With this in mind, here are a few design trends to consider:
Dark mode. Apple first introduced "dark mode" in 2018 to help users look at their screens without adjusting the brightness. Consider integrating "dark mode" options into your email to make your email appearance consistent with the rest of the user experience.
Dynamic gifs and animated collaging. Using moderate animation is a hot trend expected to continue into 2023 — just make sure you're smart with how you use them!


Focus on minimalism. As we said above, people want to read short, snappy emails, so make sure your emails are uncluttered and focus on a single topic or "ask" per email.
Stay Up-to-Date With Email Trends in 2023
2023 will be a year filled with challenges and opportunities for brands to shine in subscribers' inboxes. By following the trends outlined above, you can make sure your emails are opened, engaged with, and lead to conversions that help grow your business.
For all the latest email marketing trends throughout the year, subscribe to our weekly digital marketing newsletter.
---