Our Top 7 Favourite Content Marketing Tools
We first read about the three-legged stool metaphor in Arianna Huffington's book Thrive. In her metaphor, the three legs of the stool—money, power, and well-being—are the pillars of success, and eliminating any one of them causes your stool to topple over.

We think this metaphor works well for content marketing too. The three legs of your content marketing stool are strategy, creativity, and process.
If you have a lot of creativity and great processes but no strategy, you're going to create some banging content on the regular, but it'll fail to to drive the results you're looking for.
If you have strategy and processes down but no creativity, you'll be efficiently pumping out some very bland and derivative content that has an objective, but doesn't keep people interested.
And finally, if you're creative and strategic but you can't get your s*** together, all those great ideas will just live in your head or on a post-it somewhere without getting to the people who you're trying to reach.
Lucky for you, you don't have to be naturally proficient in all three areas to be successful. There are tools and resources to help you, and if you use them consistently your content marketing stool will be topple-proof.
A Note on Order of Operations
Strategic planning comes before process and creativity. Without strategy, you're shooting your arrows into the sky. Strategy ensures you know what you're trying to achieve, who you're trying to reach, and how you're going to get where you want to go.
Unfortunately there's no magic tool that will hand over a strategy, that's work you just have to sit down and bang through. As you'll see though, tools come in very handy when it comes to the measurement part of your strategy.
Google "Content Marketing Tools" (Actually, Don't)
A quick Google search will tell you there are way too many tools out there to choose from, and if you're like us, this type of research can quickly turn into a rabbit hole of procrastination.
Let us save you some time so you can get back to business. Here's a look at our favourite tools that we use daily at Starling Social, and which legs of the stool each supports.
1. Trello (Process)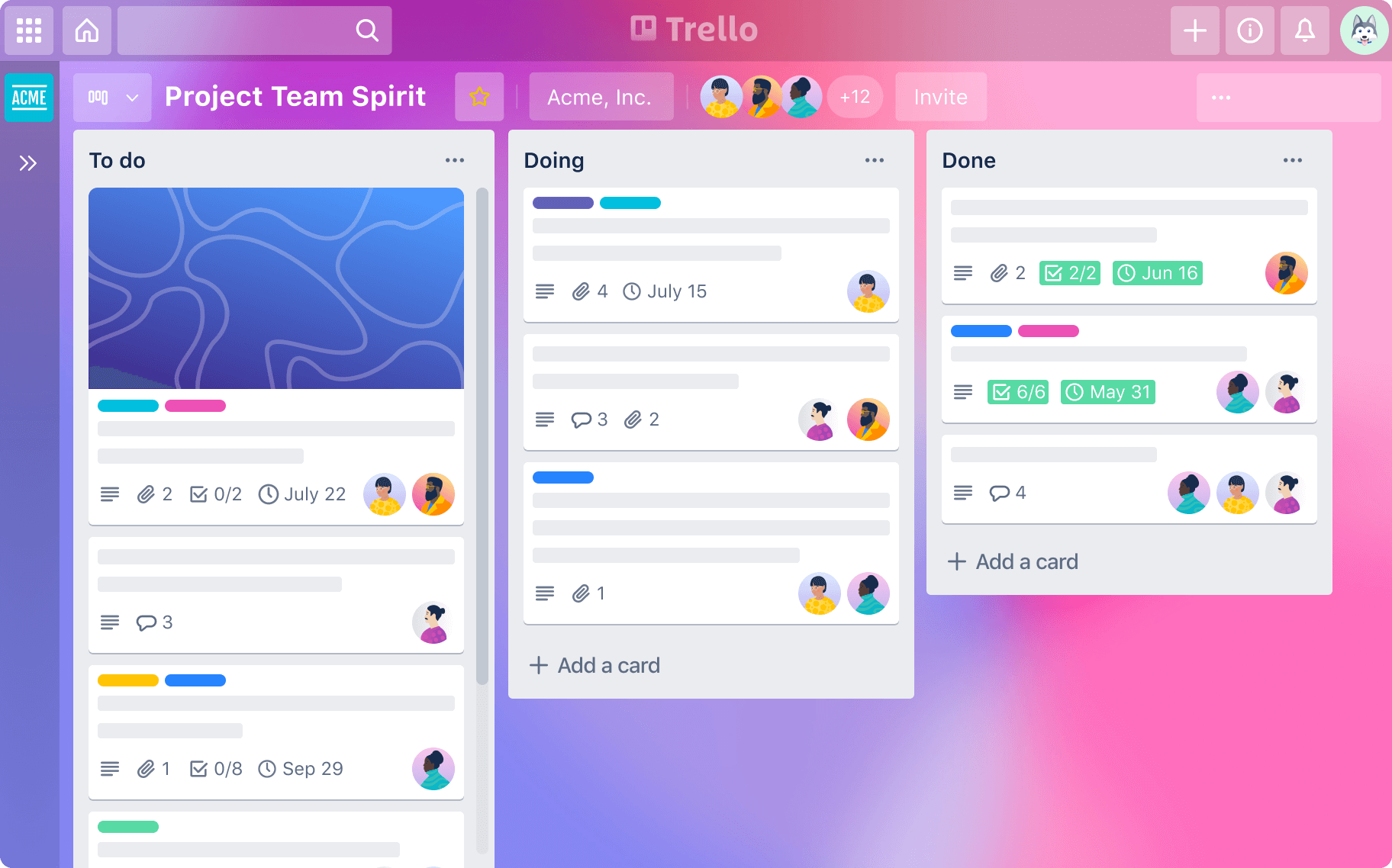 Image via Trello
Trello is the foundation of our processes. This kanban-style project management tool is visual, it's collaborative, and it keeps us on track.
Here are some ways Trello supports our processes:
Collaborate internally and with clients
Assign tasks
Add due dates
Keep track of upcoming events
See what's in progress, in review, or done
Link to templates, planning documents, spreadsheets
There are countless ways to use Trello, and a quick search will help you find templates to get you going with minimal effort. Click here to dive deeper and see exactly how we use Trello in our business.
2. Sendible (Strategy)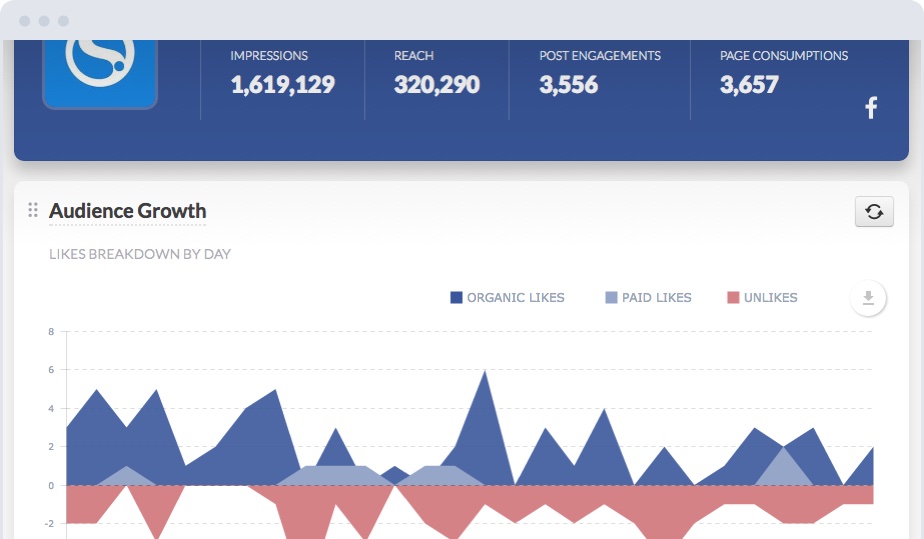 Image via Sendible
A key part of your digital marketing strategy is measurement. If you don't take the time to measure results, you don't know if what you're doing is working. Measurement also tells you where to focus your efforts and allows you to refine your strategy as you go.
Going into each social platform to pull out data is mega time-consuming, so having a tool that collects all that data in one place is key. We use Sendible to collect and analyze data for our clients so we can create handwritten reports with recommendations every month.
Here's why we like it:
It not only presents data, it gives insights that are actually meaningful rather than just showing generic charts that don't paint a true picture of how things are going. For example
"Twitter was your most engaged platform last month, with a 22.4% increase"
It's affordable. We've looked at many analytics tools, and this one does more for less.

The Reports hub is clear and useful. Mentions are clearly broken down by source with the number of mentions and the corresponding percentage. You can see overall sentiment based on positive, neutral, and negative mentions. It's a great interface for finding trends and measuring mentions against competitors.

You can access Google Analytics within Sendible, which is very convenient for tracking how effective your social campaigns are driving traffic to your website.
3. Feedly (Creativity)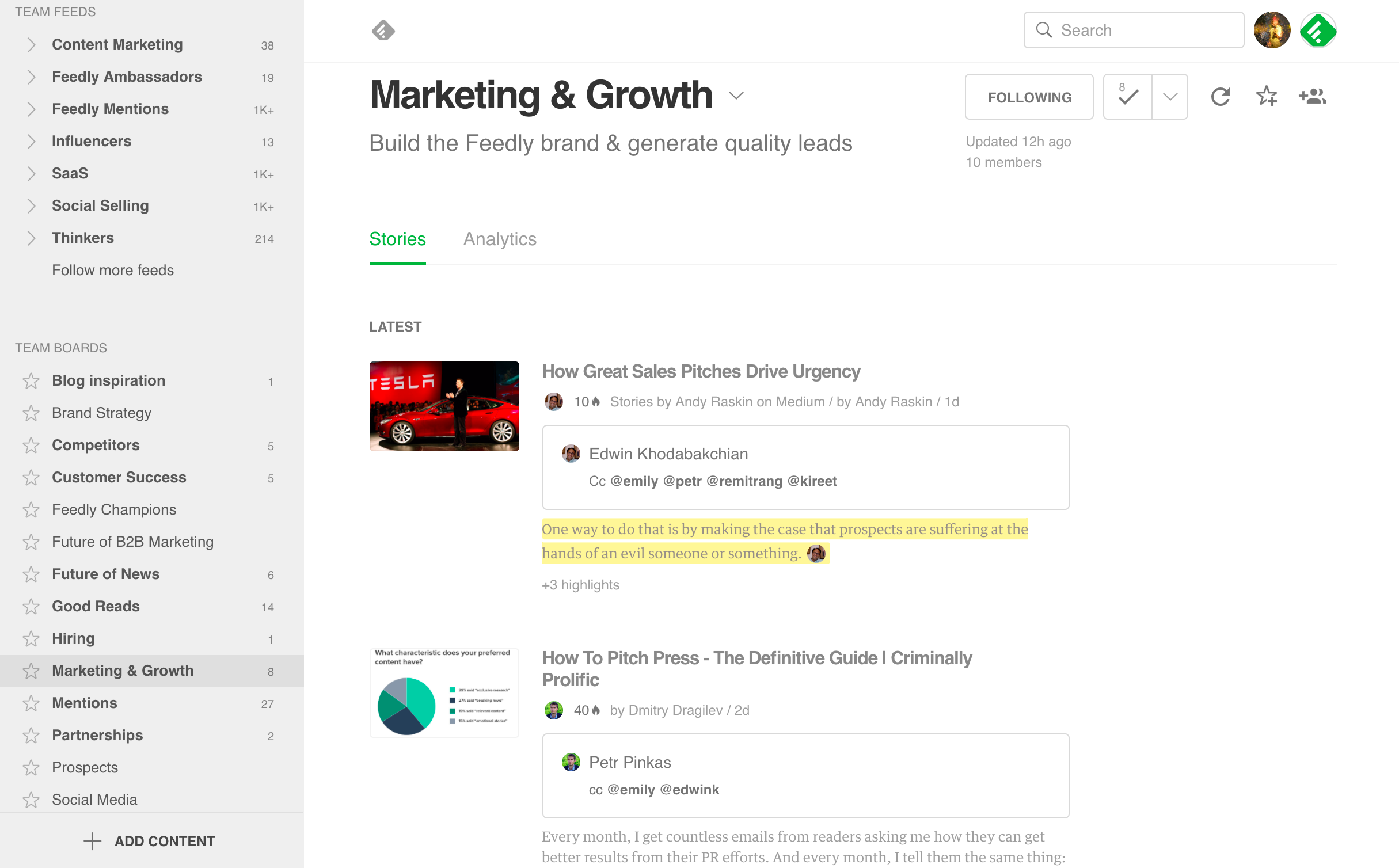 Image via Feedly
Creativity doesn't happen in a vacuum. Even the most creative types get inspiration from others. Seeing what people are talking about as it relates to your business can inspire you, and also keeps you relevant. Seeking out news and finding inspiration can take a lot of time, and that's where Feedly comes in.
You tell Feedly what's important to you, and it uses AI to flag content that you might find useful. We use Feedly to track marketing trends, and to curate content for our weekly newsletter.
4. Buffer (Process)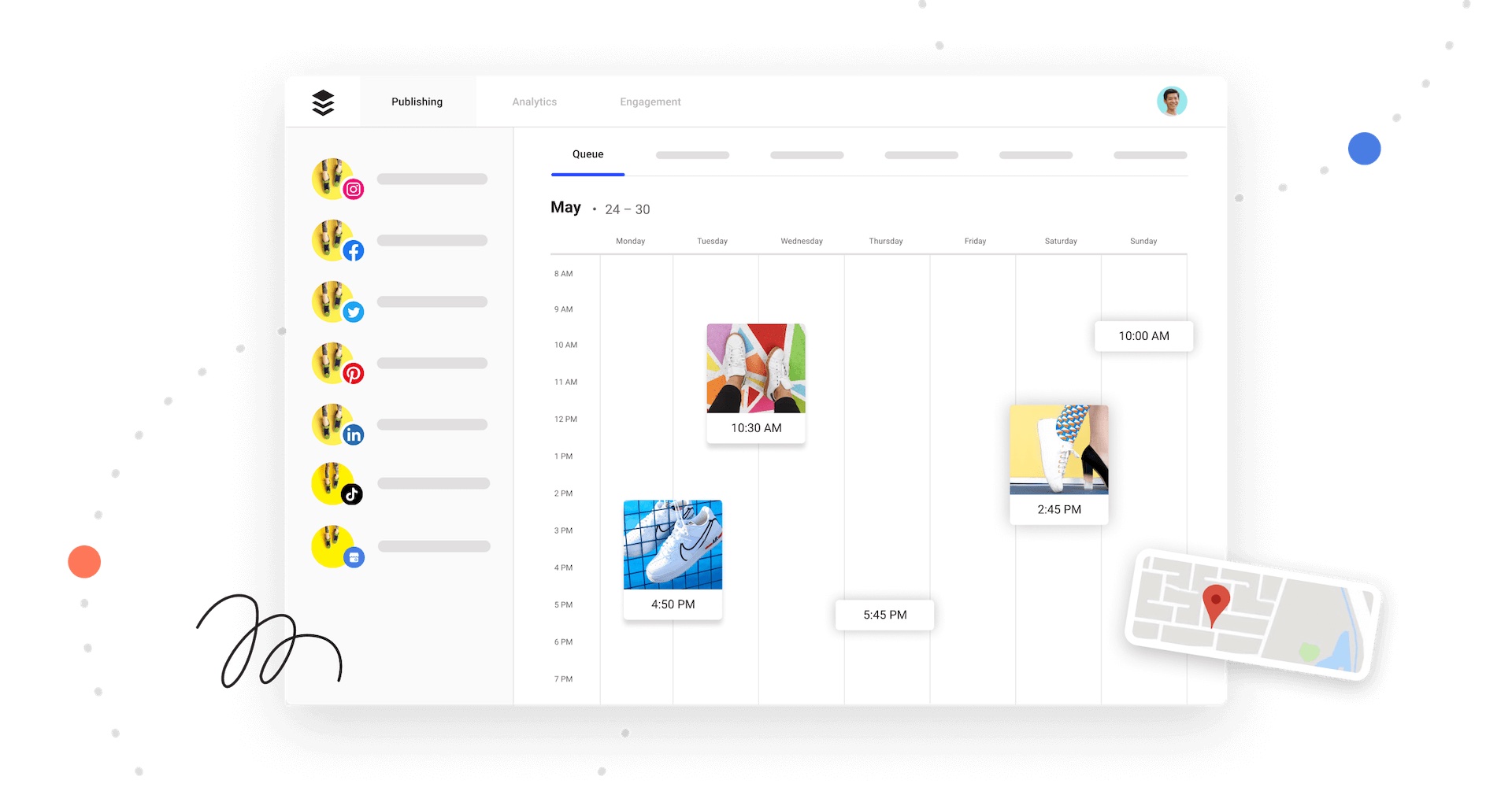 Image via Buffer
Buffer is a scheduling app that works with all major social platforms. For maximum efficiency, we recommend scheduling posts up to a month ahead of time and reviewing weekly to make sure what's in the queue is relevant based on current events.
The dashboard is super user-friendly and the calendar function allows you to see all your planned posts at a glance to make sure there are no gaps in your posting schedule.
We find the draft posts function especially useful, because it allows other team members to jump in and review before content is officially added to the queue.
5. Google Drive (Process)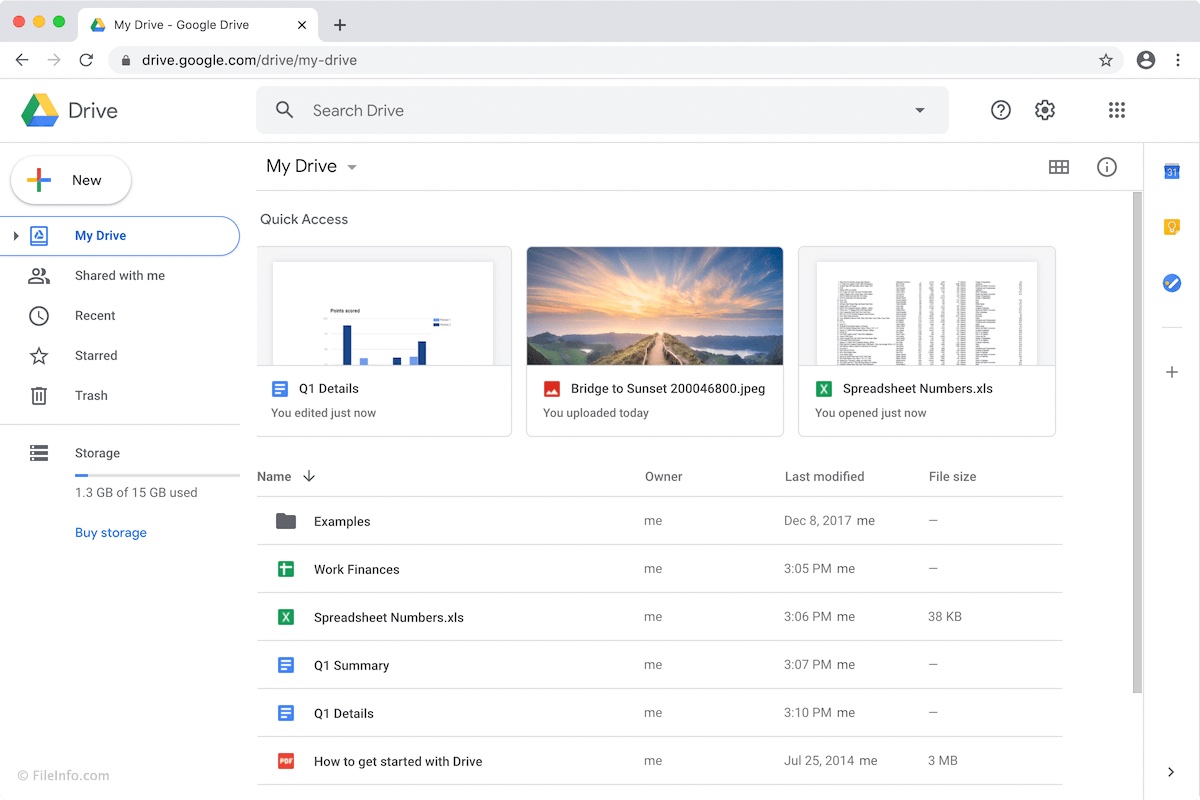 Image via FileInfo
Google Drive is our go-to for documents and spreadsheets. It's cloud-based, so any number of people can collaborate on the same document at the same time. We use Google Docs for meeting notes, marketing plans, and for drafting blog posts and social content. Google Sheets allows us to create spreadsheets for customer personas and content calendars.
Why choose Google Drive over Microsoft OneDrive? It comes down to personal preference. They both offer real-time collaboration, offline access, and syncing across all your devices. The major difference is how you access them on a desktop computer: Google Drive is browser-based, and OneDrive is an app you download. Die-hard Microsoft Office users will likely find the familiarity of OneDrive preferable.
6. Canva (Creativity)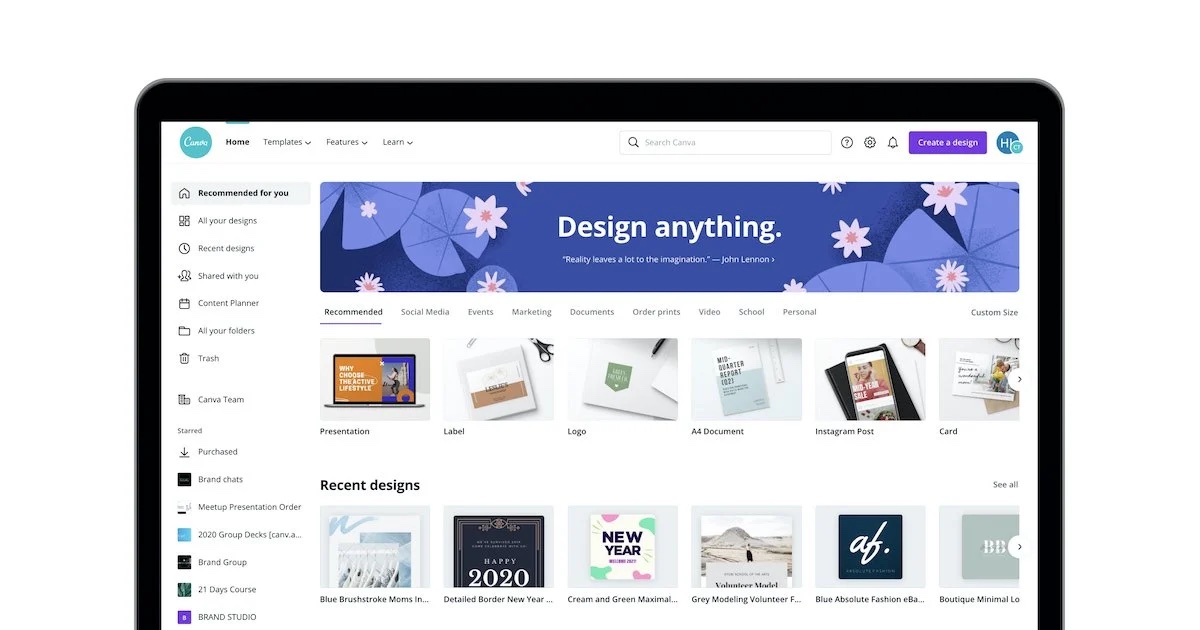 Image via Canva
Canva is a design-light tool for people who want to make eye-catching graphics but don't have the time/desire/skills to start from scratch in a program like Adobe Illustrator.
Forget trying to find the right image size for different social platforms, because Canva has the optimal sizes pre-loaded in their templates. You can start with a blank canvas or use one of their thousands of templates to get started and then customize it.
We also use Canva to search for stock images, though this feature works best if you have a Pro account, which gives you access to 90 million stock photos.
Hot tip: you can filter your image search by colour to find photos that work with your brand colours.
7. LinkTree (Process)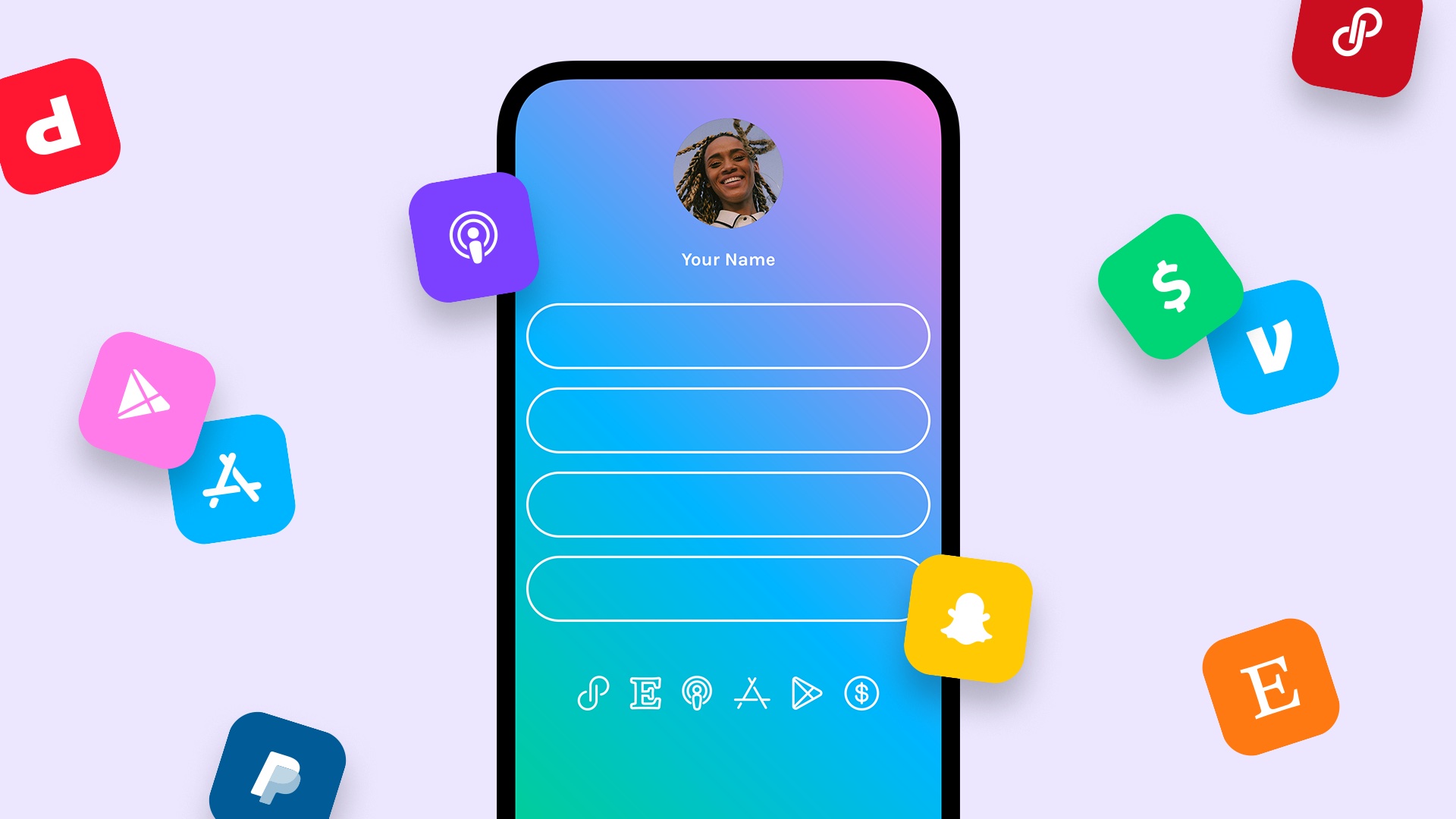 Image via LinkTree
Do you see people including links in their Instagram captions? Don't do it! They aren't clickable. They're not even copy-pasteable, unless you're scrolling on a browser, which is not how most people use Instagram.
Create a smooth user experience by directing people to your Instagram bio where you can use a linking tool like LinkTree to send people to the specific content they're looking for.
You can customize the colours to match your brand, and unlike many other Instagram linking tools, this one is free! According to LinkTree, the optimal number of links is 3-7. Any more than that and you can overwhelm your customer.
Improve Your Content Marketing Today
There you have it folks. Happy stool-building! If you're feeling overwhelmed, we're here to help you get your content marketing stool into tip-top shape.
---